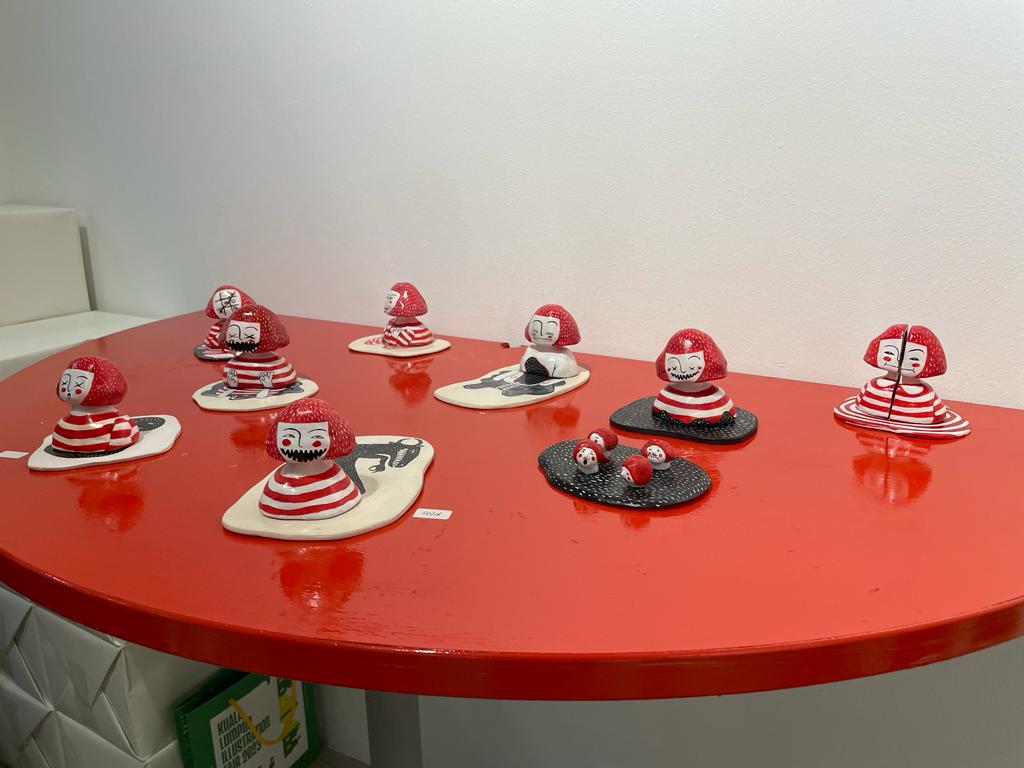 With all the talented artists at KLIF 2023, it was tough to choose our favourites, but these four talented illustrators stood out from the crowd.
By CHIN JIAN WEI
Continuing with the story started in Part One of the series ( KLIF -part-one/ ), keep reading to learn about four other talented artists that wowed fair-goers at the Kuala Lumpur Illustration Fair (KLIF).
Alexoid Luce: Also known as Alexdrina Chong, she is an artist, illustrator, creative director and educator. Her art addresses themes and experiences of mental illness with a charm that is at once whimsical, dark, and visceral. Recently, she has been working on a book collecting her illustrations: One Hundred Pages of Solitude. This book will be launched at Tsutaya Bookstore on May 27, so keep your eyes out for that if you were not able to purchase it at KLIF! As Chong has struggled with bipolar disorder in the past, she aims to partner up with NGOs to raise awareness about bridging young people with affordable and accessible mental health services.
How would you define your art? Chong: "Sarcastic. I want to say funny, but some people think it's violent (laughs). I have a lot of trauma in my life, but I turn it into humour. I do take trauma seriously, but the luxury here is that I start to see the humour in it. I shift my perspective."
What is the theme that connects all your art? "Entropy. You see the black shadowy figure behind the girl? In life, chaos will never be reduced, you can only learn how to manage it. You cannot avoid it. You might fall sick, you might run into financial trouble. I address it through my art. I'm not afraid of it, I absorb the hidden, dark figure as part of myself. I am no longer afraid of my frailty. We like to celebrate only beauty and sweep terror under the carpet, but beauty and terror are part of the same whole."
How did you start? "Prior to doing all this, I had my own creative agency. I lost most of my clients during the pandemic. At that time, I wasn't sure what was coming next, one day in May of 2021, I decided to create something about my daily life instead of just being anxious about it. So I just opened one of my journals and started drawing. I didn't even plan this girl (the female character featured in most of Chong's art), I didn't plan any of the characters. They just came out as I sat there and drew. I drew page after page, on a daily basis. I got a grant from CENDANA to do an exhibition. I noticed that a lot of young visitors felt that my work was relatable to them. That propelled me to become more involved in my work. I had stepped into a space bigger than myself."
What did you bring to KLIF? "I have been working on this body of work for the past two and a half years. These works that feature the red and black are how people got to know me, so I decided to bring this work to KLIF. Incidentally, I was working on my book, so I could soft launch it here."
What do you think is the importance of KLIF? "Getting to know each other. Having conversations with followers, and getting to know them. Their relationship with my work deepens when we have face-to-face conversations. I get to see my friends again, and see artists whose work I follow."
What advice do you have for aspiring artists? "Being authentic is the most important thing. The most genuine work comes when we know who we really are. When you just go with a trend, at a certain point, you'll get burned out."
Instagram link: @primaluce77
Kupehrod: Ahmad Ufiz Ahmad Shabri, also known as Kupeh Rodriguez, is an illustrator, designer, and cartoonist. He runs Korod Klothing, a street clothing brand featuring his distinctive skeletal designs, and often featuring riffs on famous pop culture franchises. He is also the character designer of the upcoming animated series Tales Down Below, which we have featured before here at BASKL. Despite not having any professional design qualifications, he has forged a path for himself. After leaving a job in banking, has progressed from animator to cartoonist to designer.
How would you define your art? Kupeh: "Pop. Colourful."
What is the theme that connects all your art? "Bones. Skulls. I put a lot of emotions into my art, so that when people see my art, they would smile."
How did you start? "I changed my career. I studied accounting and worked in a bank. Then, as time went on, I realised that banking was not to my taste. So, one day I saw a job opening in the newspaper and I tried applying for a job at an animation studio."
What did you bring to KLIF? "This is my most recent collection, still ongoing."
What do you think is the importance of KLIF? "Building connections and friendships, not just business."
What advice do you have for aspiring artists? "Keep on drawing, sustain it, never stop."
Instagram link: @kupeh_rod
Willwin Yang: Yang is an illustrator whose works are inspired by the topics of sexuality, gender equality, and human empathy. Most of her work is in the mediums of illustration, short comics and zines published via both traditional and digital media, although she is interested in exploring traditional printmaking methods like silkscreen and Risograph. She works full-time as a magazine designer.
How would you define your art? Yang: "I really want to make it funny and nostalgic while also trying to convey a message. A lot of my art is inspired by vintage packaging, but it should look modern, and depict modern issues as well."
What is the theme that connects all your art? "Physically, this exhibition was done with a minimart theme. It all started when I did product illustrations, and I really liked it. There's a form to it, and it has messages on it so it's not so boring."
How did you start? "After I graduated, I felt like it would be nice to do this full-time. But it's not easy, because, in Malaysia, graphic designers are more in demand in the market. As an illustrator, you need to have your own style and a body of work that looks consistent, so this is why I started this."
What did you bring to KLIF? "When I was little, I was always brought to minimarts. I like buying groceries, and I spend a lot of time in supermarkets. So I thought it would be cool, to have a minimart full of my products and artwork."
What do you think is the importance of KLIF? "This really helps with my anxiety. I wasn't sure how people would receive my artwork, because I've never put myself out there like this before. So this was a confirmation that I can keep on going, and prove that I can actually do this."
What advice do you have for aspiring artists? "Try more things. We all have several interests, just go try everything, eventually, you'll find one thing that sticks."
Instagram link: @willwinyang
Rikkindergarten: Rikki is an illustrator who specialises in line art. With a distinctly dark style, her art is evocative of metal band logos, or tattoo art. Often featuring warped yet elegant depictions of insects, eyes, and intricate tangles of organic matter, Rikki's art is sure to evoke a variety of emotions in viewers.
How would you define your art? Rikki: "Even though it's dark, there's some softness inside, because I have a very soft personality. So that applies to my style also."
What is the theme that connects all your art? "I create art that is based on what I like. I like black stuff, underground music, and things like that. So, my style is very black, and looks a bit creepy."
How did you start? "I like drawing, and I have a diploma in illustration. I've been drawing for a long time, since childhood."
What did you bring to KLIF? "There was one time I just wanted to draw a bug. A moth. So, after that, I looked at it and thought that I could start with a series of insect art. So I just did that, brought them here, and set up this installation to represent the whole bug series."
What do you think is the importance of KLIF? "I can introduce my stuff to more people. Normally I just post my art online, and there's no return. So this feels like coming out of a cage."
What advice do you have for aspiring artists? "Just do what you like. That's it."
Instagram link: @rikkindergarten
Featured image is of Alexoid Luce's art
To read more BASKL, click on the links below: