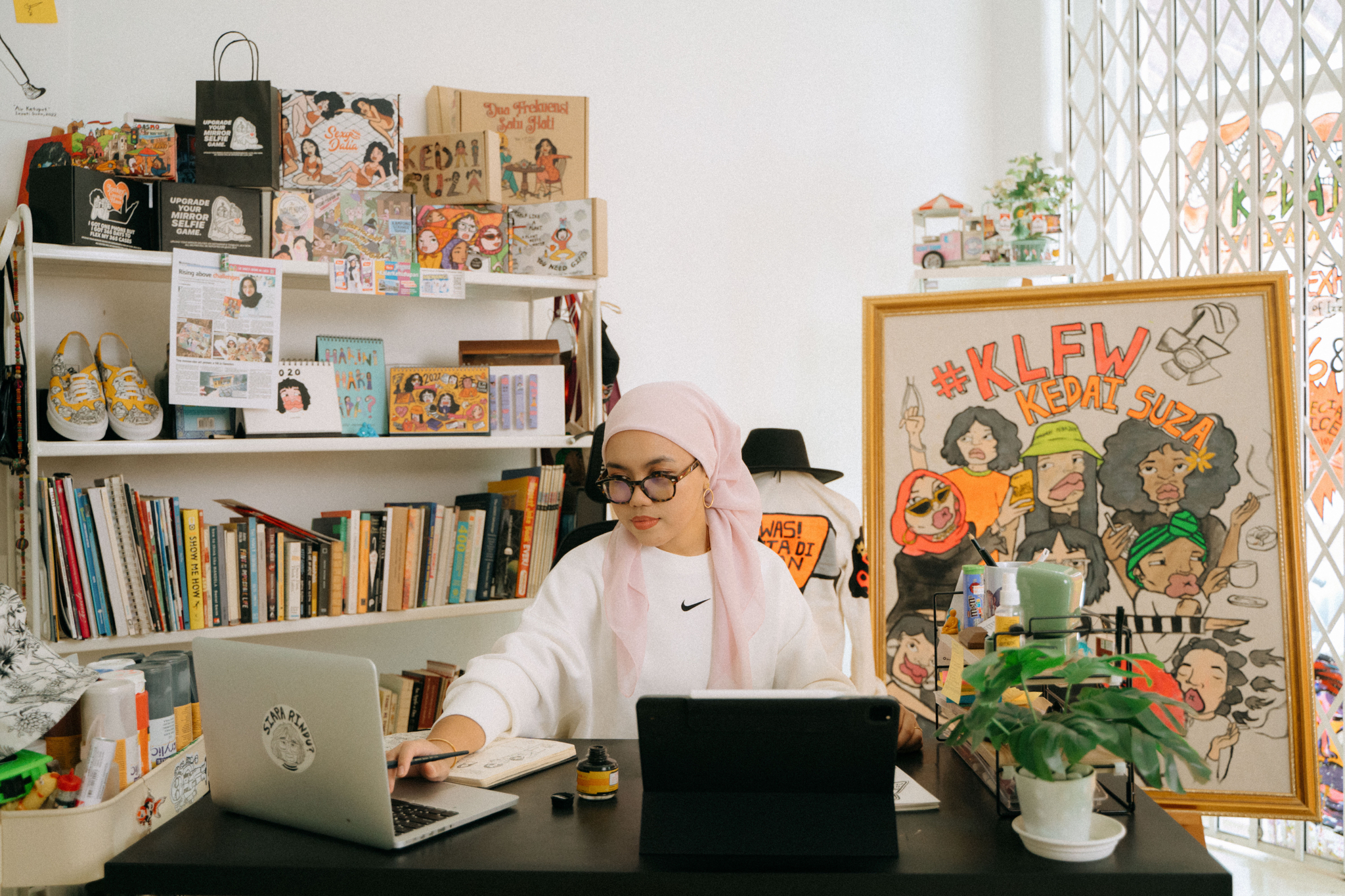 By NABILA AZLAN
Have you met Izzati Suza? We're pretty sure you would have seen her work on Instagram. Or perhaps you've stepped into the Nike store in Pavilion Kuala Lumpur and spotted her Nike By You x Izzati Suza merch! Izzati's remark on the featured photo above: "This is a photo of me drafting, taken at 2am. I drafted 20 artworks in one night after my zoom call with the brand because I was just so excited!"
Perhaps you were also at the Melaka iteration of RIUH (or RIUH NAU!), and saw the main poster which was illustrated by Izzati! BASKL, intrigued by how the artist makes art, finds out more about her processes, pathways and more.
BASKL: How are you?
Izzati Suza: Hello, I'm doing great, thank you.
Let's start with a bit of intro for our readers.
I'm Izzati Suza, 27, a full time artist. I am a self-taught artist who studied a bit of architecture at UiTM Sri Iskandar, Perak back in 2013. I quit in 2015 to take care of my late father, together with my mother. My parents were in a life-changing accident – thankfully, my mother was safe. My late father, however, lost his ability to speak, eat and move.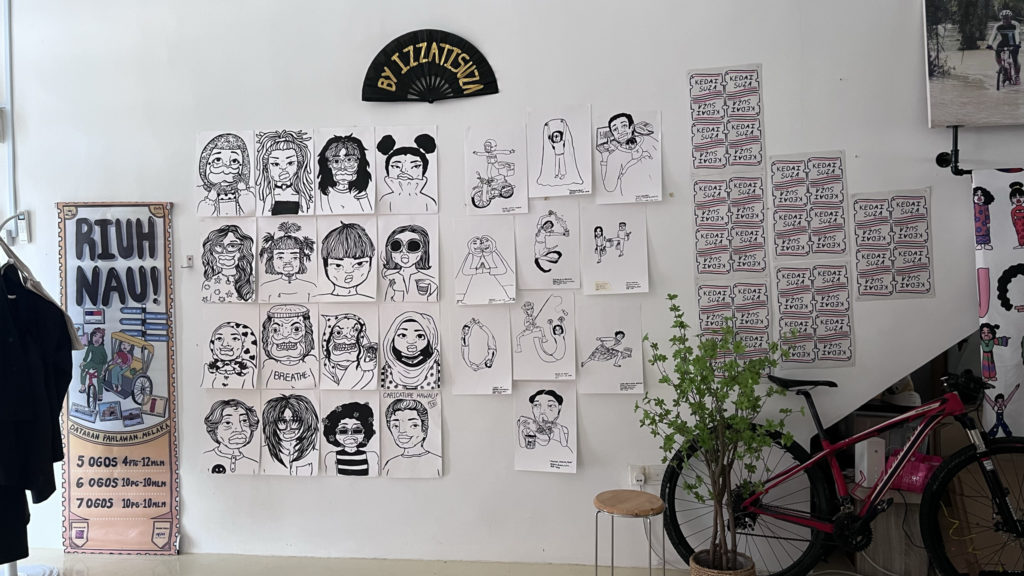 I used to write a lot when I was younger and hid my emotions behind my silly doodles.
Have you always been interested in art?
I have loved doodling since I was six and it has since become a habit (or means) for me to express myself. During the days when I played "nurse" taking care of my father, making art was my outlet. It wasn't until 2017 that I started selling my artworks – had them printed them on T-shirts and tote bags. When the doctors told us they were unsure about my dad's recovery, I decided to focus on creating art and to try to earn an income from it.
Who is your art for? Or rather, why do you make art?
I once heard playwright Fazleena Hishamuddin say that she doesn't write for others but instead to save herself. I can't help agree with that sentiment – I make art to stay sane and to live.
I have always enjoyed reading self-help books and poems, and sometimes turning those anecdotes into artworks. In every work I do, there's always a hidden meaning and if others find them relatable and even funny, I consider myself lucky.
To be where I am today, is all God's work, as more people have begun to accept my artworks, which mostly feature characters with thick lips.
In 2018, I opened a studio named Kedai Suza after my late father, Che Suza Che Hitam. It was in the same year that he passed away. The living must keep on living, and so I decided to revive his name this way. I may have lost my father but I have found the thing that I enjoy doing every day and this keeps me going.
What is your daily routine like as an artist?
I am currently adjusting to a new routine as I have just moved from Melaka to Setia Alam. Right now, I'm trying to plant a tree in my backyard and settle all shipping tasks, before focusing on making art at night.
Explain to me what your art style is? To us it resembles a hybrid between punk art and caricature – but how would you describe it?
Most people would just describe my art as doodles. I don't mind this – although lately more have been telling me that my artworks remind them of Dato' Lat's. As far as I know, I'm all in for creating my own style – maybe one day people would say somebody else's art reminds them of mine, with a little "Eh, kau punya art macam Izzati Suza!" But 'punk art caricature doodles' suffices, haha.
Landing on a signature style is no easy biz – any tips for artists who are still searching for theirs?
I remember watching a video where fashion designer Virgil Abloh says that if you focus too much on the details, some people would lose interest so just focus on one thing and improve from there. This is also why I kept on playing around with characters with thick lips. I kept going with one detail making it the signature of my art – whatever people may say about them!
You seem to be candid, unapologetic, and relatable – also very Malaysian in your way of making art! As far as stories and narrations go, where do you get the voice or inspiration for your characters?
They are all in my head! But I think I get my funny bone from my parents; both have worked with many people in their daily lives and they like to joke around a lot. As their youngest child, I find in them countless inspirations. I still remember many of my dad's jokes – I would love for them to be compiled into a book.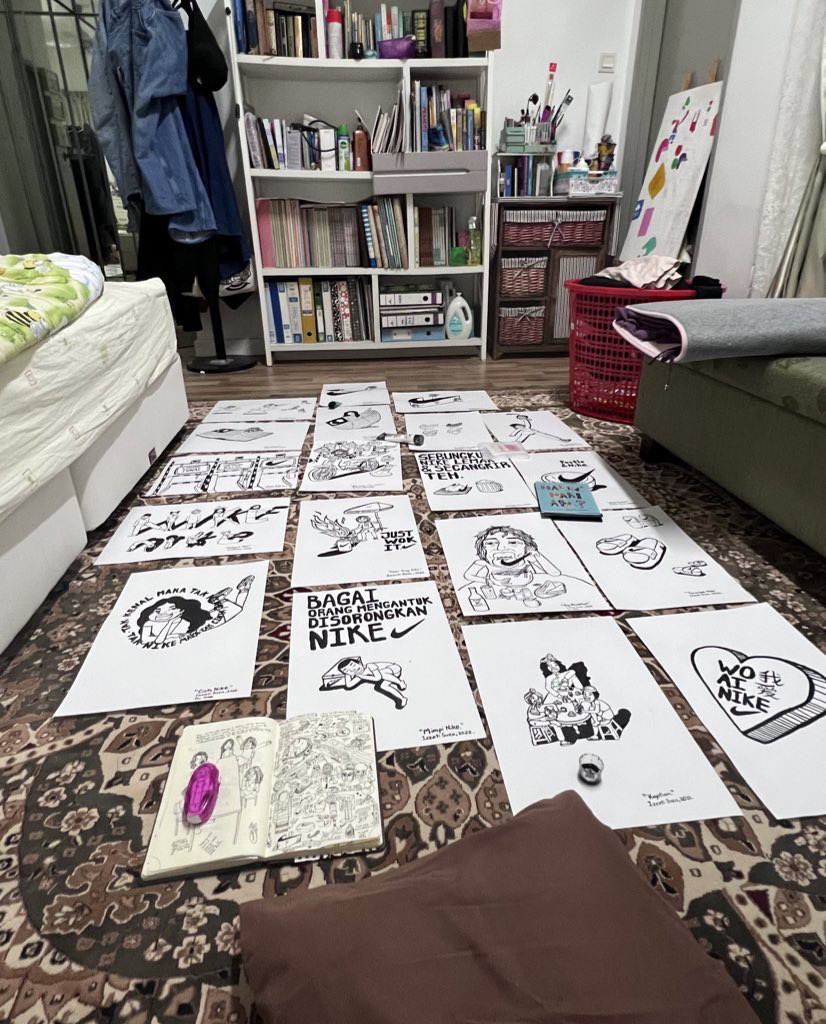 A belated congratulations on your Nike By You collab! How did that happen? What kind of merch is available?
Thank you so much! Nike approached me last year via email and truth be told, I still can't believe it. As for the offerings – the brand allows customers to custom create their own T-shirts. All of them are available exclusively in the Nike store in Pavilion KL and will be there for quite a while, along with other artists' merch.
Where can we find your art now and perhaps, in the future?
I have my art on a wall in Jonker Street, on phone cases, T-shirts, hoodies and tote bags.
If you ask me, I would love to be on billboards and cars, maybe even on toasters and tissue boxes. Graffiti artist Cloakwork has been one of the artists I look up to, and since illustrator Katun has created art for Chris Brown, who knows when I could draw for Dua Lipa in the future! A dream collaboration would also be having my artwork on Happy Meal's boxes. Not sure when the day would come, but as they say, if I aim for the moon, I might land on some stars.
Izzati is in the middle of building an inventory for a future Kedai Suza launch at a new location – perhaps either Selangor, Melaka, Johor or Penang next. Meanwhile, she will keep on making funny, relatable content for all. Follow her and Kedai Suza on Instagram.
Photos by Izzati Suza and @kedaisuza on Instagram
Read more stories like this on BASKL via the links below: