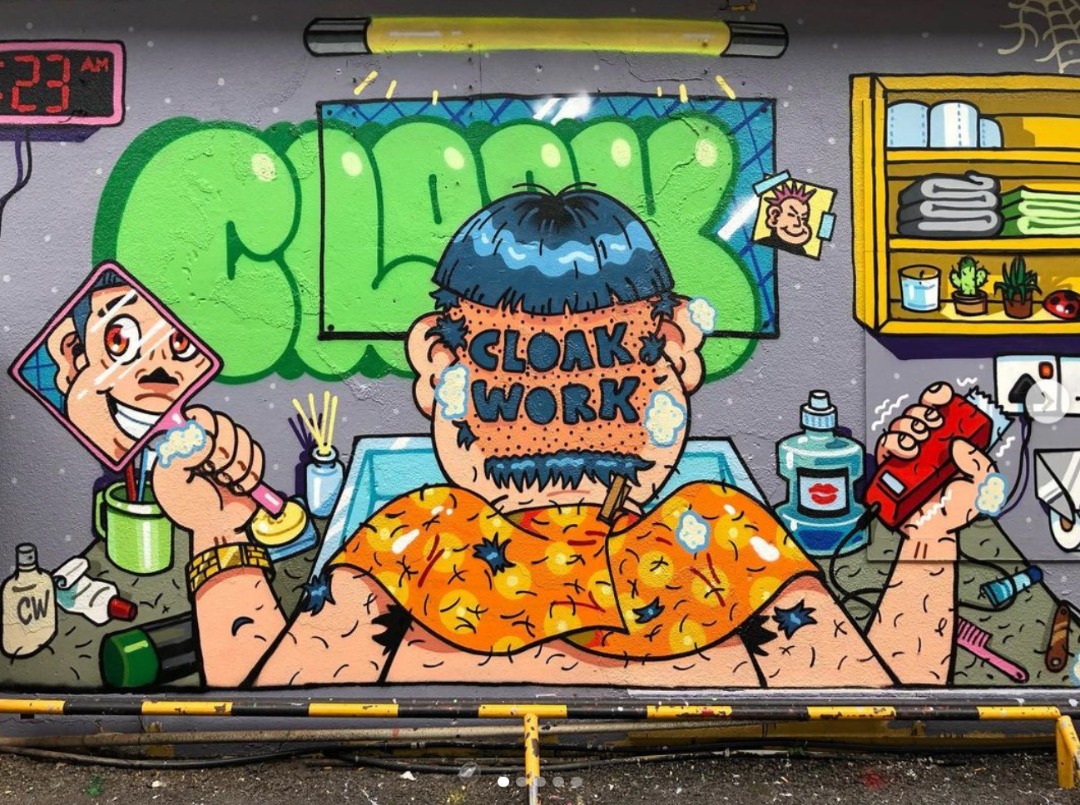 Graffiti artist Cloakwork shares how he ended up a full-time artist and why graffiti is a way of life for him.
By SOFIA SHAMSUNAHAR
CLOAK. You've seen the words decorating flyover pillars as you sit in your car, stuck in a classic Kuala Lumpur traffic jam. Walking through alleyways in Jalan Telawi, you've noticed the space brightened up with colourful graffiti-painted caricatures, and the words CLOAKWORK labelling the piece.
After years of having these words pop up during runs, bike rides and commutes, it began to make us wonder. Who is Cloak? How did he/she/they manage to "touch" so much of the city?
We dug a little, and found quite a story.
Cloakwork, real name "Chern", is a KL-based graffiti artist and illustrator. For the past 11 years, Cloakwork has been painting around the globe, working with global brands including YouTube, Samsung, Nike and Pepsi, and on projects such as the film Crazy Rich Asians.
To Cloakwork, graffiti is more than an artform, it is a way of life.
"It is my calling. If I was to choose anything again, I would still choose my graffiti. That is me. When I'm painting… I can feel very zen. My mind is enjoying every [piece of] paint coming out of the spray paint. I'm in my own zone where I can be myself. I don't have to worry about anything. It's just pure enjoyment," says the artist.
It's also a way for Cloakwork to give back to the community. He says: "My life motto is 'give and take'. Whatever I earn doing projects or commissions, I will allocate some money to contribute back to the street by painting more characters to cheer up the people."
Which is why the artist creates pieces that are neighbourhood friendly, filled with vibrant colours to make rundown places more lively. He also likes to paint over unsolicited street adverts and tagged swear words.
His mission is working. Cloakwork gets people messaging him that his pieces lift their spirits, or to keep believing in what he's doing.
"I hope I paint something that can cheer people up when they're stuck in traffic," he explains, adding that one of his aims is to get people to look around instead of down at their phones in these moments.
His journey in graffiti began when he was in Form 4. Taking the train often to they Pasar Seni area downtown, where Cloakwork attended tuition classes, he would admire the graffiti filling the walls by the riverbank. "These colourful pieces inspired me to do graffiti," Cloakwork shares.
He didn't have the courage to try the artform himself. But one day he thought "Okay lah" and took out some of his savings to buy graffiti paint. He asked a friend to accompany him to one of the tunnels by Pasar Seni to paint, where he quickly sprayed a piece and took a photo to upload on Facebook.
After the graffiti piece under the bridge, Chern thought he needed a special name to identify himself by. "I thought wow, graffiti painting with my own name is kinda lame…like nobody paints 'James'…it's just not cool enough". He went home and flipped through a dictionary, landing in the "C" section, and spotted the word "Cloak". It meant "hidden", which he felt was similar to graffiti. He felt that nobody knew the process behind graffiti art. "It's kind of like a surprise".
He learned how to spray paint by going to government-sanctioned graffiti competitions. He would watch how artists created pieces on plywood. He would ask artists questions. "The local artists were quite helpful in explaining things to me, from what type of nozzle or spray paint and technique to use," he says.
Cloakwork studied illustration, and always imagined he would become a storyboard artist who would constantly work overtime for a big agency.
"But then I thought man, that's not what I want. I don't want to become lifeless. I just would not feel happy."
Which is why he applied to a local skate shop called Showroom to design products for skate culture. His boss was supportive, and allowed him to take days off if he ever had a freelance graffiti job, the terms being he completed his work on time. "I'm very lucky," Cloakwork admits about his boss, and the working arrangement.
He was getting small-scale graffiti gigs whilst working as a full-time designer. But one day, he decided to take a leap of faith and become a full time artist. If he got a gig, he would save. And if there were no gigs, he would try to do his own thing on the street so people would recognise what he was doing. Cloakwork grew slowly on Instagram, a platform which was new at the time, almost a decade ago.
"As an independent artist, I believe consistency is key," he says, adding that he always made sure he gave 100% to any work, even when creating street pieces. As time went by, his freelance gigs started coming in organically.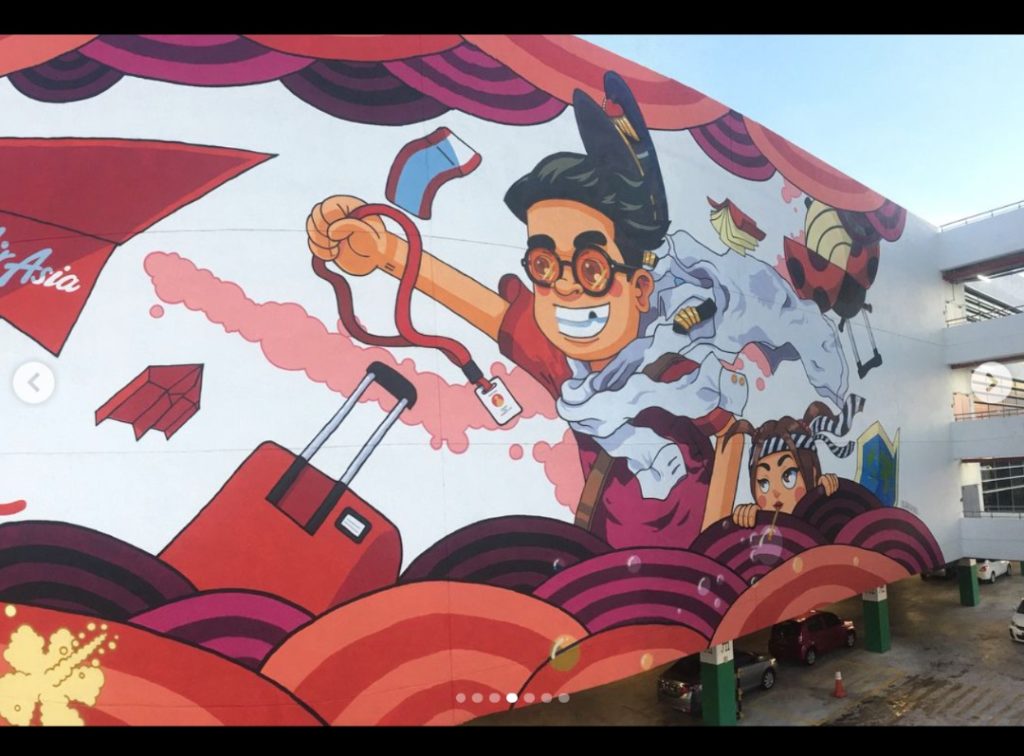 Cloakwork's breakthrough was in 2018, when he woke up one morning and received an email from AirAsia's branding team. They were requesting a mural for their newly launched office called RedQ, located in KLIA 2. AirAsia said it liked his style and storytelling.
It was the moment Cloakwork began to feel that people were starting to appreciate street art. Graffiti was no longer just hidden away in lonely street corners, but had become part of Malaysia's culture and community.
After his AirAsia piece, the artist started to gain popularity quickly. However, what's striking about Cloakwork is how humble he has remained, and how genuine his love for graffiti is. When asked how many pieces he's produced, he says: "I don't count. I just want to paint…I don't want to calculate. I want it to be a free and easy thing."
How does he stop himself from getting burnt out creatively? "To be honest, I am still an ordinary human being. I still have creative blocks. Some days I feel uninspired or demotivated."
His advice to artists in a creative rut is to rest and listen to your body. "Take things slow, and find inspiration in things. When you get down to the roots, it's all about balance," Cloakwork believes. Which is why he suggests that artists shouldn't keep producing for someone else, but allocate time to create something you're passionate about after completing a piece for a client.
His process is: whenever he comes to a new location to paint, he has to quickly sketch up the shapes and the character of the piece. "This is the most ugly stage, where people will judge you immediately!" he says. "No matter how we try to change people's perspective, of course there will always be people who don't understand street art at all."
Normally Cloakwork paints around noon, because it's bright so can see the colour of his piece easily and take a nice photo when he's done. It also looks less suspicious.
The artis also takes "Spray-cations", trips overseas to do graffiti, he makes sure he hits up graffiti artists from the country he is visiting to arrange a "graffiti jam". Usually every country has its own rules and walls for graffiti, and to make sure he doesn't get into trouble he learns rules from the locals. It's his way of creating friends and sharing culture.
"Art is a worldwide language," Cloakwork says, so when graffiti artists come to KL, Cloakwork does the same in return for them, playing host.
Times have changed during the pandemic. For Cloakwork, "this pandemic slowed me down. I take it in a good way".
He's ventured into things he wanted to explore like merchandise and digital art. But he can't wait to go back to the streets and paint more positive things, to let people know "it's not the end of the world".
Have you spotted a Cloakwork piece? Let us know where in the comments below, or better yet, why not take a photo and participate in our KLik contest KLikSeniSanaSini?