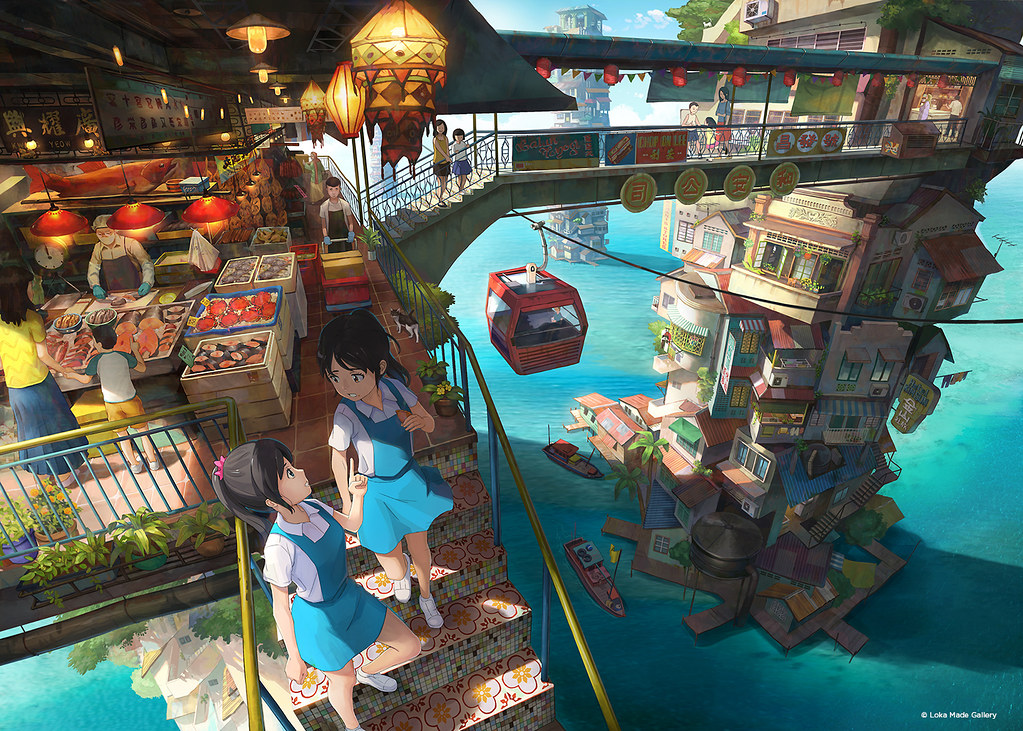 The raw beauty of Malaysia's cities and villages is enhanced by Loka Made's distinctive anime-inspired art style.
By CHIN JIAN WEI
In plain terms, Loka Made co-founder Chong Fei Giap paints scenes depicting Malaysian urban landscapes and small-town scenes. But that simple description does not quite convey the beauty of his art. His art is lush in detail, capturing the astonishing beauty of everyday life in Malaysia, rendering with loving detail the tiny bits and pieces that make up the crowded clutter of a sundry shop or a nameless alleyway. The forgettable, mundane trinkets, the rust and peeling paint that we see a hundred times every day do not escape Chong's brush. He captures them all, freezing them in time and drawing out their beauty by accentuating them, instead of trying to sanitize the scene by painting over them.
There is a clear Japanese anime-inspired look to the art, bringing to mind works like Your Name or Studio Ghibli films in a similar aesthetic of "enhanced reality". When looking at Chong's art, one may notice that the cities he paints are sometimes much denser than the real thing, with impossible canals and dizzying vertical drops. Chong's city is a half-remembered dream of Kuala Lumpur where the buildings meld into each other and grow skyward like a forest of concrete and metal. This is expressed in Loka Made's Chinese name: Ben Tu Huan Xiang. "Ben Tu means local. Huan Xiang means imagination, fantasy. So, as you can see, most of our artwork is related to these two elements," Audrey Chew, 32, co-founder of Loka Made says.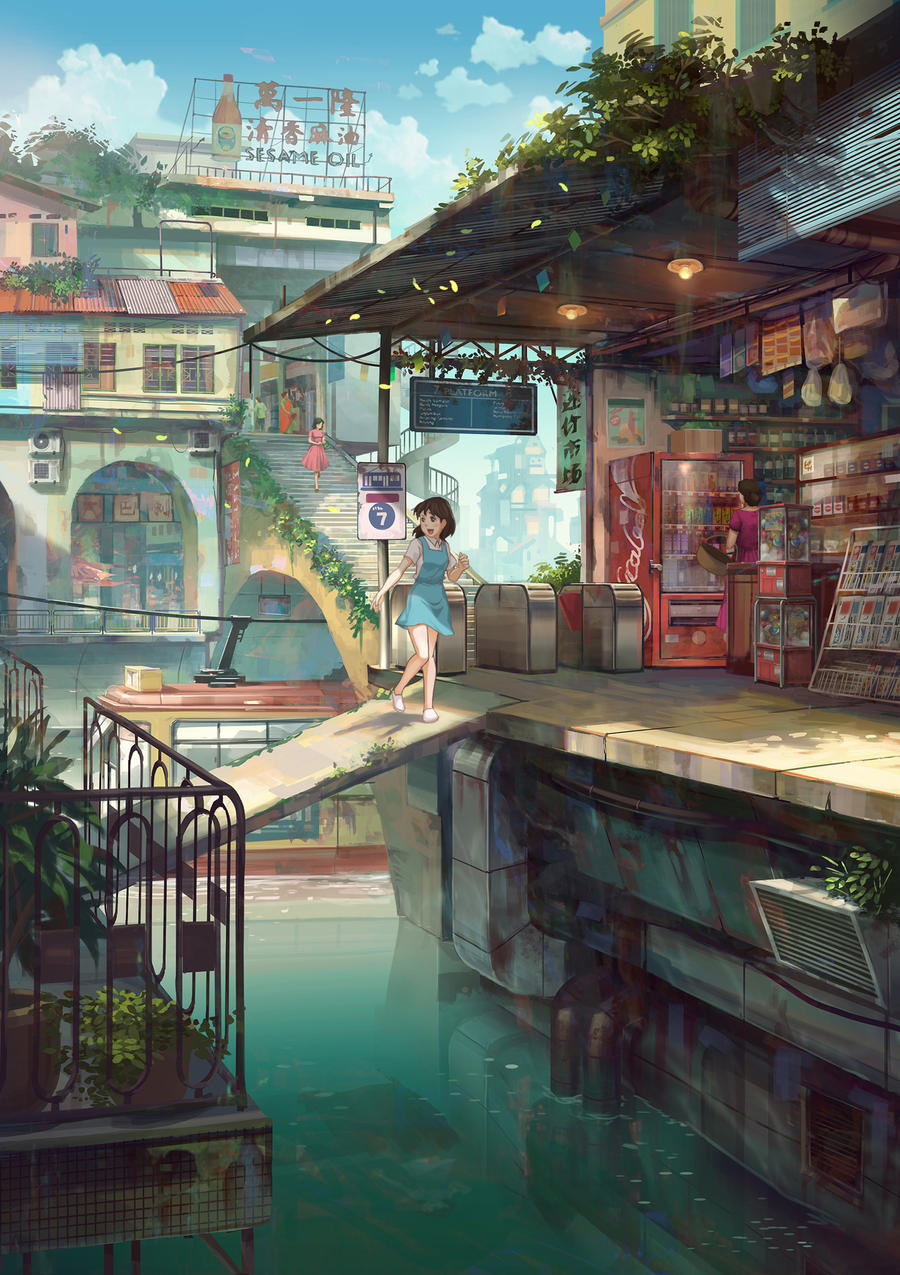 "We had been working together since 2012, mainly on commercial illustrations," Chew says regarding her partnership with Chong. "In 2015, Fei Giap suggested to me: I have drawn a series of artworks, why not compile it into one artbook? I was the artbook producer, and I felt that it would be quite a waste if the artbook was all that was made. So I suggested to him to make Loka Made into a brand instead of just an artbook. We thought it would be nice to share those illustrations with more people, and after some time we came up with our first series of pop-up cards. Then we had postcards. It's been seven years since then."
"The inspiration for the art mainly comes from Japanese animation," Chong, 35, says. "I like how they use their environment and different places, and turn them into backgrounds for animation. So at the time, I was thinking, as a Malaysian, instead of drawing Japan or other places, why not use Malaysian environments to draw a series of illustrations that look very anime, yet with backgrounds that are Malaysian, like kampung and local architecture. I also added in a character, the schoolgirl in a local pinafore." The schoolgirl is a common sight in Japanese anime art, and Chong wanted his character to be a Malaysian take on that trope and a way for locals to feel more connected with the art.
"The first piece of art was based on my grandfather's hometown, Kuala Pilah," Chong shares. "It's a small town. I went to the place with my family more than 10 years ago. I liked the place and when I was there in the early morning, I saw the traditional sundry shops. All the things on display were very old-fashioned. It made me think of the scenes I saw in Japanese anime, old people walking around a small town. So I thought, why not turn this scene into a very anime-styled artwork? So that's how the series started. As I continued, I featured different places, like Penang and Pulau Ketam."
Chew says that they illustrate scenery so that people can really look into Malaysia's beautiful side, and see the beauty of its culture. "We drew a back alley, and people asked us where it was. It was just the back alley in Armenian Street in Penang. But nobody really looks at that alley when they go to Armenian Street. So we just wanted to capture this and appreciate Malaysia more.
"There's a lot of interesting small things that happen in our daily life. When we walk in Petaling Street and look up, we see a lot of old windows and buildings that sometimes people don't notice," Chong adds.
Chew says, "Loka Made started from Fei Giap's series of artwork, but slowly we were joined by a few artists, so everything that is related to Malaysia's culture or scenery is within the scope of our art. Our team would go into KL and research, take photos. We would then come back to the studio and discuss, and come up with an illustration. Especially in KL, the scenery is quite nice, you can see very old houses among the new. Old and new buildings together can create a nice visual contrast."
"That's very 'Malaysia' to us, very KL. You walk along the old streets and behind them, there are these super tall and new buildings," Chong says. "We like this kind of thing and we try to capture it in our drawings." Chong talks about how some of the old streets are changing and disappearing as the country modernizes. "The art is also a way to capture the place in time."
"Sometimes when we do exhibitions, grandparents will explain to their grandchildren about the old days," Chew says. "For us, it's not just about our products being bought, it's also about the storytelling to the next generation."
Apparently, it's not just Malaysians who appreciate the art. Loka Made has received attention from mainland China and Taiwan; with its art occasionally shared on Chinese social media, and even ban exhibition held in a Taiwanese university and a creative expo.
Other than selling crafts and art products, Loka Made also organises exhibitions, talks and workshops. Chew says, "For different festivals in Malaysia, such as Hari Raya, Mid-Autumn festival, and Hari Kebangsaan, we would collaborate with bookshops to conduct DIY pop-up card workshops. So people can create their own local shophouse-themed pop-up cards. Another activity we currently have is Postcard Swap with Loka, to encourage more people to write and send postcards to each other. I think it is always exciting for anyone to receive postcards in the mail. We plan to collect maybe 1000 or 2000 pieces and we will do an exhibition."
On its website and Instagram page, one can find collaborations with brands such as Maggi, Milo, or BROS water bottles. Chong and Chew say that in the future, they plan to continue collaborating with many other brands. They also express cautious interest in exploring NFTs. "There's been both good and bad things that have happened," Chong says, and Chew adds, "So we're still observing what we can do. But for Loka Made we always try to explore new things." It's fitting that a brand focused on portraying the interplay of old and new in Malaysia is also interested in exploring how new technology can interact with traditional art.
You can browse through Loka Made's products on its website, and follow its Instagram page here. If you're interested in participating in the Postcard Swap, here's the link!