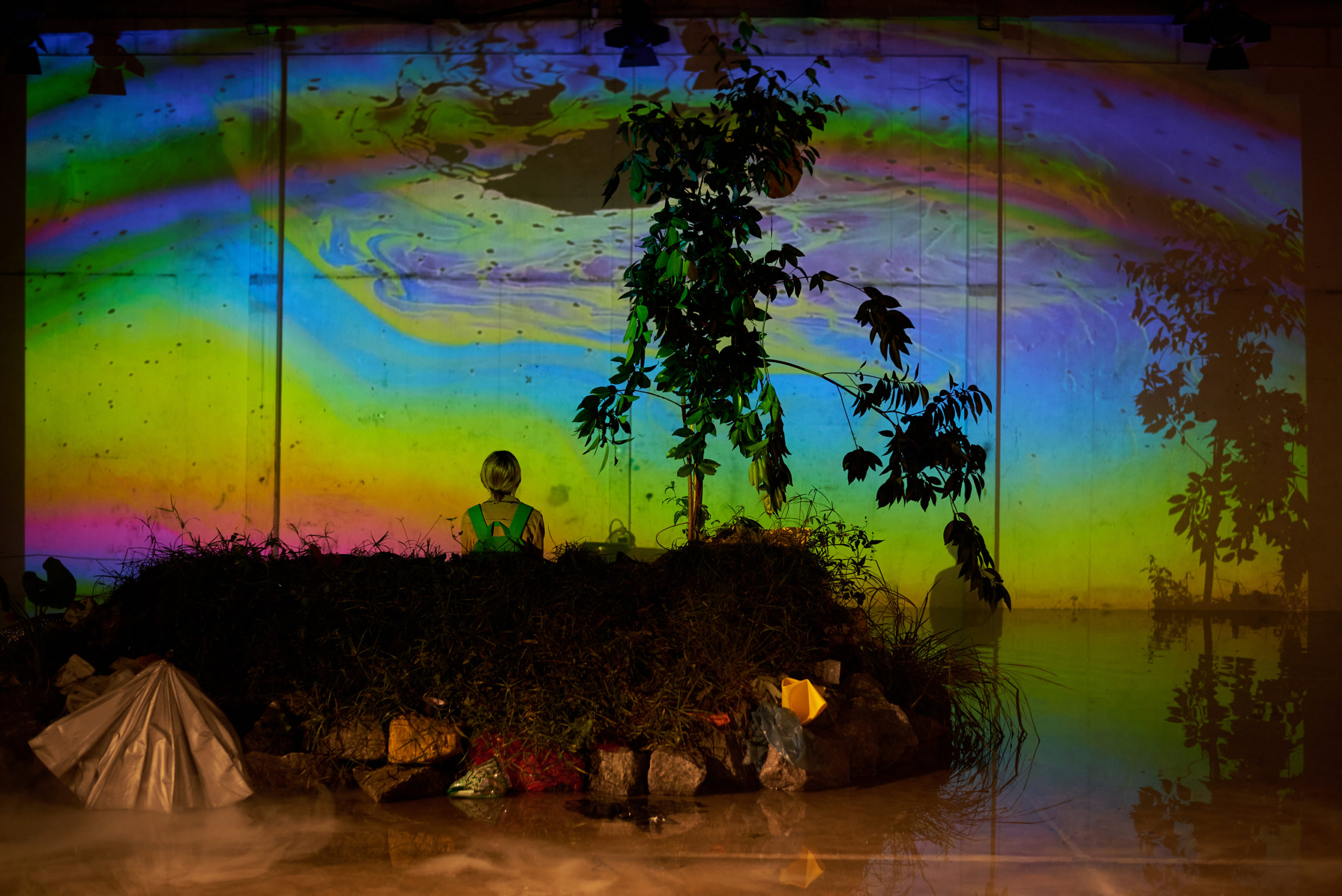 Across several venues in Kuala Lumpur and Port Klang, the Klang River Festival saw different streams of visitors throughout its 10-day programme. How did the fest fare and will we see more editions soon?
By NABILA AZLAN
The Klang River Festival (KRF) took place from Nov 25 to Dec 4, 2022, for the first time in 11 spots, each with a special connection and within the vicinity of the river. A creative celebration of local artistry, heritage, community and biodiversity, KRF afforded visitors and organisers the opportunity to view the city through numerous lenses. Looking back and forward at how the various locations had evolved throughout time – also the many creations that have come out of them, all kinds of reflections were shared via the fest's performances, installations, exhibitions, workshops, markets, dialogues and more.
BASKL caught up with the team behind KRF, creative director Joseph Foo, festival producer/KongsiKL arts manager Mah Jun Yi plus programming director Wyn Hee on the atmosphere of KRF 2022. Also, we asked them what the highlights of the first edition were, and seeing the turnout, whether another iteration would be in the pipeline?
There were so many things to see during the whole event! Although it might be tough, what were some of your favourite moments throughout the festival and why?
Joseph Foo: Mine had to be the dialogue with the experts – with SMART Control Centre, Department of Irrigation and Drainage (JPS), Projects of Landasan Lumayan Sdn Bhd for Selangor Maritime Gateway (SMG) and Lembaga Urus Air Selangor (LUAS). I learned so much about the Klang River. The discussion added depth to the festival, which in turn helped to affirm our next direction.
Wyn Hee: For me, there were a few moments like that. One of them was watching two local men stop their motorcycle, approach the event site and suddenly come in to watch the light projection Dari Lumpur Ke Laut (located at the NPE underpass). They chatted with us and this is when they expressed their interest in the event. It was even more special for us to have children from the neighborhood roam around the event site.
The other was having people who have lived or still live on Old Klang Road share their stories with us for our exhibition Parallels: Old Klang Road Revisited. These moments made me feel that all the trouble we went through was worth it.
"It was a graceful experience – the internal team (the crew and artists included) worked selflessly throughout the festival to make everything better. The positive energy I received every day was exhilarating, but I was able to recharge on site."

Wyn Hee on whether the team was able to rest in between KRF happenings
Mah Jun Yi: Four things – one, I had a local resident telling me after the event that they are inspired to initiate a project to document their neighbourhood. Two, I overheard collaborators and visitors talking about a potential collaboration. Three, some artists came up to us expressing interest to do something with the installation My Island. Last by not least, the fire artists who jammed at the site of Dari Lumpur Ke Laut on a random day told us that they wanted to perform there on a regular basis because they love the spot next to the river.
What kind of challenges did you meet along the way? How did you react as a team?
F: Having such a good mix of audiences, one challenge for us was going beyond just having but bringing people closer to the river while understanding the importance of co-existing with it. There were also challenges like the weather and timing (the General Elections and a bunch of other events and functions were also happening at the same time!).
"It feels like a celebration of New Malaysia!"

Joseph Foo
M: Time and manpower were short but everyone in the project believed in the idea and pulled through. The advisory, core and supporting team as well as our collaborators were all ready to contribute in their own way.
If there is anything you can change or make better for the next round of KRF, what would you swap, upgrade or perhaps add to the line-up?
F: To have more physical interactions with (or within) the river.
WH: I agree with Joseph, we should have more events "touching" the river.
Based on your observation, which events sparked the most conversation between visitors? What sort of thoughts do you think they were having?
WH: The walks and the story-sharing of Old Klang Road. The interest in these areas was overwhelming and the community is craving more.
M: Anything to do with the telling of stories of a place (whether it is a walk, talk, research exhibition or workshop) – people are interested to learn about their cities and they want to be proud of them. I personally enjoyed the festival opening and closing, seeing people crossing paths. I believe we still lack social spaces and events that encourage casual conversations.
Congratulations on pulling of this novel first edition of KRF! It might be too early to ask, are there any plans for structuring the next one? Any potential collaborations, themes, possible locations, or aspirations?
F: We have met and spoken with many potential collaborators and partners, which to us will definitely add colour and substance to the next KRF. We will also enhance the four pillars that shape KRF and perhaps extend invitations to potential collaborators from different parts of Malaysia.
M: The Klang River runs 120km from Taman Melawati to Port Klang. We are looking at expanding the scope a little bit outside Old Klang Road, but the activation will still be in different vicinities of the river.
Run through the whole course of Klang River Festival (KRF) 2022 via Instagram or its official website.
Read more stories like this on BASKL via the links below: