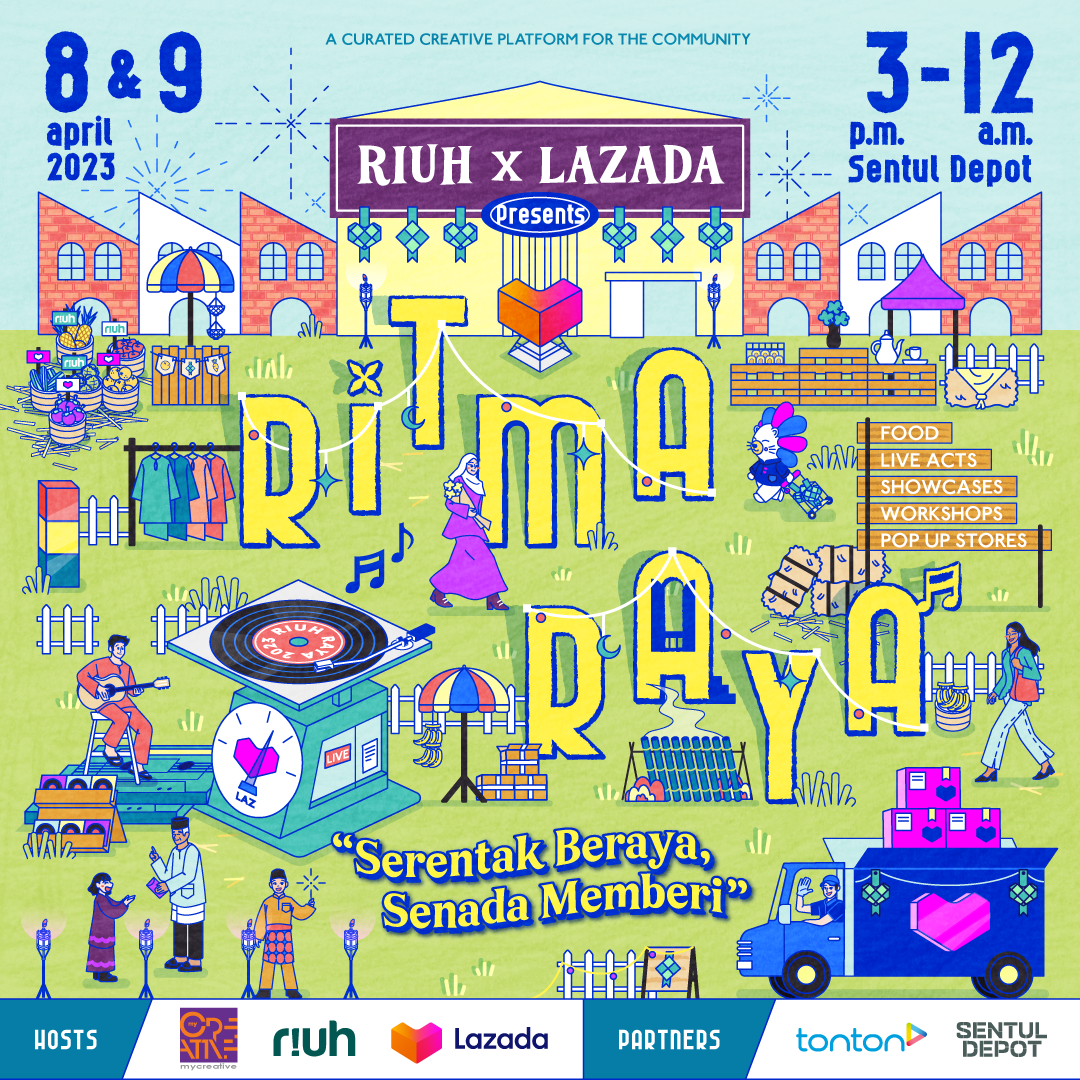 RIUH brings festive cheer back to Kuala Lumpur with RIUH X Lazada's 'RITMA RIUH' this weekend.
By CHIN JIAN WEI
The long-awaited RIUH festival returns to Kuala Lumpur this Raya season with RIUH X Lazada's 'RITMA RIUH'. This weekend, on April 8 and 9, from 3pm to 12am, Sentul Depot will once again play host to the festival. RIUH! has long been renowned for providing a space for local creatives to showcase their talents, whether it be performing music on stage, or selling handmade crafts. The latest edition of RIUH is no different.
RIUH! has always been intended by Kementerian Komunikasi Digital (KKD) and MyCreative Group to bring the arts closer to the people and give local creatives the chance to promote their works. Over 100 creative brands will be present at RIUH! in conjunction with the upcoming Hari Raya, as well as many performances from local artistes like Bil Musa, Asyraf Nasir, Crinkle Cut, Jetcetera, and many more. There will also be traditional performances like joget lambak by LOCCO, among others. As usual, you can expect to see an assortment of pop-up shops and workshops teaching artistic projects such as making linocuts or paper seed bombs.
Over 20,000 visitors are expected to show up for 'RITMA RIUH'. Readers who have visited a RIUH! festival know that large crowds are par for the course for RIUH. According to Junady Nanawi, CEO of MyCreative Group, "This year's RIUH! event is even more special with the collaboration of Lazada and Tonton, who have high user reach. This partnership allows us to attract over 100 local creative brands from across Malaysia, with the hope of introducing these brands to the local community as well as at a global level. We believe that this collaboration can also strengthen the position of Malaysia's arts and creative industry in the increasingly competitive global market and provide more opportunities for arts and creative enthusiasts to develop in their field."
Throughout the weekend, as festival-goers shop at RIUH!, they will have the opportunity to shop online and offline (O2O), and simultaneously support Lazada's "Buy to Give" charity campaign, happening from March 20 to April 21. Lazada is partnering with NGO partners Islamic Relief Malaysia and MyFundAction, donating funds for each completed order. These funds will enable the agencies to provide and distribute "Raya Packages" consisting of food, cleaning products and other basic necessities to over 3,000 beneficiaries across the country, including communities in PPRs, care homes and orphanages.
Follow RIUH on Instagram to get all the latest updates!
To read more stories from BASKL, click on the links below: