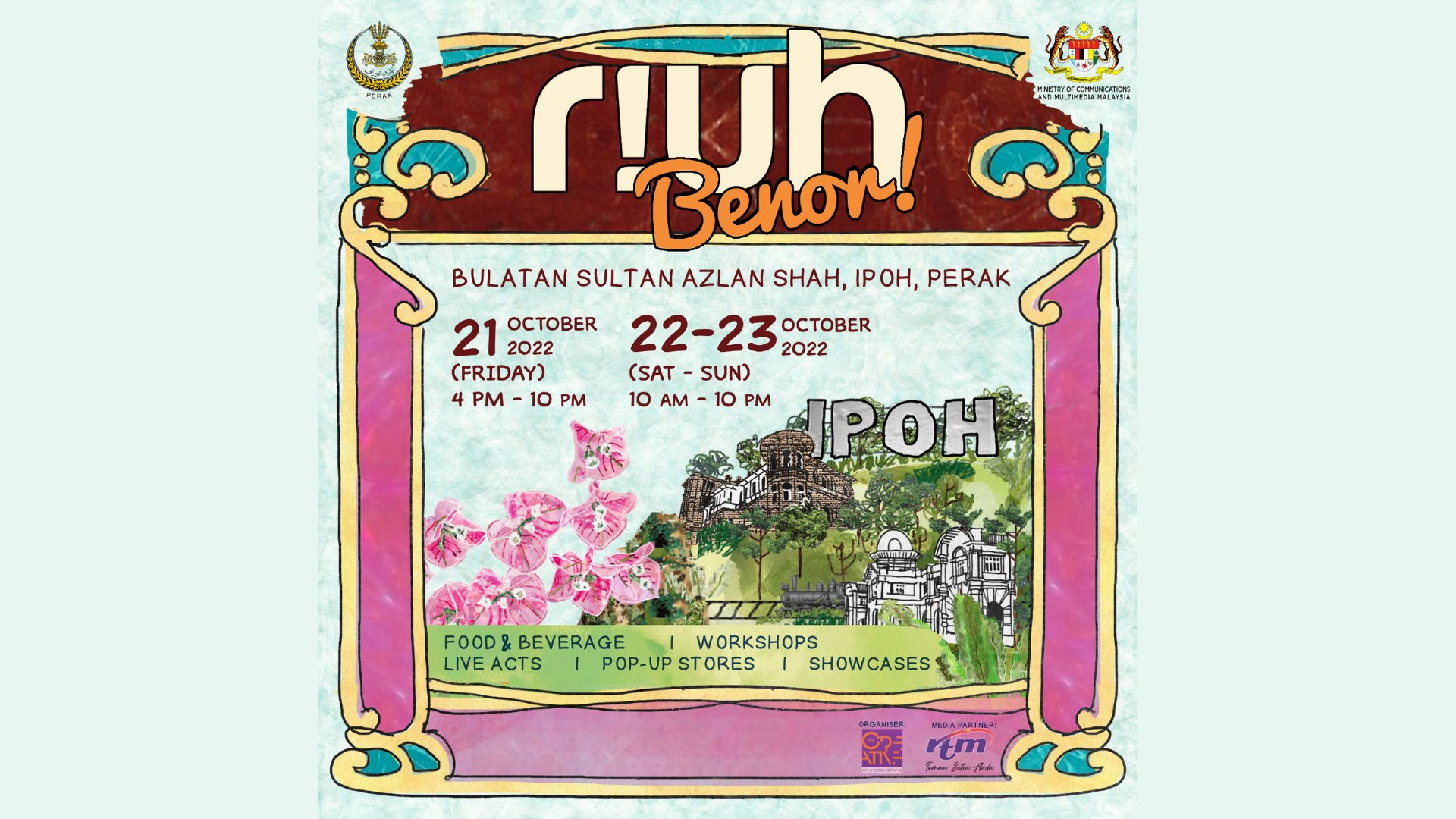 The latest edition of RIUH is shaping up to be as eventful and exciting as its predecessors.
By CHIN JIAN WEI
This weekend, Ipoh, Perak, will be the latest city in Malaysia to play host to the RIUH festival, coming off the back of prior events in Johor, Kota Kinabalu, Melaka, and Kota Bharu. 'RIUH BENOR!', happening this 21 to 23 October 2022, will be a festival of creative workshops, music, performing arts, exhibits, pop-up stores, food and so much more.
This will be the fifth edition of the RIUH nationwide tour, otherwise known as Kembara RIUH Keluarga Malaysia (KRKM), organised by MyCreative Ventures Group in efforts to support and revive the local creative industry. The RIUH events have been a huge hit among Malaysians, and with the success of the programme, KRKM aims to provide over 7000 job opportunities and support over 5000 creatives. All in all, 14 locations around Malaysia have been planned thus far to serve as venues for RIUH festivals in the name of boosting local creative businesses throughout the nation.
MyCreative Ventures CEO Junady Nawawi had this to say, "So far, the programme has managed to create 3238 job opportunities and support 2053 creative industry activists and businesses. Hopefully, we'll be able to keep this positive momentum going in Ipoh."
For readers who have already been to a previous RIUH event, rest assured that you will find much of what you liked about previous RIUH events here at 'RIUH BENOR!', along with some new exciting sights and activities. The dance and music performances will be sure to thrill you as you browse the many pop-up shops and take part in the eco-creative workshops, where you can learn how to make terrariums, soy wax candles, potted plant hangers, and much more. Music enthusiasts will be delighted to hear that the lineup for 'RIUH BENOR!' includes musicians such as Jaclyn Victor, TUJULOCA, Ning Baizura, Ruffedge, and more. Cultural music and contemporary music alike will share the spotlight.
'RIUH BENOR!' will showcase a variety of cultural, musical, and dance performances, as well as art exhibits including the Bharatanatyam folk dance, a Yasmin Ahmad screening by Yasmin at Kong Heng, and a Wayang Kulit Animatronik performance. 'RIUH BENOR!' is expected to attract as many as 20,000 visitors over three days.
Perak is a state blessed with rich culture and tradition. Rebana Perak and Tarian Belotah are just some of the many examples of Perak culture. Perak's traditional food should also not be overlooked, with mouthwatering dishes such as Nasi Lemuni, Ikan Pindang Daun Seniar, Kebebe, and more. 'RIUH BENOR!' hopes to leverage this rich cultural heritage to deliver an event that is both culturally significant and fun for the whole family.
Check out the pictures below to see some of the workshops and musicians that will be at 'RIUH BENOR!', and go to RIUH's Instagram page and website to learn more.
Also, check out the links below for stories on the past RIUH events and some of our other recent articles!