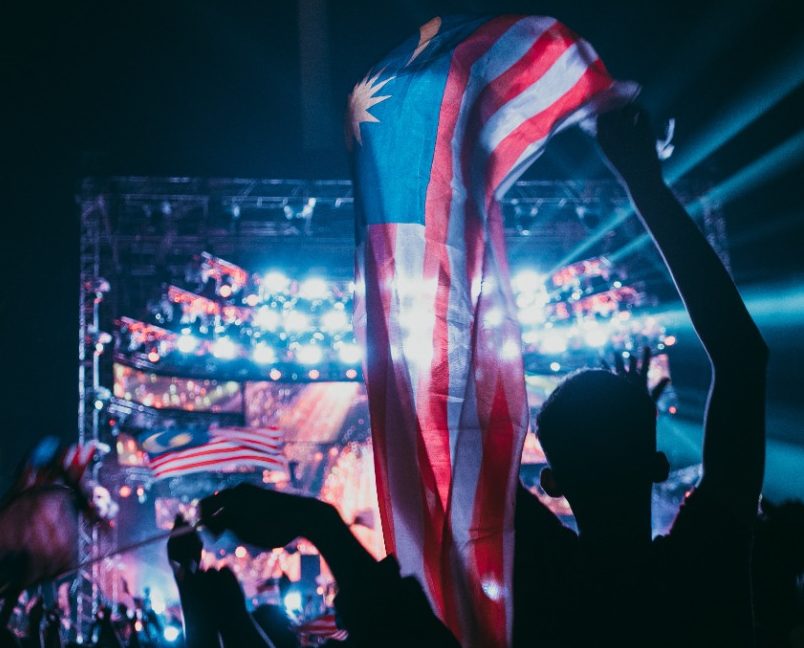 Got a favourite song that makes you proud to be a Malaysian?
By MARIA MURUGIAH
Come Aug 31 every year the flags go up, we share cute cartoons reminding us of our favourite Malaysian things and the radio waves are packed with songs that tug at our heartstrings. Perhaps that's just what we need during these dreary days of the pandemic – music that will soothe our souls, and bring out the Malaysian in all of us, so we remember to reach out to those around us, lift up those in need, and celebrate the blessings that we all have.
Classic tunes like Tanggal 31, Keranamu Malaysia and Jalur Gemilang have become iconic theme songs to every Malaysian – many of us may know the lyrics by heart! Whenever we need motivation, anthems like Gemuruh, Gemilang and Standing in the Eyes of the World never fail to set hearts on fire; and what better time than now to revive some of those memorable tunes.
What's so great about these songs is that they melt away barriers between people. At the risk of sounding cliche, patriotic songs really do bring us together as one rakyat, uniting everyone in our love for our homeland. In a paper titled "Unisonance In Singing Malaysian Popular Patriotic Songs: Bridging Collective Integration Through Music", UKM lecturer/researcher Dr Shazlin Amir Hamzah refers to this experience as "unisonance", a simultaneous acknowledgement of the common symbol, that is, the song, signifying a sense of belonging and cohesion – above any ethnic or cultural differences.
As we gear up for another National Day, BASKL has curated a playlist for you to enjoy, and we asked a few musicians to share their favourite patriotic track too.
REENING LAU, songwriter and guitarist: Honestly, the most prominent song I associate with Merdeka is Tanggal 31 by Sudirman so that would have to be my favourite. Special memories of this song would include my Sekolah Rendah times where we would assemble during the week of Merdeka and sing this song with much gusto so it brings back very nostalgic memories.
FRANCIS WOLF, singer-songwriter and frontman of 1990s punk band Spunky Funggy: I'll go for Bahtera Merdeka by Aishah. This song actually has a very strong nusantara feel to it and personally I think it captures the melancholy of what it means to have "merdeka". You could not escape this song in the 1990s!
PAUL AUGUSTIN, musician and director of Penang House of Music: The one that truly represents Malaysian patriotism is of course the national anthem, Negaraku. I don't care where it comes from or how it came to be our Lagu Kebangsaan – this was a song I grew up with and continues to stir my heart even as an adult. One of my favourite stories to tell is about the time I worked at the Commonwealth Games in 1998. Hard Rock Cafe had set up a tent and I walked in to get a drink since it was a hot day. Right around that moment when I sat down, Malaysia had just won a gold medal! I watched on the TV as the winning athlete stepped up to the podium and the Negaraku started playing. My eyes welled up with tears, I couldn't believe how moved I was!
YVONNE SOO YI YUN, conductor and musician: I came across Ali AhKao Dan Muthu by Namewee ft. Dato' David Amarugam and Aniq when I was working during my summer break in the UK. I found the music video incredibly fun, nostalgic, and moving. "Makan roti putih campur gula" brought back childhood memories of trying the snack for the first time after listening to my mother's account of her own childhood. Bread and sugar was the substitute for jam and spread on toasts. This song continues to remind us that every individual belongs to this nation, "tak kira darah dan warna" (regardless of our blood and race), and that we can define what the Malaysian dream means for us.
BIHZHU, singer-songwriter: I like words, and the lyrics of Tanah Pusaka hit me very hard, especially the last line "Biar putih tulang, jangan putih mata". Also, the melody is haunting and rousing at the same time. Every time I perform this song, I'm reminded of the potential of Malaysia, and our true strengths – the diversity of our people – and how traitors to our country work so hard to destroy it with lies and hatred. So this song is poignant to me for this very reason.
JACLYN VICTOR, singer: Saya Anak Malaysia by Dr Sam. This song is one that takes me all the way back to when I was a wee little girl. Just the thought of this song brings back fond memories of my late father. It always made me look at him in wonder. How he loved everything about Merdeka and the parades and also the fireworks. Think he was always a little more excited than my brothers and I! Also I love the lyrics to this; so simple yet very meaningful. Even as a little girl who understood very little back then I understood the power of this song. No matter where you end up, you are always "Seorang Anak Malaysia".
YOYO CHEOW, singer and event host: My favourite patriotic song is Jalur Gemilang. The first time I heard it, I was so touched and really enjoyed it! Those lyrics "Merahmu bara semangat waja, Putihmu bersih budi pekerti, Kuning berdaulat payung negara, Biru perpaduan kami semua" gave me so much motivation whenever I encountered hardships. Jalur Gemilang also symbolises national unity, especially during these pandemic times – where everyone is working to help each other, regardless of race.
What's your favourite?
Photo at top of the page by DEVA DARSHAN/Unsplash