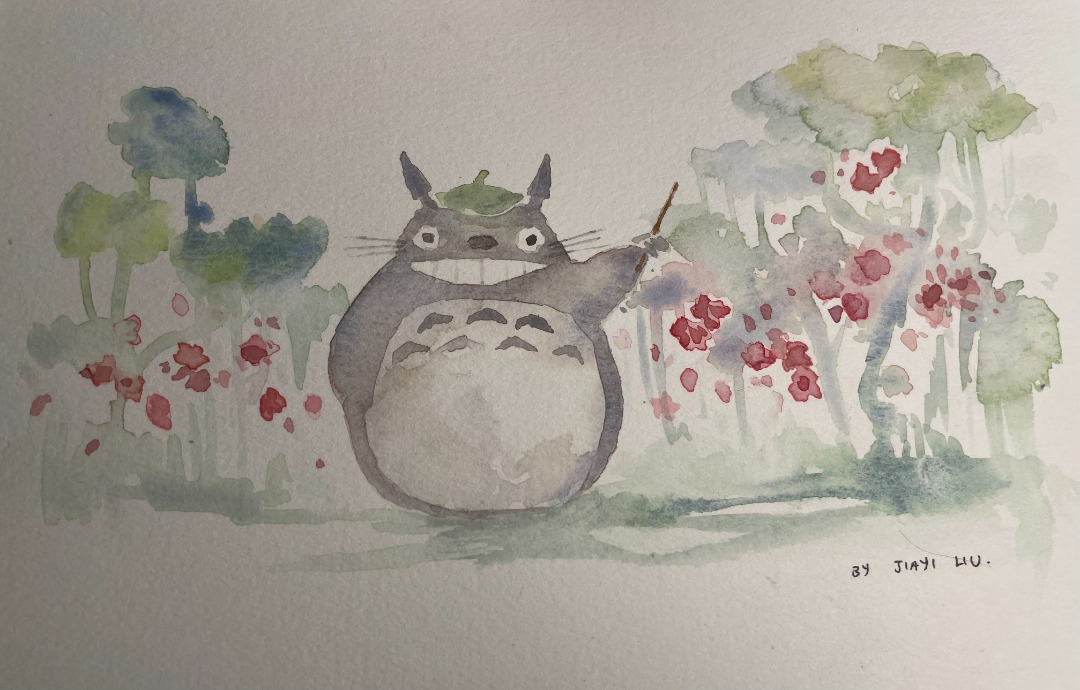 In the four-part series 'Totoro Conducts', conductor Yvonne Soo Yi Yun traces her journey with music and people on different continents.
By YVONNE SOO YI YUN
I am a conductor studying a Master's in Orchestral Conducting in the United Kingdom. Born and raised in Malaysia, I grew up listening and singing to music from Pixar and Studio Ghibli animation films. I graduated from University of Oxford with BA Music on scholarship as a first-generation university student, completed the first year of my Master's studies in July 2020, and went on a gap year in Malaysia since the outbreak of the Covid-19 pandemic.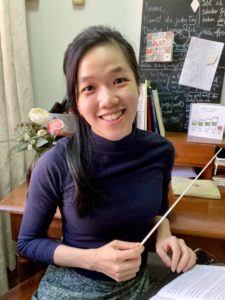 In weeks to come I will share my journey with music and people across Malaysia, Oxford, and Cardiff. I invite you to join me on my road less travelled, where I reflect on my experience as a Malaysian woman studying and performing music — specifically classical music — abroad, and my next destination, in light of the Covid-19 pandemic. But first, I will begin my story with the present.
In mid-May 2021, I decided to launch Free Music Project, a small-scale initiative in which participants can take a 30-minute music lesson with me for free. While staying 24/7 within the confines (and comfort) of four walls, people actively seek inspiration and knowledge. As the number of Covid-19 cases hit an all-time high, people want to make a difference, no matter how big or small it may be.
I recognised that not everyone had the privilege nor means to learn music or take formal lessons, despite their curiosity and interest in music. Hence, these one-time sessions were free for anyone. Any contribution from those who are able and willing would be made directly to a Malaysian Covid relief fund or arts organisation of their choice. Within days I received 15 sign-ups and have taught 9 sessions since then!
One participant decided to leave his contribution with me. "Half of it is for your time, and the other half is for charity," he said. "You can decide where my donation goes." I was deeply moved by his gesture of appreciation for my time and effort as a musician. Nevertheless, I transferred the full amount of the contribution to the Kuala Lumpur Performing Arts Centre, where I made my debut as an orchestra conductor in the Yayasan Sime Darby Arts Festival 2016.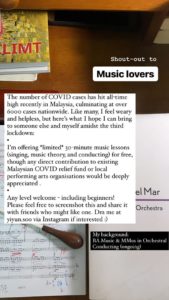 When he found out what I had done, a part of him felt sad for not compensating me for my time. But I reminded him that it was with his help that I was able to support one of the organisations that has shaped me as the musician I am and, for that, he should be very proud.
It has been over a year since the pandemic upended our lives, and 11 months since taking a year out from my Master's studies. I had to reorganise my finances for my studies and reimagine my path ahead as a conductor within and beyond the Malaysian shores.
Alone in my room, I yearn for human connection, new perspectives, and new ways of giving back to the community. Conducting had enabled me to explore new ideas and connect with people from all walks of life before live performances are prohibited. During the third nation-wide lockdown, I had to find another way of achieving that, and found it in the same things that I hold dear: people and music. For that, I thank every participant I have met to date.
The road less travelled with music still terrifies me, but what are dreams if they don't terrify us? Although I have not stepped on a podium in the last 14 months, I rediscovered the courage to dream and imagine again — one which I'd nearly lost to life's anxieties during the pandemic.
Here's to all roads less travelled and all of our what if's. Here's to daring to dream again.
Totoro Conducts is a 4-part series tracing the journey of a Malaysian woman from her college days till the outbreak of Covid-19. Up next: A reflection on studying music at Oxford University where Yvonne Soo Yi Yun uncovered and embraced her sense of "in-betweenness".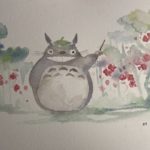 The watercolour painting by Jiayi Liu, Design for Performance postgraduate at Royal Welsh College of Music & Drama (RWCMD), was commissioned as the poster of Soo's intercultural music project, "Journey through the East". The painting features Totoro, a magical creature from the Studio Ghibli film My Neighbour Totoro, holding a conductor's baton in a Malaysian rainforest. This image is not intended for business branding or any profit-generating activities.