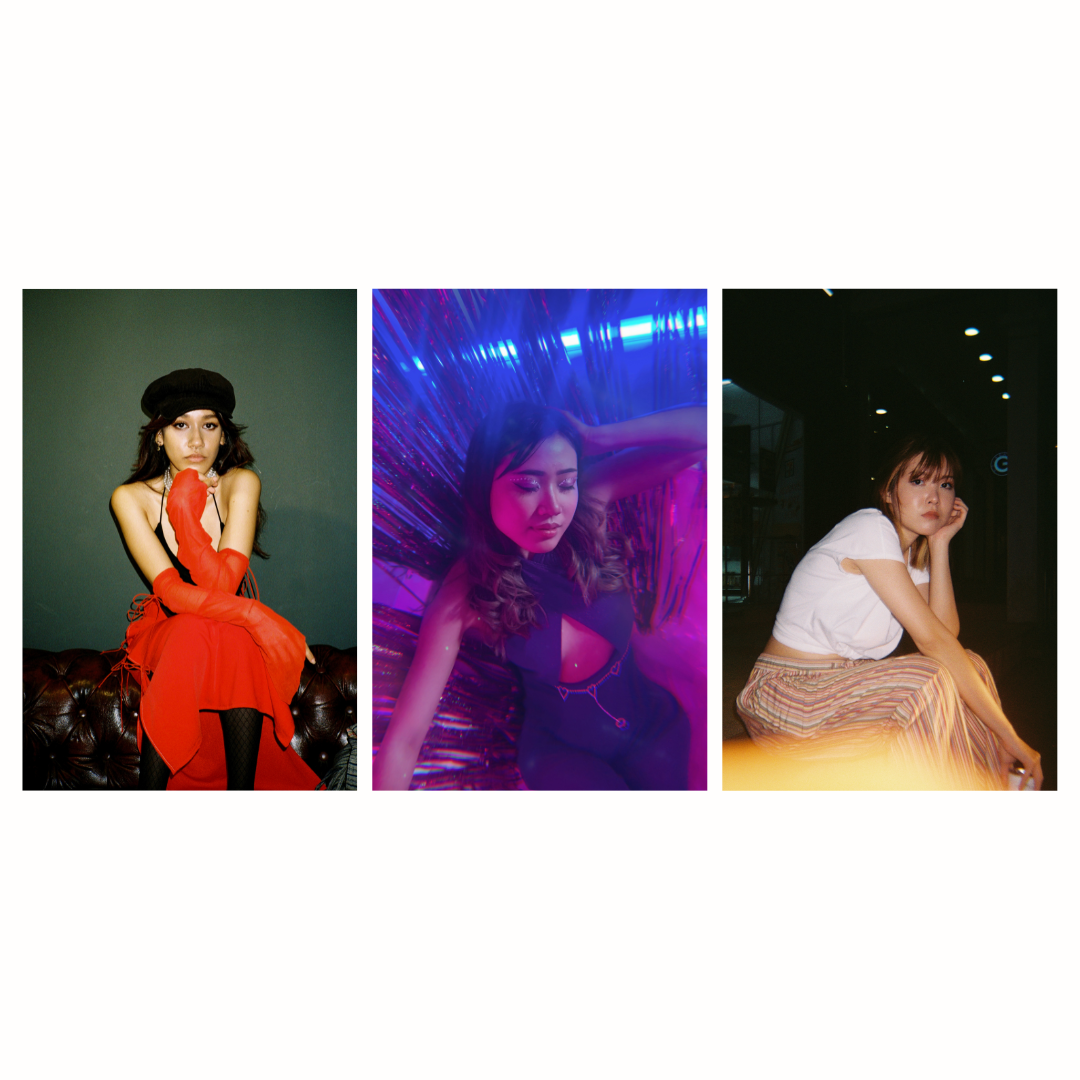 Sisters are doing it for themselves! Check out our stories on Malaysian songstresses.
By NABILA AZLAN
If you have never heard of these incredible songstresses, we suggest you take this as a cue to listen to their music. Malaysia is blessed with an abundance of amazing singers and songwriters, and talking to us for this special two-part series are six artistes to be reckoned with in the industry! In this second article, we have Lunadira, Claudia and SHN sharing how they compose their songs, as well as some heartfelt notes on making it as female creators.
Read their stories below!
Lunadira
Nadira Mohammad Diah has been performing as Lunadira since 2017. "Wow, it feels weird, because I'm always in a constant state of learning and renewing things about my craft," she says, in reflection. The performer dates her full-fledged transformation to "singer-songwriter" after artist Jin Hackman approached her following the release of her song, Forever's Not Our Thing. "My dad calls me a 'sensitive baby' – but this spectrum of emotions makes total sense with the work that I'm doing," she jokes. "Music is one way I can express myself and 'flirt' with the conundrums of life. It's always fun to see what you can come up with when presented with a blank canvas. It's also very communal when you want it to be!" Success means different things for different people. For Lunadira, it means being content with her work. Always excited to collaborate with others, she is forever grateful for the chance to perform on the popular ColorsXStudios aka COLORS stage, and is the first Malaysian doing so! "I want to be able to have enough to bring my music across the oceans," she says. Carving her own path, this artist will also on the famed South By Southwest Music Festival (SXSW) stage in Austin, Texas later this month!
Genre in a glimpse: "I'm honestly still learning about my sound. I'm not exclusively R&B – if I have to describe it to others, I'd say my songs are genre-bending with a dose of storytelling."
Modes of experimentation: "This comes from a place of choosing to be uncomfortable and seeing how different things can come out of it. My current process usually starts off with a pressure to create the most perfect body of art. Then, I fall into a deep pit of self-doubt and fear and finally psych myself out. I came out of my creative block recently by doing just that, and now I have enough songs for an album!"
Which song first-timers should listen to: "Either mosquito bites or Crazy Dizzy. The former is one of the most personal storytelling songs I've recorded and the latter is my mum's favourite!"
Some words of advice for fellow aspiring musicians, especially female creators: "Do what the male artists do, but better – I'm half-joking! Try to find the right team of people that is as passionate about mutual growth as you are. This might take a while, but the more you align, the easier it is to execute things the way you want to. Collaborations across different creative industries help you learn how you can place yourself in them. Support your peers and learn from them. Also, don't be afraid to put yourself out there!"
CLAUDIA
Twenty-five-year-old Claudia Tan Ann Zhi (or CLAUDIA) started making music, "Because I felt like it," she says. "Then, things started happening for me – people loved it, so I kept going!" Aspiring to make a dent in the local music industry and beyond, this singer-songwriter slash author expresses her admiration for local shakers like Zee Avi, Talitha., Elizabeth Tan and SonaOne as well as international acts like Lizzie McAlpine, Olivia Rodrigo and mxmtoon. Citing challenges like anxiety and impostor syndrome, she admits how success does not come easy – but drawbacks certainly don't stop CLAUDIA from giving her best on stages like last year's Good Vibes Weekender in Sunway Lagoon. Not one to be deterred, she's always the one asking 'What's next?' after every milestone. This artist works closely with her producer-boyfriend, Irwin, on song production and performance. On this note of creation, she explains, "Perhaps my style would be trying to cram as many lyrics I can in a song, a reflection of my word-dumping tendencies," she tells. Relentless in perfecting her craft, she considers herself rewarded when someone else hums of any of her songs. "If it makes their day or lifts their mood, I consider that a job well done!"
Genre in a glimpse: "Pop music. I try to be as relatable as I can be, tackling issues like relationships."
Modes of experimentation: "Experimentation to me is collaborating with different artists and producers. For many years, Irwin and I have been stuck like glue, working on music together, and he's amazing at what he does. But we agree that we're at the point in our careers where we'd like to expand our horizons and work with other artists, so lately, I've been collabing with a few amazing artistes who each has distinct sounds; it's nice to do something different from what you usually do."
Which song first-timers should listen to: "Nice Guy! We should always remind ourselves to never settle for less."
Some words of advice for fellow aspiring musicians, especially female creators: "Simply waiting for opportunities to come around almost never works. Be a go-getter and ask for what you want. Also, I think it's great to be confident but a lot of musicians aren't open to taking criticism regarding their craft because some of them think that they know best. Always be willing to learn from industry professionals around you, and be open to feedback."
SHN
Chloe Soh, who goes by the stage name SHN, believes in the sacred connection between man and music. "I want to be able to provide that," she says, "Be it shelter, solace, validation, being understood, or even living vicariously through music. I want my listeners to be able to experience a thousand lives through my music if they want to." SHN tells us the story of how her mom wanted to learn the piano when she was young, but the inability to do so nudged her to provide her kids the opportunity to learn music. Citing "singer-songwriter" as her first ambition especially in the context of school essays (remember the time?), she began writing songs at the tender age of eight and singing at open mics in her teenage years, which was the same time when she began recording covers and originals for her YouTube channel. Singing and creating for nearly two decades now, the 27-year-old bilingual artist mentions two of her most surreal moments in her music career to BASKL – that time when her single titled 27 in a 7-Eleven played on BBC Radio 1 and holding her first physical CD! SHN says: "There's something so fulfilling about finishing a good song. There's nothing quite like it." She refuses to fixate her energy on where success is and instead goes towards achieving growth and gratitude. "I think that women in the creative industry are often pitted against each other. From a larger perspective, I think that needs to change," she notes. "I work for the things I can, while acknowledging that there are good things that come which are beyond my control."
Genre in a glimpse: "Bedroom singer-songwriter pop; acoustic instruments, synths, lyric-centric. Explaining my sound to someone has always been hard! I just kind of start and keep chiselling until it feels like me."
Modes of experimentation: "I have so many voice notes and bits of lyrics on my phone … if I ever lost my phone, I'd die! Inspiration comes from absolutely anywhere, and most of the time, in pieces. Sessions with my producer also do the trick; he'll start on something, then I'll locate a lyric idea on my phone from ages ago that fits perfectly onto the track."
Which song first-timers should listen to: "27 in a 7-Eleven, which is one of the most diaristic and intimate ones. I think you'll like it!"
Some words of advice for fellow aspiring musicians, especially female creators: "You can be a strong and independent woman without having to do it alone. Also, although some people would want to fit you into something, it's important for you to figure out what is authentic to you, and decide what you want to do with that."
Want more Malaysian women in music? The first article featuring Amrita Soon, TIGA SOUL and Reshma Martin can be read here.
Read more stories like this on BASKL via the links below: