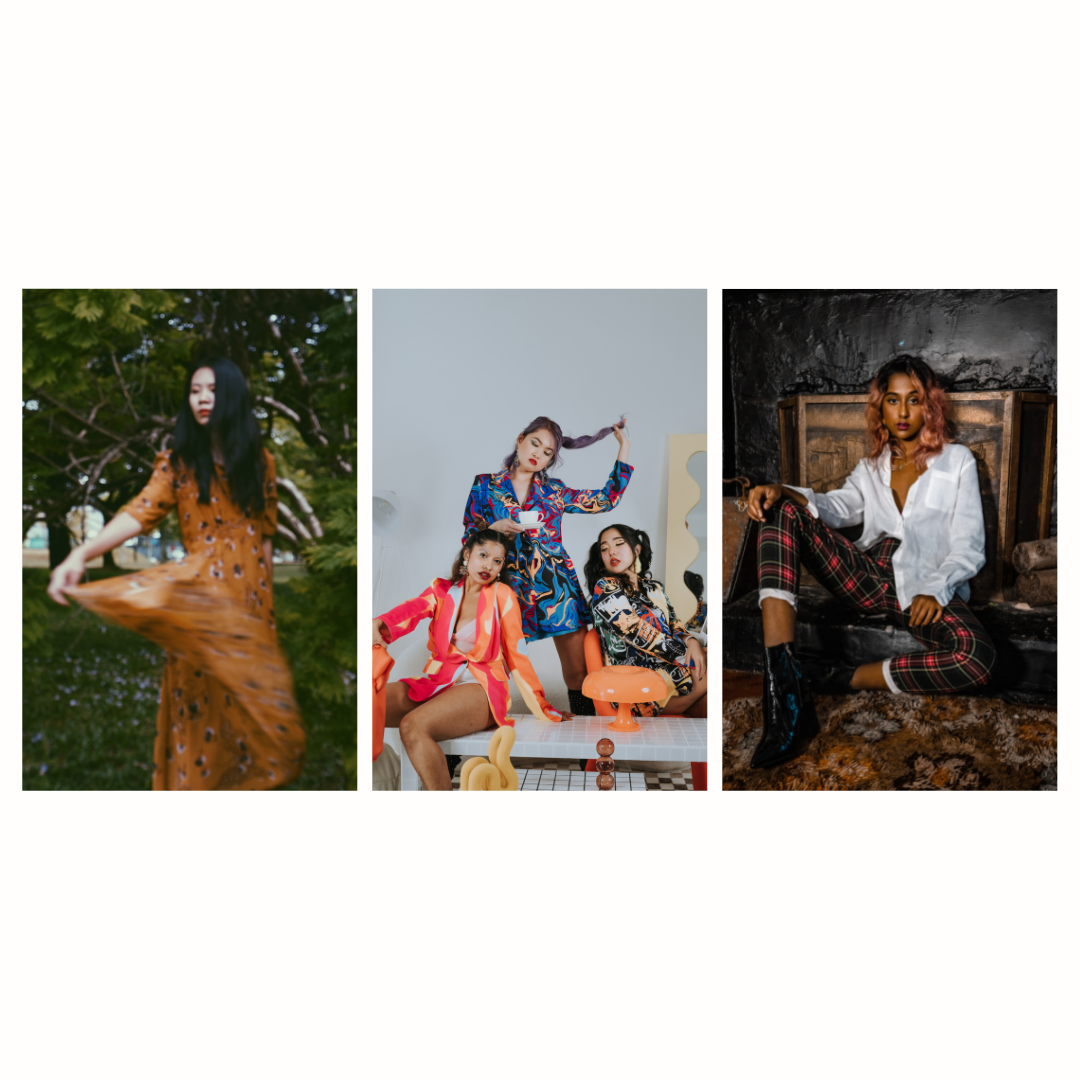 This International Women's Day, BASKL embraces equity through the magic of music creation! We talk to artists Amrita Soon, TIGA SOUL and Reshma Martin on inspiration, identity and more.
By NABILA AZLAN
Call it a gut feeling or manifestation, but we foresee 2023 is going to be an especially great year in music. Malaysia is blessed with an abundance amazing singers and songwriters, and talking to us for this special two-part series are six names to be reckoned with in the industry! In this first one instalment, we have Amrita Soon, female trio TIGA SOUL and Reshma Martin sharing how they compose their songs – plus some heartfelt notes on making it as female creators. 
Read their stories below!
Amrita Soon
Twenty-seven-year-old KL-based Amrita Soon finds it hard to believe that it has been 12 years since she first called herself an artist. "When I was younger," she says, "I always felt as if there were a deadline to become a successful artiste. I strongly believe now that there is a time for everything." She credits her interest in music to her parents, who introduced her to different kinds of music, as well as Taylor Swift and Miley Cyrus – she notes, "I learned how to play the guitar partly because of them." In awe with the way words and melodies can make one feel so much, Soon says, "I make music to process my own thoughts and emotions, even things going on around me that I find hard to understand. Getting to share my songs means getting to become (a part of) someone else's story and this connection means a lot." She still feels a rush of feelings listening to her music on the radio and when she performs in new places. Writing to BASKL all the way from Japan where she is singing for the recently-finished Lane Music Festival in Okinawa, she points out how amazing it is to have artistes supporting each other. According to her, "Growing together is how I see success right now!"
Genre in a glimpse: "Indie folk. My music is more adventurous than I am."
Modes of experimentation: "Writing and singing in different genres feel like expressions in different forms. My go-to is either the guitar or piano, with songs either written alone or with a co-writer. It takes longer writing tracks in different formats but exploring outside my comfort zone allows me to learn so much."
Which song should first-timers listen to: "Glitter and Gold is a sweet and happy song great for your driving or chill playlist!"
Some words of advice for fellow aspiring musicians, especially female creators: "You are your unique and wonderful self – it's neither a race or competition. There is no such thing as 'too late'. This is probably said a lot, but keep going and keep chasing your dreams!"
TIGA SOUL
If it isn't for comedienne Joanne Kam's cabaret nights at the club Fatty Boom Boom where they met and performed, TIGA SOUL would not have been born! This year marks the sixth year of the coming together of harmonising trio Sachie Amira, Kelly Siew and Alesia Dhana. The first two were weekly performers at the club and nearing their sixth month mark of performing together, Alesia came onto the scene. Coming to the end of their contract, Alesia suggested that the three of them continue doing what they do best, "And see where that would take us," they say. They have graced many events with their voices, including shows at BOBO KL as well as RIUH! By day, Sachie is a content creator and host, while Siew performs and teaches vocals, and Alesia takes the role of a full-time vocals and musical theatre teacher. Why do they make music? "To heal," the trio says. "It's been a healing force for us since we were young, and as we express ourselves through our songs, we believe the same healing energy passes through to our listeners." As an independent group, TIGA SOUL goes all out – acing self-funded shoots, styling, recording, production, marketing and showcases – in order to create meaningful gems for their listeners.
Genre in a glimpse: "90s pop R&B is our main influence. We geek out at any sort of vocal arrangements – layers, harmonies, range. Tone-wise and individually, we sound different, but together, we sound harmoniously one. TIGA SOUL, but satu suara (one voice), you know?"
Modes of experimentation: "Most times, we find inspiration through conversations and life experiences. We sing in various languages (eight to date!) and love to bring pieces of our Malaysian culture in our creative processes."
Which song should first-timers listen to: "Our song called You, which was written during the pandemic via Zoom when we were all in lockdown. Instead of focusing on fragility and uncertainty, we focused on the positive – self-empowerment, faith and self-love!" 
Some words of advice for fellow aspiring musicians, especially female creators: "Even if you are the most talented, without hard work and discipline, it's impossible to progress or build a lasting and fulfilling career. To evolve as a woman in this competitive industry, it's important to be someone who is honest and true. Slow and steady wins the race!"
Reshma Martin
Says Kareshma Martin Patrick, who is  known professionally as Reshma Martin (or simply Reshma), "I would say my big break in the music industry in Malaysia came through my involvement in reality show Akademi Fantasia 2016. If that was seven years ago, then that's officially how long I've been an artist!" Reshma is a born musician – playing music through school, she has left her print on various competitions, supermarket and shopping mall contests included. "I've felt that music has always been something that I wanted to do because I have a love for expressing myself through it. With music, conveying stories and messages, gives you a sense of vulnerability that goes beyond what words can do. Writing and sharing music is a great way to express oneself, and this coupled with the ability to connect with people across borders, is just immense." The artist has recently migrated to Auckland, New Zealand, where she is actively producing new material. Aiming to consistently release fresh drops in the next year, she adds, "A lot of the music I write now is either bilingual or multilingual. Being Malaysian, this is something I hold onto with pride – having grown up in such a diverse country." Reshma is amped up to create what she calls "music that people can be excited about". With a new single in the works, she says: "This is me being unfiltered and having a lot of fun. I'm so grateful for the love and support of the people who have made my career a success."
Genre in a glimpse: "I would say pop or alt-pop, knowing that my style is determined by the tonality and inflections in my voice. I tend to make music opposite to my bubbly personality. It's dark, angsty, filled with attitude; think fight scenes in a gangster movie!"
Modes of experimentation: "Experimentation is working with other people. I have had studio sessions right here in New Zealand where we would basically sit down for three hours and at the end of that, come out with a song. I write really fast, so it's not impossible for me to be able to write my music in one session! I am drawn to key phrases and thoughts from my day to day, so it's been me asking questions and channeling the answers through songs."
Which song should first-timers listen to: "If you haven't listened to anything from me yet, I recommend Loneliest Girl, which marked the biggest shift in my career from releasing songs in Bahasa Malaysia to migrating to New Zealand and releasing songs in English."
Some words of advice for fellow aspiring musicians, especially female creators: "Definitely (learn about) production. I think there is a huge power in being able to produce even the worst demo in the world! It's important to keep the autonomy of this skill to artists so the spirit of creation is not lost in the process. Also, make sure you're connected to the world around you and not just say 'I'm gonna make some music today'. The environment of creation revolves around experiencing things and living life!"
Want more Malaysian women in music? Check out our second article featuring Lunadira, CLAUDIA and SHN tomorrow.
Read more stories like this on BASKL via the links below: