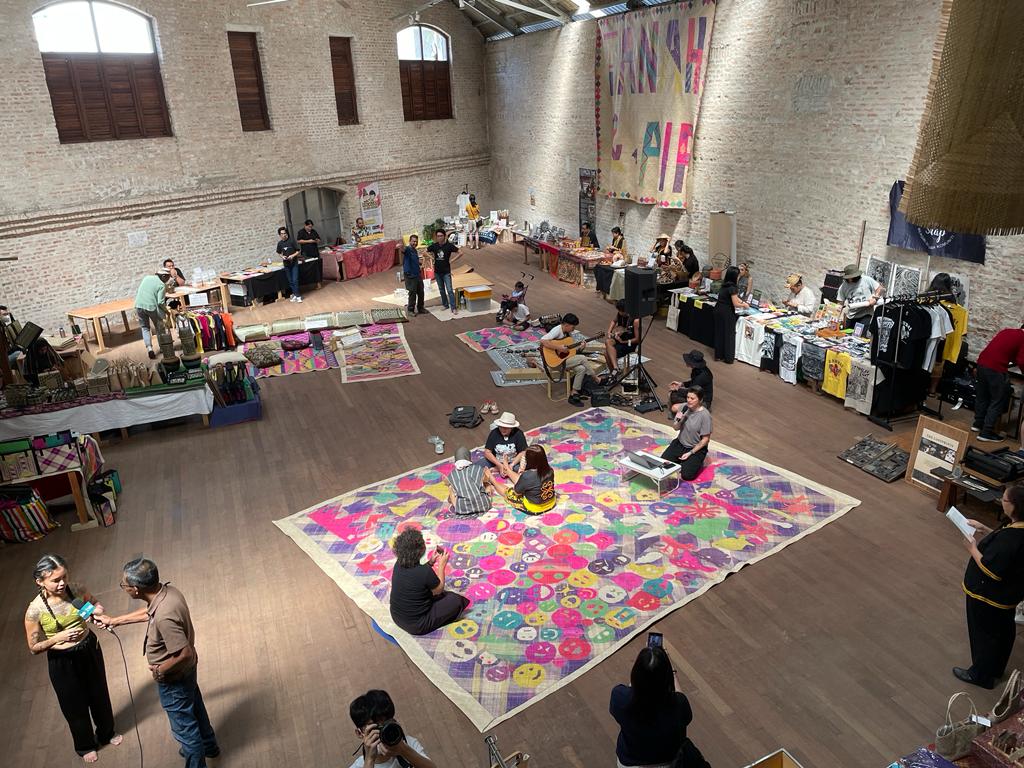 "Borneo Heart" showcases all kinds of art, craft and social initiatives from Borneo via various exhibitions and events throughout Kuala Lumpur.
By CHIN JIAN WEI
Borneo Heart began as a collection of exhibitions presenting works by Yee I-Lann, a Sabah-born and based artist, in her collaborations with weavers, filmmakers, dancers and other creatives. Core to Borneo Heart are two concepts: one, the tikar (woven mat) as a collective platform for community, storytelling and ritual, and secondly, the tamu (weekly market) as a meeting place for the exchange of goods, stories and ideas. Through conversation and collaboration, people can come together to create new works and breakthroughs by sharing ideas.
BASKL has written about Yee I-Lann before. As an artist, she works in photomedia, textiles, installation and video, usually focusing on the South-East Asian region. Her works often depict themes such as colonialism, power, gender and shared memory.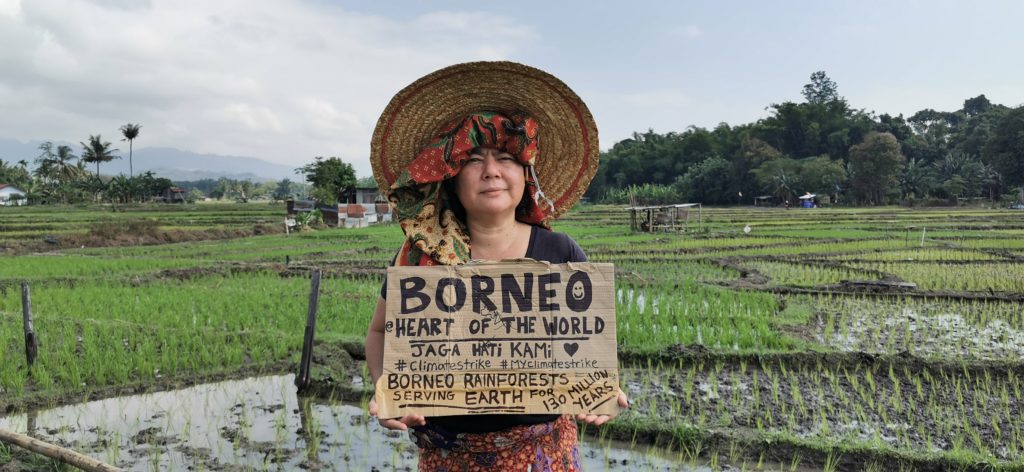 Yee I-Lann says, "I hope audiences in KL will find the Sabah-inspired conceptual grounding of the Borneo Heart exhibition presentation, as well as the artworks inspiring and stimulating. Indigenous concepts found through the Tamu, the Tikar, and the complex thinking within our linguistic forms, have been utterly triggering for me, and I hope they trigger you too. I hope our KL audiences 'boleh rasa' the incredible journeys and joy my collaborators and I have experienced these past five years learning and playing together."
This year, Borneo Heart is reincarnated in Kuala Lumpur, incorporating a large variety of art-oriented events throughout a range of venues such as The Zhongshan Building, The Back Room, The Godown Arts Centre, A+ Works of Art, ILHAM Gallery and Rumah Lukis. On the programme are many workshops and talks, a tamu session and a book launch.
In January, a series of fermentations began at Share the Mat! at The Zhongshan Building, with a tapai-making workshop by master tapai-maker, community leader and storyteller Mami Ita (Christa Mayon Ungkas) from Keningau, continuing through February with a tempeh-making workshop by Alzari Joey Mahshar and a "sourdough performance lecture" by Zhongshan's own Tommy Le Baker. Of course, food is not the only thing on the agenda, as on Feb 25 and 26, the shows and celebrations began in earnest with the exhibition TIKAR/MEJA at The Back Room, highlighting a major work by Yee, woven by 20 of her collaborators on Pulau Omadal, Semporna, as well as a new "karaoke" mat and series of woven posters shown in public areas at the Zhongshan building. According to Yee, usage of the mat over the table is a symbol of decolonisation, as pre-colonisation South-East Asians would have their meals on mats.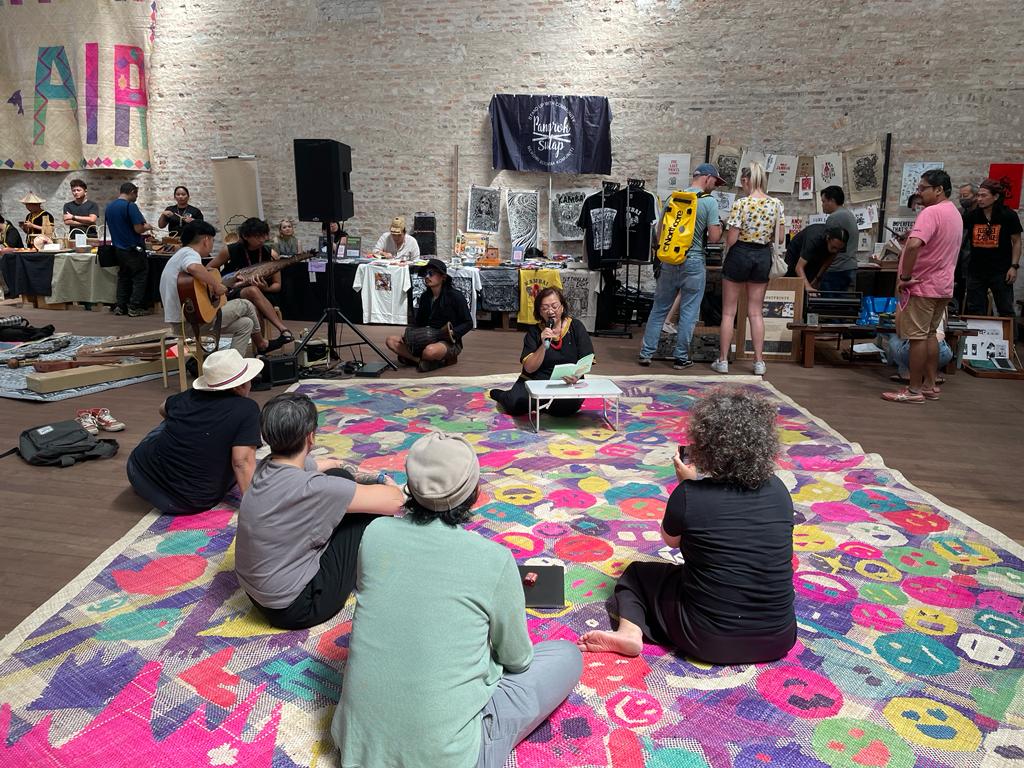 This writer also had the chance to attend Tamu Tanah & Air at The Godown Arts Centre on Feb 25, an event inspired by Sabah's traditional weekly farmers' market. The event played host to organisations, artists and collectives working in community-based projects such as innovation in green agricultural technologies in the form of a turbine made of recycled materials, different modes of art-making, learning and play. Workshops for children taught the art of picture-book making, while poetry recitals took place on a central tikar and live music played on traditional Bornean instruments like the sape. Artisanal produce such as Bornean rice was sold, and the artisans talked about the different kinds of rice to curious visitors. Apparel and accessories, all artisanal, were also sold, such as T-shirts and purses in traditional Bornean patterns. Perhaps most interesting was a traditional woodblock printing setup, where artisans were printing designs that were simultaneously contemporary and traditional.
In the coming months, Borneo Heart will be bringing even more offerings to Kuala Lumpur. From March 3 to April 1, A+ Works of Art, one of the city's leading contemporary galleries, will host Allom! Amatai! Allom! The exhibition, meaning "Life! Death! Life!" in Bajau, showcases two extensive series of Yee's work in photomedia: Rasa Sayang and Measuring Project.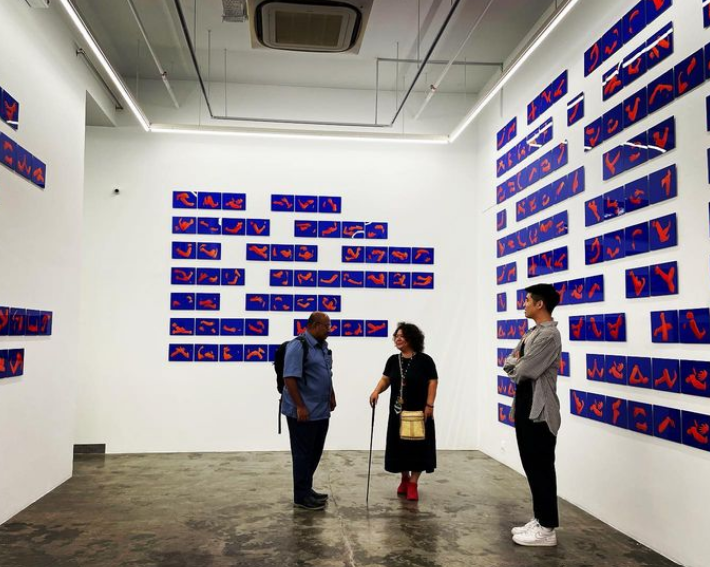 Other than that, ILHAM Gallery will showcase Lift the Tikar! from March 11 to June, which is a series of woven and video works from the likes of PANGKIS, 7-Headed Lalandau Hat, Tikar Reben, Harunan Motol and The Tukad Kad Sequence. Rahel Joseph, director of ILHAM Gallery says that the exhibition "will be a space for the ILHAM community to gather and engage with the ideas, stories, cultural traditions and communities behind these powerful works which celebrate collaboration and interconnectivity."
And finally, Rumah Lukis will host Balai Bikin, also from March 11 to June. This exhibition, by Yee and the weavers of the Pulau Omadal community, will examine materials, concepts and collaborative processes behind the tikar works.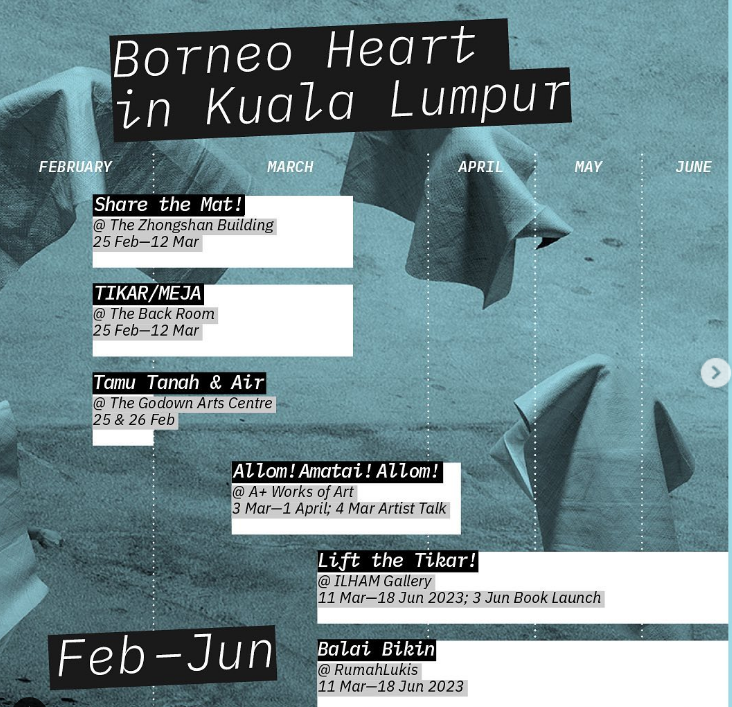 Check out Borneo Heart's Instagram page here!
For more BASKL, click the links below: