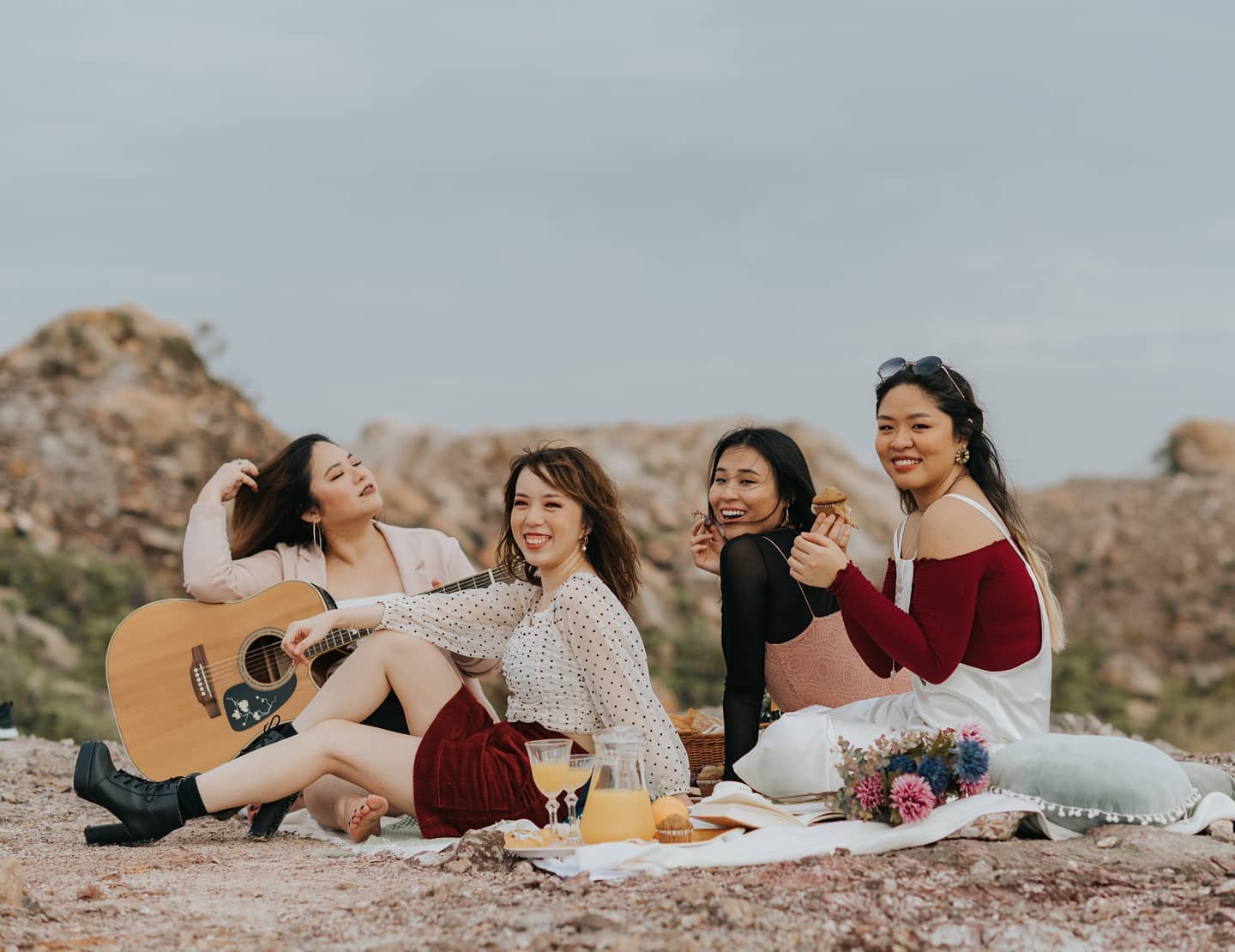 In celebration of female artists this month, our final Mengapa Mereka episode features KL-based indie band, Crinkle Cut. Having released its first EP in 2018 titled 'b_tt_rsw__t', the members talk about past, present and future sounds.
By NABILA AZLAN
The coming-together of Crinkle Cut began in 2011 when its four members were all Contemporary Music students at University College Sedaya International (UCSI) in Kuala Lumpur. Grace Foo (on keyboard/keyboard-bass, piano) and Melissa Wong (on guitars) teamed up to perform at university events, family gatherings and occasionally, wedding expos. After some time as a duet, however, they felt that they needed a "fuller sound". To quote Foo, "Two people aren't meriah enough!" Gradually, they hooked up with Frances Tsen (on vocals) and Ashley Choong (on cajon).
Say hello to four of them!
"Think further. What if you become famous? Your (band) name will stick like a tattoo!" – Frances Tsen, 31
The girls remember how once before a show, they had gathered to eat fries – criss-cut, though, not crinkle cut! All of them felt like the criss-cut fries did not quite resonate with the moment, and neither did shoestring, but strangely "crinkle cut" was perfect. And that's pretty much how the band chose its name. Strange but true.
Initially Crinkle Cut played mostly acoustic numbers and covers. At that time, Korean-Australian singing duo Jayesslee and American musician David Choi were peaking on YouTube, thus the quartet aspired to follow in their musical footsteps. Eventually, Crinkle Cut grew bored of that mold and the girls decided to reset their journey, starting with a set of originals. "We all have different interests, why don't we all contribute?" thought Foo. They began performing original songs at open mic sessions and when audiences started showing support, Crinkle Cut was encouraged and this kickstarted the band's evolution.
"One thing that tied all of us together was R&B." – Melissa Wong, 31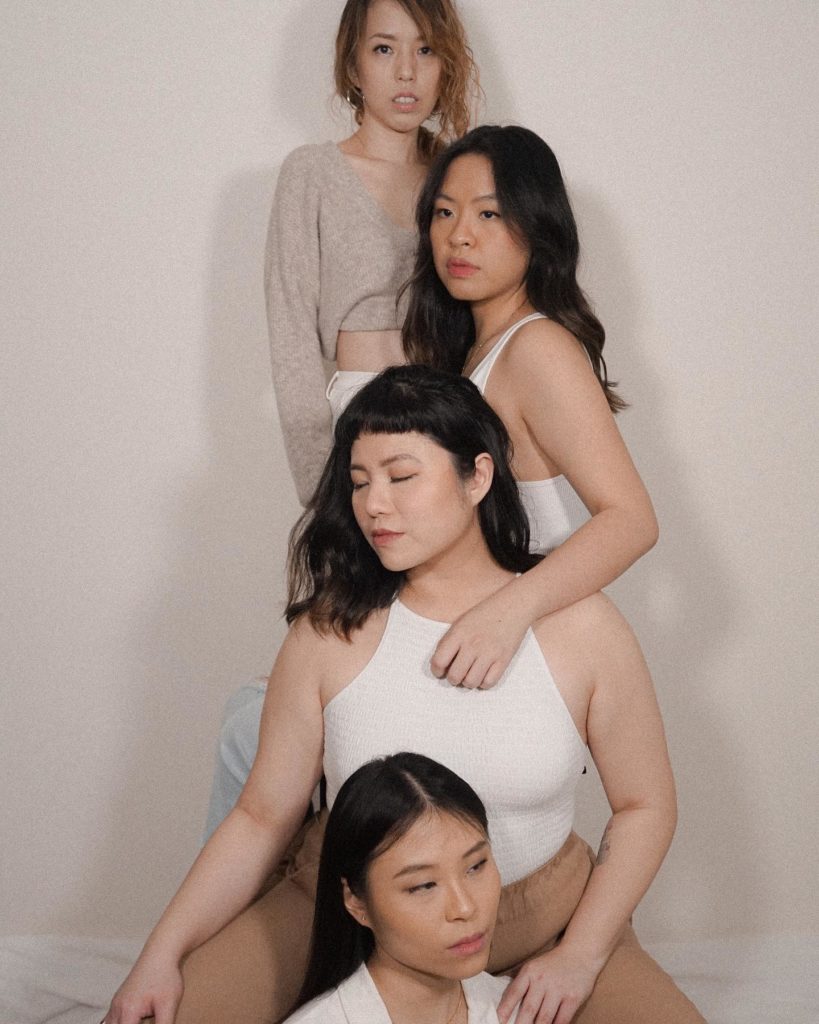 Crinkle Cut has an interesting dynamic in that it does not have a band leader. Instead (and up to this day) it leaves different tasks to different members – for instance, Wong wears the creative director hat and usually focuses on the band's visual persona. Foo, who is deemed the "mouth" of the group, is in charge of PR; she is also the main songwriter, although the others do lend their writing prowess every now and then. The band found its most efficient songwriting method by chance in trying times – during the MCO – when they could not freely group up to brainstorm. Said Choong, "In the past, for any given song, one member would work everything from the melody to the lyrics. Now, there is more of a collaborative effort. Melissa and I come up with the chords, Frances the melody and finally Grace takes care of the lyrics."
"It is always better for the instrumentalist to come up with the grooves rather than the lyricist," Foo said. Wong seconded: "This way we see both the yin and yang. We're the cake, they're the icing."
Experimentation-wise, Crinkle Cut enjoys putting together each member's current musical favourites on rotation – what they are all listening to drives the blueprint for the next menu of songs. Here's a glimpse of what they like: Wong, a Hiatus Coyote fan, finds comfort in neo soul. Foo's palate has tinges of pop. Tsen enjoys world music, particularly Brazilian jazz and Latin numbers. Choong, on the other hand, has jazz fusion on repeat a la American ensemble Snarky Puppy. The band plays R&B mixed with these different elements all thrown in and more.
"Music has been our hobby for the longest time. It evolved into our education and then career, so now it's pretty much our lives." – Grace Foo, 31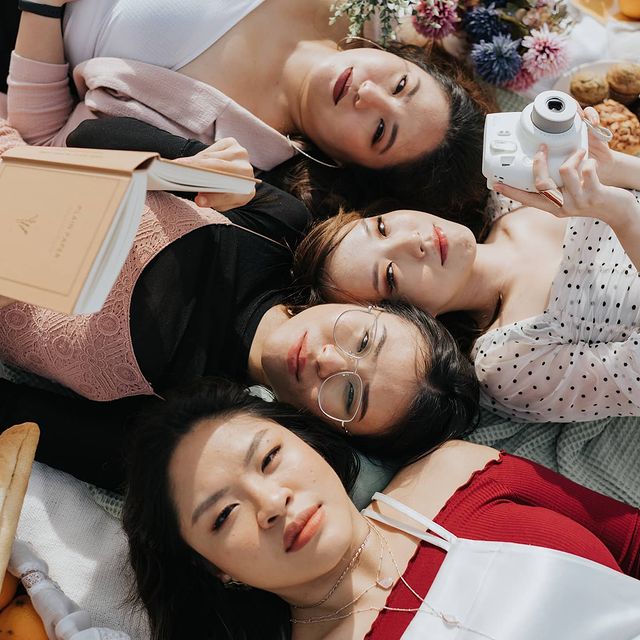 Growing up, the four of them listened to both similar and different sets of music. For example, Wong danced to K-Pop and Taiwan pop in school (think TVXQ and 2NE1), Foo sang to Britney Spears while Tsen warmed up to her father's oldies playlist, where Eric Clapton reigned supreme. But never had any one of them thought music would play such a pivotal role in their lives then. While they explore and create as Crinkle Cut, all of them are also full-time music educators. Wong also does backing vocals on the side as well as arranging music for advertisements.
According to her, "Teaching and making music are two very different things. Only when making music we get to try out a variety of stuff. When we write music, we tend to veer away from the more formal music theory and rely on what sounds nice and what doesn't. Teaching, on the other hand, is very much theory-based."
Foo said: "But of course, you need both (theory and practical experimentation) to make an all-rounded musician."
"Things were very different compared to the first time we worked together." – Ashley Choong, 33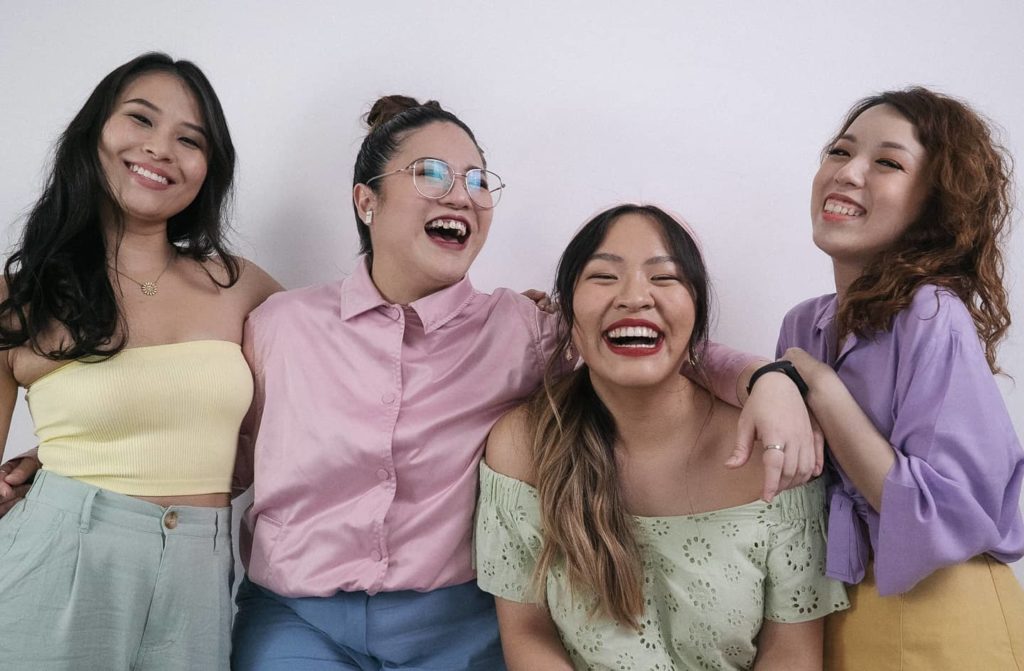 What makes a great song? Choong said, "I listen to the differing textures in chords, the layering," and Wong said "Same – I pay attention to grooves." Melody lines play a vital role, agreed Foo, and she can't say no to a catchy bass line.
Citing (and thanking) indie staples who are also industry champions who helped to pave the way, directly or otherwise, each of them said they owe it to the likes of Bihzhu, Reza Salleh, Paperplane Pursuit, Darren Ashley and The Impatient Sisters for where they are today.
The band does not regret any bit of their journey so far. Without previous releases and performances, no new songs and experiences would see the light of day. At present, the band works with the folks over at the Breaking Music studio in Petaling Jaya, Selangor. Over time, according to Foo, "We managed to come up with more mature combos of writing. Earlier, we made the mistake of trying too hard (to be creative) without having balance." The girls also look forward to releasing new music. Crinkle Cut's first Malay single titled Sembunyikanlah is a nod towards continuous experimentation. "If we were to tell our younger selves that our music is on the radio today, I think they would be so happy!"
BASKL's Mengapa Mereka is a three-episode series, featuring passionate artists who tell stories about how they get to where they are and what keeps them going. Read our story with B-Boy Khenobu and visual artist Shahrul Nizam if you haven't already!
Read more stories like this on BASKL via the links below: