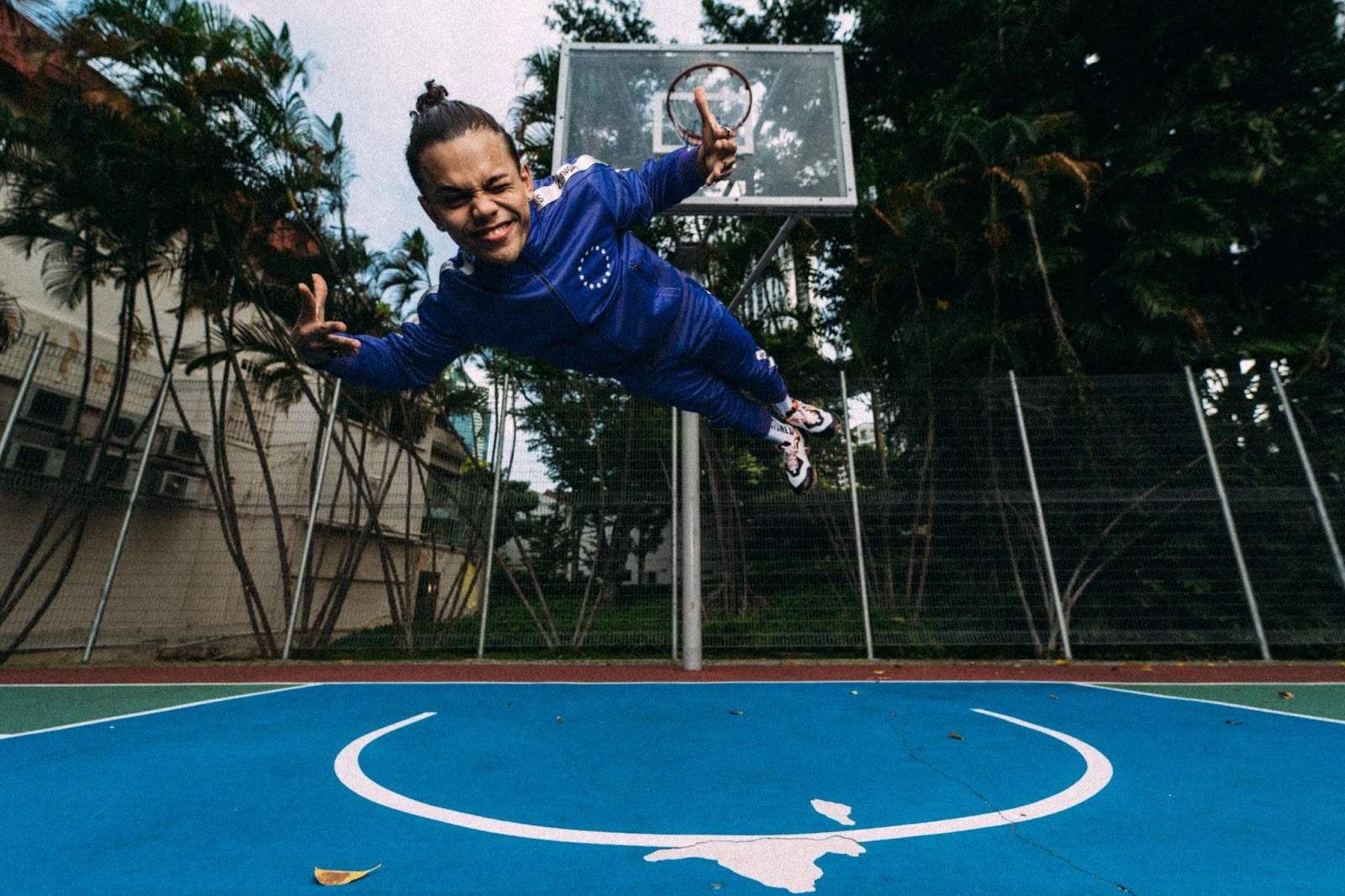 By NABILA AZLAN
This has been quite a busy time for 29-year-old Mohd Faridh Mohd Yasin, who professionally goes by the name Khenobu – a name he picked up by combining "Khef" – his Kota Kinabalu hometown – and "Nobu" – to capture his fascination with speedy ninjas.
B-Boy Khenobu is a dancer-turned-athlete; he has been pounding up moves since his teenage years with breakdancing as his forte and now, his days are amped with a busy schedule in training for the Olympics.
Not so much into being defined by only one thing, he has worn many hats over the years – choreographer, creative director, singer, actor – the list goes on. His achievements include two gold medals from the Red Bull BC One competition as well as being the champion for the 2013 Floor Combat and 2014 Astro Battleground's Crew/Solo category. Aside from bringing home some golds from mixed martial arts and jiu jitsu, Khenobu has was also a part of the assemble in Puteri Gunung Ledang The Musical (2006) and OlaBola The Musical (2019). His collaboration with the Fabien Prioville Dance Company in Dusseldorf, Germany also gave way to a dance performance called Power Moves, which showed in France and the ASEAN countries.
What helped pave the way for Khenobu and why does he love what he does?
Most people have heard of breakdancing. But if someone should ask you what it is, how would you answer?
Breakdancing is social and for me, it could take the form of almost anything, not just popping. Say breakdancing and you'd imagine somebody putting their feet up, head down – but actually, it means breaking into your movements on the dance floor, bringing your whole body with you. As a sport, breaking is a way to jump into a new meta, away from simply dancing. But to differentiate being either a pure dancer or athlete, I think it truly depends on the individual.
How early did you get into dancing? What started it all?
When I was 16! Throughout the years, I joined a lot of different competitions. When I was 13 or 14, my brother, B-Boy Juicy had this video saved on his computer of this B-Boy crew breaking moves. I had no idea what breaking was at the time, because (as much as my brother was dancing professionally at the time) I'd never seen him do it since he never trained at home. I went on dissecting the video; whatever moves they did, I did as well. I paused and played on repeat until I managed to master all the moves myself. I learned later that the video was of one of the best B-Boy crews in the world. I did not have a teacher then to formally learn things from.
It was initially a huge challenge, telling my parents about my becoming a dancer. One time I won a competition and beat my brother at the semi-finals, I snuck my trophy and winning hamper by walking a long distance back home, fearing they would find out. In my pocket was RM2,000 in cash – the most I'd held throughout my life at the time. My big family – my parents, 15 siblings, nieces and nephews – were all in disbelief when they knew about the competition. My elder brother thought I was bluffing and said I stole the trophy so naturally, I had to perform in front of them to prove my win!
Although it seems like everything has currently slowed down a little, with different people branching out to focus on different aspects, my previous B-Boy crew (Giller Battle Crew) has been among the earliest ones I worked with to promote the breakdancing culture in Malaysia; we began doing this since 2003.
Do you think anyone can (break)dance?
Anybody and everybody can. Of course, when you are learning it for the first time, things can seem really awkward but fast forward to when it begins to show an effect on your body, you start to feel really good. You'll even develop some muscle power without going to the gym, 'cause dancing can do that.
Comparing the years when you first started dancing to now, what do you think has been the most significant change?
My mindset. During those previous times, I was reckless. I was young and just wanted to try a lot of crazy stuff. If I can say a thing or two to my younger self, I'd tell him 'You're not supposed to have (that much) fun! Don't waste time.'
Is there a difference dancing solo versus in a crew setting?
Not really, but when you dance alone, it's always you versus yourself. You'd need to challenge yourself against upgrading your skills, arranging new steps. You have to explore on your own until you've achieved a certain flow and your body picks up the movements.
How do you maintain your energy levels?
I like staying hungry. In a way, it puts my brain and body in working mode. When I'm full (to the brim with food) I would often laze around. I scrutinize the food I take in and take really good care of my training schedule so that I can stay focused. My mom is someone who's particular about eating healthy, I got this discipline from her.
With practice runs and stamina upkeep, have things ever gotten boring? What do you do when you've had those moments?
When things have gotten boring for me, it is time to rest. I read books, meet people to talk, and visit my family – especially my mom and dad. Whenever I'm feeling this way, my parents would always have the right things to say.
What are the elements that influence your dance moves?
Malaysia has a lot of cultures, various traditions. I come from Sabah, where it's rich with ethnic diversity. I like to study different traditional dances and mix them up in my dances. Say a little Zapin or (steps from) the Murut bamboo dance. I don't only get to learn the art of dance but learn new things as well. This integration is really a nice thing to see in breaking.
Breaking on the dance floor is a separate thing from doing so as an athlete. How do you train?
There are a number of points to consider. The judges will judge based on skill execution, originality, tricks, footwork, power moves, even musicality. I would practise them out all at once. I'd need to prep at least 24 sets of 45minutes each, for a battle of three rounds. These would feature five unique skilled steps. Most of the time, I'd freestyle. My three core focuses are musicality – how I groove to the music, execution and tricks.
How do you feel about the current breakdancing scene in Malaysia?
It's strong. While it's no longer trendy like it was once was and B-Boys were everywhere, I'm still happy. I really want to see it being taught in schools. Maybe even have schools holding breaking battles between themselves every year!
Let's hear a little bit about your other art ventures. You seem to do a lot of different things!
I had a single last year. Also, a film coming soon, Tariandi, directed by Aida Aris. I'm really looking forward to see how I did!
I also had the opportunity to work with Tiara Jacquelina for OlaBola The Musical (2019), where I was the show's choreographer. If you've seen it – the slow-motion scene in the football field was a crazy addition inspired by Japanese performing arts.
Khenobu has been everywhere, really. He's one with his art, which can be translated into several forms. BASKL's Mengapa Mereka stars passionate artists who tell stories about how they get to where they are and what constantly keeps them going. Like this first episode? Two more are coming your way!