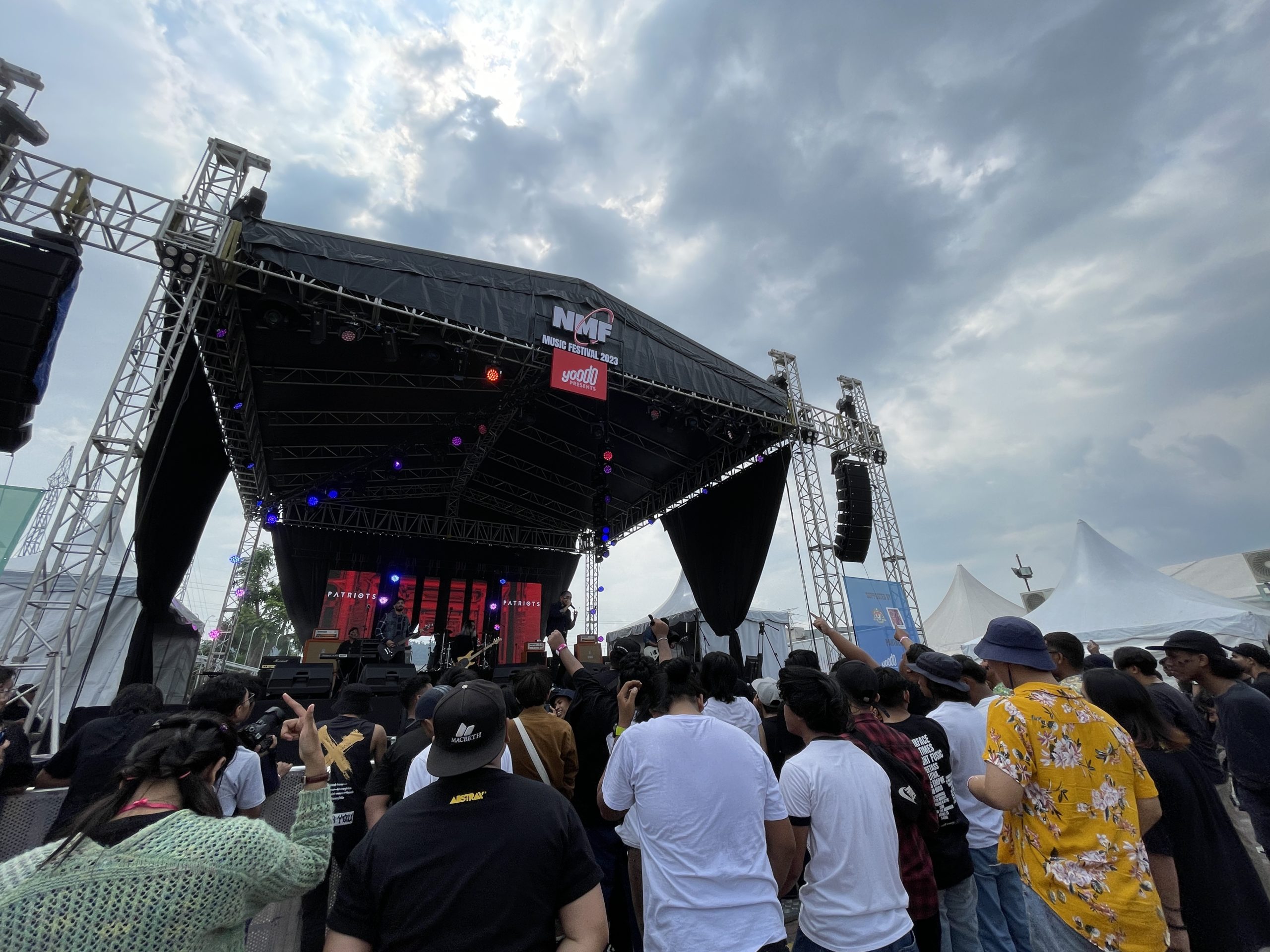 The biggest music festival in Northern Malaysia set up camp at Juru Auto City, Penang on March 18 and 19 this year! What made this NMF so notable?
By NABILA AZLAN and CHIN JIAN WEI
Northern Music Festival (NMF) is the brainchild of product designer slash music aficionado Hafizi Fahmi Mokhtar, who has directed the fest since its first edition back in 2012. BASKL was thrilled to have Fahmi, known in the local arts scene as Fahmy Farro, guitarist for the Hello Is This The Band, walk us through the behind-the-scenes of NMF Music Festival 2023!
Noisy in the best way possible
Having lined up 35 acts across two days, NMF got fest-goers thrilled with its multi-genre offerings of post-hardcore, pop, alt-rock and punk.
The Day 1 main stage headlined alt faves like Bunkface, The Times, Midnight Fusic and Sweetass as well as Patriots, No Good and Tres Empre. Right next to it stood the Run For Cover stage-tent, where 14 bands served up popular song covers from both local and international music acts. 2023 saw the fifth volume of the Run For Cover Fest running alongside NMF with S4D KL as its host. According to Fahmi, "Run For Cover actually started in October 2022 as a small gig in Penang which I feel turned out pretty well. The concept is this: we call in bands to play selected covers but also, they are required to sing two originals in between tracks. This is to promote newcomers in the music scene. It's a great way for people who may have not heard of these new bands before to begin checking them out.
"In 2012, we featured a line-up of hardcore and metalcore performers, presenting the 'brashest' scores which the crowds loved. Come 2016, we added more variation alongside these genres; there's acoustic, electronic music, and last year we even had R&B and hip hop while keeping the mainstays," he says. "Here in the Northern region, they like their music 'heavy'."
Day 2 called for an indoor Sunday Mosh, passing the baton to names like Krusty and Dial M For Murder to keep the energy going!
Mighty energetic!
NMF opened its gates at 10am, with the first acts on Day 1 taking centrestage at half past 11am. The fest went on until 11pm with The Times closing the show on the main stage and S4D KL wrapping things up. "Normally for festivals, people would begin to flock around 4pm," says Fahmi. "It's amazing to see crowds coming in as early as the afternoon, enjoying themselves in the scorching Penang heat. It takes a whole lot to conserve energy until the end of the fest!"
In view of last year's setup, he adds, "Last year as we'd rejuvenated from the pandemic, although we managed to score a smaller-scaled fest, the vibes were great nevertheless. This time around, we're thankful for the support of Ministry of Communications and Digital with MyCreative Ventures as we are able to offer a bigger setup with better sound, leaving fans happy."
NMF 2023 garnered over a thousand music lovers from all over Malaysia across two days. "We want NMF to stay accessible without rattling the existing market prices (for similar events)," he says in response to the festival pass packages offered, which ran as low as RM49. "Though it's presented here in Penang, half the crowd are not from around here!"
Keeping the fest fresh
Surprise, surprise – says Fahmi, "This is the final year we're having this fest in Penang. We have been here for 10 years, with four editions. Two times we have had NMF on the island and then the other two here in Juru. Maybe it's time for us to expand our wings to locations far beyond the Northern states. Who knows, the next edition might just take place in Borneo, Johor or even Pahang! We're keeping our options wide open."
Missed this edition of NMF or perhaps curious to see where they are going next? Follow them on Instagram for more.
Read more stories like this on BASKL via the links below: