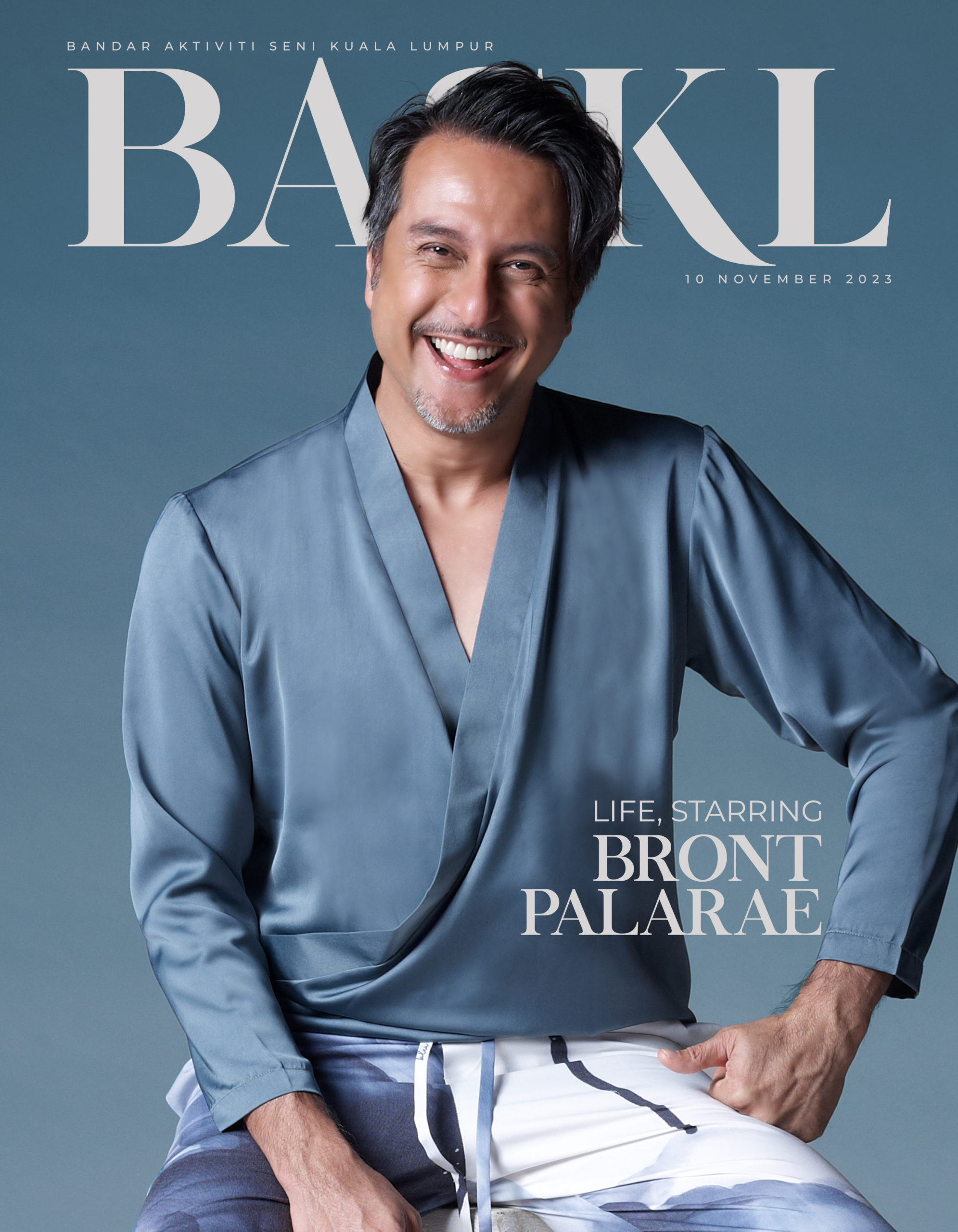 By NABILA AZLAN
My first-time seeing actor-director-screenwriter-producer, Bront Palarae on TV was from watching Man Laksa (2006), a Mamat Khalid classic which has him strumming and swerving as a part of a retro boy band, much like (a Malaysian) John Lennon. (Fact bubble: He began his career through Mamat Khalid; relishing a small role in the 2001 TV drama Mat Nor Kusyairi and the Velveboys). In primary school, I remember watching him come along as Sharifah Amani's love interest in Rona Roni Makaroni (2008) as Azroni, a short-tempered restaurateur.
"I don't watch myself in past projects! I haven't seen most of them. I treat them like one does exes: I had a great time, we have loved each other deeply but there's nothing else I can do [to change things]! "

Bront's response to my question 'Do you watch your own acting in movies?'
Since his acting debut, Bront, 45, whose real name is Nasrul Suhaimin Saifuddin seems to have never shied away from trying out different roles; driven, oddball-ish, romantic, stern, even psychotic. I wondered whether it came from the fear of being typecasted – rather, he sees it as a form of growth. Choosing variation also keeps him sane, not to mention busy. I understand it does good in shooing away the boredom or reliving the same character modes – aside from expanding his portfolio, of course. We see him living life as a prolific, versatile actor, dipping his toes in a list of genres not only in local waters but international ones as well over the years, big roles and small. Among the 23rd Malaysian Film Festival's Best Actor recipient's critically-acclaimed associations are Bunohan (2012), Ola Bola (2015), Indonesia's Pengabdi Setan (2017) and its 2022 sequel, also his role in HBO's Halfworlds. (PS: Did you manage to see his recent local abode, MALBATT: Misi Bakara at the movies?)
The Kedah-born actor is of Malaysian-Siamese and Pathan descent. Here's Bront on his stage name: "'Bront' is something my I picked up from the many nicknames my friends called me; 'Palarae' is my mom's family name. I thought my stage name might be a bit of a tough one to remember (if one is only hearing it for the first time," he says. "But I like how once it sticks, it sticks. I like the idea of my work and craft not leaving one's mind. It has a nice feeling towards it."
"I feel like Nasrul Suhaimin is 'too nice' a stage name. Imagine if he is to play a villain. …I thought 'Bront Palarae' sounds more interesting." He has played all sorts of men – I enquired on what he hasn't played and would love to take up if he has the chance.
He has always been fascinated by the Ordinary Guy…
"…who is stuck in unordinary circumstances." Like in Seinfeld? I asked. Bront let out a hearty laugh. "After a while, I felt a sort of push and pull [in my career]. Practically, [at present] I would prefer to decline something that requires me to be [overtly] cruel or psychological, I think it is not conducive for the sake of my family. Sometimes a project would fly me abroad."
Admitting the continuous intrigue in terms of creative endeavors, he elaborates: "Whatever performance I admire from seeing other actors will be of the reason that the story [plot] is good." Thus, he vowed, "I made up my mind that I would only try to work if the project looks good. It does not matter what role I get because it's not about the role, but the story." He adds, "And as long as I have good work ethics, it would produce external demand."
He notes, "I don't have to play a hero all the time. Secondary characters have a say too! As long as I am in this game, you know with good work, possibilities will come your way." He speaks about the importance of openness and a desire to collaborate, doesn't matter the role. "Experiences can be unpleasant, daunting, tough. Making movies is a marathon, not a 100-meter dash. You come in with good energy [on Day 1] but three weeks down the line, everyone [working in the project] may not be the same – it's different endurance for different players."
"[For me] The most challenging age range as an actor is when you reach the 35-to 45-year-old line. You're probably seen as too young to be a dad, yet too old to be a hero."
"There is now a certain maturity in [script] writing, in creative writing or fiction. This opening used to be narrow; the types of roles, premises you see on screen are shallow with little to no variation," he tells. "Understandably, maybe the budget has always been the case, but now we can see a widening. There has also been a rise, a demand in the media [with streaming platforms doing well] – pushing protagonists my age to spring into action."
Bront sees himself light up upon the opportunity of pushing the envelope, either through narrative innovation or a [less-looked-upon] subject matter. "Sometimes it's something people are afraid to getting themselves into. I feel that I need the rush of emotions – the anxiousness and zeal, I feed off the fear!" On-screen Bront (depending on who you see him as) is different, yet I feel that he would be great friends with this level-headed, reserved guy I interviewed.
This dad and husband is an introvert through and through.
Giving his all in his various roles, Bront is remarkable in flicking his on-off switch. "I don't socialize much," he says.
How is Bront at home? "Boring!" Again, he sent out a roar of laughter. "There is a sense of euphoria [that gets turned on] when I see my friends, even when we haven't seen each other in a long time. Homebody me is just preset mode. My wife has to nudge my more playful side, if not I'm plain vanilla."
In August 2013 through a private ceremony, Bront married the love of his life Rozi Isma, a screenwriter/advertiser and a friend from school – together they have a daughter named Adeena Imani, now 7.
"Every time she would show some form of interest, I'll be true, she has to endure the hardship of the craft. Then only she'd realize that it's not for her. (laughs) I'd bring her to [have a feel of] the red carpet – the event itself is brief, but the wait time is long. She would sigh, and realize how there are the 'not-so-fun parts' of being an actor. She says 'Huh… maybe voice acting is for ME!'"

Bront to the question 'Does your daughter 'endorse' her dad's acting career?'
The husband-and-wife duo also gave birth to a creative production company called Pixel Play, where the actor is "the intuitive one", while Rozi is "the voice of reason". "There is this thing that has to be circumnavigated – when an actor wins something, he's not always right," says Bront. "My wife is my biggest critic, alongside the circle we both have great respect for. So to speak, [in a way, creative] disagreements are encouraged!"
This thespian looks forward to…
"…Seeing interesting projects. Working with different filmmakers elsewhere. Maybe speaking Thai in movies?" Bront speaks Bahasa Malaysia, English, Thai, Indonesian, basic Italian, and is in the midst of learning Mandarin (which started as a COVID-19 self-development/enrichment project for him and Rozi). He loves delving into different languages for the development of a project. "I even learned Tagalog for a film," he says.
Will we see Bront reprising a role as a homebody, maybe an ordinary Joe? Time shall tell.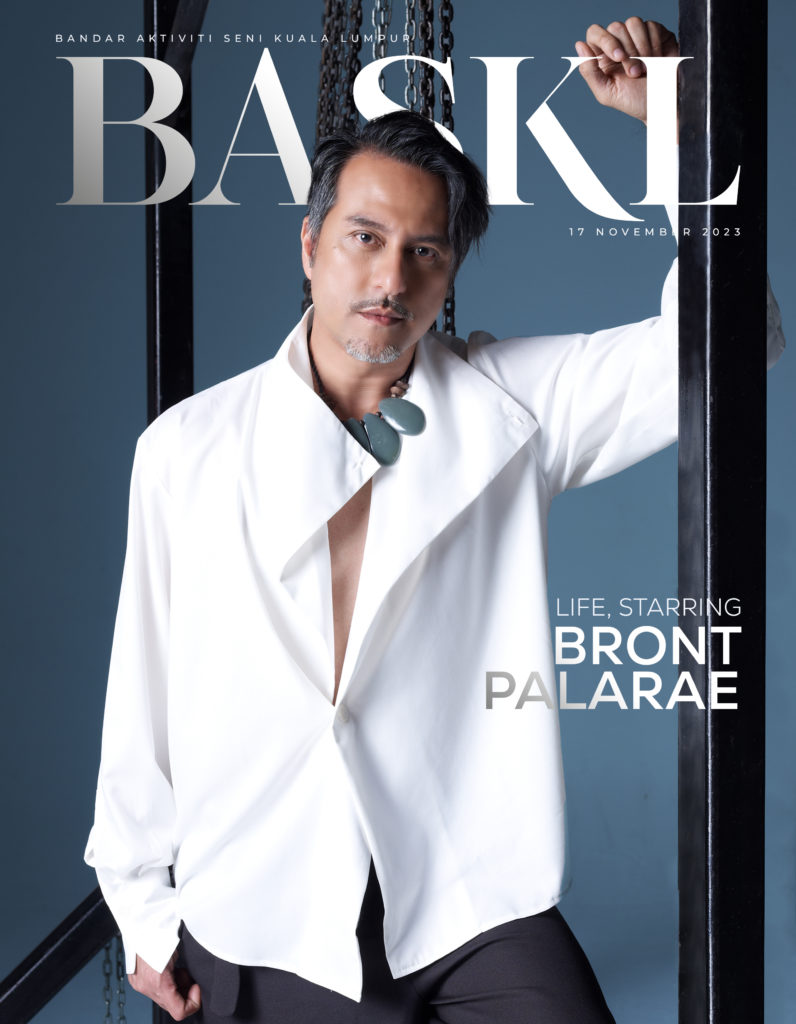 BEHIND THE SCENES OF THE BASKL COVER STAR
BASKL Cover Star: Bront Palarae
BASKL Editor and co-ordination: Shah Shamshiri
English Text: Nabila Azlan
Styling & Art Direction: Mursh Mat Som
Hair and Make-up: Chandra Shegar
Wardrobe: Bleu Natar
Black Pants : Zaff Ben Jibby
Sandals: PROJET 1826
Photographer: Bustamam Mokhtar
Location: White Studio, Sungai Lui, Hulu Langat
Digital Cover Designer: Daniel Abdul Halim
Read more stories like this on BASKL via the links below: