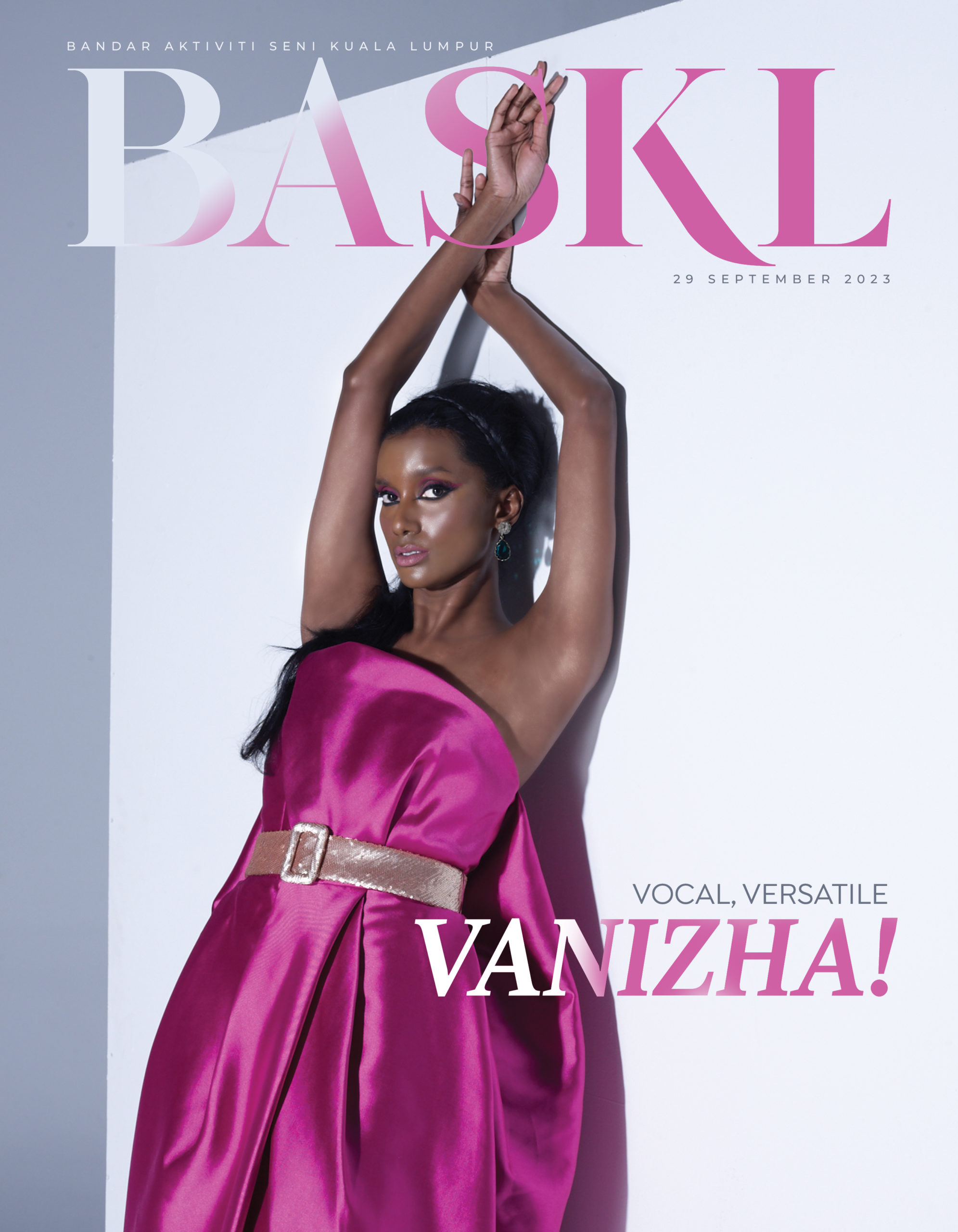 By NABILA AZLAN
I am an avid fan of those 'I love being a woman in this day and age' moments. It's the repping in countless fields that send you shivers, a vision to what women can do if they put their heart and soul out. In fact, I can tell you two good ones I have had this year (so far) – coming out of the theatre after seeing Greta Gerwig's Barbie, and having Vanizha Vasantha Nathan walk me through her life in 40 minutes or so, thinking, 'More (young) people need to see her.'
Even if you have never heard of her name even once in your life, in eight seconds or less, your browser (or digital assistant of choice) should be able to tell you that she is 'a model', 'an Odissi (Indian classical performing arts) dancer', and oddly enough, 'a person who used to struggle with self-image.' Who is she really, though?
"Modelling changed my life, because I was not really feeling confident about myself."
Vanizha, 29, arrives at Abang Bus (photographer, Bustamam Mokhtar)'s studio dressed down in a breezy blouse and a pair of shorts. At 181cm barefoot (she wears flats on the August day shoot) she gives off the 'model off-duty' aura from the get go.
Her walk towards modelling, I learned, happened by chance. Upon her university years (she's a Multimedia grad), a makeup artist scouted her for a contract with a photographer. With encouragement in abundance, the model walks for Jakarta Fashion Week and China Fashion Week (in 2019 and 2018 respectively), as well as gracing the ads of various local fashion and beauty labels – following her fashion debut as the sole Indian model at the 2014 KL Fashion Week. Lo and behold, last year, she has had the opportunity to walk for Milan Fashion Week, an opportunity coveted by many, yet so few has managed to push through. This slender lass was chosen to be on the runways of Marco Rambaldi and Act N°1, creating her own America's Next Top Model slash Project Runway-esque moments (two shows younger Vanizha would often tune into).
Taking a while off to be with her family and friends this time around, she – who is signed to an agency based in Europe (opening up more avenues to walk in, ie London and Germany) is a hard worker. Yet, true to herself, Vanizha is unfazed by the amount of attention thrown at her, she says, "I think, a lot of people in the industry still do not know about me." Keen on being introduced as 'Vanizha, the model-and-dancer', she wants people – especially those who would see her walk outside her home country – to also recognize her as a person of dance.
"I think eventually I'll retire from modelling, but dancing is something I cannot see my life without."
A nine-to-five profession, according to Vanizha, is never for her. She navigates with ease, her schedules for the runway and stage. "If there is a big production coming up, we would have to practice for about six months. That means in a week, I'll have three to four classes [to attend]." Ganjam (2015) at Istana Budaya has been one of the larger-scaled performances she's a part of, where Sutra Foundation has gathered over 20 Odissi dancers on stage, with Malaysian and Indian dancemakers give the audience a splendid taste of South Odisha.
I asked her, which is more taxing – walking (on a runway) or dancing? "Dancing." She channels that out with zero hesitation.
"Modelling is tiring – but it's not the work [per se], it's the waiting that makes you tired. During shows, the call time would be very early and then you won't be doing anything [much] after rehearsal. And then you're off to do your hair and makeup," she says.
"But dancing… [for me] you're always doing something. The warm-ups, the rehearsals, and then you need to do your own hair and makeup! Then only you go on to perform. I [however] love that kind of energy." Dancing is Vanizha's safe space – "It's not like a job for me," the full-time model says, "It's [a kind of] passion." Refusing to put a stop to her dancing even when greyer days approach, she claims, "There's no age limit to it." She's still going to power through to the stage in the coming years, just like she started at 15. Regular temple visits and festival-scale performances she has seen turn a slight interest to something much grander.
Vanizha admits, "I never took a liking to sports as a kid – it's always been the arts." As one might have guessed, 'athletic tall person' sports like basketball or netball have been constant recommendations to her growing up. "My parents even enrolled me in karate!" she adds. "But I cried after they did that, asking 'Why don't you let me do what I wanted to?' And when my mom asked about what I want, I said, I want to become a dancer."
Under the tutelage of renowned choreographer and master dancer (Padma Shree) Datuk Ramli Ibrahim, Vanizha blooms as an Odissi dancer, living and breathing the classical art form, "[From] the costume, makeup to music." Sutra Academy, where her guru Datuk Ramli is Sutra Dance Theatre's Artistic Director, has been among the places she lends her heart to since the past 14 years. "[My guru] is very strict when it comes to discipline. Of course, he's a nice person – but when it comes to dance, he is very particular about each step, rhythm and the timing of everything."
Immersing oneself into such a beautiful art form, one – like Vanizha – is able to connect within, and by staying attentive to the subtleties of movement, slowly, we can understand our own build. How it responds, its flaws and its features.
"See, as a human being, our body changes. Especially if you're a woman. I think [some] people don't understand that."
She admits to 'doing the extra legwork' when she is still figuring out her multiple roles – observing from the fringes how to best move about as a model and dancer. Before, Vanizha shares, "The 'model me' and 'dancer me' are two different people. I felt disconnected, like I was doing two separate things. But then I started to model [a lot] and it changes me, my confidence. And then I can see myself being more confident when I'm dancing, too." Vanizha continues to fall deeper in love with the flow of movements Odissi dancing exposes her to, saying it as "A way for storytelling rich with expressions."
Being recently flown to Italy for Milan Fashion Week, Vanizha is upfront about her challenges of staying confident in her game. Different from what she has experienced walking for the runway in Asia, "In Europe, there are models with so many [distinguished features and] types. Casting felt hard. I would see models better looking, taller than me and felt like I don't belong, I'm not good enough. Casting is so stressful that every time it's finished, I would cry myself out in the toilet." She tells about how, for instance, a model could be rejected on the spot, a profession not for the weak-hearted.
How do you cope? I ask. "I have been fighting similar thoughts as a kid," was her reply. "I would always compare myself to my siblings because I look different. I'm the only one who looks like my dad – tall, dark-skinned. I did not have anyone to tell me I was 'good enough' back then. When I started modelling, people showed how they love me for who I am."
She cues us in on a major discovery: "It has always been me. I [have myself] to cope with these situations. You know, you can have friends who are beside you but if you won't help yourself, it won't work. It's always you against you." Self-love, she admits, stays on top, especially when all you have in a foreign land is yourself – sometimes it comes in the form of crying your heart out (recognizing your feelings) in order to regain focus in the toughest of times.
Self-love also can be in the ways of accepting your body. "I was skinnier than this when I started modelling!" Vanizha muses. "But you can't expect me to go back to that size. It's impossible. Unless you'd want me to starve to death, then yes." I don't see that happening, though. If that's what it takes, now, she thinks, "If you don't want me, I'm OK."
Vanizha's a foodie – she cooks to destress – and given the chance, she would love a dive into the food biz. "I would love to own a small café, selling coffee, and nasi lemak and mee kari. If not here, then abroad!"
There are so many things Vanizha is. Here's hoping to see more facets of her!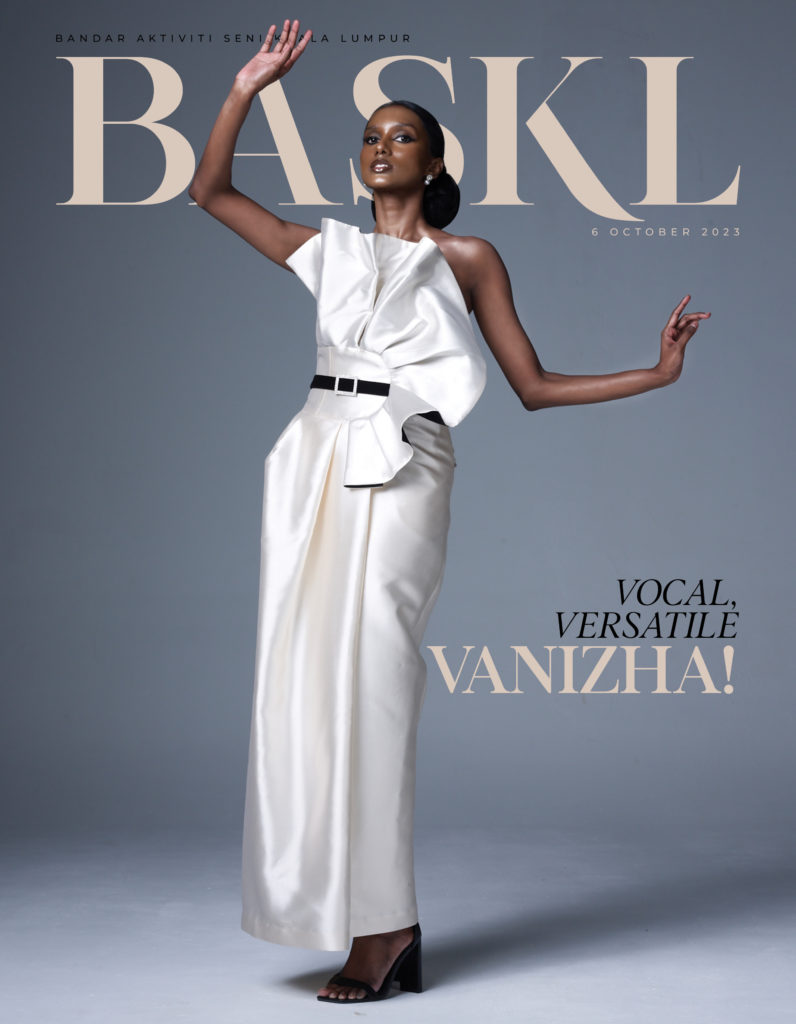 BEHIND THE SCENES OF THE BASKL COVER STAR
BASKL Cover Star: Vanizha Vasantha Nathan
BASKL Editor and Co-ordination: Shah Shamshiri
English Text: Nabila Azlan
Stylist & Art Director: Mursh Mat Som
Make-up: Jibs Salim
Hairstylist: Abdul Rauf (Hair by Lala)
Wardrobe : Khoon Hooi
Accessories: Rupa Store
Photographer: Bustamam Mokhtar, White Studio
Location: White Studio, Sungai Lui, Hulu Langat
Digital Cover Designer: Daniel Abdul Halim
For other BASKL Cover Star stories check out the link(s) below