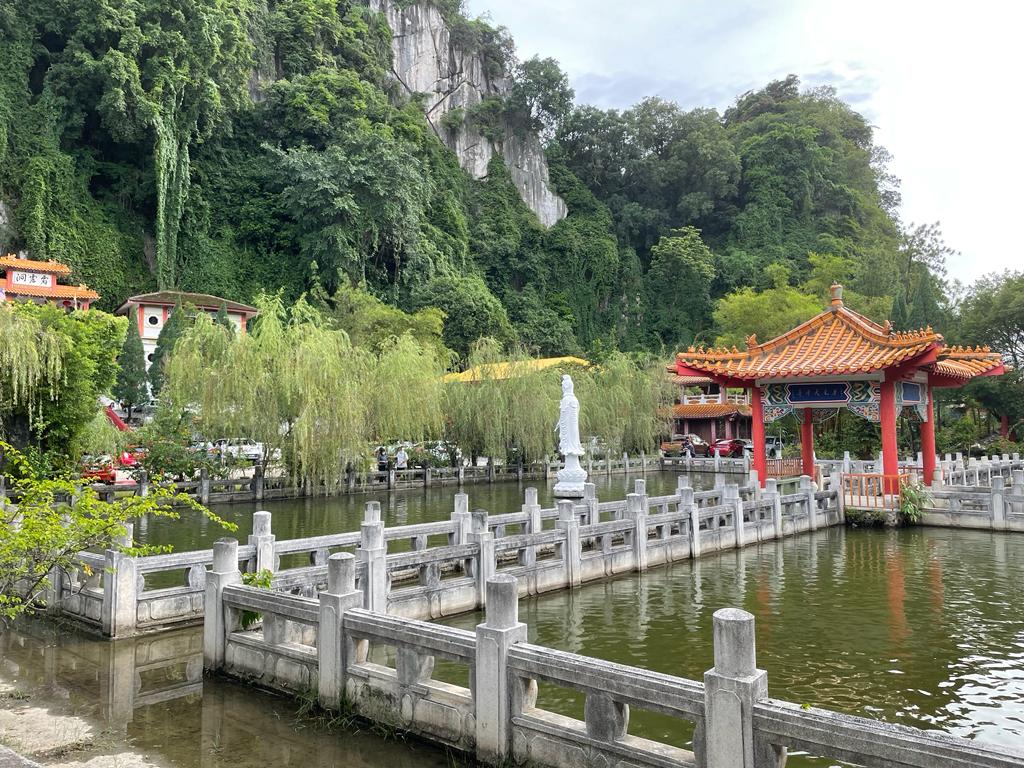 Thinking of visiting Ipoh? Read on to learn about the best tourist destinations in the beautiful and historical city.
By CHIN JIAN WEI
As you may have seen from some of the other stories we published recently, the BASKL team spent a weekend in Ipoh in conjunction with RIUH Benor!, which took place from Oct 21 to 23. As a result, the team was able to take in the sights and properly immerse in Ipoh's rich cultural heritage. Here are some of the best attractions Ipoh has to offer:
Perak Tong Cave Temple
Ipoh is known for the many Buddhist temples nestled away in its caves and hills, and the Perak Tong Cave Temple may be one of the most unique. In 1926, Chong Sen Yee and his wife Choong Chan Yoke, immigrants from China, discovered Perak Tong. With approval from the Perak state government, the temple was developed over a period of several decades. From the outside, the temple would not look out of place in a wuxia movie set in ancient China, with its facade cradled in greenery in the lap of the hill. Upon venturing inside, the temple becomes even more impressive. The first thing that catches the eye is the massive 40ft tall golden statue of the Buddha, sitting serenely in the middle of the cave. The eyes then wander to the cave ceilings and walls, where you will see many beautiful murals depicting the Buddha and Bodhisattva, among other religious figures. The effect is only heightened by the natural beauty of the cave, with its soaring ceilings and imposing stalactites. If you are up for some exercise, you can even climb the 450 steps that lead from the inner recesses of the cave all the way up to hilltop pavilions and gazebos. There, you will be rewarded with an excellent view of the surrounding city.
Address: Jalan Kuala Kangsar, Kawasan Perindustrian Tasek, 31400 Ipoh, Perak
Opening times: 8am to 5pm daily
Time Tunnel Ipoh
There is a certain aesthetic that surrounds the paraphernalia of yesteryear Malaysia. The Time Tunnel in Ipoh's old town is a little museum that exhibits all kinds of artefacts from Malaysia's past decades, from hand-painted posters, colourful cassettes, and faded photographs. Although this writer is a millennial, there is a certain feeling of nostalgia for a time never experienced, a peculiar emotion some people call anemoia. The museum's collection dates back seven decades, with an emphasis on trinkets from the 1960s to 1980s. There are painstaking recreations of old kopitiams and even a room you might find in an old house, complete with details that would have been present decades ago. There is also an educational aspect to the museum, where you can learn about Ipoh's history through informational writeups and wartime newspaper clippings.
Address: No 23, Jalan Panglima, Ipoh Old Town, Ipoh, Perak, Ipoh 30000 Malaysia
Opening times: 9am to 4.30pm, closed on Tuesdays
Yasmin at Kong Heng Newseum
Just about every Malaysian has heard of Yasmin Ahmad, right? The late, great filmmaker crafted many heartfelt movies (and commercials) that have resonated with countless Malaysians across different generations and races. Her works have showed us the beauty of everyday Malaysian life, and the triumph of love and friendship. Yasmin at Kong Heng is a small museum located inside BookXcess Kong Heng Ipoh, and is dedicated to Yasmin's life work – her film, photographs, quotes and even the computer she used at work. The objective is to inspire new creative talent among visitors and encourage people to follow in Yasmin's footsteps. If you are a fan of Yasmin Ahmad, this museum is a must-visit. Plus, BookXcess Kong Heng is unique, even for the famously artsy bookstore chain. Originally a bank vault, the bookstore has retained the old vaults and cabinets, and they now serve as a beautiful and memorable backdrop for discount-price books. Don't miss the chance to visit!
Address: 91, Jalan Sultan Yusof, 30000 Ipoh, Perak
Opening times: 10am to 8pm daily
Kek Lok Tong
Kek Lok Tong, just like Perak Tong, is a cave temple, one of the myriad that dot Ipoh's map. While it does not have cave paintings like Perak Tong, the cave interior is larger, with some incredible stalactite and stalagmite formations, bringing to mind the cave hideouts of ancient Chinese sages in wuxia movies. Perhaps most impressive are the expansive Zen Gardens located behind the cave. Exiting the cave, you are greeted with a breathtaking landscape: a verdant garden and picturesque pond encircled by Ipoh's magnificent hills. Statues of the Eighteen Luohans and bonsai can be found along the garden path. Most exciting of all, especially for visitors with family, are the bicycle and boat rental services. You can rent a four-person bicycle so you can enjoy cycling with your companions, or you can rent a little boat on which you can traverse a caveside stream with up to three of your friends. Expect long waiting times for the boat on weekends, though.
Address: Pesiaran Sepakat 3, Taman Endah Jaya, 31350 Ipoh, Perak
Opening times: 9am to 4.30pm daily
Ipoh World at Han Chin Pet Soo
The history of Ipoh is inextricably linked to tin mining. Ipoh's growth from a village into a city was due to the large amounts of tin deposits found in the area during the 1880s. If you are curious at all about Ipoh's origins and its transformation into the bustling city of today, pay this museum a visit. You will learn about the Ipoh's early history and the Hakka miners who immigrated to Malaya from China to seek their fortune. Do note that booking in advance is required, as there is limited space in the building. Place your reservation here!
Address: 3, Jalan Bijeh Timah, 30000 Ipoh, Perak
Opening times: 9.30am to 3.30 am, closed on Mondays
Featured image from Perak Tong Cave Temple
Check out our other stories below: