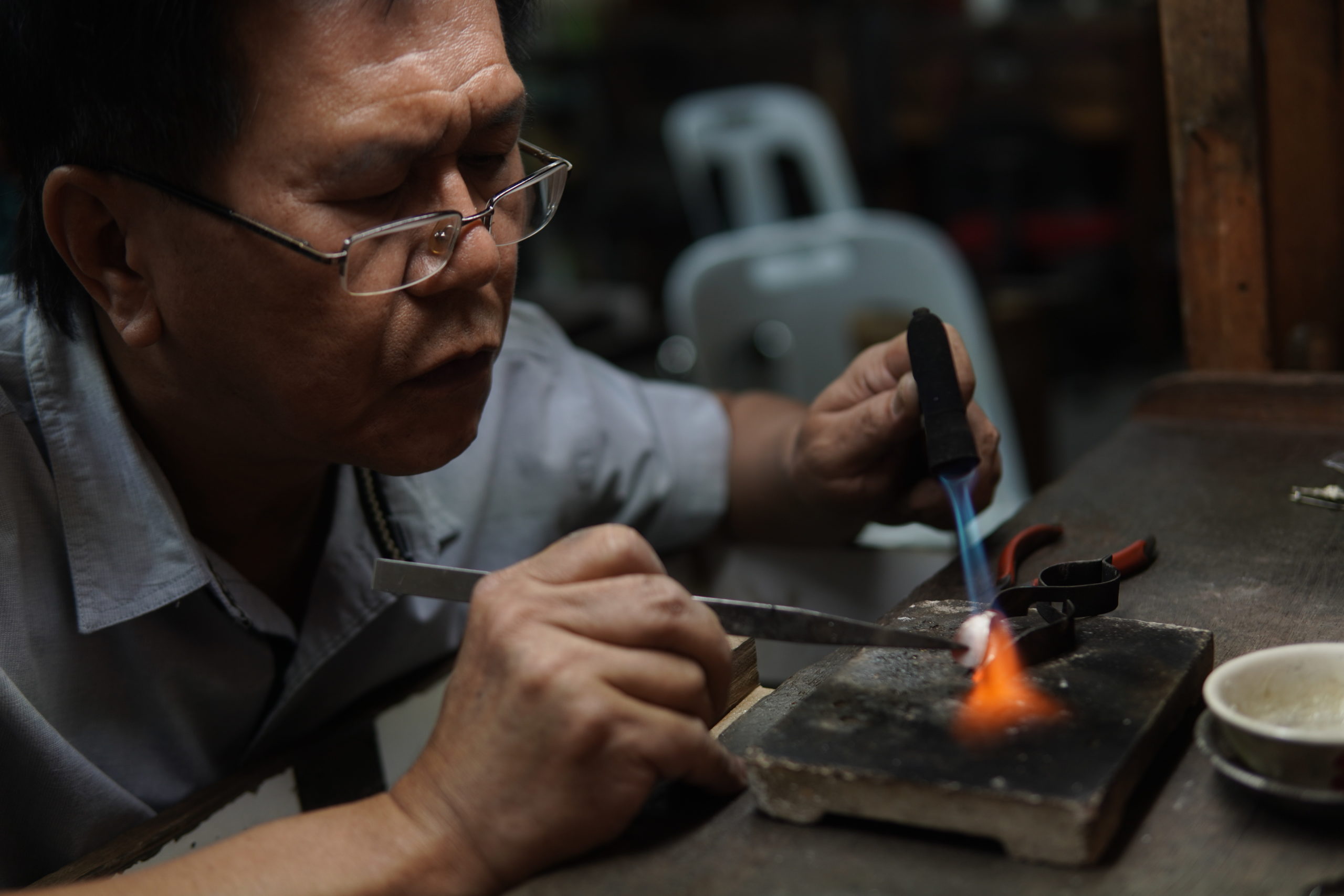 Chin Kok Chee, an experienced jeweller of many years, talks about a career spent making traditional Peranakan jewellery.
By CHIN JIAN WEI
Peranakan jewellery is elegantly beautiful in its incorporation of natural designs in its motifs. Flowers, leaves and birds form stylistic swirls of gold, studded with sparkling intan. The Baba and Nyonya of yesteryear frequently used breathtaking jewellery such as brooches, earrings and kerongsang. Unfortunately, this type of jewellery making is a dying art, with precious few craftsmen carrying on the practice today.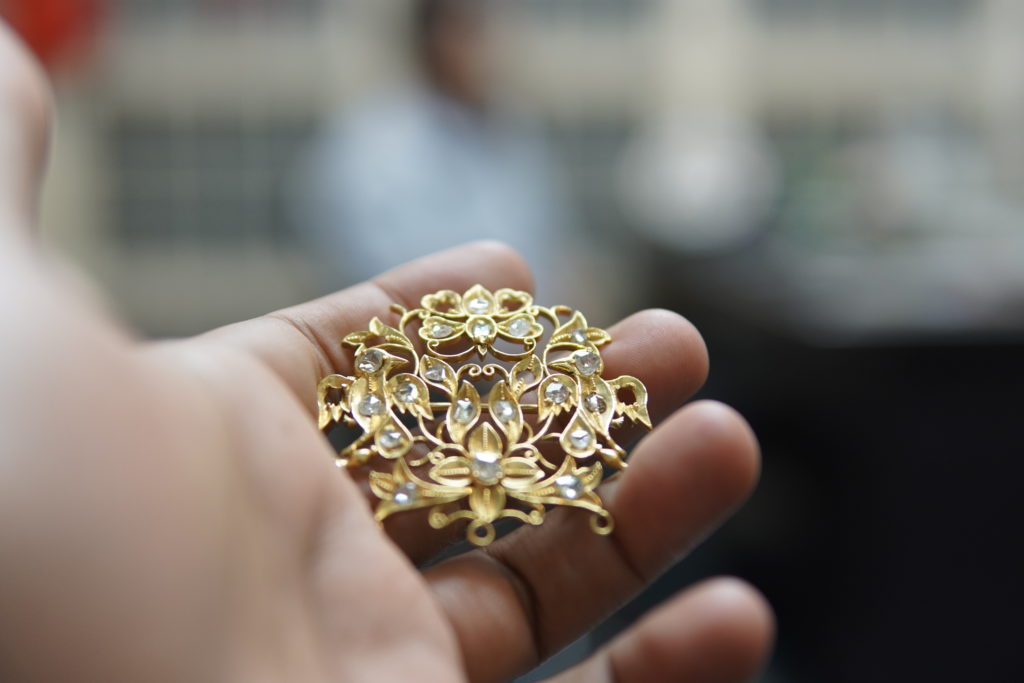 Chin Kok Chee, of Lybragold Jewellery, Penang, is one of the most experienced artisans still practising the craft. Starting as a youth of 18 years who was seeking his fortune in Singapore, he has not stopped making Peranakan jewellery in the four decades since. "My sifu (master) was born in Hong Kong, and I learned the craft from him during the 1980s in Singapore. I was quite interested in the art, because it looked fun. You just had to sit there; it looked like an easy job," Chin laughs. Of course, it turned out to be not quite as easy.
"It started a long time ago with the Nyonya and the Baba," Chin explains, sharing his personal experience regarding the history of Peranakan jewellery. "This was the kind of jewellery that they liked and thought was beautiful. The materials we use are usually gold, silver, and intan, and other gemstones, depending on the customers. Traditionally, mostly it was gold because the Baba Nyonya were quite rich. They want their things to be big, like the intan." Chin further elaborates on the differences between what he refers to as intan and diamonds that are commonly seen in contemporary jewellery. "The diamond is a fancy cut. The intan is like a rough diamond. At the time, it was hard to affix the stone as the shape was uneven, so we had to slowly adjust the shape. One item would take one month, maybe two months, depending on its shape."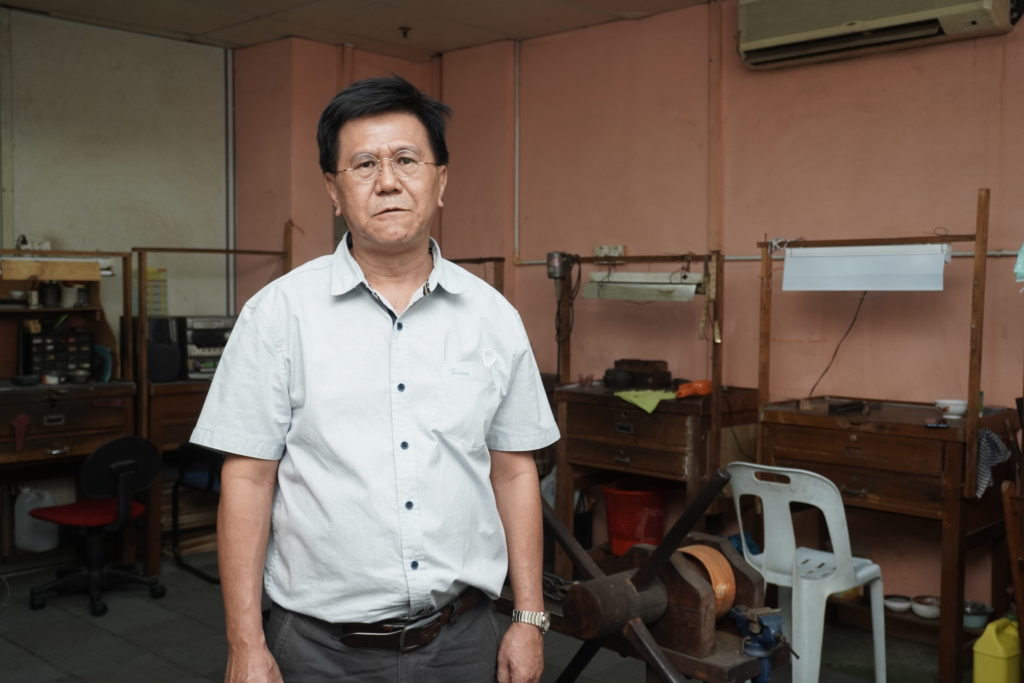 "My sifu's name is Mr Wong," Chin reminisces about the traditional training methods he underwent while learning under Wong. "When I woke up in the morning, I had to sweep the floor and boil the water for everybody. Then only I would sit at the table, where he would give me an item, and ask me to make a cut here or file it there. Once the shape had come out satisfactorily, I had to show it to him. But if he said, 'not quite nice', I had to do it again until he was satisfied." Eventually Chin was able to look back on the work he had completed on his own and derive satisfaction. It was because of that feeling that his interest in jewellery making increased. His social circle also played a role. "Everybody also appreciated my work, saying, 'oh, your handiwork is not bad, quite good. Keep going, don't quit!'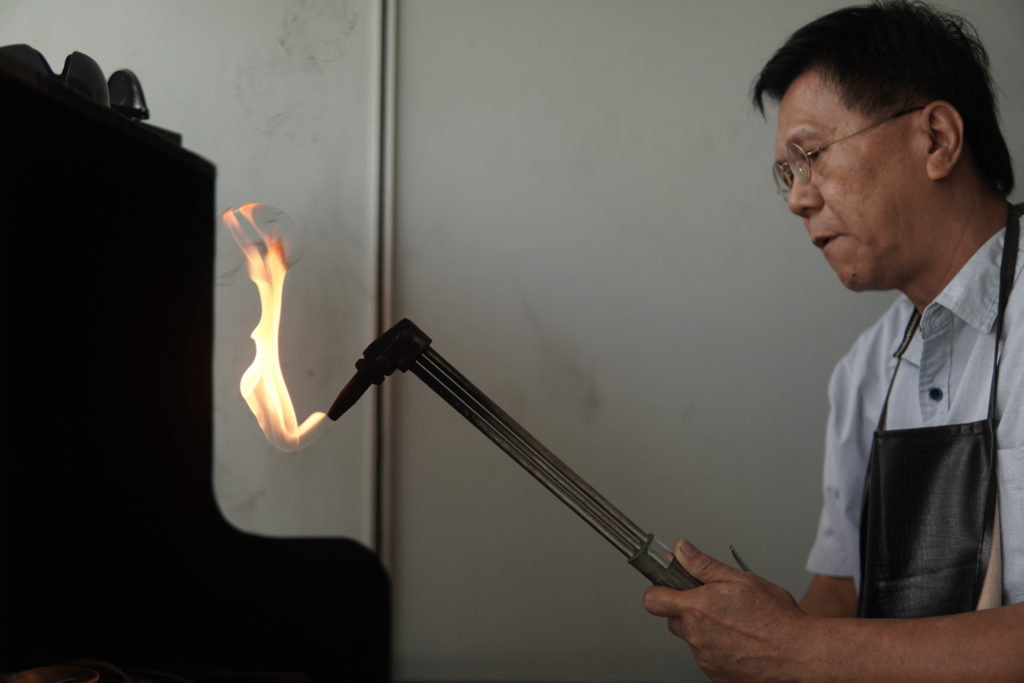 "At the time, finding jobs was hard, and I had to survive, so I continued. My salary was not high, but I had to survive. I sat and did what they asked for. This went on for 12 years." Eventually, just as many other Malaysians working abroad did, Chin felt the irresistible pull of his home country. "I came back in 1990, and I have stayed here until today."
Despite how it seemed to the 18-year-old Chin, jewellery crafting was far from easy to master. Unlike many contemporary jewellery makers, he does not use modern machines or computers. "At first I draw out a template. Once we have the shape we want, we cut the metal out. I then cut and file it to make the shape perfect. Silver is soft, so it is easy to cut. We have to measure the size of the stones and make the hole slightly smaller, giving the space to set it. The hole has to be slightly smaller than the stone so that the fitting won't be too loose."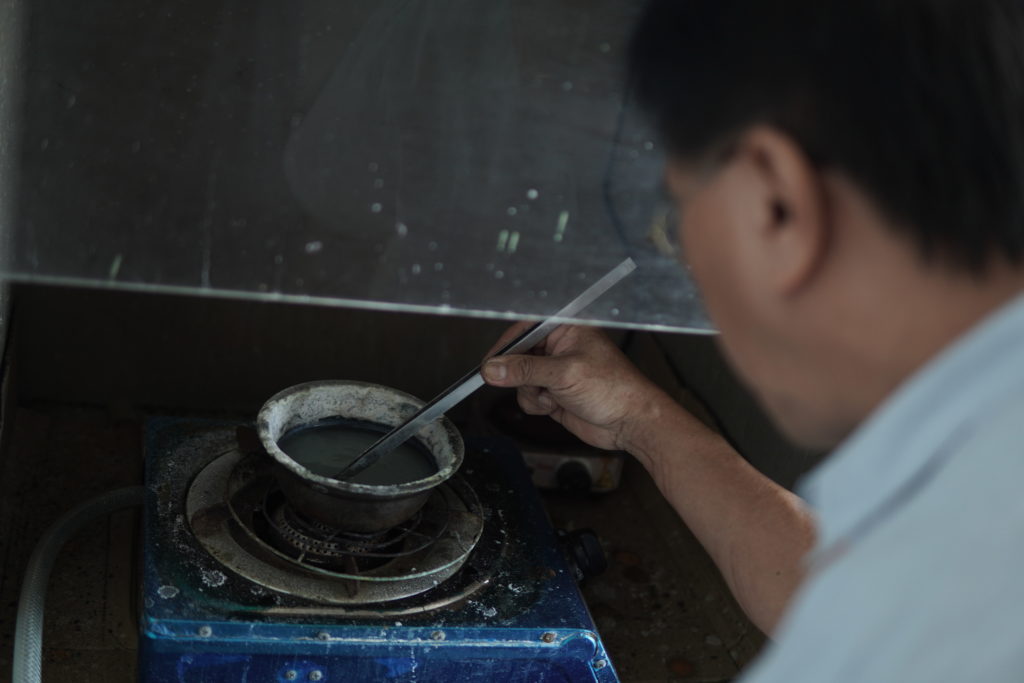 He continues, saying, "The technique is in the hand and the fire, in the cutting, and filing of metal. Other than that, you must know how to think and how to avoid going down a wrong path when crafting a piece of jewellery. Then your work will be faster and come out nicer. To become a skilled worker, you need to sit down and work everyday. After 10 years, 20 years, then you become an expert. It's not something that you can do in one or two days. You have to work on the basics first. Like learning kung-fu."
Nowadays, due to the changes in customer demands, the designs that Chin makes have become quite modern in appearance. It is a rather inevitable challenge that practitioners of traditional art have to face in the 21st century. The younger generation simply has less interest in these types of traditional art, and old masters like Chin are the only ones keeping the fire burning. "I hope there will be more young people interested in this line of work," Chin says. "If not, it will disappear. In these kinds of craft practices, you need to have a lot of patience. You have to sit there for eight hours. That's why young people don't want to learn. In the modern world, everyone wants money and high salaries. They're not interested in this. The first thing they ask when they come in is, 'how much can you pay?' Then they don't come back." Chin smiles as he says this, but the bitter truth is unmistakable. He still hopes to teach someone his beloved craft. "I don't want the skills and tradition to disappear."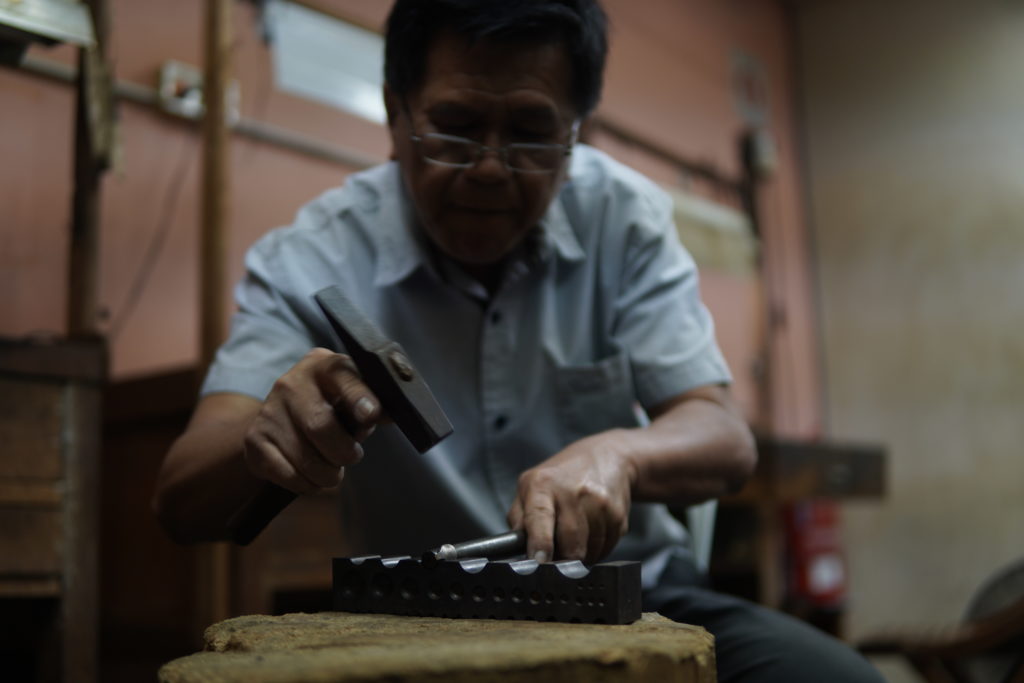 In the meantime, Chin is happy going about making beautiful handcrafted Peranakan jewellery. "I like making jewellery. That's all I want, and it can help me survive too. I'm not asking to be rich, I just want to work." His simple passion shines as brightly as the jewellery he makes.
Chin Kok Chee is the recipient of the 2nd phase of CENDANA's Adiguru grant, conducted in partnership with PUSAKA, for the art of Peranakan jewellery making.
If you liked this story, check out some of our other articles below: