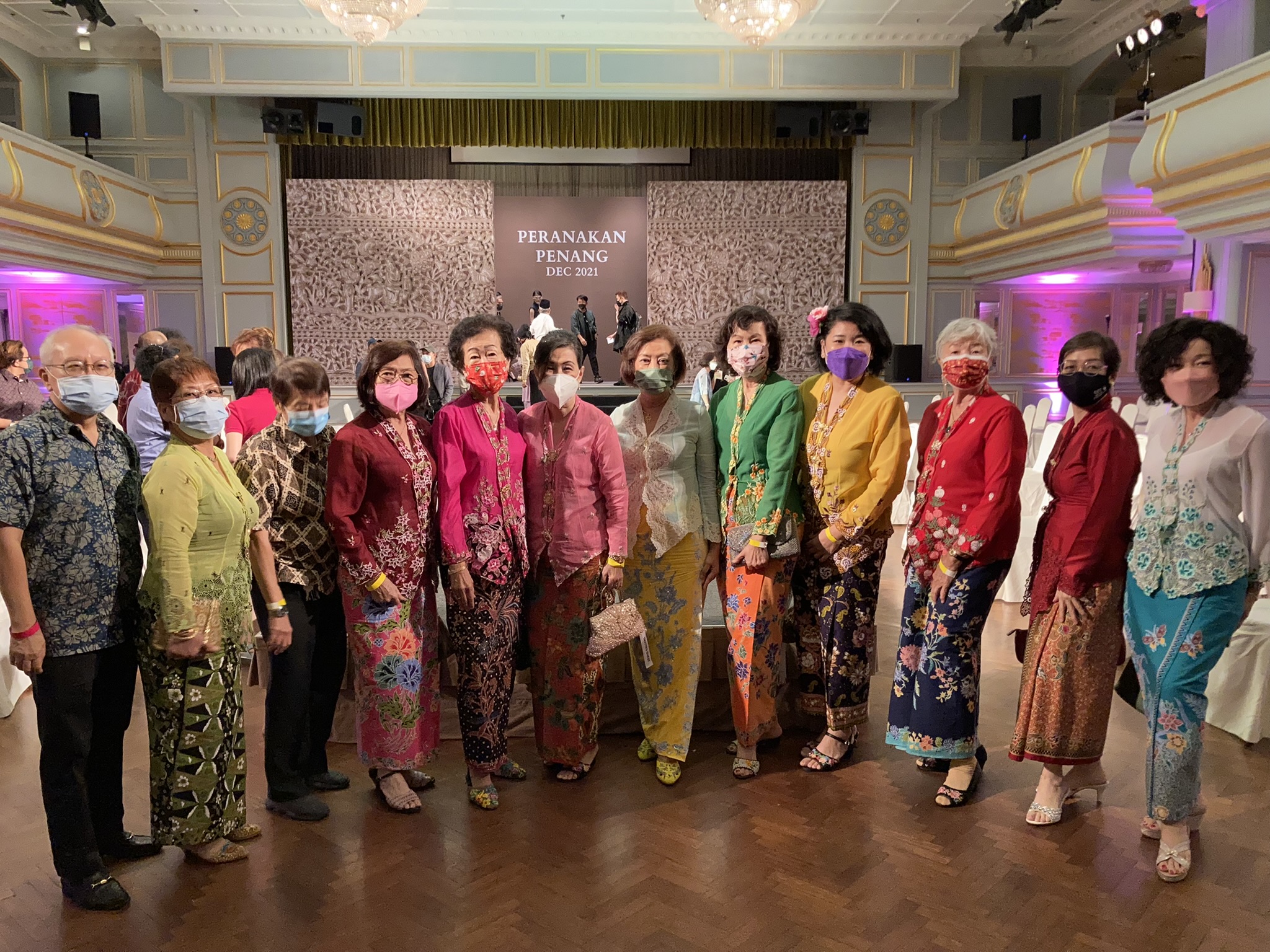 The Peranakan Penang Festival was a 10-day celebration of Peranakan culture and heritage purposed to educate the masses and preserve its narrative for the generations to come.
Story by MIRIAM DEVAPRASANA for Lensa Seni
Penang ended 2021 with the inaugural installation of the Peranakan Penang Festival (PPF), showcasing all things celebrating the local Peranakan heritage. The 10-day festival featured a plethora of events and activities, highlighting the diversity and impact of the local Peranakan community, intending to educate the masses and preserve the Peranakan heritage. Events were held in various historical and heritage buildings including the Eastern & Oriental Hotel, Pinang Peranakan Mansion and Bangunan UAB.
PPF also marked one the largest festivals post-pandemic, embracing a hybrid-style of physical and virtually-held events, with the majority of them being free to the public. This made the festival accessible to many from around the world to bask in the beauty and diversity of the Peranakan culture.
Here were some highlights of the festival:
Night of intricacies and elegance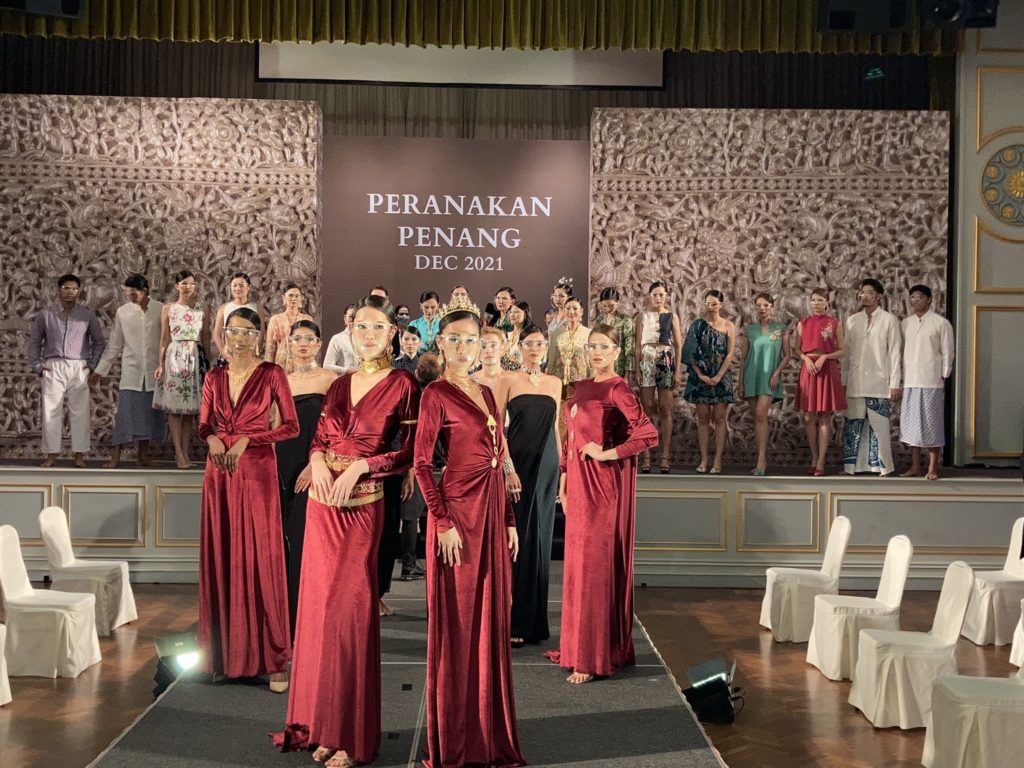 For a glorious start, PPF began with its Gala Fashion Show featuring eight homegrown designers whose exquisite crafts weaved in the narrative of Peranakan beauty and style.
The show opened with an assemblage by Jonathan Yun, who transformed the complex and heritage Peranakan belt to chic wear. Kenny Loh's couture and traditional array was the perfect marriage of classic meets high-end fashion, paired with his collection of Nyonya beaded shoes for a complete display of Nyonya wear.
Shashas Empire featured an eclectic selection of heritage attire with elements of songket and batik on its kebaya Baba Nyonya, complemented with traditional headwear, highlighting the versatility and diversity of Peranakan-inspired clothing.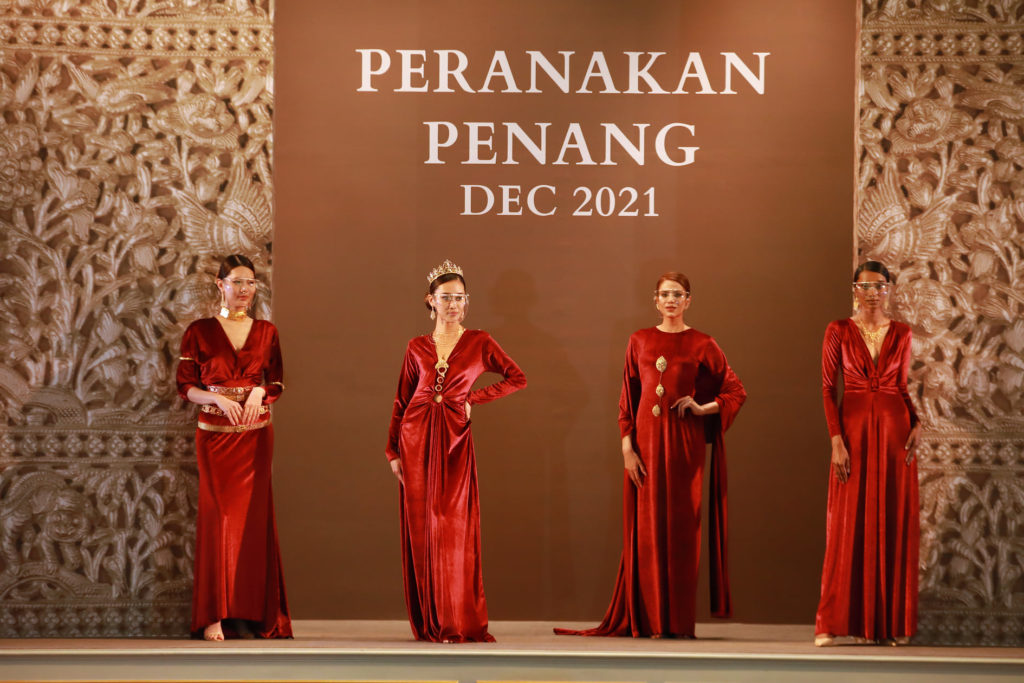 The night ended with magnificent artistry from jewellers Nam Loong with dresses by RG Creation. The stunning vintage and antique jewellery collection were an ode to timeless classics and old charm. Nam Loong celebrates 100 years this year and is one of the oldest fine jewellers in Penang, having also designed several royal houses in Malaysia.
Other artists included Marisa, Jing Ooi and betterthanblouses, bringing together a myriad of colours, motives, patterns and designs, bridging the worlds of heritage and stylish, modern wearability.
Discourse on narrative and histories
PPF also organised several talks, workshops and tours surrounding the lives of the different Peranakan communities in Penang. Among them were the two-part seminar led by scholars and advocates from all over Malaysia, highlighting several aspects of the two primary Peranakan communities in Penang.
Part one, titled Sembang Peranakan: Straits Chinese Peranakans, was moderated by Lillian Tong, George Town World Heritage Incorporated's Lifetime Achievement Award Winner, and Museum Director of the Pinang Peranakan Mansion.
The panel began with sixth-generation Penang Baba Peter Yeoh, who spoke on the art of the love ballad form of Dondang Sayang and the unique history of the Penang Hokkien dialect. Pat Lim, a contributing writer to Once Upon a Kamcheng shared her story on the daily life of a Nyonya woman.
Lee Yuen Thien, a fifth-generation Melaka Baba, and manager of the brilliantly curated Baba Nyonya Heritage Museum, spoke on the community's identity in Melaka, and its relevance in our current national narrative. Award-winning writer and cultural activist Dr Lee Su Kim ended the panel with her journey as a storyteller.
The second part of the seminar focused on the Jawi Peranakan community in Penang. The lively discussion was moderated by Prof Anwar Fazal, leading international civil activist and recipient of many national and international awards.
Prof Wazir Jahan Karim began the panel and spoke on the documentation of the Jawi Peranakan heritage in Penang, based on her research and studies on the subject. This was followed by Yuslinov Ahmad, lawyer and champion of women's rights who shared on the growth and shifts of Jawi Peranakan women based on notions of assimilation and insights on roles within the family institution.
Award-winning chef and owner of Jawi House Nurilkarim Razha talked about his passion for the cuisine and his hopes to elevate its status. The panel ended with composer, and director of the Boria Academy, Jibran Khalil Sinda Madar, who shared aspects of the artform of Boria, its techniques, and its significance in contemporary society.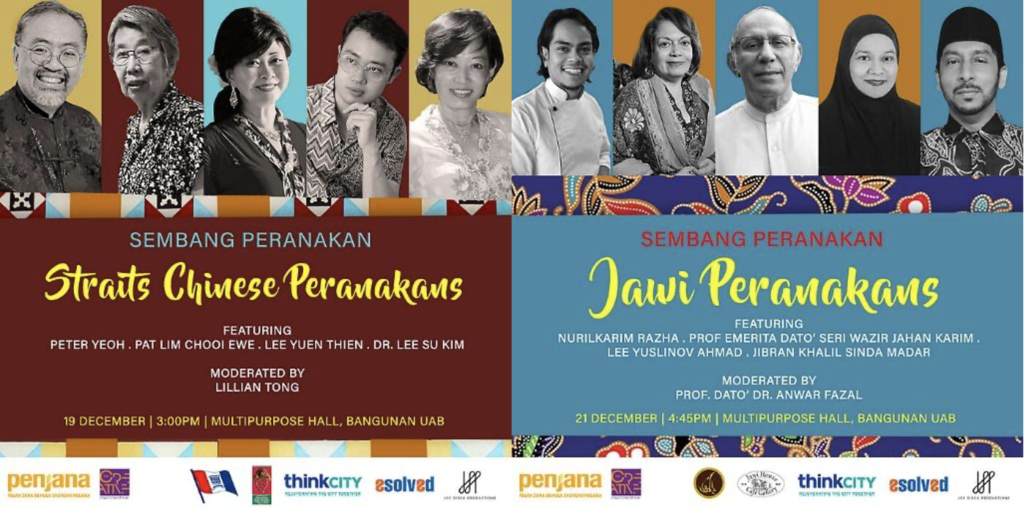 Extending the discussion on the community was the Jawi Peranakan of Penang exhibition which highlighted the traditions, practices and unique cultural aspects of the Jawi Peranakan community. This included cultural influences from Arab and South India in the lives of the local Malays, especially in terms of art, clothing, jewellery, trade and lifestyle.
It also featured enlightening details on the historical roots of prominent Jawi Peranakan personalities, like the Merican family tree. The exhibition space continued with a Pop-Up Market featuring Peranakan-themed arts and crafts including Ben Rongen's jewellery made from artefacts found on East Coast shipwrecks, Tiffin Jeiwa, Either/Or, ZNG art, and more.
Arts and Culture appreciation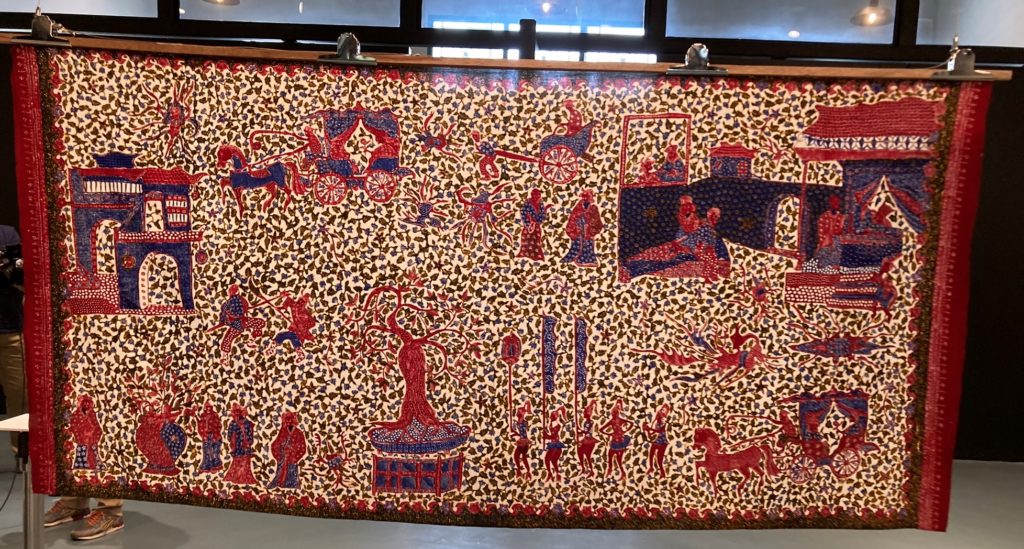 In celebration of tradition, PPF offered a variety of activities and shows paying homage to our much-loved intangible heritage.
The Peranakan Batik Exhibition was a showcase of some of the finest batik designs from Lasem and Pekalongan, with a collection of contemporary and heritage kebayas by the Penang-based Shashas Collection. Curated by Ivan Gabriel, the exhibition featured works by Fransiska Anggraini whose centrepiece depicted Lasem's Chinatown which was home to one of the largest Peranakan settlements in Indonesia, and Zahir Widadi, renowned for his pieces made from natural indigo dye.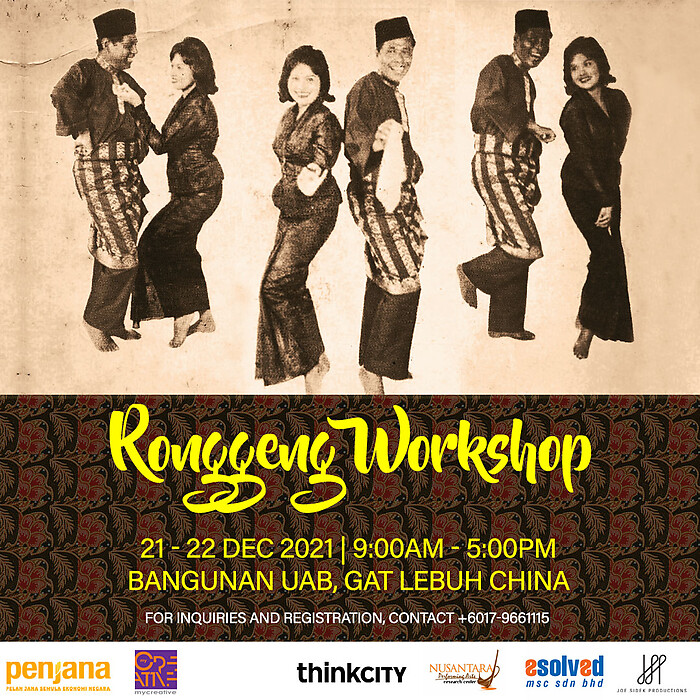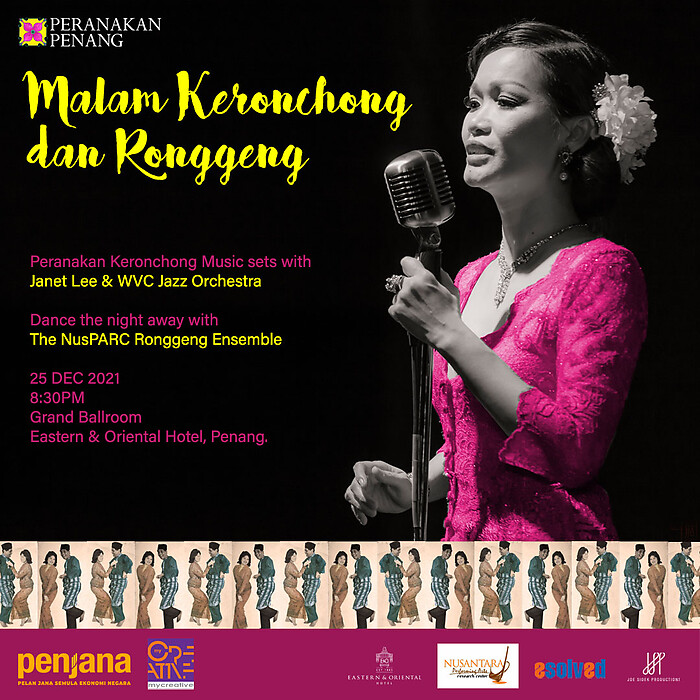 Christmas was celebrated with Malam Keronchong dan Ronggeng, with the exceptional Janet Lee accompanied by the WVC Jazz Ensemble. The band kept audiences on the edge of their seats with throwbacks to old times with pieces like Penang Samba, Jimmy Boyle's Gema Rembulan, and a beautiful rendition of Mo Li Hua. The set continued with poetic verses set to folk music led by the Nusantara Performing Arts Research Centre (NusPARC) Ronggeng Ensemble, who also conducted a two-day Ronggeng Workshop curated by its director, Prof Mohd Anis Md Nor.
PPF also partnered with Warner Music Malaysia and featured the premiere of Bunga and Amsyar Lee's Belai music video – a reimagined alternative of the popular folk tune Ikan Kekek.
Festival for all
Not only were these events educational, but they also provided a platform for local champions of the region's Peranakan heritage to shed light on its narratives, enabling people from all walks of life, and across generations to discover, witness and understand the complexities and uniqueness of our shared histories. It was a festival to remember the past and its significance for the future – a step towards preserving the Peranakan heritage for generations to come.
All events are available for viewing on its Facebook Page.
Miriam Devaprasana is a participant in the CENDANA ARTS WRITING MASTERCLASS & MENTORSHIP PROGRAMME 2021
The views and opinions expressed in this article are strictly the author's own and do not reflect those of CENDANA. CENDANA reserves the right to be excluded from any liabilities, losses, damages, defaults, and/or intellectual property infringements caused by the views and opinions expressed by the author in this article at all times, during or after publication, whether on this website or any other platforms hosted by CENDANA or if said opinions/views are republished on third party platforms.