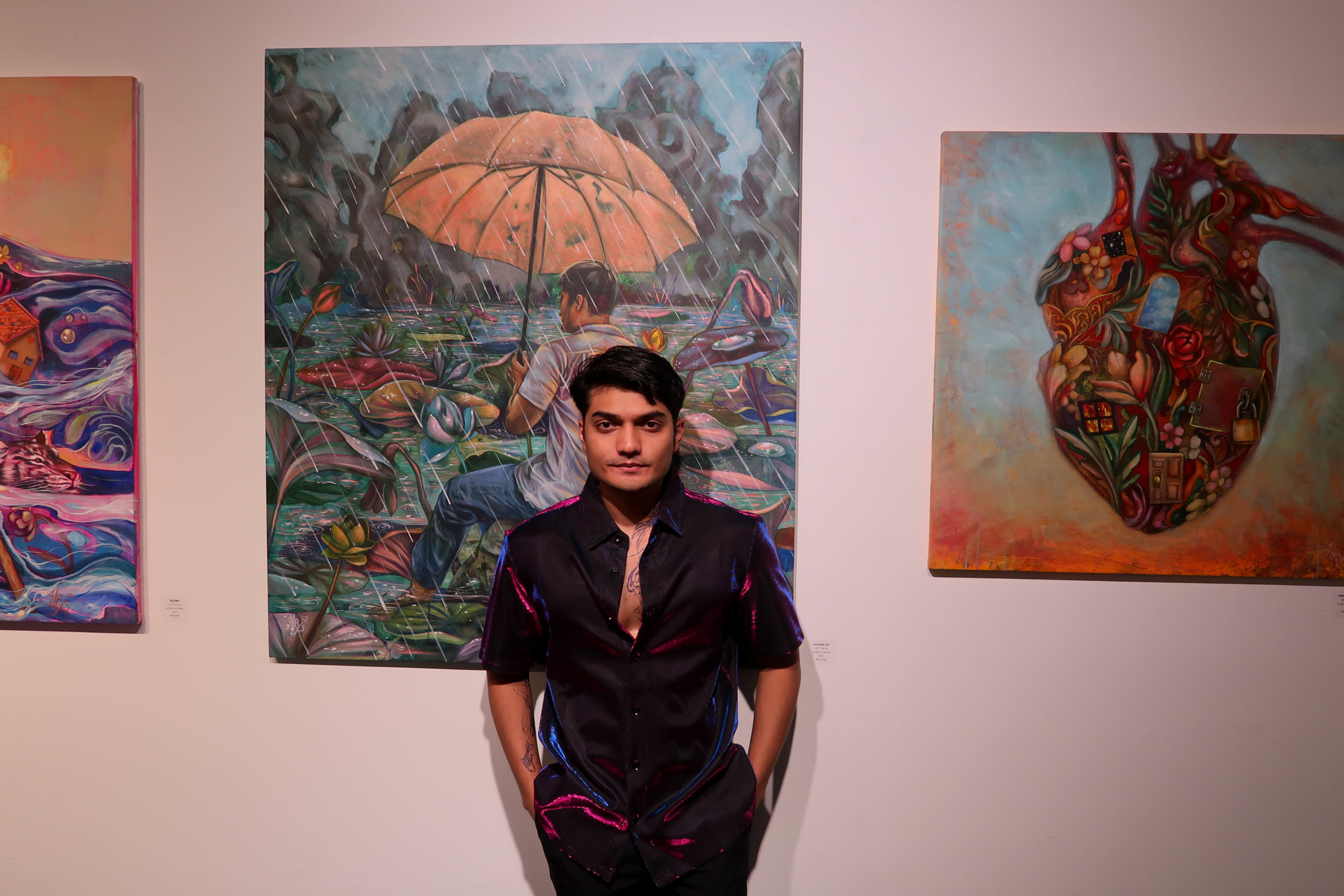 Contemporary artist Haris Rashid celebrates 10 years of his career with his latest exhibition showcasing work from different stages of his life.
By CHIN JIAN WEI
With his latest exhibition at ZHAN Art | Space, fluid, Haris Rashid celebrates a decade as a contemporary artist. His style is colourful and vibrant, incorporating bright colours flowing into each other and often depicting animal and plant subjects. With fluid, 45 of Haris' pieces over the decade have been curated by Mona KV, with the central theme of water linking them. The name was chosen to symbolise the ups and downs, highs and lows of Haris' journey in life and as an artist. "Fluid can mean a lot of things," Haris says. "It can suggest ambiguousness, it can mean shifting personalities."
The art is arranged chronologically, starting from the leftmost wall and progressing towards the right. Looking at t10 years' worth of Haris' art collected in one gallery, it becomes apparent just how much he has changed as an artist. "In the beginning, there were a lot of animal-inspired works," Haris says. "My colours were quite tumultuous, and then they gradually become more harmonious, and I got more symbolic and metaphorical with the work." Some of Haris' later work features the artist as a central figure in the art, suggesting a growing emphasis on personal themes. "It reflects my self-analysing. It's natural for me to draw myself; it's the subject I know best."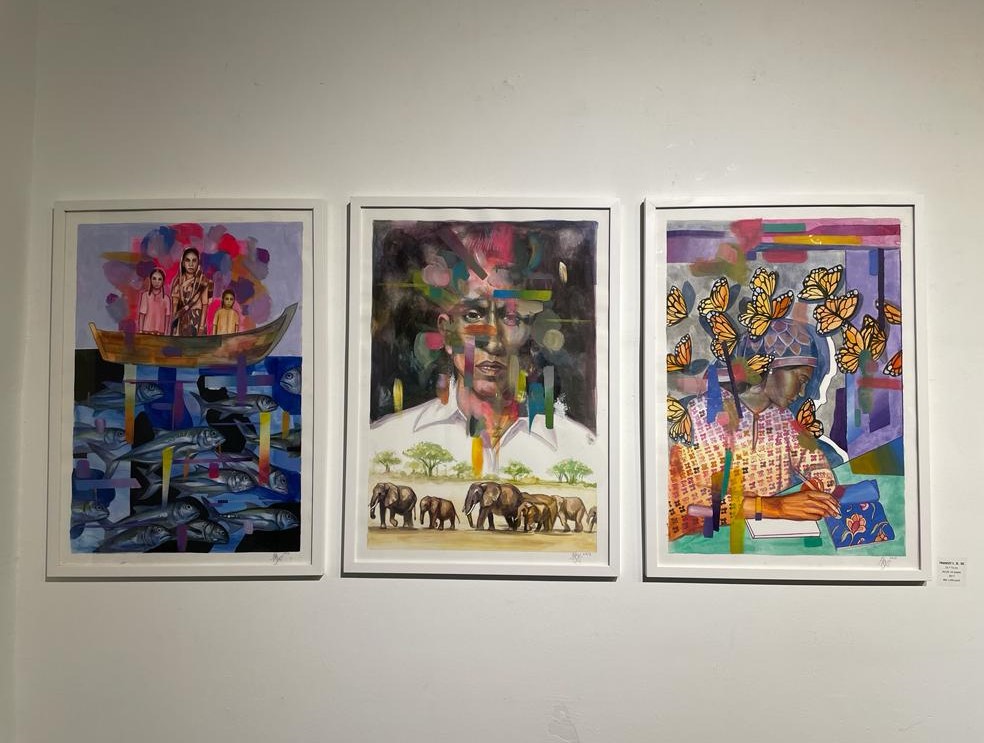 Haris also often incorporates Malay sayings and proverbs like air tangan into his art, breaking down the sayings into their constituent parts (water and hand, for example) and interpreting them through his own metaphorical lens. The keris also shows up in several of his art pieces, symbolising Haris's interrogation of his own mixed-Malay heritage. Haris has also become more instinctive with art. "I just let it flow rather than over-composing, overthinking the meaning," he says, "It still does have meaning, but I don't force it anymore. In the beginning, a lot of my art was about trying to impress people. I think I was trying to distract people using my technical skills rather than focusing on what I wanted to say. Now I think I don't care so much."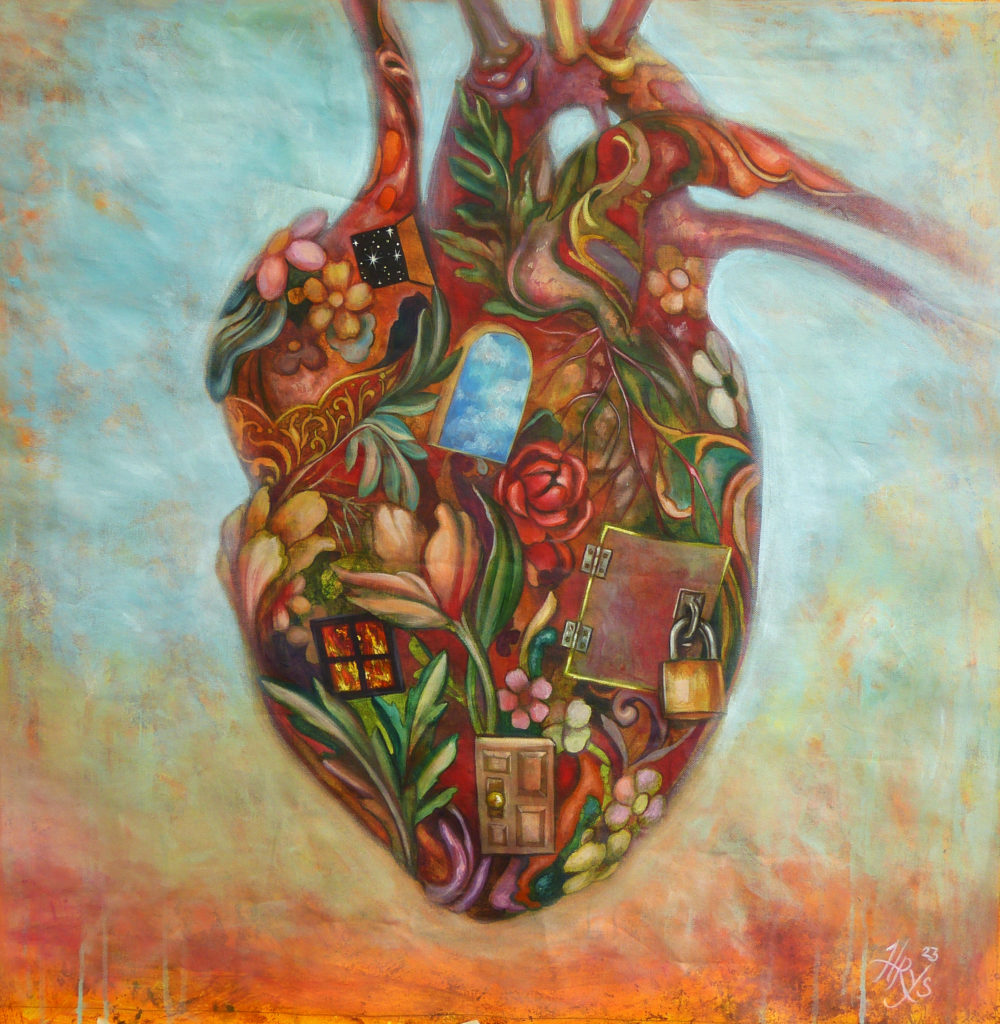 Haris has plenty to say about how nature inspires him. "Nature is endless. The inspiration I get from it is endless; even now there are things we don't know about nature. Also, I may draw animals, but I treat them like humans." Haris observes that when controversial themes are presented through the depiction of human subjects in his painting, people tend to take offence or get defensive. "It's too closely related to them," Haris remarks. "They already have preconceived notions on how humans ought to be. But when I draw animals, then it's okay." For example, Haris critiqued the concept of masculinity through a painting of a gorilla during a previous exhibition.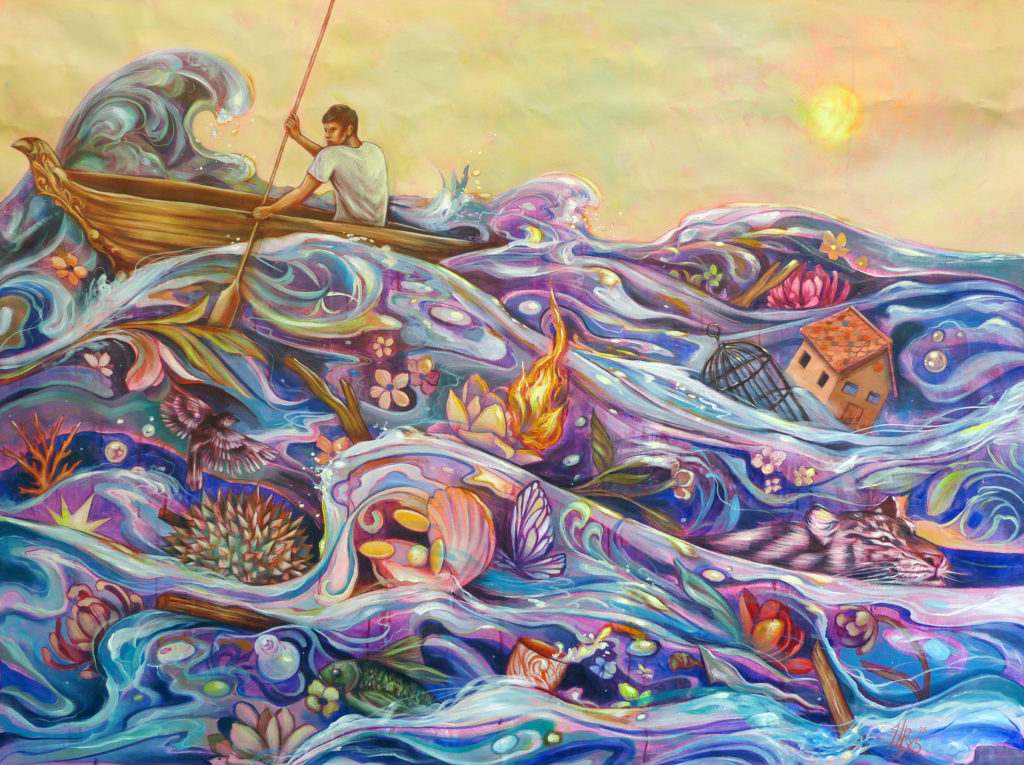 Haris is a mixed-media artist, often incorporating a range of different media in his work. For example, he has recently started to explore using batik. "I also want to keep trying new things. In the beginning, I tried everything and it was quite erratic. Now, I know what works and what I enjoy doing, and what is most Haris Rashid," he says.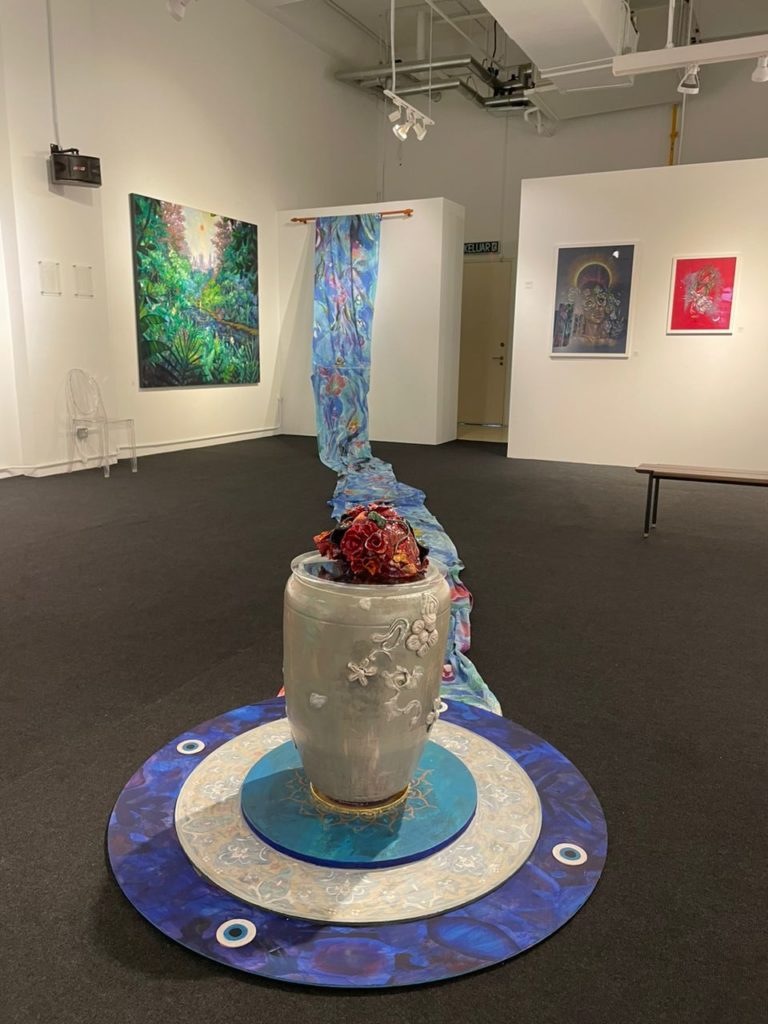 "Why Haris has bee able do art for 10 years is because of his perseverance and determination," Desmond Tong, founder and curator of ZHAN Art | Space says. "A lot of artists work for a short period of time, and when they get that recognition, they stop. As time progresses, you can see which artists put in the effort."
The painting below, Holding On, depicts Haris's struggle to persevere, to keep his passion and creative flame alive despite many tribulations. "My work isn't trendy, but I stick to it," Haris says. "You keep doing it even when people are not buying. Even though you're not making money, you still want to do it."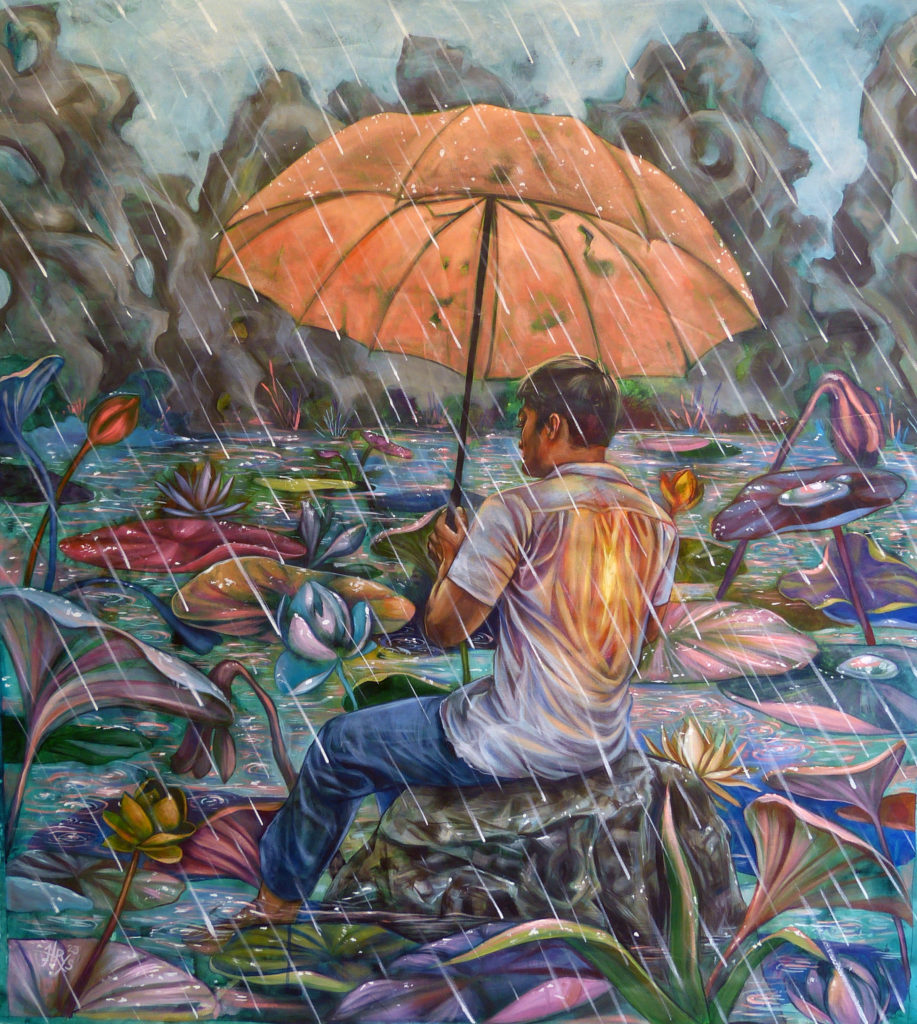 Haris' advice for aspiring artists is, "Don't just follow trends. Draw what you want to draw, stick to it and perfect it. If you do it long enough and consistently enough, people will see it and appreciate it." Tong adds, "A lot of people want instant gratification. It takes a long time, but if you really love it, keep doing it. Keep finding opportunities."
Fluid will be exhibited at ZHAN Art | Space until April 7. For more information, check out ZHAN Art | Space's website and Instagram page. Don't forget to follow Haris Rashid's Instagram page to see more of his art!
Read more BASKL stories by clicking the links below: