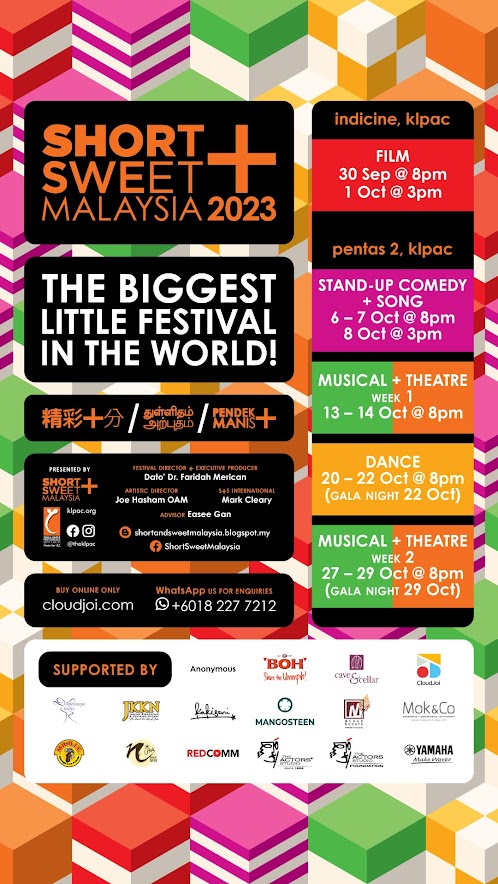 The Malaysian edition of the world's biggest little festival celebrates its sweet 16 birthday this year with a month-long celebration. The annual SHORT+SWEET Malaysia festival returns from September 30 to October 29 2023 at klpac.
Festival Director Dato' Dr. Faridah Merican said, "We are excited to celebrate SHORT+SWEET Malaysia's 16th season with a bumper edition where we will be premiering almost 100 new works in theatre, comedy, song, dance, musical theatre and film. We are overwhelmed by the number of entries, which is almost double of what we received last year, as well as the exciting variety ofideas and content. SHORT+SWEET fans are in for a treat this year."
SHORT+SWEET is a festival that lives up to its name as it only premieres new works that are 10 minutes or under. If you are one of those that cannot make up your mind between laksa Johor or char kuay teow, cendol or ais kacang, this is perfect for you because it is like a giant buffet where you can sample many different bite-sized theatrical treats in one night.
The 16th season began in April with a string of SHORT+SWEET workshops by the who's who in the industry including film producer and director Lina Tan, Godfather of Malaysian comedy Harith Iskander, musical genius Vale Wong, choreographer Zhafir Muzani, singer-songwriter, Fuad Alhabshi of Kyoto Protocol, playwright Mark Beau de Silva and director Joe Hasham OAM.
This time round, an estimated 400 artistes and creatives will be part of the festival throughout the month making it a lively congregation and gathering for the arts fraternity and warm welcome for newcomers eager to make their mark.
Beginning with SHORT+SWEET Film from 30 September to 1 October, it dives into the lighthearted SHORT+SWEET Stand-Up Comedy and Song segment from 6 to 8 October before moving on to SHORT+SWEET Musical & Theatre (Week 1) from 13 to 14 October and SHORT+SWEET Dance from 20 to 22 October. The season wraps up with SHORT+SWEET Musical & Theatre (Week 2) from 27 to 29 October.
An annual highlight of klpac's programming since 2008, SHORT+SWEET has been a key driver behind the creation of a huge pool of new works. It has premiered more than 1,000 works and showcased an astounding 5,575 emerging and established talents on stage. SHORT+SWEET was founded by Mark Cleary in Sydney and has since grown into a global
festival brand with SHORT+SWEET festivals all over the world such as Dubai, England, USA, India, Ireland and more.
Purchase your tickets now via www.cloudjoi.com.
Read more stories like this on BASKL via the links below: