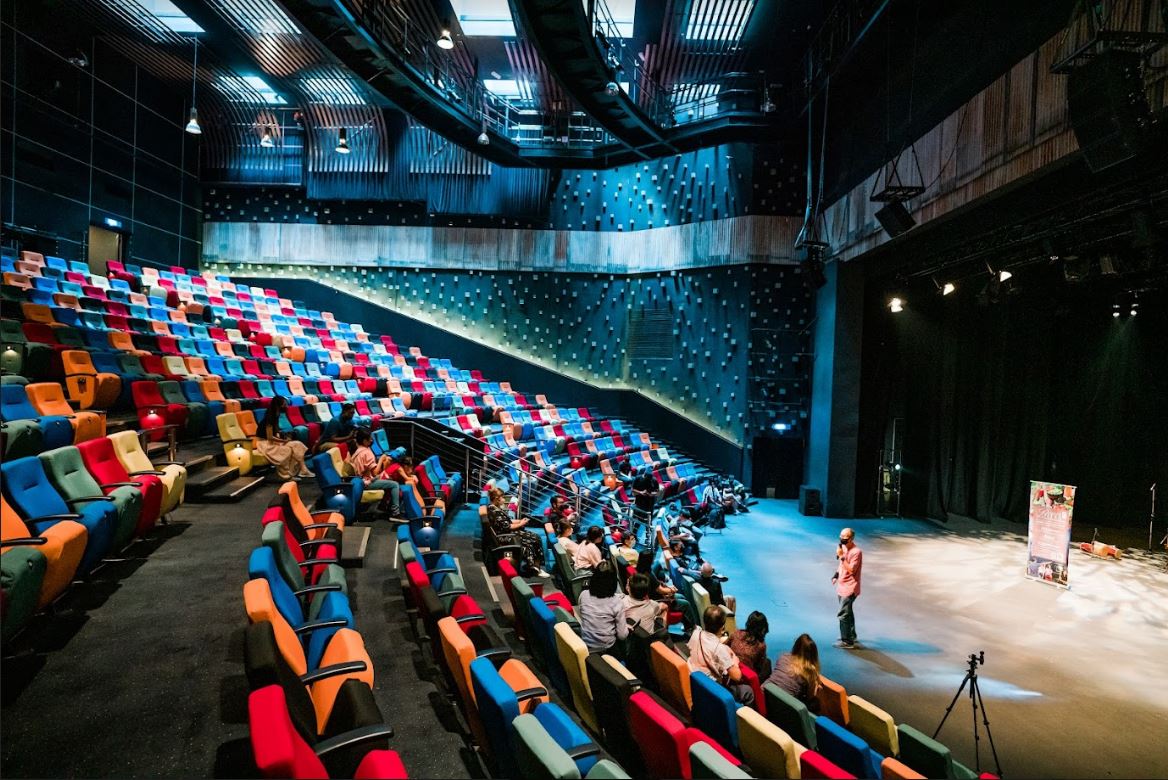 Ever wondered what lies behind the scenes at klpac?
By CHIN JIAN WEI
On May 14, I had the pleasure of venturing backstage at klpac to take a look at the magic behind the curtain. This was part of the "Backstage Bites: klpac Birthday Edition", a guided private tour of Malaysia's only fully-integrated arts centre and the nation's premier performing arts theatre.
Here's a bit of a history lesson. In 2003, Kuala Lumpur was struck by flash floods which destroyed The Actors Studio at Plaza Putra. As it was in an underground space, the damage was swift and irreparable. The harrowing details were provided by the host of our tour, Ian Chow, the group general manager and long-time company man. He related a story of how a staff member had to be dragged out of the rapidly flooding studio for her own safety as she tried desperately to save props and other assets. Out of the ashes emerged a phoenix: The Actors Studio, YTL Corporation, and Yayasan Budi Penyayang joined forces to establish klpac, which opened to the public in 2005. Since then, klpac has been home to almost 2000 shows and countless Malaysians with a passion for the arts. With its facilities such as a 504-seater proscenium theatre, a 200-seater experimental black box theatre, and many more, it is no exaggeration to say klpac is a stalwart cornerstone of the arts scene here in Kuala Lumpur.
Perhaps klpac's most defining features are its accessibility and groundedness. It prides itself on being a theatre for the people, and it shows. There is no strict dress code, no VIP seats, and the ground level seats are on the same altitude as the stage in Pentas 1, to recapture the cosy feeling of Asian performing arts like Cantonese opera or Wayang Kulit. There is no pretension or snobbiness to be found anywhere. At the entrance and stairs, raised metal surfaces have been installed to allow blind patrons to more easily find their way inside the building, similar to the kinds of surfaces you can find at an LRT station. The aforementioned ground level seats also feature sides that swing out for the convenience of people using wheelchairs or crutches. As Chow said, everyone is equal at klpac.
The decor also reflects this down-to-earth philosophy. It was built with an open concept in mind, with glass used heavily in the construction of the exterior, ensuring that nothing is hidden from visitors. A lot of raw materials such as bricks were used as-is in the construction of the interior. Chow also remarked that this has helped saved them a lot of effort as well, as the natural rustic beauty of bricks requires no repainting.
During the tour, we were granted the chance to see the rooms that the public generally does not get to access, for example, the dressing room, the dimmer room, the audio patch room, the costumes storeroom, the stage lighting room, and more. It was interesting to see props like a giant disembodied skull lying around backstage. Of course, the stars of the show were the two theatres. We visited Pentas 2 first. This theatre houses smaller-scale and more experimental productions. Chow described it as a "Lego set", as various components of Pentas 2 can be rearranged according to the requirements of the production. Seats can be raised or lowered by the use of platforms, and seating arrangements can be customised. The stage can be placed anywhere using those platforms, or the director can opt for foregoing a formal stage entirely.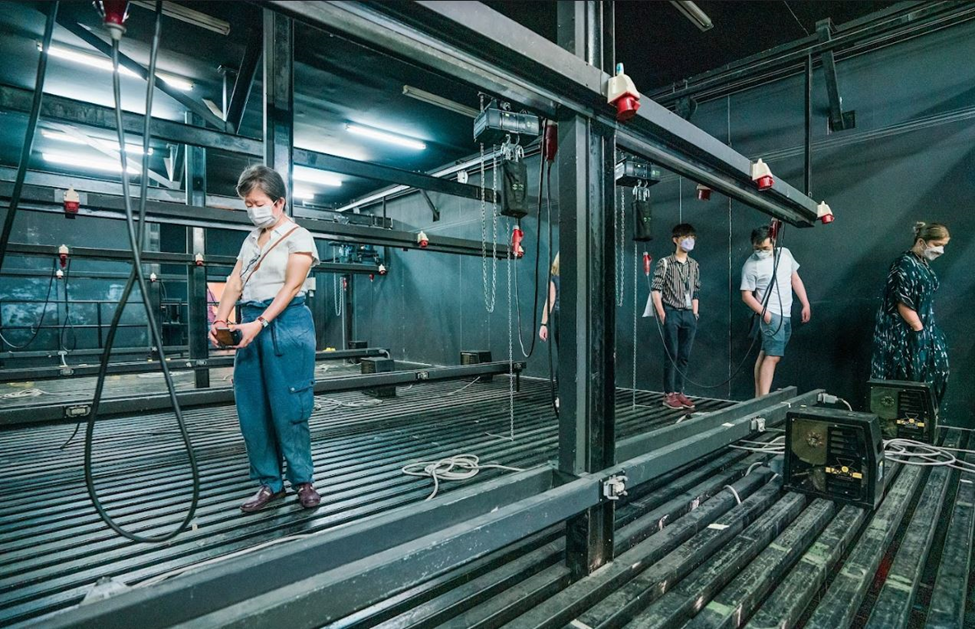 Pentas 1, the bigger one among the two, is generally reserved for larger productions. Sticking to the grounded theme, the walls are decorated with zinc panels recycled from the old roof. The seats are extremely bright and colourful. Chow says that they serve three purposes: One, their kaleidoscope of colours represents the rich diversity of Malaysians from all races, cultures, and walks of life. Two, bright colours represent the vibrant creativity of the art showcased there. Three, it creates an optical illusion making the theatre look more crowded. Chow assured us with a laugh that the first two reasons are the more important ones. The two theatres were carefully designed after a lot of research done overseas to see what kinds of theatres work best, Chow told us as he demonstrated the safety features in Pentas 1, contraptions that can direct smoke out through apertures in the ceiling in case of a fire. As a bonus, we were also treated to a rousing performance by Orang Orang Drum Theatre depicting the stresses of fast-paced day-to-day life. Chow was kind enough to explain the subject matter to members of the tour who could not understand Bahasa Melayu.
We were also granted access to the catwalks high above the theatres. It was slightly unnerving to be on a small walkway so high up, but it was fascinating to see the tools used to manipulate the lighting and various other elements of the shows. For instance, a fog machine had been installed to create artificial fog for certain productions.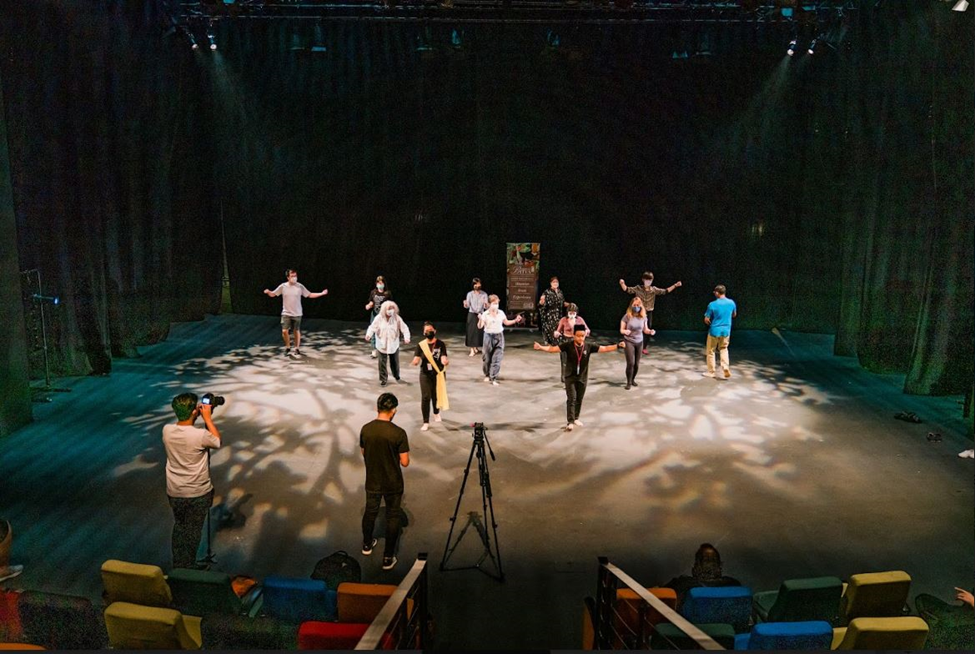 Some of us also stayed behind to attend the Joget workshop taught by Zhafir Muzani, an experienced choreographer, actor, and facilitator. For one such as myself who is completely unfamiliar with traditional Malay dance, it was an eye-opening experience. More difficult than it may initially appear, the smooth movements of Joget require a considerable level of body coordination and rhythm. Zhafir, our exuberant teacher ensured that everyone was in the jovial, sociable mood that befits Joget, the most social of traditional dances commonly found at parties and celebrations. Datuk Faridah Merican, co-founder of klpac, also joined our dance class spontaneously. By the end of it, everyone was laughing and enjoying themself, and everyone went home having gained a new appreciation for our favourite performing arts centre.
Follow klpac at its Instagram page for all its latest updates and information on upcoming shows. klpac turned 17 on May 9 so there's a string of things to catch in conjunction with its birthday celebrations, including hit sketch comedy series indicinelive! 7 which takes place this week from May 25 to 29. Featured picture by Jeffry Lim.