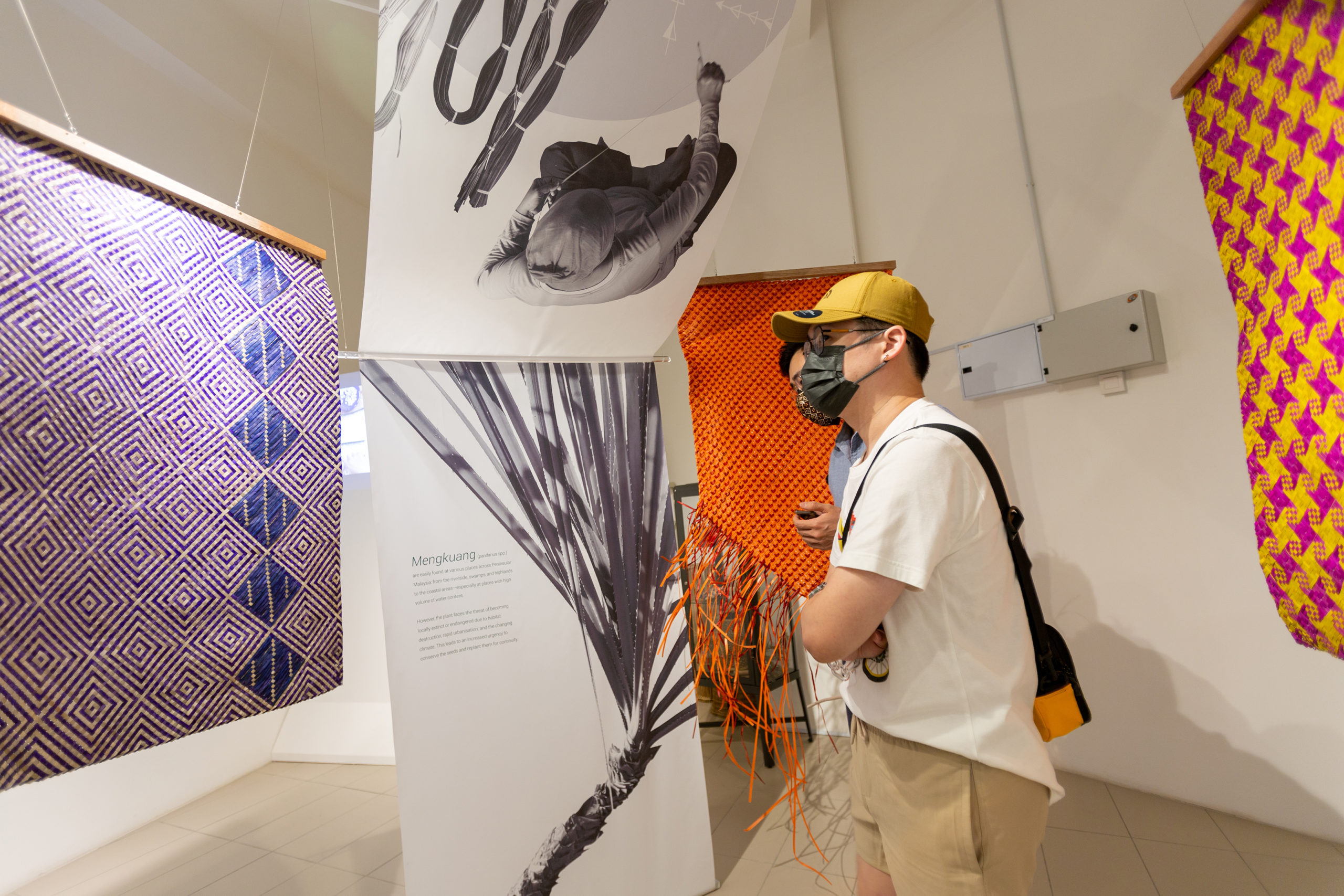 Check out the new space dedicated to art created by the indigenous artists and artisans of Malaysia, and learn more about the ideas behind it.
By CHIN JIAN WEI | Photos by SAM THAM
Gallery Gerimis had its launch over the weekend of Oct 27-28. There was an exuberance in the air, and the gallery was filled with visitors, performers and artists alike.
At one point, the Cermor and Sewang Performance by Luheiw Renaweij was in full swing in the centre of the gallery, so visitors could take in the experience.
The traditional storytelling performance featuring Semai mythical tales and folklore was accompanied by skillful playing of the pensol (nose flute) and kerep (bamboo guitar). There was also a traditional dance, during which a troupe of young indigenous women danced enthusiastically to the musical accompaniment. The crowd cheered them on, clearly sharing in on the celebratory mood.
The main gallery displayed the amazingly detailed hyperrealistic pencil portraits by Leny Maknoh, an indigenous artist from the Temuan tribe, as well as many beautiful mengkuang mats in traditional patterns. Woven fishing baskets and little containers were also on display.
There were many booths at the gallery dedicated to art and culture produced by Orang Asli. The booths included shops dedicated to selling crafts, such as Buah Jelai Jewellery, which is a type of jewellery made from the seeds of the Buah Jelai, created by Leny, the aforementioned pencil artist.
Other than that, Hanim Apeng from the Jakun-Jahut tribe also had a booth where she demonstrated and sold beautifully patterned Orang Asli handicrafts, as well as handmade soaps and body scrubs. Her booth was composed of products from a range of colours, each piece reflecting the talent and hard work of its crafter.
A variety of intricate rattan containers and baskets were also sold by Awet, a Temuan weaver from Negri Sembilan.
Sekolah Main Wayang also had a booth to introduce their work. They are a theatre workshop that works with disadvantaged and at-risk youths, allowing them to express their creativity through handmade Wayang Kulit (shadow puppet) performances that often incorporate simple technology. Sekolah Main Wayang hopes to reach out to the indigenous communities in Malaysia, enabling Orang Asli children to use the materials found around them to create props and equipment that they can use in performances. They have partnered with Gerimis, who is interested in documenting and promoting the Orang Asli outreach program.
All earnings from the sales of arts and crafts during the launch went to the indigenous artisans. It should be noted that the booths were only temporary fixtures for the launch, and the space will be used to display art in the future.
"The Gerimis art project started in 2018," Wendi Sia, one of the founders and a grant recipient of the Krishen Jit Fund in 2018 for her work with Gerimis. "We were preparing for an exhibition in a George Town festival. We reached out to Orang Asli artisans and weavers to put the content together. A lot of people gave good feedback during the festival, saying that there should be more spaces to learn about the indigenous people of Peninsular Malaysia. So, with this gallery, it's a permanent space where people can come and learn."
"There's so much knowledge that isn't learned, we're only relearning now," outreach and community project worker Sarah Amer says regarding the arts and culture of the Orang Asli, largely obscure to most Malaysians. "I think when we have events such as this, and do more publication and content, it not only tells an important narrative of our history that is untold but allows for more conversation and collaboration to happen within the community itself."
"This is where the Orang Asli can tell the stories themselves," Sia adds. When asked about why they chose to connect and promote Orang Asli arts and culture, she reminisces, "One of the places I go hiking is in Puchong, and there I learnt that it used to be where the Orang Asli used to reside, but now they've been shifted to somewhere nearby. I was shocked because back then I always assumed that Orang Asli only lived in more remote areas. I lived in Subang for almost 30 years of my life, how could I not know they were in Puchong? The question that came to me was that, whenever we step on land anywhere in Malaysia, do we consider the history of this land? I think it is quite shocking that we don't know the history, we don't know the indigenous people. We don't study about them in school."
"I go very deep into forests when I hike and I see a lot of logging, but these are things that people in the city won't know," Sia adds. "If the forests are gone, the heritage is gone, so how do I make people care more? I didn't want to just be a loud activist or environmentalist. I wanted to bring a softer touch through arts and culture. If they lose their forest, it's not just the biodiversity that's lost, but the arts and culture that will be lost as well. Their patterns, songs, and crafts are all inspired by nature, it's so tied to the forest."
"When we talk about environmentalism, we cannot leave Orang Asli out of the conversation," Sarah says. "They are custodians of the land. We don't have rights to the lands where their ancestors have been living in all the while. So much intangible knowledge that goes into preserving nature is passed down through oral history, it's not documented. In local universities, ethnobotanists use Orang Asli as a point of resource to understand medicinal plants. But they're not given the recognition they deserve, these conversations have only started cropping up because they've started to fight back. Where we come in is that, in doing events such as this in a more accessible space for city folk, so we can start conversations."
"Based on the response, we want to try to do similar events to allow the community to tell different stories and narratives," Sarah says when asked about the plans and future of Gallery Gerimis. "One of the projects that we're working on now is for the indigenous people to make moving images, and we want to do a screening of that here," Sia explains. "Sekolah Main Wayang now are also currently working with Orang Asli kids in Ulu Yam, combining Wayang Kulit storytelling with audiovisuals. Once they're ready to perform, we want to do a show here. We also want to start working with the communities in their ecotourism efforts."
"I'd love to see a whole festival that highlights all the 18 tribes of Peninsular Malaysia, all the lost history," Sarah says. "If we can start rewriting this narrative and talking about it from a different angle, I think Malaysia will have a more honest history.
"A lot of the younger Orang Asli, they're disinterested with their own arts and culture," Sia says. "But doing these kinds of events, they can see that it's not backwards, there are people who are interested to know more. After that, they would then champion their own arts and culture. Just like these girls," Sia says, indicating the young women who had performed the traditional dance performance earlier with such enthusiasm. "They meet a lot of role models, just like Hanim. When they see an Orang Asli role model who is successful, they would want to follow in their footsteps."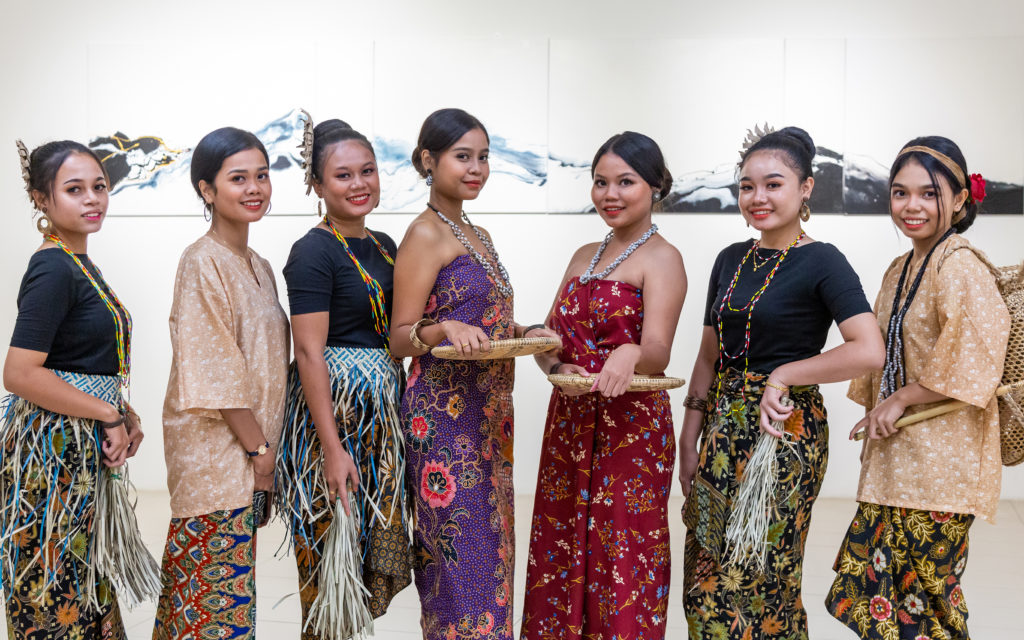 "We are self-funded," Sarah says regarding the nature of the Gerimis organisation. "We are a collective of five people with full-time jobs, this is more of a passion project more than anything else. But we're really open to cooperating with agencies, networks that want to push this agenda forward. Moving forward, in five to 10 years, we want to see this becoming the norm in Malaysia. If all of Malaysia can understand what we are talking about, and what we are trying to highlight, and welcome the whole narrative of what it means to be Malaysian, then that means we've done our job."
If anyone is interested to contact Gallery Gerimis, whether to contribute to their efforts or exhibitions, you can do so via their website at gerimisart.com/contact/, or their Instagram page at instagram.com/gerimis_my/