This celebratory round-up of nearly-four decades in the industry, features performance-maker, researcher and curator, Mark Teh, who is also part of the Five Arts Centre collective. BASKL speaks to Teh about the centre's past, present and future.
By NABILA AZLAN
In case you're new to this arena and you've never heard of Five Arts Centre before, the organization came to life in 1984 thanks to five artists; theatre directors Chin San Sooi and Krishen Jit, dancer-choreographer Marion D'Cruz, writer K.S. Maniam and visual artist Redza Piyadasa. The 38-year-old performing arts centre marries the complex and contemporary, exploring social, political and cultural narratives with a uniquely Malaysian flavour.
One distinctive fact about the Kuala Lumpur-based centre since its inception is how the founding friends have chosen to have it run without a sole artistic director. Instead, Five Arts' productions and processes rely upon a collective – while D'Cruz is the only one left of the starting five who continues to be in the collective, today it stands tall with 15 other individuals of various disciplines. Together with D'Cruz, this collaborative team has Anne James, Chee Sek Thim, Chew Kin Wah, Fahmi Fadzil, Faiq Syazwan Kuhiri, Ivy Josiah, Janet Pillai, June Tan, Mark Teh, Kubhaer T. Jethwani, Lee Ren Xin, Mac Chan, Ravi Navaratnam, Suhaila Merican and Syamsul Azhar, all of whom spearhead different artistic visions. On top of performing arts, Five Arts has also expanded its efforts to include artistic publications and documentation.
The questions that set the fire burning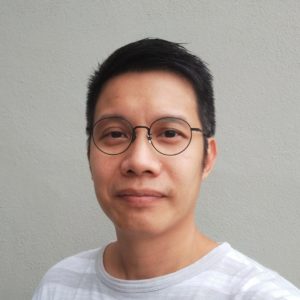 Teh, 41, decided to join the Five Arts family in his twenties after having enjoyed a handful of its performances. "My A-Levels' Literature lecturer would often force me to go to theatre reviews. During the age of Reformasi, around 1998 or 1999, the shows were at the original Actors' Studio beneath Dataran Merdeka. On top of the Dataran, the Reformasi protests would go on – so there were actually days where I had to navigate around protesters, tear gas and water cannon in order to fulfill my assignments," he shared. "I was introduced to both art and politics at the same time – in fact, those are the two things I have really worked on. I was very interested in this experimental-political above-and-underground performances and graduated with a Masters in Art and Politics. Currently, I am the coordinator (at Five Arts), making sure the collective runs (smoothly) because very few of us are working for it full-time."
With over 20 years at the centre, Teh knows more than a thing or two about it. "It is one of the oldest bodies of performing arts – when the first five formed this collective, the men were in their 40s and Marion was in her 30s. They already had established careers in their own fields, but they felt like they should come together to look at some common questions," Teh explained. "In the performing arts, one of the big questions of the time was 'How do we tell more Malaysian stories on stage?' – at the time, it was more common for people to do the usual Shakespeare and Arthur Miller shows. So, they asked, 'Why don't we tell our own stories?' and were set to develop local playwrighting."
Since formation, the five developing art forms were theatre, dance, literature and visual arts – and according to Mark, they left one open-ended, saying it is for "new art" – the experimental and emerging. He added: "I think today, in 2022, what we really do is the fifth category; the anything-goes, interdisciplinary art form."
"Besides the interdisciplinary formats, we work with a lot of non-performers on stage. For instance, Marion would have dancers and non-dancers in her shows, because she has always been very interested in the imagination and capabilities of people who had interesting energy but weren't trained in dance. We've also done performances in non-theatrical spaces. Family (1998) written by Leow Puay Tin, directed by Krishen Jit and Wong Hoy Cheong, was performed in an abandoned mansion."

Mark Teh on Five Arts' signatures
The working dynamics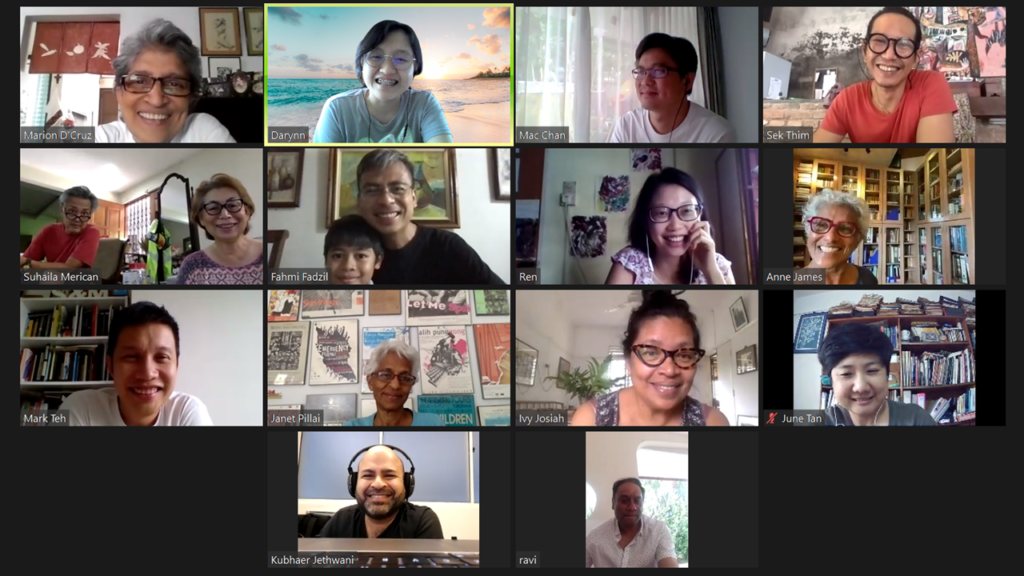 "Since 1984, they knew they wanted to go in multiple directions at the same time. I think that has always been in our DNA and we deal with it quite organically," said Teh about Five Arts' collaborative nature. How do they select which projects to carry out? What is crucial in the processes while maintaining order? He answered: "The 16 of us (in the collective) would annually or biannually propose the projects we'd like to do for the next one of two years, or rather, the questions we want to answer. For instance, I want to think about how we can improve archival information about the Malaysian performing arts. It could be something like that and then we'd find a way to do it. We'd agree to have these collective meetings and almost always, we say yes and support each other's projects."
What do the members in the collective have in common, despite the generational and artistic differences? Teh said this: "The basic principles that unite us are, one; we still try to tell Malaysian stories that are not usually told or are hard to tell. Two; we have a desire to continue experimenting."
According to him, Five Arts may not be as big an outlier today as it used to be, compared to the earlier years when it was founded. "What we're doing today looks normal, not like how it looked like in the 1980s when finding the Malaysian identity was quite important for the artists of those past generations," he continued. "Now that we live in an interdisciplinary or multidisciplinary world, the artistic distinctions are less clear – it's easier to collaborate across different mediums and experiment with various art forms. This has been a very good change."
The new studio space
Nearly four decades in the art scene, the centre's tenacity and innovative spirit is something to be admired. Since the dawning of COVID-19, we have seen organisations come to a halt, venues forced to shut down, and even artist collaborations going separate ways. Five Arts, however, has managed to stay put. Teh says that there are several contributing factors, including these: "One has to do with the collective nature. By not having an artistic director, the burden and trust is shared across – a larger ethos is pulling us together. So, we thought a lot about how things can carry on even when we're not a part of them anymore. The next one is more practical – it has to do with how Five Arts has decided to stay relatively small. We might have been around of a quite a long time but we knew very early on we didn't want to run a venue."
After tearfully leaving its last long-time HQ in Taman Tun Dr Ismail, last year, the collective has recently set up camp on the ninth floor at the art and community mall, GMBB in Bukit Bintang. The centre's first, studio-warming show in the new space was ANGGOTA, an intimate contemporary dance performance by Lee Ren Xin and Tan Bee Hung. Teh noted, "We use this studio mainly for our own rehearsals and shows. When the shows get bigger than what we can do, we will rent a different venue. When we're not using the space, we're happy to rent it out to others without having the pressure to make money. That's the practical side of it. Staying small is possible and it can sustain you. If you get too big too fast, sometimes, you can crash and burn."
There were some strategic and, in some ways, romantic reasons for this new studio to be here. In comparison to the centre's previous, 23-year-old place in TTDI, this new space is smack in the middle of Kuala Lumpur. He said: "We decided to go back into the city because historically, this is where the KL theatre scene started. Practically, there are more demographics here – students, tourists, travellers – the public transport makes things accessible. Hopefully, we can do some projects that take the discovery of this area into consideration."
The new bonfire of questions
Will things be different for Five Arts, following the location shift? "I think the relocation will change us; I hope. It should change us. There's no point moving if it doesn't change us," he answered. Besides the joining of new members like dancer Lee, the centre has invited more people in, each with interesting trajectories, such as actor Faiq Syazwan Kuhiri.
What new questions are fuelling the collective's drive? "Over the last few years, we have been thinking about the gaps that exist in our ecosystem. In relation to archives, how do we look back and document arts history? Secondly, advocacy – we have been more involved in art surrounding the environment. The climate crisis and emergency are things to take a look at." Teh concluded: "Another one which will become more apparent is our relationship to this centre of KL – the changing nature and what it means; we want to map this area around us, its history and diversity."
Check out Five Arts Centre's incredible new shows in GMBB, including A Notional History, the critically-acclaimed documentary performance directed by Teh himself, featuring political activist Fahmi Reza and video journalist/documentary maker Rahmah Pauzi. Discover more on their website or Instagram.
Related readings: Leow Puay Tin crafts compelling characters from within our society in two new plays and 'ANGGOTA' embodies hidden, familiar emotions
** Featured image is by Meshalini Muniandy and shows Lee Ren Xin in rehearsal for ANGGOTA.