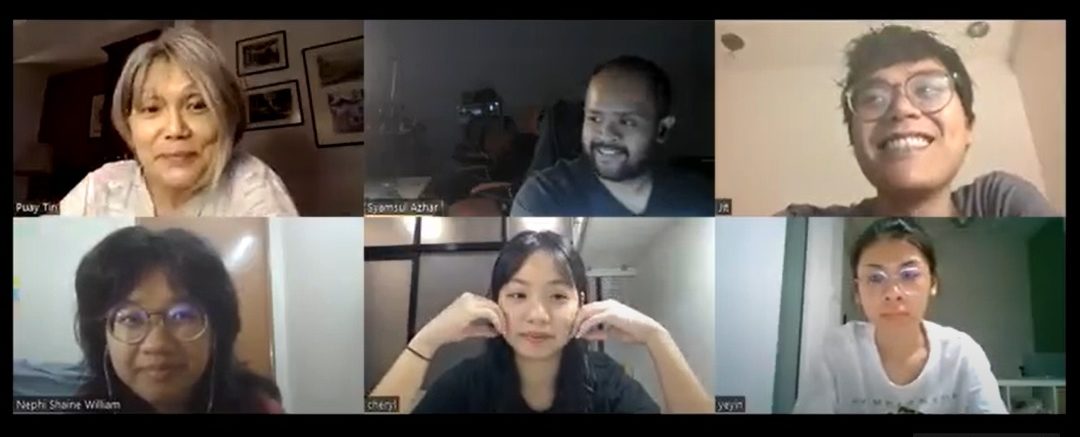 Once again presenting intriguing sociological profiles of Malaysians, local playwright Leow Puay Tin shares some of her inspirations, and how her new plays have come about.
By ANN MARIE CHANDY
"Playwrights shouldn't campur tangan too much, you know?" Leow Puay Tin says cheekily about working together with director Tung Jit Yang on the rehearsed readings of two of her brand new plays, Material Woman in the Beauty World and Mortal Man: Two Monologues, which Five Arts Centre will present on June 18 and 19 at its new venue in GMBB.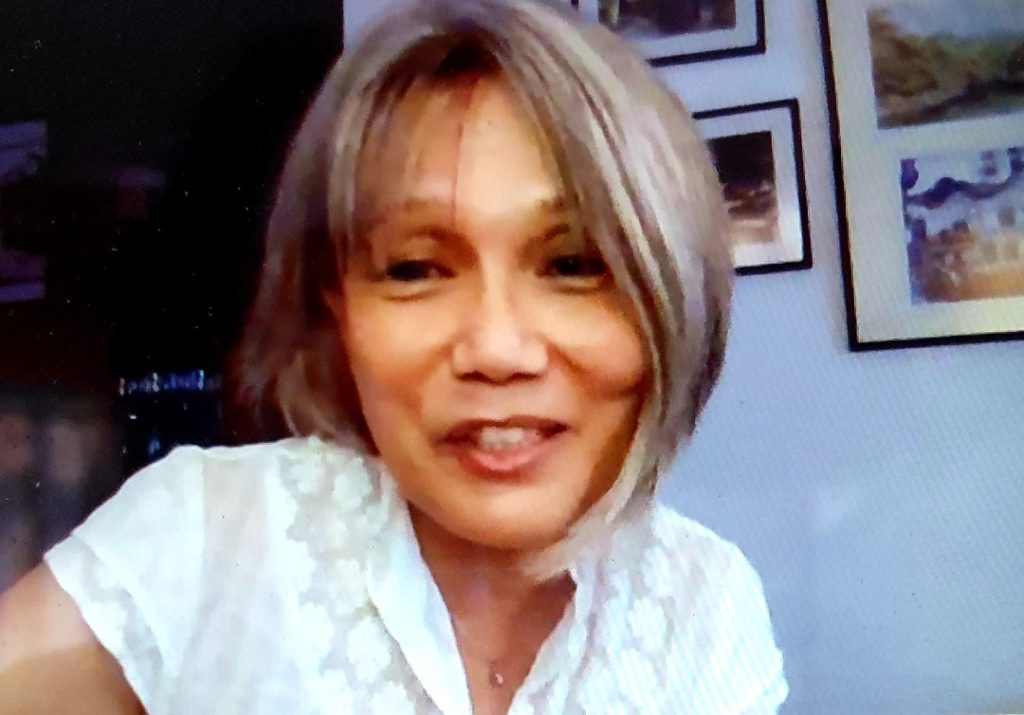 "Although I have been present during rehearsals, I am very much like a fly on the wall," she says referring to the two rehearsals that have already taken place on Zoom. "Jit controls the rehearsals and that's the way I believe it should be done."
She gleefully adds: "I've seen his work before and I really loooove what he's doing."
Tung's approach to text, she reckons, is very reminiscent of that of the late educator/writer/director and Five Arts Centre founder member Krishen Jit, with whom Leow used to work very closely. "After Krishen, I never found anyone who could work with text as deeply. But now Jit has come along, and I am over the moon."
Living in a material world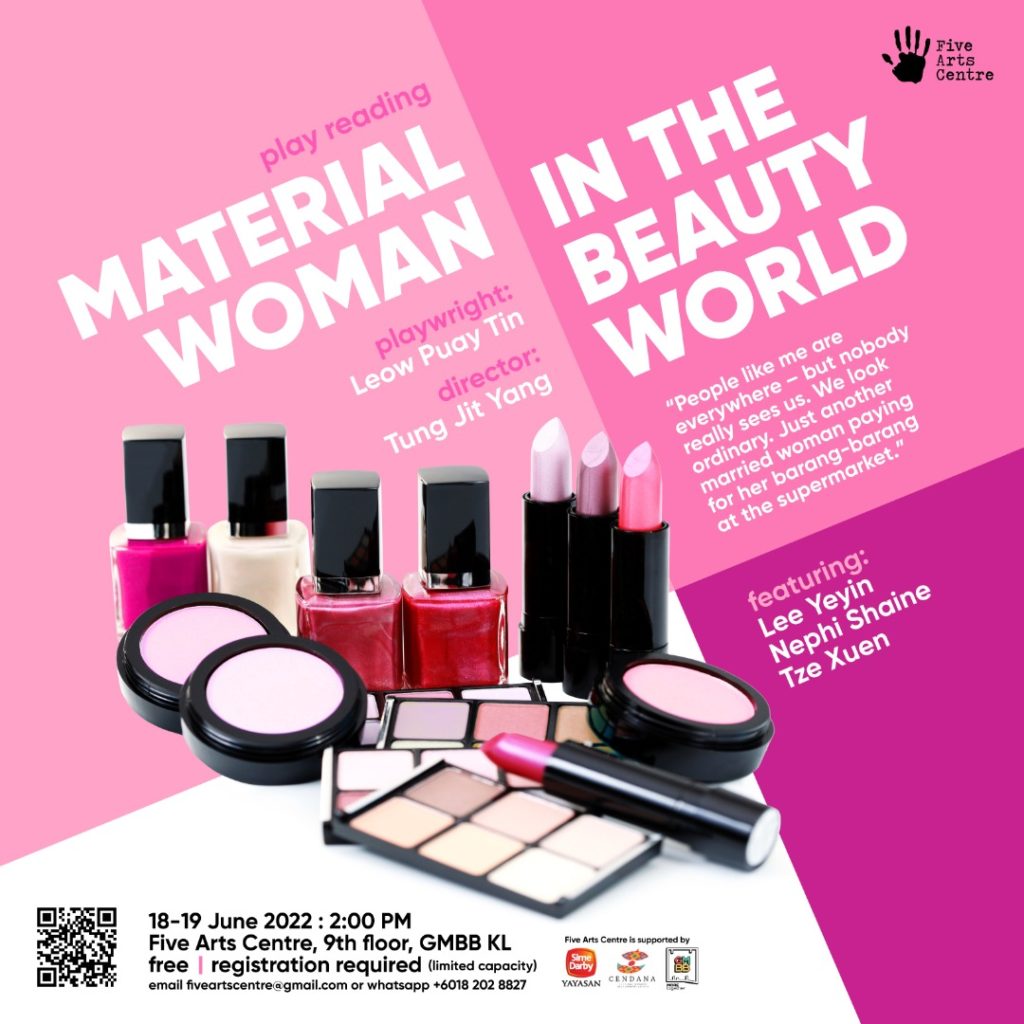 Play No. 1: Material Woman in the Beauty World 
In this play, you will encounter a woman who shares episodes and experiences from her work as an aesthetician. It's like a behind the scenes look at the beauty world – she talks about laser hair removals and facials. Along the way, she also reveals other aspects of her life – her attitudes toward money and her attempts to get a divorce during the Covid-19 pandemic.
Leow, well-known for her past works including Three Children, Family and A Modern Woman Called Ang Tau Mui which have been performed all over the world, reveals that it was a somewhat arduous process when she began writing this play more than a year ago. She says this despite the fact that in 2020, at the height of the pandemic, she managed to write Oppy & Professor Communitas, which had a critically-acclaimed online performance in April, 2021 (see trailer below).
"I had made a commitment to Mark (Teh) that I would write certain plays and he would produce them for me and that we would hold readings. So I was just trying to fulfil my quota! I began during the lockdown, but last year really wasn't all that good for me; I went through a dip. The future was looking bleak and our political situation was nothing to be too happy about. It was very difficult for me to write – like scratching the blackboard," she groans.
Nonetheless, thanks to looming deadlines ("I love deadlines" she squeals at one point during this interview!) Leow was able to find her second wind and run with it. It also helped that she is quite a "vain person" (she says) and has been visiting an aesthetician consistently for about half a decade – because it was here that she realised she had been sitting on a gold mine.
"I began to get to know this lady, who was initially a stranger, and I started to care about her as a person and to care about her situation. I found out that while she had been separated for years, she had yet to receive a divorce from her ex. Like the Malays say, 'bergantung tak bertali' …"
"I was very taken by what she told me. And I began to get more and more interested in her story. This was the point of view of a single woman in her 40s, heading towards her 50s, trying to survive in an economy like ours without any safety nets at all."
Questions began popping up for Leow and she started to feel a stirring in her that this could be a good story to share: How does a single woman like this beautician survive with not much education, armed only with her wits and skills, in a male-centric society like ours? What would happen to her as she grows older, loses her touch, and is no longer able to make a living as a beautician?
"Even in tough times, this woman kept upskilling herself. Within the beauty world, after all, if you do not learn about the newest products and treatments, you're out. But on her own too, she was constantly upgrading herself. She went for courses in English and in feng shui," Leow related excitedly. "It was very encouraging to hear about a person like that. Struggling, of course, but never bitter. She is empowered, and so full of agency. She is making things happen for herself. I began to admire her very much."
For all these reasons Leow felt that her story was worth making into a play so others would be inspired too.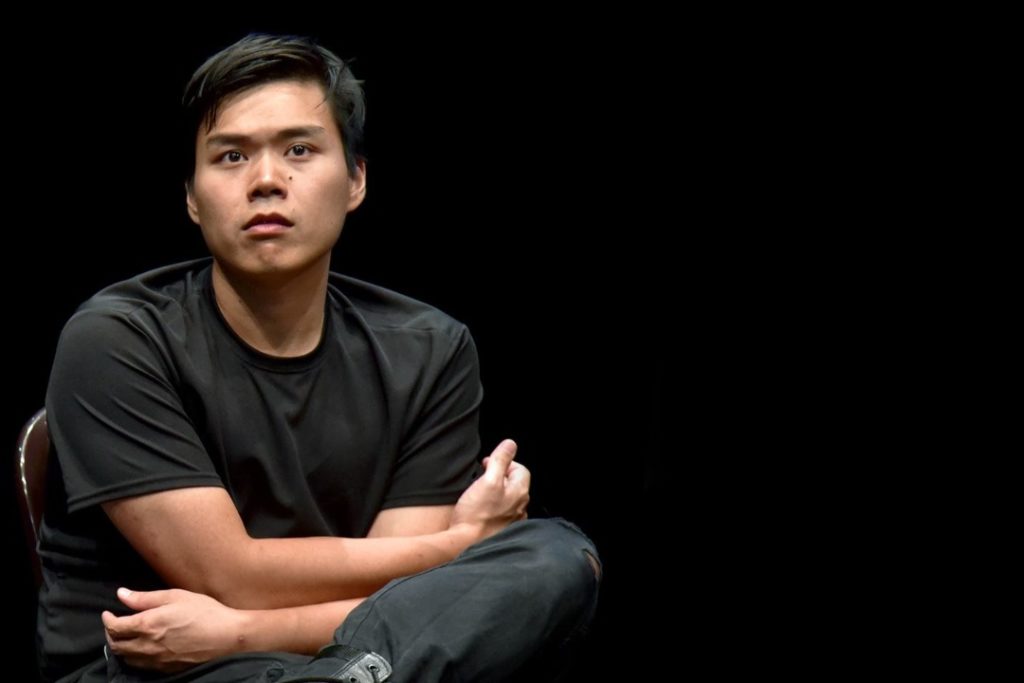 Sounds great. But will the director Tung – a thirtysomething young urbanite – be able to direct his cast of three young women, Lee Yeyin, Nephi Shaine and Tze Xuen, to express this 50-year-old material woman's story effectively? Leow just laughs.
"I don't believe that we have to cast to type that way. We have thrown those notions out 20 years ago. Gender, race, ethnicity, language… None of those things matter. It's more a question of whether a director or performer can examine the text fully and bring something interesting to it."
And Tung does wonderful things with text, Leow repeats over and over during this interview: "He examines everything – the sound, the punctuation, everything – and he makes it all work."
Looking back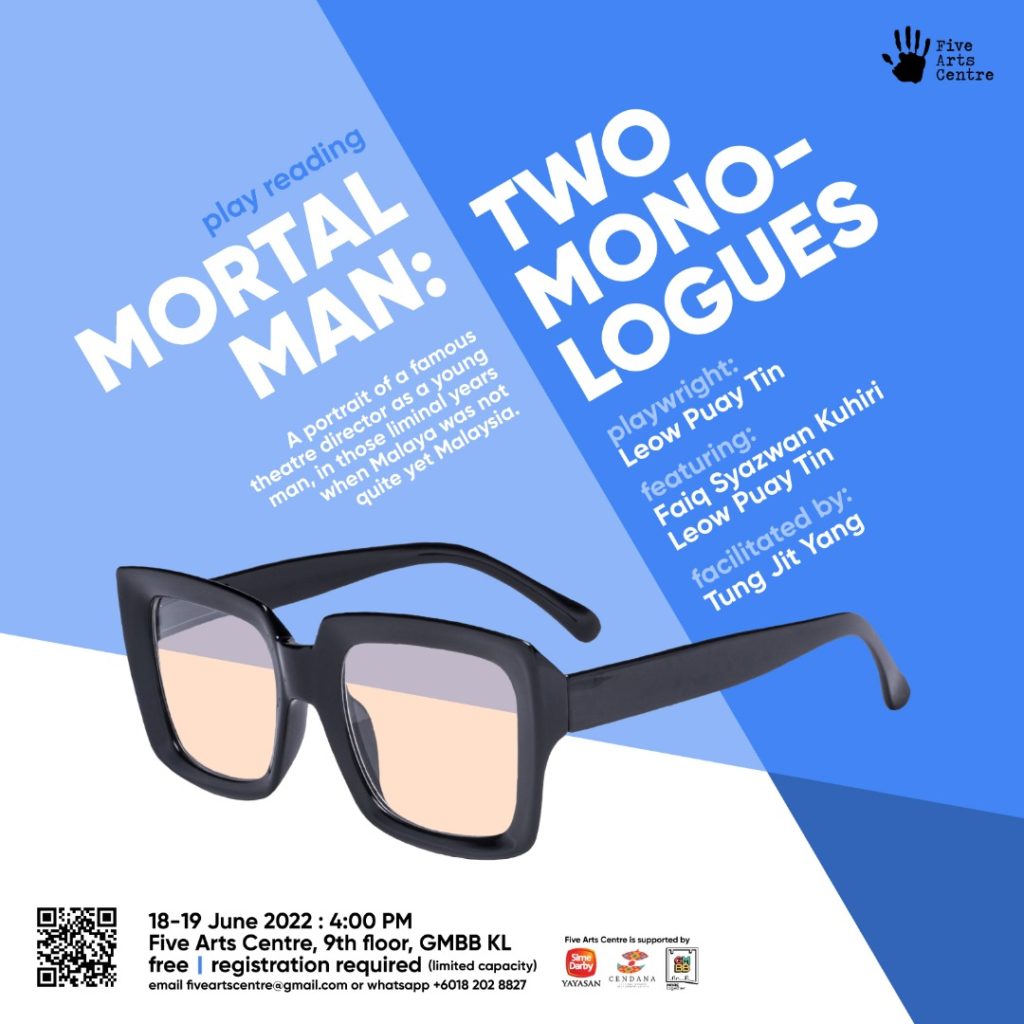 Play No. 2: Mortal Man: Two Monologues 
A woman writer remembers and recreates a conversation which took place 20 years ago in Singapore with her friend – a famous theatre director. Beginning as a memoir of sorts, between two distinct characters and artistic collaborators, the text shifts to sketching memories of childhood, formal education, and the social-cultural environment of the person who would go on to become that famous theatre director.
"This one took me about 20 years to write," the affable playwright frankly admits. "Very panjang."
Born and bred in Melaka, Leow shares how she got the stories from her famous director friend back in the early 2000s, while she was teaching at a performing arts school in Singapore, and how she didn't really know what to do with them. "I knew someone had given me something very precious. Yet I couldn't frame them properly; there just wasn't enough material for them to stand on their own," she shares, adding that timing plays a crucial role in how this play has eventually unfolded.
"He was 63 at the time, talking about being a teenager, so the gap was already there when I was listening to the stories for the first time," she explains. "Now 20 years later, I am at the age where he was, and I am trying to tell the story to a younger generation!"
She says writing the play felt almost like bleeding. "I am still revising it, even up until like half an hour before this interview! It's very difficult because I am dealing with a lot of factual information and I do not want to turn this into a documentary because then it would become very academic. Instead I have chosen to reference real events but in a very, very loose way," she offers.
A lot of time has passed. Would the stories still be relevant today? At the heart of the play, Leow says, lies questions of what makes all of us want to serve our nation, or want to belong. "It is not just about one man's story."
The readings will feature Faiq Syazwan Kuhiri, and Leow as the young writer.
But why two monologues, you might be thinking? Leow says she tried not to interfere with the director's tales too much, but in order to provide context and a frame, she was forced to give her side of the story too. "This is why I came up with two monologues. Imagine a swimming pool and he is on one end, and I am at the other. I begin one monologue so I can give the audience that frame, and then I shut up and he takes over and has the monologue to himself. Then finally, I come back and wrap things up."
Five Arts forever
What sort of relationship does Leow, whose day job is lecturing and being an Associate Professor at the Department of Film and Performing Arts, Sunway University, have with Five Arts Centre?
Five Arts Centre has been supporting the development of Leow's plays by producing rehearsed readings and performances. This is part of a strategy by the playwright to spend time teaching and learning from a younger generation of actors and directors – to cultivate a less hierarchical and more collaborative approach to performance making – and to find a more sustainable alternative in developing new performance texts.
When she talks about sustainability, Leow is not referring to grants and funds.
"Sustainability has a lot to do with iteration, or the ability to continue working and making discoveries along the way. It's also about stamina because making art is difficult, and takes time. Very often you are going to be alone and disheartened because you are going to face 'unsuccess'. These may not be failures, but they are not successes either. You're working in the dark not knowing if something is going to work."
Leow also eagerly shares that she is learning a lot from the younger generation. "And I'm not just saying that as a token gesture. They (the younger gen) think in very weird ways that I can't imagine, in ways that I didn't when I was younger. They are smarter and more demanding, and there's a certain bravado about them. I like it. We need these younger people to be brave so they can produce good art."
Leow's relationship with Five Arts, however, goes back much further than what she's doing with young people today.
"Very frankly, I wouldn't be doing theatre now if not for Five Arts," she admits wholeheartedly. "It has been my singular good fortune to have met Krishen Jit. it is not like we had a perfect relationship… We actually fought a lot! We had a very difficult, but productive, relationship which eventually became one that was very respectful."
Leow is grateful that through Krishen, and Five Arts, she began to know more people from that network, and was able to spread her wings. "When I started with Five Arts, people like Mark Teh and June Tan were not around, they must have still been in school. By the time I was more mature, they were already producing works; and today Five Arts is being run by these young people… thank god they still want to work with me! Hopefully that connection can still go on … I am keeping my fingers crossed, and looking forward to writing more in years to come!"
The readings of 'Material Woman in The Beauty World' and 'Mortal Man: Two Monologues' take place on June 18-19, starting from 2pm; each play lasts for about an hour, followed by a Q&A session and there will be a short intermission in between. The sessions are free, but registration is required (+6018-202 8827 / fiveartscentre@ gmail.com). The readings will take place at Five Arts Centre's spanking new venue on the 9th floor of GMBB, Jalan Robertson, Bukit Bintang, Kuala Lumpur.