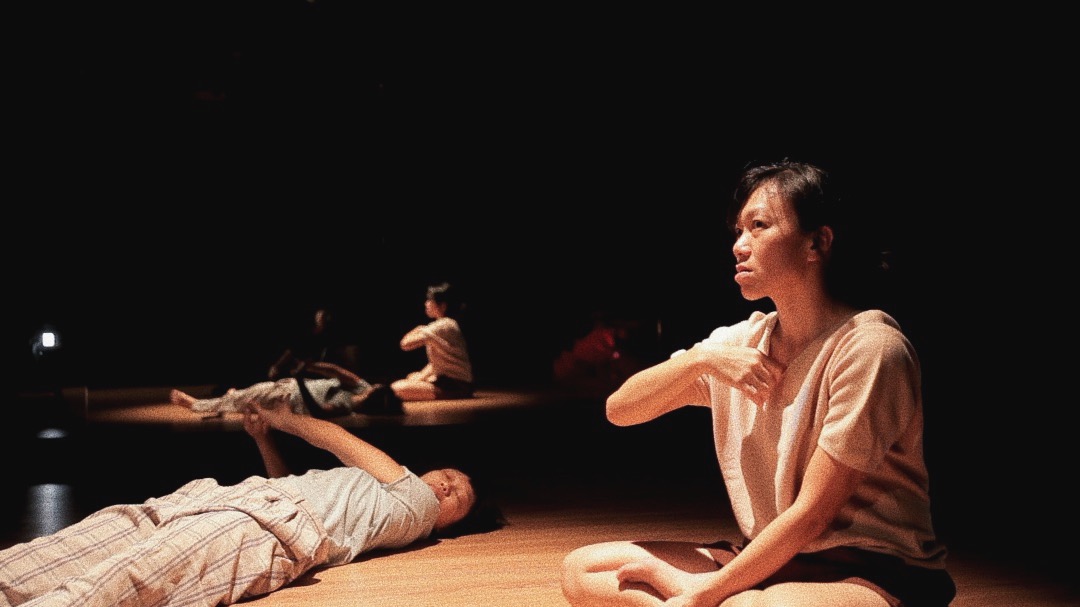 Choreographer-performers Lee Ren Xin and Tan Bee Hung invited everyone into a sacred space and time in this intimate contemporary dance number.
By NABILA AZLAN
First things first: contemporary dances (usually) scare me. Those involving audience participation would literally throw me off a ledge. I understand how these complex movements are composed to deliver such intense storylines but sometimes, they can be too much for my brain cells to handle.
I went to see ANGGOTA on the final show day (June 12). I was made to understand that the dance performance was designed to be intimate. It was 75 minutes long with no intermission (yet it carried smoothly with no room for yawns or awkward exchanges) and the small audience pool of 40 people – my plus one and I included – sat cross-legged on Five Arts Centre's wooden flooring at its new venue in GMBB. Both of the performers, Lee Ren Xin and Tan Bee Hung, were on the floor in a child's pose opposing each other when we were ushered into the studio space.
The show opened with Lee and Tan's exchange of hushed chants and ritual-like crawling. They circled us on all fours and from time to time, appeared as if they were melting into the floorboards. With the altering of limb tracing and folds, the gestures looked effortless, yet calculated. Initially they prompted inner questions like "How are these fluid combinations choreographed?" and "Do these moves alter with each show and if yes, how different do they turn out?" as both performers seemed to be in their own world for the first 5 minutes or so.
"I dance for all the women in my family who could not."

From Lee Ren Xin's journal entry in Aug 24, 2020, as included in the show notes
Following that, Lee returned from the dark with a number that involved her gliding atop and under surfaces – the wall, a table and two racks filled with plastic-bagged keep-aways. Here she stretched out and treated storage as her pretend play items. This display of childhood musings (which made other appearances throughout the show in different forms) introduced us to the trail of emotions she and Tan would bring as a pair.
ANGGOTA was unsettling yet addictive; the contents complex yet familiar. As intentional as its given name – as the Malay word "anggota" means member, limb or person depending on the context – the show grappled with thoughts regarding femininity, familial ties, individuality and memories. With filmmaker Chloe Yap Mun Ee's expertise in experimental videography, the performers expanded the theme of intimacy and lost time, alternating choreography and a set of short clips that reflect on, among other things, what it means to be good or bad as a whole, why we loathe some parts of us and how undisclosed thoughts and desires are carried on throughout life. In one of the clips, they ask, "Why must there be a good or bad anggota?"
I thought the setting was thorough, with production designer/producer Wong Tay Sy and lighting designer/stage manager Veeky Tan's clever play of set design (caricatures of female torsos and uncanny figures emerged behind curtains), props and costumes (the performers wore matching, inside-out pinafores before changing into sarongs) came together so well with the light and shadow play.
Lee and Tan's facial expressions of fear, anguish, longing and restlessness were as seamless as their body work. Sure, this was a no-audience participation show but the close distance made us feel as though we were invited (or pulled towards) a shared space with intense, yet unspoken emotions. There was one scene where we watched our reflections with the two, as they stared longingly into the large studio mirrors. In another, the two made a human raft of each other and sailed towards the crowd in sarongs, and then danced to Moriarty's song, Jimmy. In my favourite scene, the performers mimic going on a field (or feels?) trip, with a fan acting as both their steering wheel and the wind in their hair.
And what could be a better way to end this vulnerable voyage than with Lee and Tan lying on their backs like a pair of diamonds, on a table, jiggling their thighs to a final bow?
Come to think of it, ANGGOTA reminded me of the spirit of the card game We're Not Really Strangers. I felt like this performance is necessary viewing for multiple ages – as it serves as a chance to reflect on womanhood, self-love, one's role in a community – and for younger audiences, a chance to ask head-on: "What does it mean to feel that way?"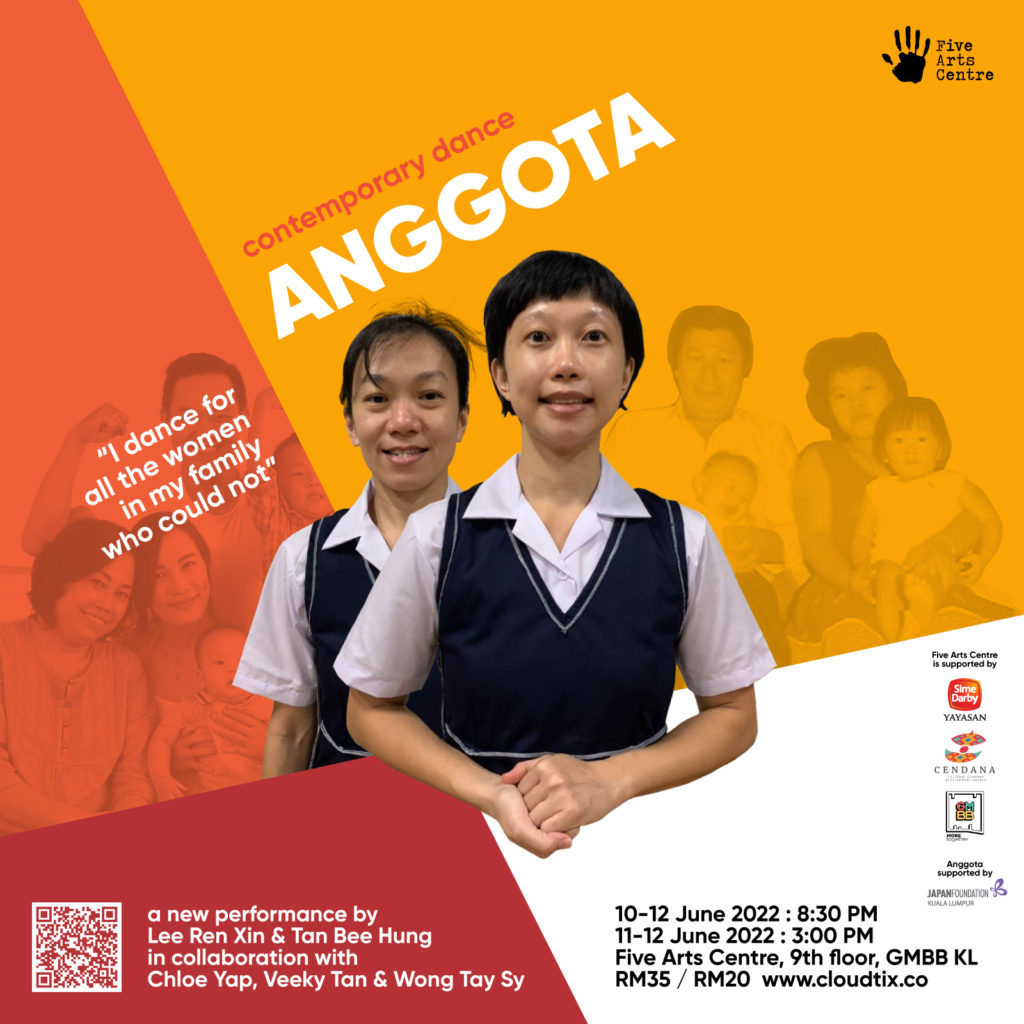 ANGGOTA was performed live by Lee Ren Xin and Tan Bee Hung at Five Arts Centre's new space in GMBB. To read more on the processes behind this production, go to Five Arts Centre's website.
Feature photo by Chloe Yap Mun Ee