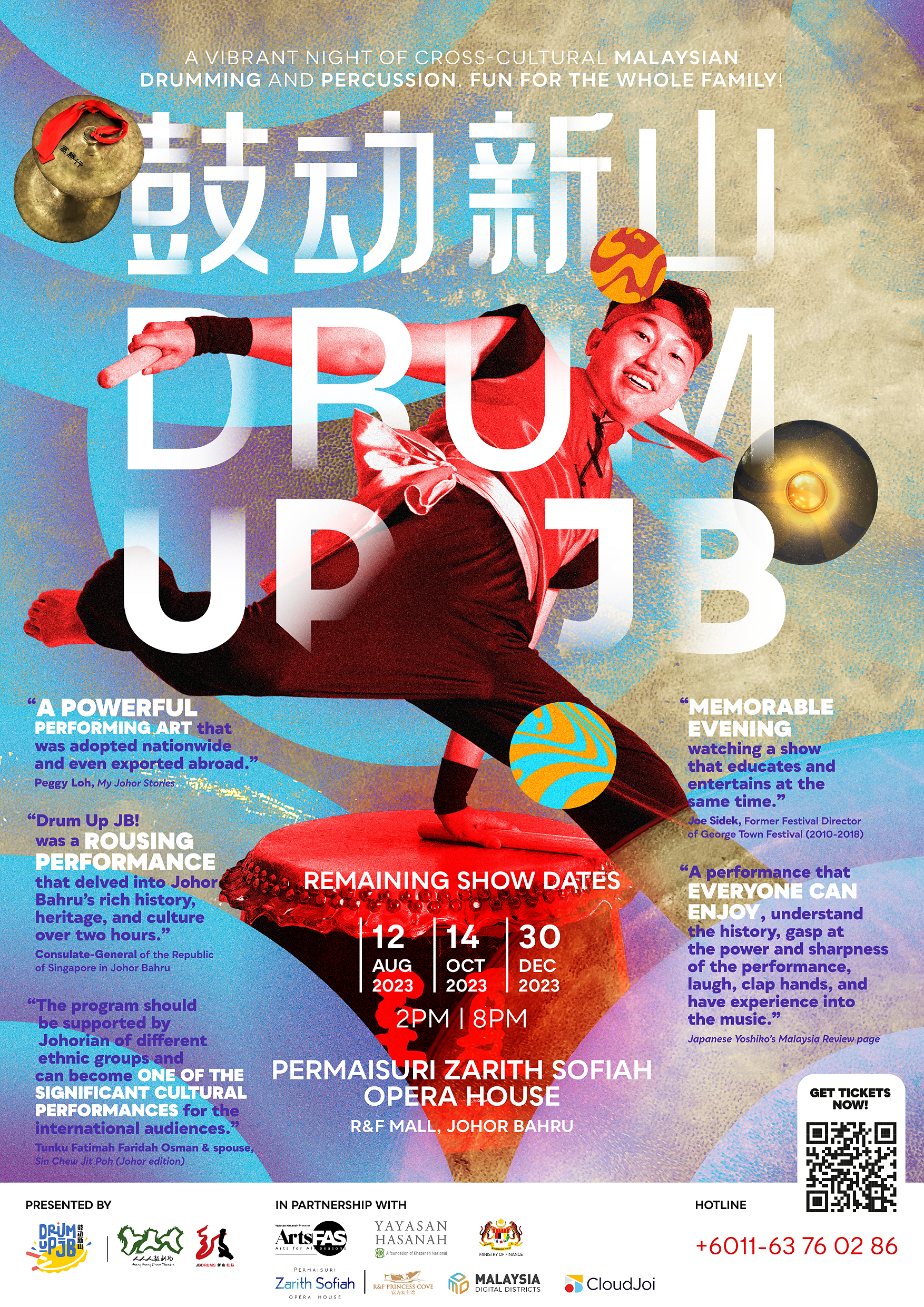 Mixed percussion ensemble Drum Up JB! has recently been awarded with the Arts for All Seasons (ArtsFAS) grant for its shows on October 14, 2023 at the Permaisuri Zarith Sofiah Opera House in Johor Bahru.
ArtsFAS is an annual grant programme powered by Yayasan Hasanah in collaboration with the Ministry of Finance. It is a dedicated platform to preserve Malaysia's diverse arts, heritage, and culture. Launched during the height of the pandemic, ArtsFAS is the largest annual grant programme for arts, culture, and heritage in Malaysia to date.
Drum Up JB! is a collaboration between KL-based Orang Orang Drum Theatre (OODT) and Johore's JB Drums, inspired by the multiple facets of the Malaysian identity including diverse musical instruments of Malaysian cultures. The show has been constantly evolving with new ideas and improvements since it was first performed at the magnificent jewel-shaped opera house early this year, thus making the upcoming show better than all its previous offerings.
The grant has also enabled new additions of theatrical elements including impressive multimedia sensory designs and hi-tech lighting to the artistic visual and auditory experience, hence complementing the explosive energy of the percussion ensemble, drumming combinations and physical movements. Drum Up JB! is a 90-minute performance encapsulating two themes – '24 Festive Drums' and 'LaguKu.'
The first theme '24 Festive Drums' features 24 drums, each representing the 24 festivals in the lunar calendar which have guided the farmers in China for thousands of years. In 2009, 24 Festive Drums was recognised as a Malaysian National Intangible Cultural Heritage, turning it into a heritage performance. It has since been embraced across 5 continents, with over 400 troupes around the world. One of the highlights of the first half of the show is a performance called 'The Memories' which is inspired by the history of Malaysian Chinese ancestors migrating southward in search of a way out, wishing to gain survival on foreign land. It depicts how people went through a series of adversity and mishaps, sailing across the sea, borders and cities to a foreign place, in the pursuit of a new beginning.
The second theme 'LaguKu' explores the interwoven values, cultures and experiences of Malaysians through music, featuring folk songs in different mother tongues. This performance blends vocal expression and physical movement with diverse music instruments from different cultures, such as the aboriginal people of Malaysia (kuling
tangan), Malay (Gendang, Kompang), Chinese (Shigu) and world music instruments (shaker, wood xylophone, etc). According to the co-founder of OODT Zyee Leow, the different instruments, though having unique sounds of their own, creates a beautiful 'rojak' of sounds and cultures once blended – very much resembling the Malaysian identity.
Drum Up JB! has been a bimonthly programme at the opera house since early of the year, taking place at the main performance hall which encompasses an intimate setting of 600 seats constituting 500 normal seats and 100 VIP box seats. It also offers post-show discussion with the creative team at 4PM on October 14, Museum of 24 Festive Drums Guided Walk at 10.30am on October 15, and 24 Festive Drums Workshop at 1.30PM on October 15. The events will be conducted in English and Mandarin. All events are free, except for the drumming workshop which requires an entrance donation.
Besides ArtsFAS, Yayasan Hasanah and the Ministry of Finance, Drum Up JB! is also supported by R&F Development, Think City, Iskandar Regional Development Authority, Majlis Bandaraya Johor Bahru, Malaysia Digital Districts, Sun Bus Tech Sdn Bhd and Wiwynn Malaysia.
The upcoming show on October 14 offers two showtimes 2PM and 8PM and will be the second last show of the season at the opera house. The final show will take place on December 30, 2023. Buy tickets here. For more info, go here.
Read more stories like this on BASKL via the links below: