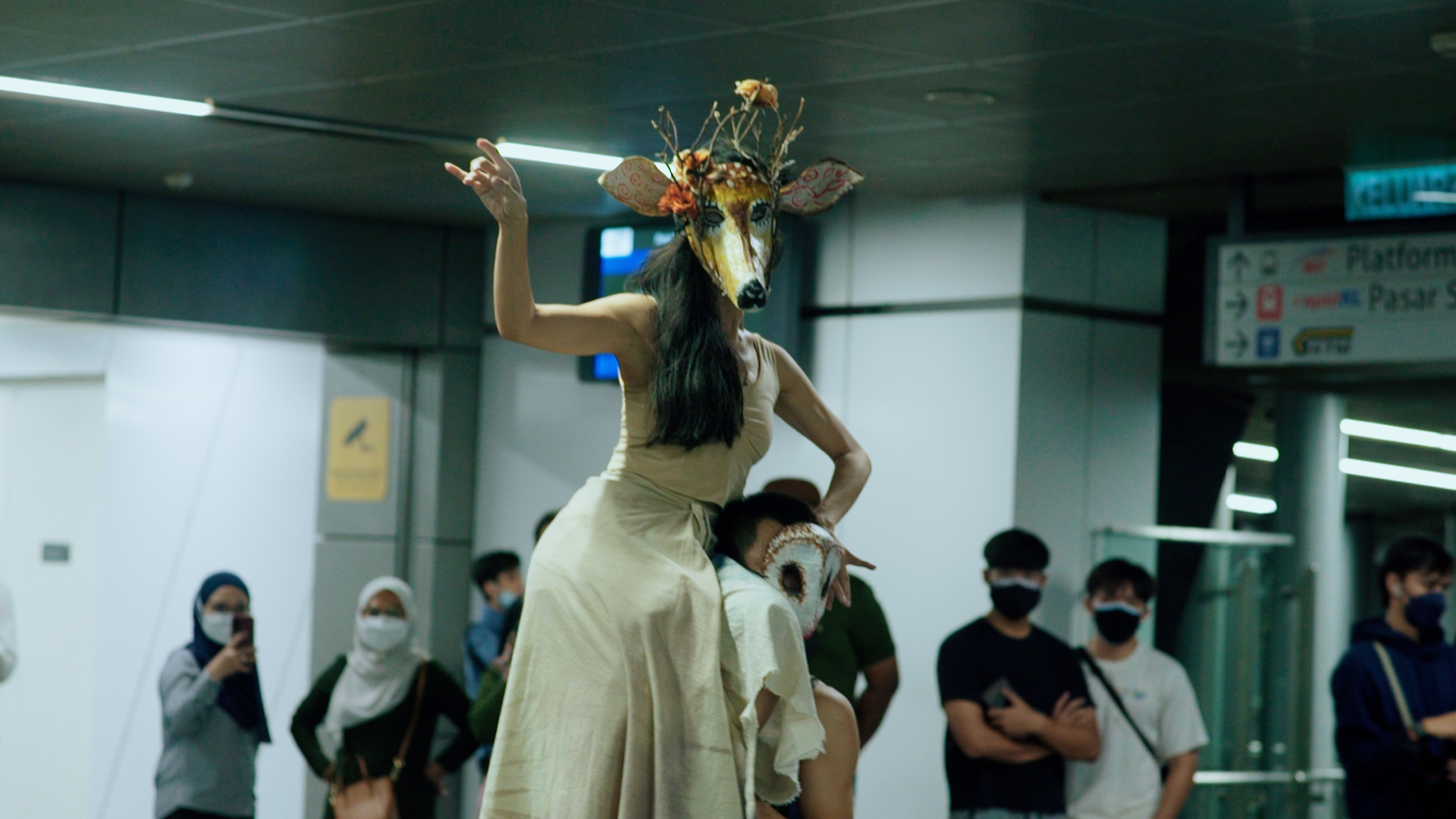 'In Transit-ion: A Poetic MRT Journey' is a performing arts curation that expresses volumes about love, loss and light in the COVID-19 pandemic era.
Story by NABILA AZLAN
Photos and video by ARIF JALALUDIN
Last year, when we were first hit by the steady rise of COVID-19 cases, it was awful time for the local arts scene. Large shows, live performances, smaller more intimate sessions and physical collaborations, all had to be put on pause indefinitely; causing many to pivot to online and digital platforms.
Artists of all disciplines, especially members of the performing arts, were initially crippled by this, but then slowly began to adapt. In time as we started accepting that we had to somehow co-exist with the virus, artists began to reflect on the various changes they had to endure during the past year. Surrounding these themes, Orang Orang Drum Theatre, with its assemblage of over 20 artists, completed seven public art performances since March 2021.
Finally, the line-up held open rehearsals at several MRT stations and carriages from Nov 8 to 12, before its last train of shows departed on Nov 13, 2021. The expression of love, loss and light featured artists from different backgrounds, such as theater director Yeo Lyle; dancers Dalila Samad, Syamil, Lee Kien Fei (Faye), Lee Choy Wan; percussionists Jian Ru, Cheah Her, Wai Kei, Tai Chun Wai, Amanda Yim; and musicians Gideon Alu8khan Chen and Rosemary J.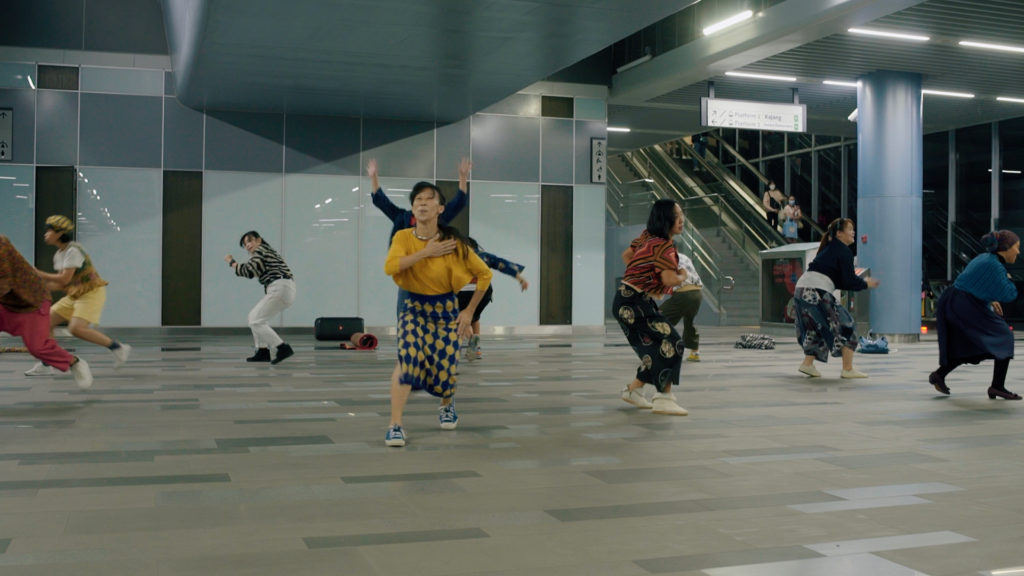 The string of public performances provoked multiple feelings. Also, even though I knew that this project was supported by MRT Corp, I was still intrigued by its choice of stage – MRT stations and selected carriages. Questions like 'Wouldn't the curation be better off at a larger space?' and 'Will commuters pay attention?' kept hovering, as well as doubts as to whether SOP would be observed in an orderly manner.
Envisioning the performances in my head obviously proved different from experiencing it myself as I hopped from one station to another (from Taman Mutiara MRT station to Cochrane, then Pasar Seni station and back again), devouring the journey's sights and sounds. I believe my words would not do justice to my 90-minute journey, so I had excerpts compiled into this video:
I can't really explain how the performers so easily invited reactions regarding loneliness and losing connection right there and then, but they did.
Dalila Samad (with the help from dancers posing as commuters) reminisced about seeing her grandmother, who had recently passed away, again. Her gentle sways cuddled the memory of a loved one in the middle of a busy, repetitive stage, and according to her, "No matter your state, this train continues to operate, tirelessly taking us through all the ups and downs in our lives." Dalila welcomed claps, smiles and stares of admiration as the audience circled around the commuter-dancers.
Kien Faye's Bakar ritual started off silly – or so it seemed, with him, donning a mask and prancing about check-in lanes and saying hello to everyone in sight, while leading the commuters to his makeshift stage like a modern pied piper (we had two pied pipers at different instances, you'll notice in the video, one on a melodica aka the blow organ). He beckoned us to engage with our inner worlds via a fire and dance ritual on the fringes of Cochrane Station. The audience remained quiet, ignoring the outside world, until this masked character reappeared and brought the ritual to a close.
Lee Choy Wan's A Step From Heaven was the audience's eerie favourite. You could tell by how many phones were up throughout her insert! Inspired by Japanese Butoh, Lee danced her way – slowly, with her red string – before charging off in circles as she reflected on death and anxiety. She said: "I hope to use this piece to search for this place, so-called closest to heaven, and revisit the mysterious journey of life."
During the three performances, I witnessed curious stares, enlightened taps and points, not to mention so many cameras clicking along the way. Also, automatically adhering to post-pandemic SOPs, audiences connected with the artists by dancing, waving and marching along. It was truly a spectacle to behold!
Post-finale, BASKL had the chance to chat with co-curator Damien Low about the project.
What was the purpose behind this curation? At the beginning, we simply gathered artists from different backgrounds to collaborate with the young and emerging artists from Orang Orang Drum Theatre. The curators and the rest of the production team helped support these artists explore their own desires, talents and intentions to create. Also tackling questions like 'How do we bring the performing arts into public spaces?' and 'How do we create more possibilities for performing arts?'
As a curator, I think that this was the right moment to answer those questions using performance. Society has doubts about what is essential, how life goes on now and what is meaningful for us today. Co-curator and director Yeo Lyle's work is based off these themes. During the final commute, he delivered a unique perspective on what's 'post-pandemic', using the celebration of life theme to link all the creations together.
With the choice of so many different places, why choose the MRT stations and carriages? One of our artists Giant Liang proposed this, saying how MRT stations are like ready-made public space theatres.
What were some of the challenges faced throughout the making of this project? Getting support and adhering to SOPs but we managed to get venue support from MRT Corp and were glad to have such a strong supporter to help us raise awareness about arts in public. The SOPs were still very new to everyone at the start of this project; hence the production team spent a lot of time understanding them, and taking care of every little detail. We tried our best to fulfill the requirements of keeping the public safe.
Throughout the eight months of this project, what were some of your observations? There are so many possibilities to discover in terms of public art. We need more public spaces so that people can share their thoughts and ideas. The pandemic sparked fear and uncertainty, so the arts was/is for a great way for us to find a new track. (The chemistry among performers) has been amazing; they listened and were well invested in what they were creating. We need to support each other in creating and sharing joy with the public.
How did commuters and passers-by react? Most of them were very curious; they would walk around and observe from afar. Many of the audience members also jumped in to share their happiness and thoughts with us. But we also had commuters who did not understand what we were doing, plus those who opted out from being a part of the scene.
Do you feel that there should be many more curations like this in the future? Absolutely! Public space performing arts is still a new domain here in Malaysia. I hope this project encourages more bodies to create sharing spaces for arts, culture and more. We live in such a colourful nation, each transition is an opportunity for people to discover and appreciate Malaysia even more. There's a certain zest when we add poetic elements like this into our daily lives."
Would you like to go aboard a similar journey, given the chance? I, for one, would surely like to see more public performances in public places!