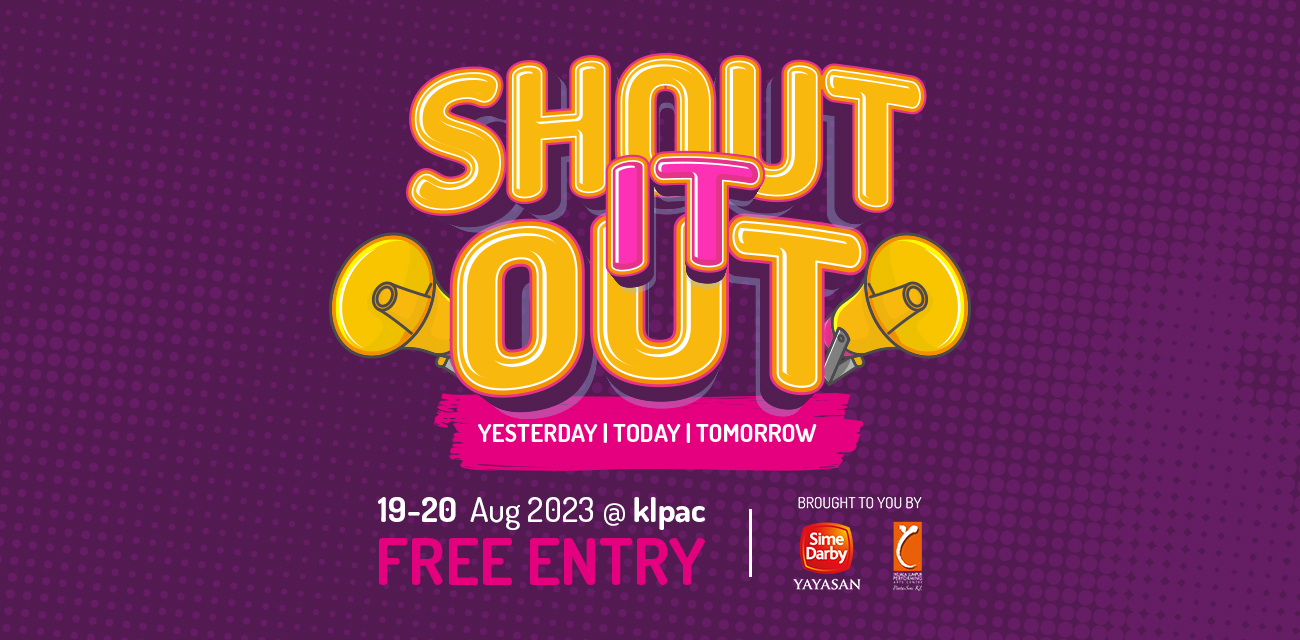 Did we mention that the festival is free for all? Read about the recent Mini Shout It Out Festival, the teaser to the big festival finale this August!
On June 15, 2023, 100 lucky individuals were treated to a sneak peek of Malaysia's biggest free-for-all arts festival at the YSDAF 2023 Mini Shout It Out Festival, jointly organised by Yayasan Sime Darby (YSD) and The Kuala Lumpur Performing Arts Centre (klpac).
During the launch hosted by klpac Co-Founders Dato' Dr Faridah Merican and Joe Hasham OAM, Chairman of YSD Y.A.M. Tunku Tan Sri Imran Ibni Almarhum Tuanku Ja'afar enthused, "YSDAF is a celebration of Malaysian talents as well as inclusivity in our local arts scene. It is heartening to witness the dedication in creating an environment that empowers emerging local artists to showcase their talents, while embracing individuals of all abilities through this collaboration with klpac. In that, we hope to open the door for everyone to come and experience firsthand the remarkable fusion of art, culture, and inclusivity. This year's festival will continue to serve as an avenue to empower underrepresented communities by showcasing their stories and issues through the arts."
Children from Yayasan Chow Kit and several other organisations were seen enjoying a magical morning sampling a selection of music, film, cultural and arts offerings on the klpac lawn decked out with tents by outdoor camping partner ANBOT.
The music zone helmed by StageReSET, a platform by Luke X to restart the indie music scene, featured local talents Rasull Soon a.k.a. BlueMonk on Shakuhachi flute, Anak Borneo on sape' singing Kenyah songs, singer-songwriter Alfian Ahmad and human beatbox Jay Jay Sea collaborating with AP Didgeridoo.
Not only did they watch some amazing acts but they also got their hands dirty learning and creating. While the children painted mini teepees after a fun-filled "Colour Monster" storytelling and messy play by Joy Story, the adults partook in an eco-weaving workshop by Flawer Studio and learnt from TEA+ masters how to brew tea in both traditional and modernised settings.
Festival Co-Director Ian Chow revealed that this was just a teaser of over 300 free offerings for the public in August aimed at bringing them on a journey through Yesterday, Today & Tomorrow. He also shared that this year, they will feature almost 60 groups that have not been part of YSDAF before plus well over 40 new works. Some groups will travel from as far as Penang, Johor, Pahang and Terengganu to be a part of the finale.
Adding to the excitement is an open call for Dance the Scene, a dance battle competition for Malaysian dancers aged 18 and above with a cash prize pool of RM10,000. Dancers can apply via this link by 15 July 2023.
Interestingly, audiences were seen flocking to the OPACK booth, YSDAF's Sustainability Partner, to get their rentNreturn foodware before heading to the food trucks to tuck into some local delights at the mini-festival.
Reducing single use plastic and advocating for BYOC (Bring Your Own Container, Cutlery, Carrier) is part of its sustainability initiatives as explained by Festival Co-Director Evangeline Lim. This guides not only festival preparation such as reducing printing, opting for digital options via Sustainability Partner Neosys and increasing FSC-certified paper usage but also its programming which features eco workshops by EcoKnights, .bungkus, Precious Plastic Malaysia as well environmental documentaries sponsored by YSD such as Layar Liar, Borneo Jungle Diaries and Borneo Ocean Diaries.
Its festival finale programme also features movement workshops for neurodivergent people, physiotherapy and dance workshop for those with Parkinson's as well as artistes such as the talented illustrator Krithin, who lives with cerebral palsy, Deaf activist Dr Anthony Chong's new work in Malaysian Sign Language and a handbell ensemble by the visually-impaired facilitated by GlobDCircle Entertainment.
YSDAF 2023 festival highlights include the hotly-anticipated Dance the Scene live battle, Dato' Dr Faridah Merican's Life Sdn Bhd: What It Means to be Malaysian? and the screening of P. Ramlee classics courtesy of The Shaw Organisation Pte. Ltd.
Music lovers can look forward to Ian Chow's True Love Waits: A Radiohead Tribute, Soundscape Records' fiery line-up of bands as well as YSDAF 2023 Gala Night special, Unforgettable: Lagenda Malaysia.
Three new installations will premiere including Pitch Start grant winner JinnD Productions' Beyond Moving with Artisans as well as two other anchor installations Cahaya Create's Cloudscapes: A Journey of Hopes and Expedio Design's Travel Through Time. YSDAF 2023 programme partners include Astro, Lestari Brothers, Soundscape Records, StageReSET and The Actors Studio Seni Teater Rakyat.
Book your dates for the YSDAF Festival Finale on August 19 and 20, 2023. For more information, visit http://www.ysdartsfestival.com.my/.
Read more stories like this on BASKL via the links below: