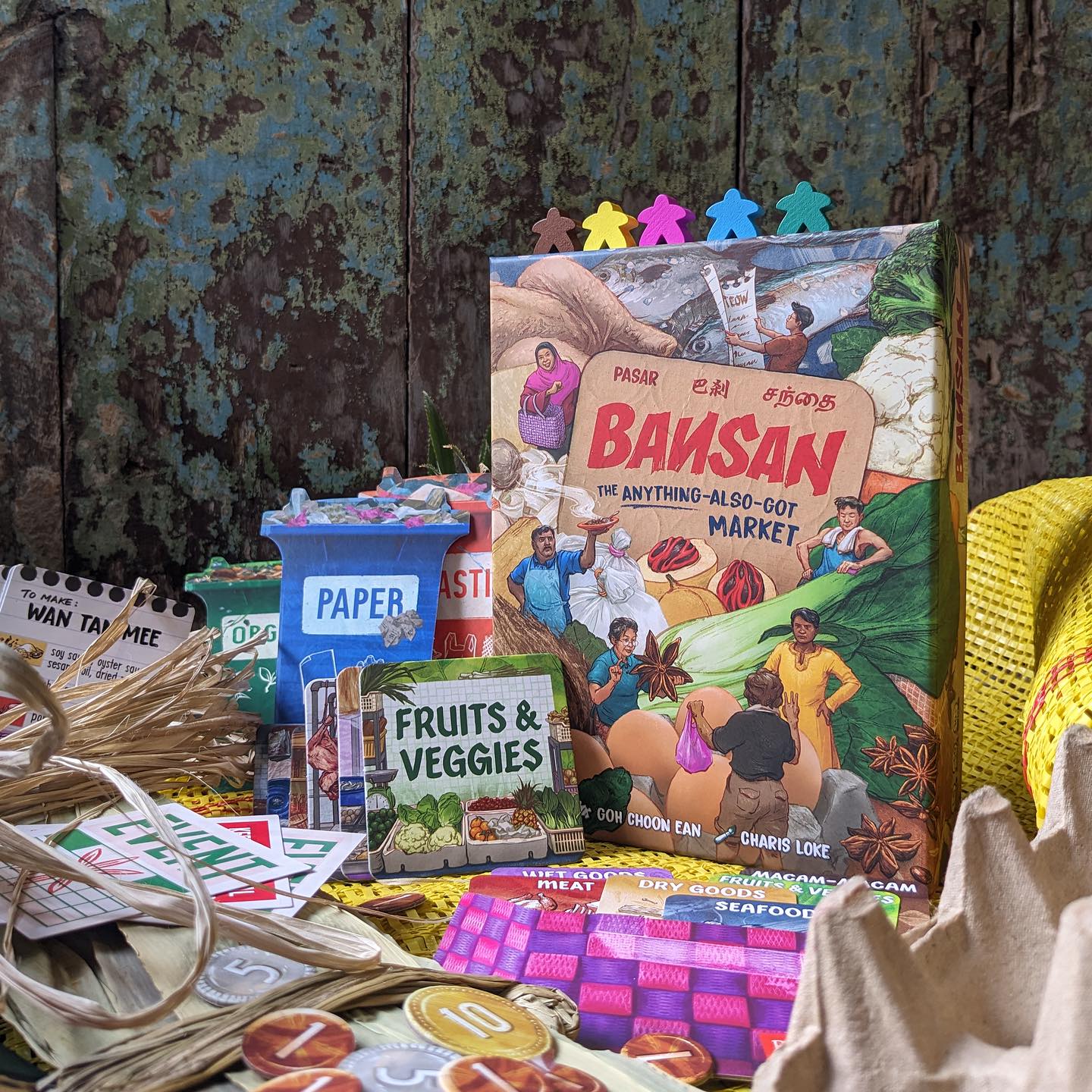 'Bansan', the latest game from Arts-ED, is about juggling the responsibilities of a market vendor, from procuring ingredients from wholesalers, to negotiating with other vendors, to ensuring compliance with the municipal council regulations.
By CHIN JIAN WEI
Board games are always an enjoyable way to spend an evening with friends. In recent years, many Malaysians have also created board games of their own that reflect local culture and aesthetics. Recently, Arts-ED has published Bansan, a board game inspired by Malaysian wet markets. Bansan is a Hokkien word for market commonly used in Penang and other Northern states. It literally translates to tens of thousands of mountains filled with goods.
In this gorgeous game designed by Goh Choon Ean, players take up the roles of market vendors, juggling wholesalers, customers, fellow vendors and even the municipal council as they work to get ingredients and sell their goods. "Players also kind of double up as hawker food stall owners," Goh says. "They have shopping lists with ingredients that will help them make different hawker foods and fulfil orders at their stalls. When they do that, they generate waste and there's that whole waste mechanic in the game where there are things going into the waste area and you have to empty it." The game is about managing all these tasks and ensuring that everything is kept under control. For example, if the waste bins overflow, you will be fined.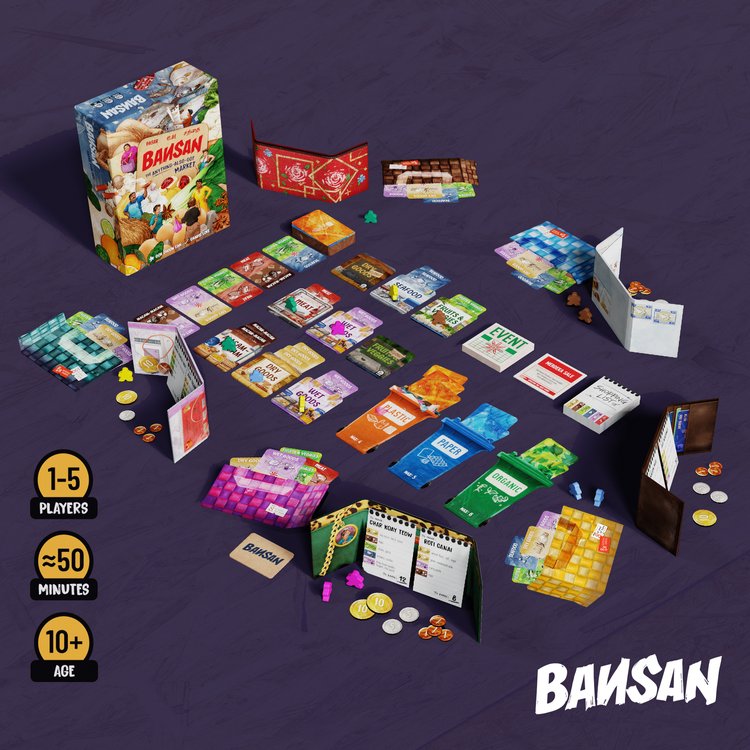 This is a very social game, one that encourages player interaction and negotiation. "The players do spend a lot of time negotiating with each other," Goh says. "For example, you're allowed to trade produce from your bags. They can say, 'Oh, give me extra, we can trade seafood for vegetables, 2 for 1 maybe.' That's where players can fulfil their shopping lists a bit faster."
Goh and Loke had both been part of an Arts-ED program called Youth Arts Camp. They brought students into Chowrasta market to observe different things like vendors setting up stalls and investigated things like market management and the value chains of their goods. "With all those experiences and helping students to create board games, I thought it would be great to have a board game that is inspired by all the things we learnt in our years there," Goh says. "The thing that really interested me was the multiple hats that vendors would have to wear, and being able to bargain. Many of these intangible cultural heritages that we may not be aware of or have taken for granted, we thought it would be great to have some sort of immersive documentation that would allow people to come in and be part of a market for a little while."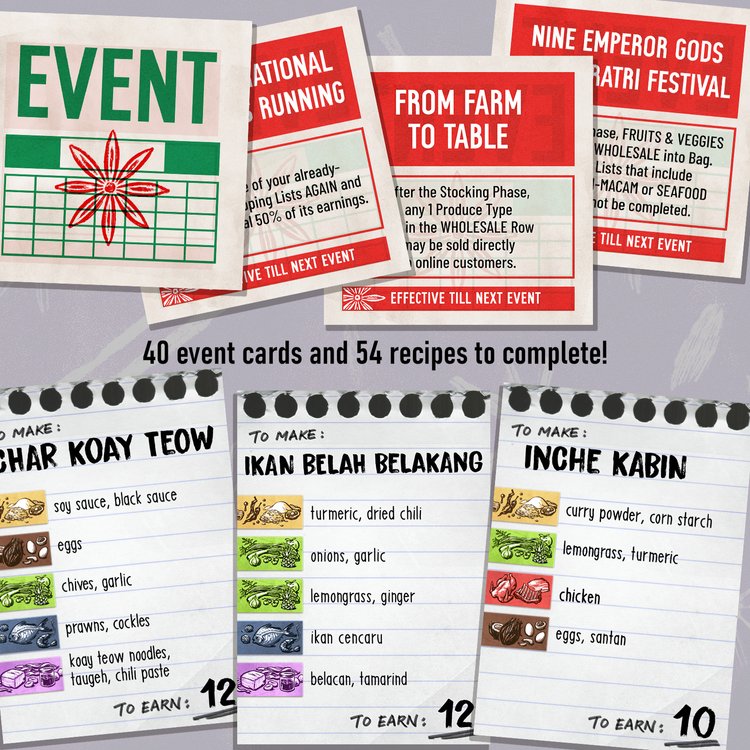 The first thing that stands out is the art, beautifully illustrated by Charis Loke. The art is authentically Malaysian, calling to mind the wet markets of Penang, specifically Chowrasta market. Everything you would expect to see in a wet market, from Malaysian spices to fish is reflected in the illustrations. A particularly inspired touch is the player wallet screens, each depicting a wallet that is just oozing with personality. These wallets also correspond to the characters on the box art, and reflect their personalities. According to Loke, they were based on people the team actually know from the market in real life. One of the names in the wallet is actually the name of the very first vendor that Loke got to know from Chowrasta. He has since passed away, but his name lives on in the game.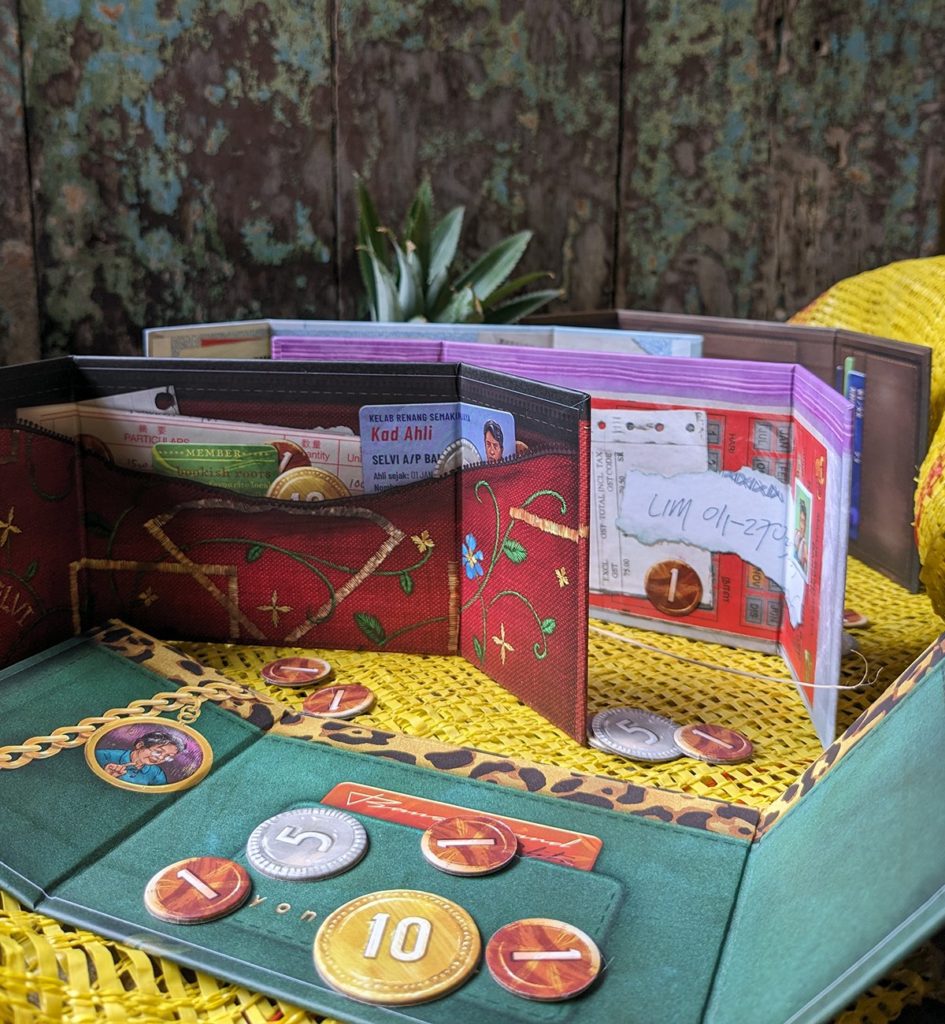 "There was a lot of research," Loke says. "We've been going to this market for six years by this point, we've been doing projects with students. When it came to the time for this game, I would then have to go out and take very specific reference photos. Let's say for the stalls, there are six different kinds of stalls and I want the art to be representative of how people actually set up the stalls in real life. If it's a wet goods stall, what kind of metal trays did they use? If it's a fruit and veggies stall, are they using white polystyrene boxes? For meat stalls, what kinds of hooks do they hook the meat with? All those are little details that I look at when doing the art, and the goal is to have art that people can look at and say, 'Oh I recognise that. That looks like a stall in the market near my place.'
"It should be a representation of Malaysia without becoming Malaysiana. We're not doing nostalgic stereotypes here, this is how people actually work and do things in the market right now. Of course, it also has to look appealing to people so that they would want to pick up the game. The visuals are some of the first things people see online or on the box in the store."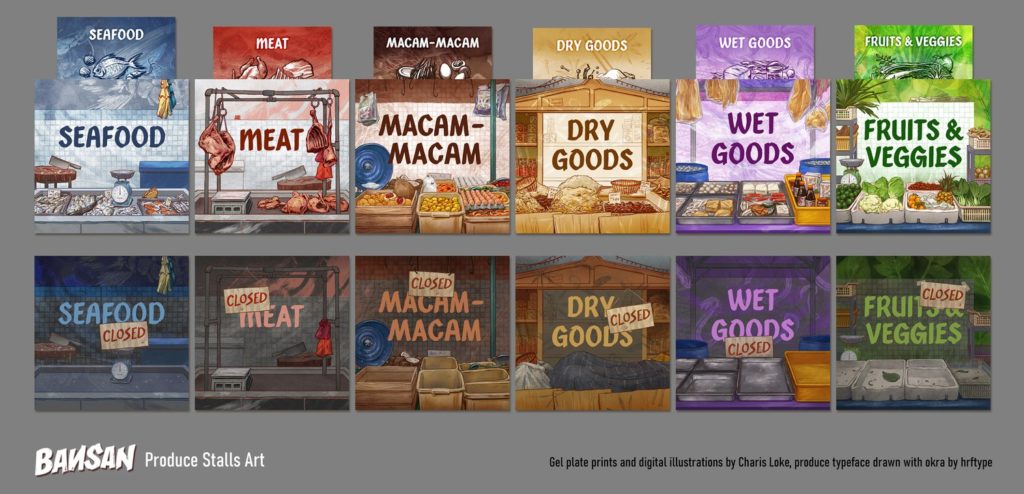 Goh says, "I wanted the game to highlight what I see as special about the markets we grew up with." Malaysian markets are more than a place to buy groceries. They are also a place where you can have your breakfast and socialise with others. "I want people to have a greater appreciation for local wet market culture and also to put themselves in the shoes of market stall vendors. It's an honest living and there's a lot of work behind the stalls."
There is more on the horizon for Goh and the team. Goh says that a collaboration with Wak Long Music & Art Centre in Penang might be on the table, suggesting that the next new game would be themed around the role of a dalang in Wayang Kulit storytelling.
For more information on Bansan, head on over to the website where you can download the full rules, order the game, and keep up with future events! If you're in Kuala Lumpur, there will be a Bansan play session in Kinokuniya, KLCC on Aug 30 and 31, so don't miss that!
To read more BASKL, click on the links below: