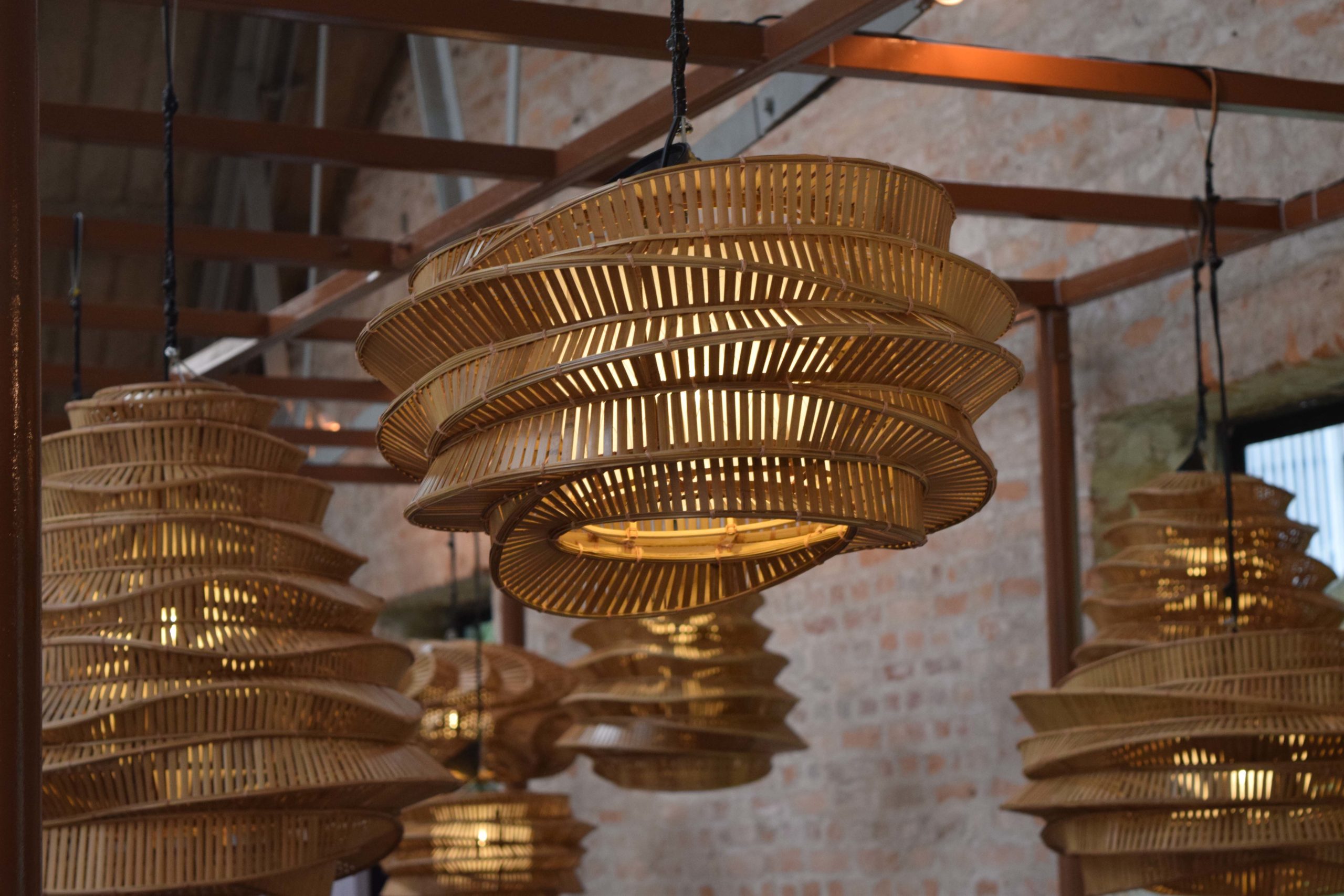 Featuring all things bamboo themed, from sculptures and installations, a photography exhibit, workshops, and a musical group, there was the promise of an exciting experience at Bamboo House during KLWKND.
Review and photos by ELIZABETH LOW for Lensa Seni
With all thing's bamboo, The Godown KL became the Bamboo House in conjunction with KLWKND 2021, from Nov 25 to 27. With a photography exhibit, sculptures, installations and a lineup of events and programmes, Bamboo House celebrated the evergreen perennial flowering plant and its presence within the arts.
The website featured a list of intriguing highlights; there was the promise of engaging discourse on the role of bamboo from the architectural and design perspectives, and a curated photography exhibit Mind-bending Bamboo which featured structures and architectures that utilised bamboo as building materials. Also listed was the Art of Bamboo exhibit that featured the works of three established craftsmen and artists, and a performance by the musical group, Bamboo Sound Arts.
Lured by a promising experience, I walked into Bamboo House on a Sunday morning last November with high expectations.
First Impressions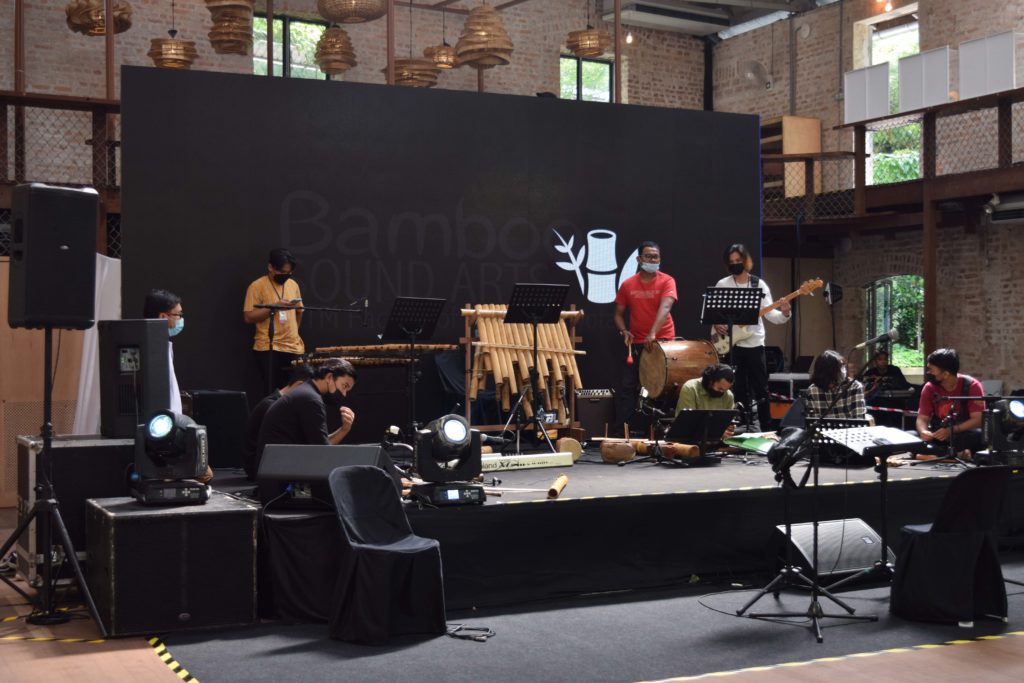 Arriving before the crowd allowed me to take in and observe the set-up with ease.
On the right of the entrance stood a stage with the musicians and their musical instruments made from bamboo. The space echoed with the pleasant sound of Bamboo Sound Arts practising its musical number for its performance later that evening.
To the left of the entrance was a booth with a little exhibit of miniature models constructed with bamboo. The display had to do with the Bambureka workshop later that afternoon.
As my eyes continued to scan the room, I sought out the Mind-bending Bamboo photography exhibit promoted on the website but was met with a less than impressive sight. From afar I was dismayed that they were presented as a collage of photographs, text and sketches crammed into several posters.
Moving my attention to the mezzanine floor just behind the stage, I was able to see intricate sculptures that hung on the ceiling, looking slightly more promising than the ground floor.
Mind-bending Bamboo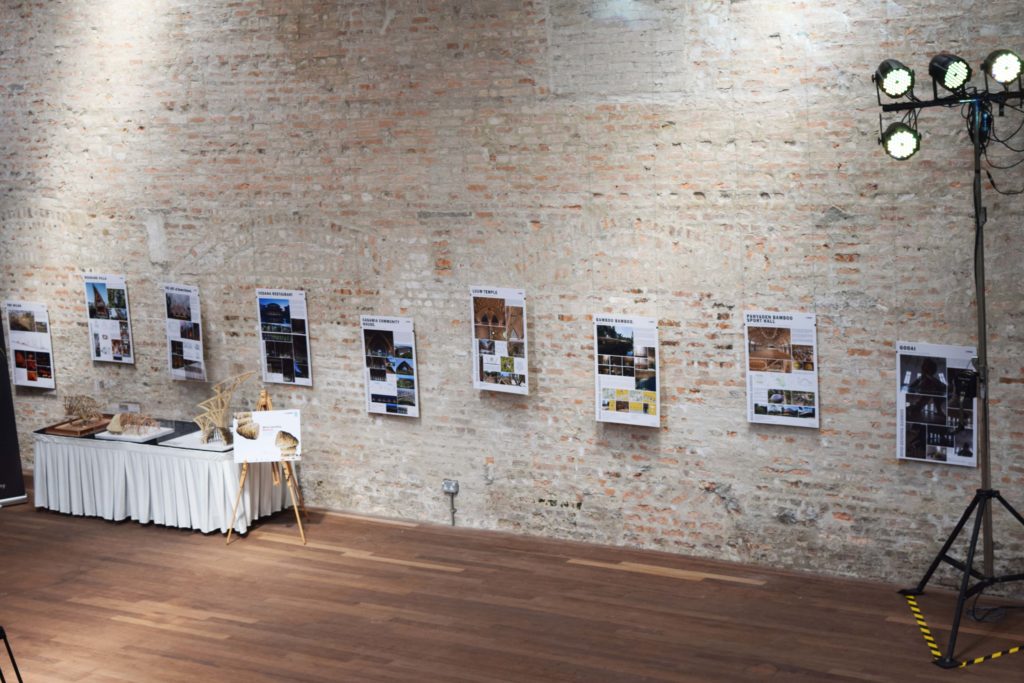 Promoted as a curated photography exhibition of "…magnificent, awe-inspiring, crazy and breathtakingly beautiful bamboo structures and installations from around the world," Mind-bending Bamboo showcased the point where sculpture and architecture meet.
The showcase was curated in collaboration with the specialist in bamboo application for the building industry, SEAD Build. With a wide selection of international architecture and artists, there was indeed a brilliant collection of bamboo erected pavilions, houses, and temples among other structures. Thus, it was unfortunate that the images were not done justice in terms of presentation.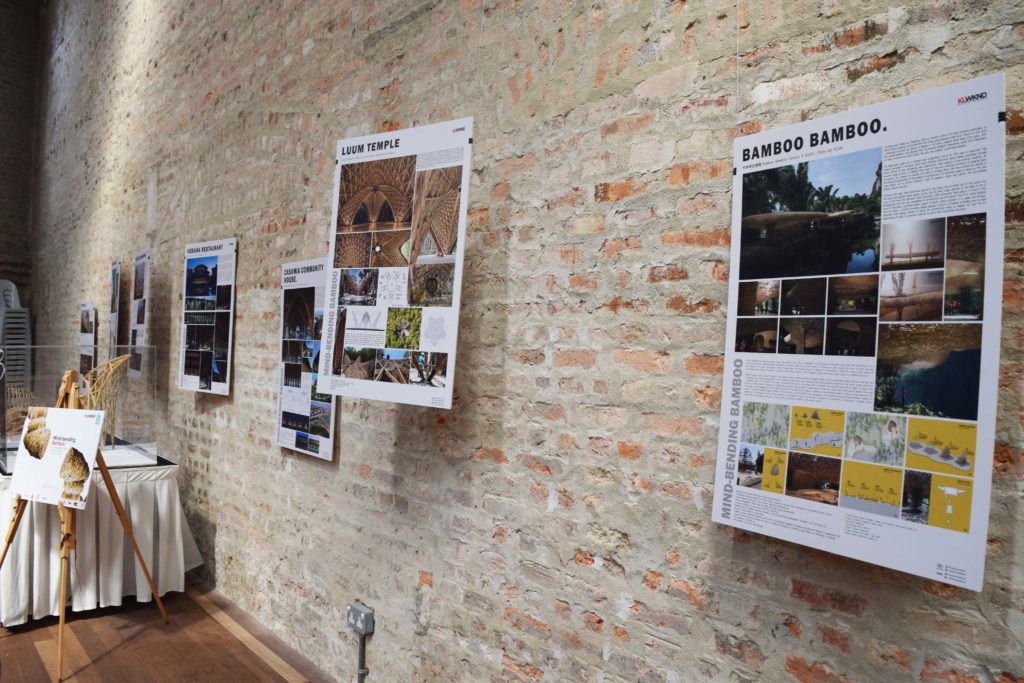 Arranged according to projects in the layout of a collage of images, sketches and text, the potential impact of each structure's magnificence had been minimized. It was packed with too much information and images to be consumed all at once.
Furthermore, each project was displayed on foam boards that were suspended by cable wires. Floating away from the wall, the movement of the breeze made it difficult to appreciate the photographs, let alone read the text. Several projects were also blocked by display of miniature bamboo mockups of the architecture. While they made an interesting addition to accompany the photographs, their placement was disrupting, making it additionally difficult to read the small text.
Art of Bamboo

In hopes to salvage my experience and perception of the Bamboo House, I ventured up to the mezzanine floor that was dedicated to the Art of Bamboo exhibit.
As shown on the poster, the exhibit featured the works of three artists and craftsmen. They were fine artist Nakatomi Hajime from Japan, product designer Korakot Aromdee from Thailand, and traditional Chinese lantern maker Chuen Mun Wai from Malaysia.
The first thing that caught my attention was the decorative bamboo installations that hung from the ceiling with lightbulbs. Meticulously crafted, with a unique curve to their bodies, I could imagine how they would appear in the dark, only illuminated with their respective light bulbs.
This was the work of Korakot Aromdee, who applied the "tie and knot" technique in his craft, a technique which he learned from his grandfather who was once a master kite craftsman in his hometown, Ban Laem, Thailand.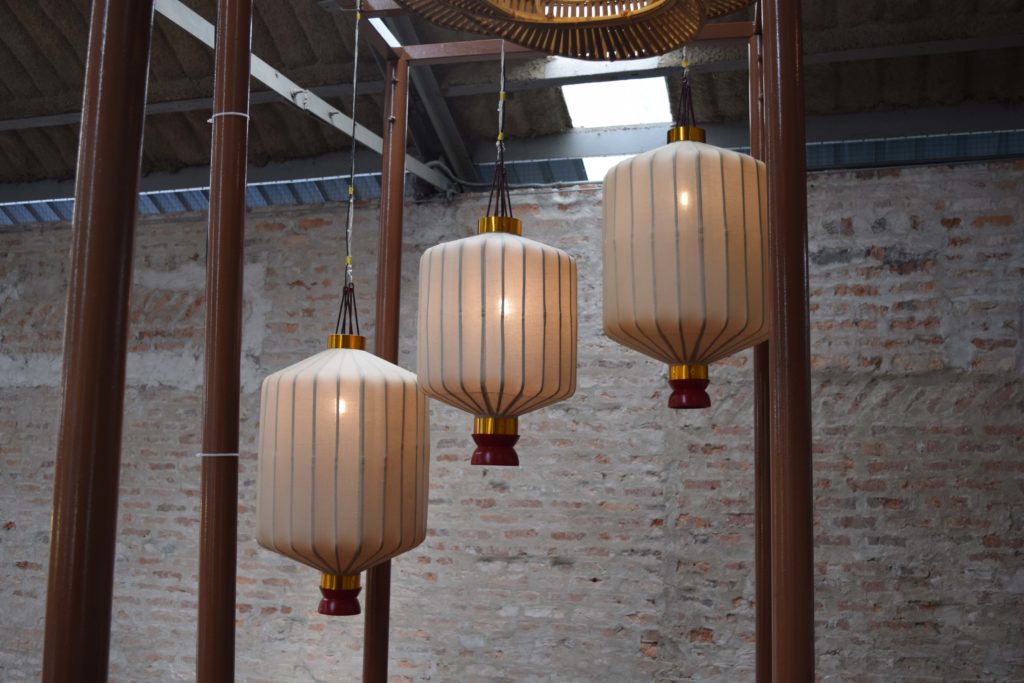 I should probably note that Aromdee's installations had dominated most of the attention on the mezzanine floor. Yet, it was Chuen Mun Wai's profile that I first saw before observing the text, initially leading me to assume that Aromdee's sculptures were the works of Chuen's.
Though Chuen's elegant lanterns were hung by the staircase, their presence was overshadowed by the mass of Hajime's installations. Whether this was the fault of misleading presentation and arrangement or a testament to the striking works of Aromdee was something I pondered on.
Chuen's lanterns, meanwhile, had a beauty that was a quiet and subtle kind. Wrapped with white cotton cloths, the skeleton of each lantern was constructed and shaped with bamboo. He is one of the few traditional Chinese lantern makers in Malaysia who continue to preserve this traditional craft.
Nakatomi Hajime's crafted bamboo pieces were presented in display boxes. Known for his contemporary forms made from traditional techniques of bamboo craftsmanship, Hajime's sculpture, albeit small, encapsulated a sense of movement and energy in its shape and form.

Notably, the sculpture Frill, with its curvaceous structure of loops, twists, and turns, reminded me of rollercoasters. From the intricacies of the woven structure to its energetic form, this sculpture stood out to me the most among Nakatomi's selection of works.
Between the works of Nakatomi and Aromdee were artworks belonging to another Malaysian artist, Ch'ng Kiah Kiean. Featuring two framed Chinese ink and watercolour drawings of bamboo, I found it unfortunate that the sketches were placed with little relevance or context to their position.
Not only did Ch'ng's medium and work not fit with the surrounding artists, but he was also clearly not part of the Art of Bamboo exhibit as shown on the poster. It was almost as though his work was included without little thought to where it would best fit within Bamboo House as a whole.
Lasting Impressions
While there was a unique selection of works present at Bamboo House, the curation and presentation of Mind-bending Bamboo and the Art of Bamboo exhibit had failed to capture and highlight them in their best light.
Nonetheless, there were elements of Bamboo House that made up for the areas lacking, such as the experience of the music and meeting the musicians behind Sound of Bamboo.
Bamboo House took place from Nov 25 to 27, 2021 at The Godown KL in conjunction with KLWKND.
Elizabeth Low is a participant in the CENDANA ARTS WRITING MASTERCLASS & MENTORSHIP PROGRAMME 2021
The views and opinions expressed in this article are strictly the author's own and do not reflect those of CENDANA. CENDANA reserves the right to be excluded from any liabilities, losses, damages, defaults, and/or intellectual property infringements caused by the views and opinions expressed by the author in this article at all times, during or after publication, whether on this website or any other platforms hosted by CENDANA or if said opinions/views are republished on third party platforms.