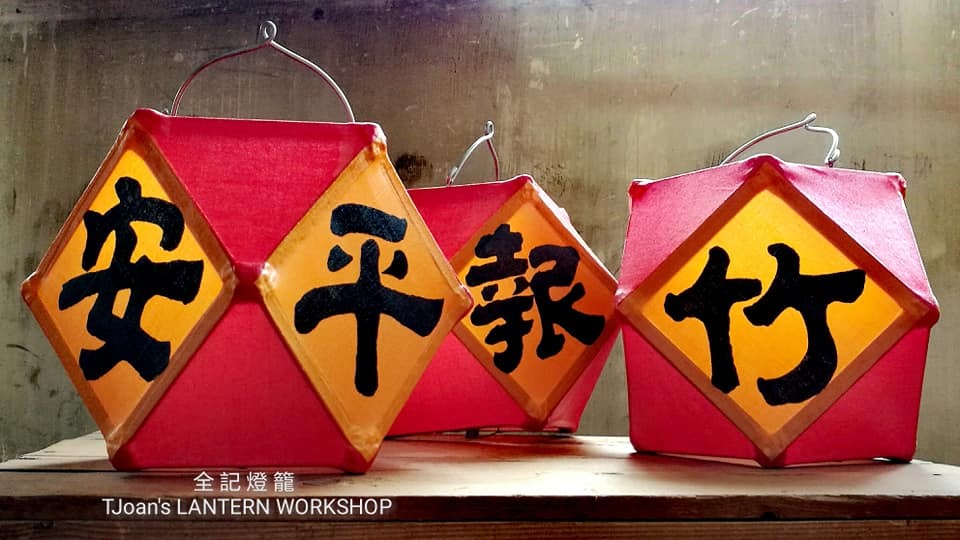 Thanks to his Peranakan roots and a passion for creating lanterns, Chuen Mun Wai enjoys preserving his cultural heritage.
By NICOLE CHANG
Apart from mooncakes, lanterns are most-commonly associated with the Mid-Autumn Festival, which is celebrated annually during the full moon on the 15th day of the 8th month of Chinese Lunar calendar, which happens to be today, Sep 21.
Lanterns in all sizes and shapes are often carried and displayed during this festival, symbolising the source of light leading people to paths of prosperity and good fortune.
"I crafted my first Mid-Autumn Festival lantern 25 years ago from an old piece batik fabric that was made in the 1940-50s. I bought the cloth, which had holes in it, from a fabric seller who wasn't able sell it, because I wanted to explore batik as a material for lantern-making. People rarely use batik for this. But I find it interesting when I see batik patterns on the lantern, especially under candlelight," said 42-year-old Ipoh-born lantern craftsman, Chuen Mun Wai, also known as Tjoan.
The Chinese community however prefers red lanterns which traditionally symbolise prosperity and luck.
Chuen said: "Festival lanterns used to be made in the ancient Chinese 'coin shape'. In addition, there were other shapes like baskets, hexagons or vases. For festival celebrations, I made red lanterns using red pieces of cloth and added well wishes handwritten in Chinese characters on the four sides."
The artisan's passion for making traditional lanterns began to grow when he witnessed the traditional craft disappearing from today's society.
"As more and more older craftsmen retire, we're seeing fewer traditional craft products in the market. Instead, there are more stereotypical mass-produced products, which to me are rather 'soulless' when compared to the handmade handicrafts."
Chuen began exploring the traditional methods of handcrafting Chinese lanterns in his 20s, primarily by observing the process of an old craftsman he met in Penang. The Ipoh Echo reported that this took place at a lantern shop named Tai Keat Seong Company along Magazine Road.
The accumulated learning from his field visits to the artisan's workplace slowly built up his understanding of the lantern-making process. "I finally crafted my first lantern by adapting the applicable methods I had learnt from this master, and also some other traditional crafters I met." He is ever grateful to all his supportive seniors who willingly shared their knowledge and experience with him along his crafting journey.
According to Chuen, traditional Chinese lanterns were introduced by the Peranakan people who hang lanterns in their homes during these festivities. He explains: "Lanterns were widely used as a light source in the old days when there was no electricity. Lanterns prevent the wind from blowing out a candle. Today, we still see Peranakan Chinese homes hanging traditional lanterns as part of their tradition. Lanterns have now become cultural artifacts."
Chuen aspires to preserve this traditional craft according to his Peranakan roots. Embracing traditional artisanal techniques and elements, he creatively adapts ideas to create lanterns that are suitable for contemporary consumption. "We hope future generations will be able to continue enjoying traditional lanterns in our neighbourhoods, rather than just at a museum."
Not only are Chuen's lantern creations well accepted locally, but they also attract many foreign tourists who come to visit his studio on Jalan Masjid, in Ipoh. Apart from joining his Tjoan's lantern-making workshops to learn to craft simple lanterns, many local and foreign visitors also order customised lanterns in be.
"Traditionally, lanterns were made of bamboo and white pieces of paper or cloth. Later on, people crafted lanterns using hand-dyed and coloured pieces of cloth, with meaningful handwritten words or hand-painted patterns or pictures. Round lanterns are usually intended for Chinese religious or ancestor worship. Cylindrical lanterns are typically made in pairs, bearing the characters of Chinese surnames or the origin of surnames.
"Lanterns that hang in front of the shophouses bear the name of the establishments." Chuen adds: "The materials used are mostly natural ingredients like bamboo, yarn, natural paints, agar-agar paste to coat the fabric and tapioca starch to make glue."
Chuen's story not only reveals the insights of handcrafting traditional Chinese lanterns, but his craft also bears heartfelt messages for generations to come.
For more on Chuen, visit his Facebook page, TJOAN's lantern workshop 小手作坊 手工燈籠