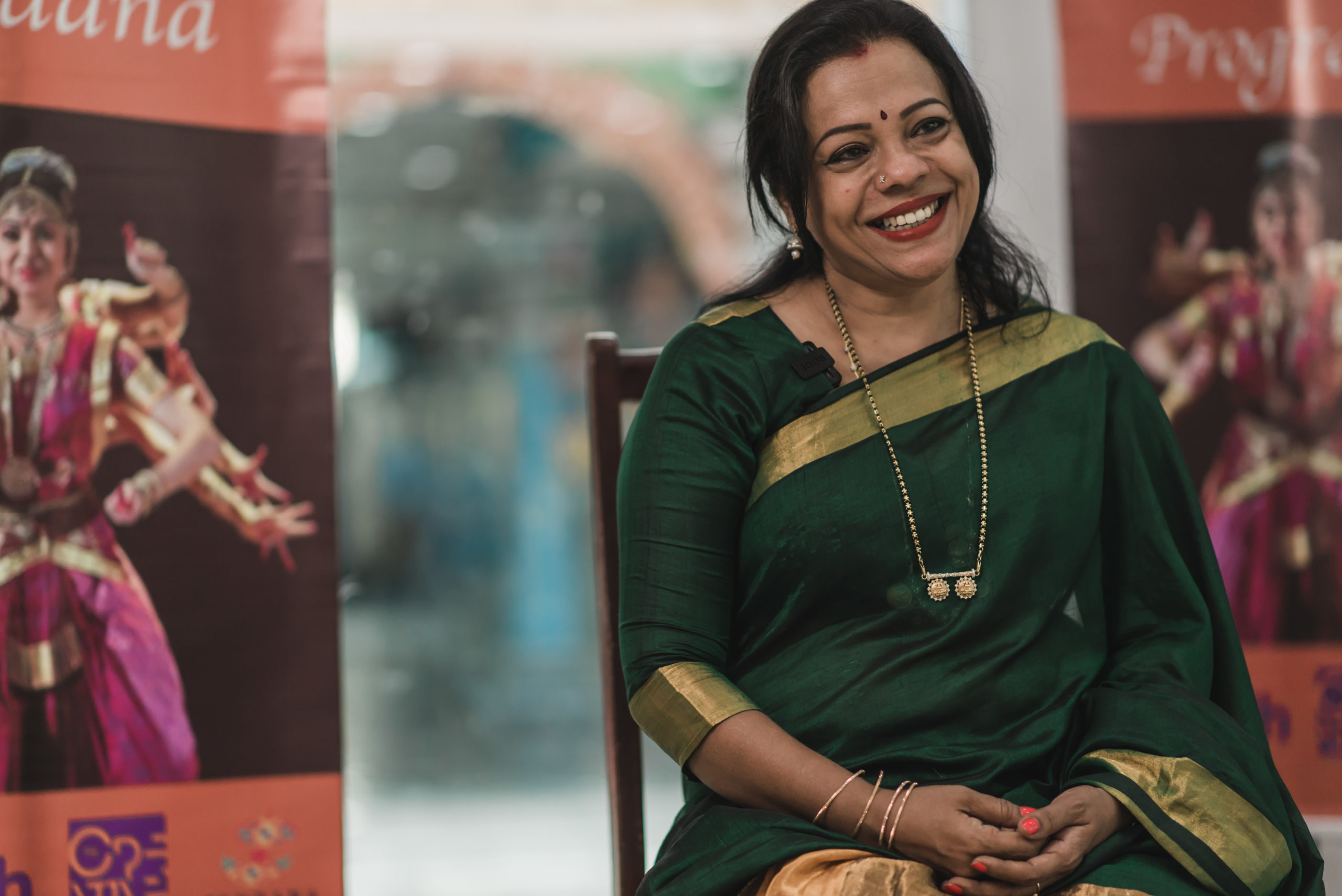 Filled with love for the traditional Indian dance Bharatanatyam, multi-award recipient Srimathi Parameswary Pannir Chelvam opens the doors to Vadhini Fine Arts. This dedicated teacher and choreographer walks us through her strive towards nurturing future generations through the art form.
By NABILA AZLAN
Born Parameswary T. Harinarayanan, classical dance teacher-choreographer Srimathi Parameswary Pannir Chelvam's upbringing is laden with inclinations towards creative expression and contribution towards society. The youngest of seven siblings is a part of the Panthanallur lineage, which is no stranger to the beauty of South Indian dance, Bharatanatyam. From very early on (at about four years old when her mother signed her up for classes), the weavings of devoted expression, precise techniques and footwork interlace, soon came through as her creative calling.
Srimathi Parameswary followed the steps of her guru Srimathi Rajeswaria Arumugam (in Malaysia) in learning the basics of dance, which further cemented her interest in the art form.
"I learned the epics and the proper ways to express the retellings of history through dance," she says. "We believe dances [like Bharatanatyam] originated from the Gods, ready to be passed to humans. Previously, they were only taught to males, but realizing that most of the feminine movements are tough to master, the same dances are then taught to female students. This passing down of art was only intended for temple ceremonies and not for entertainment purposes."
This growing artistic passion took her to Chennai, India, 39 years ago – this city is where she received advanced training from renowned dancer, Aacharya Choodamani Srimathi Indra Rajan.
In 1984, Srimathi Indra Rajan blessed her with the name Vadhini upon her Arranggetram (stage ascension, also known as the graduation ceremony in dance whereby a guru's pupil is introduced to the public) in Mylapore, Chennai. Taking this name with her, Vadhini Fine Arts is born. Through the education centre based in Rawang, Selangor as well as a branch in Sarawak; Srimathi Parameswary is motivated to preserve the purity, beauty and spiritual aspects of the Bharatanatyam dance – fostering creativity and passion in her students for over 30 years now!
Today, in her fifties, Srimathi Parameswary continues to give her heart and soul in dance. "I'm still [in the process of learning," she admits. "There are so many types of dances listed as the Classical Indian art form – Kathak, Kuchipudi, Odissi – and through various other teachers [aside from my core two] I have now ventured into different ones as well."
Children as young as six years old come together to Vadhini Fine Arts to attend classes today. The education centre teaches the essence of Bharatanatyam through a carefully-selected module. With about 400 students registered, the educator also welcomes students from mentally and financially-challenged backgrounds, cultivating the spirit of not leaving anyone behind.
"The dance incorporates extensive practices and disciplines of yoga," she says. "When a student enrols, [he or she] is equipped with a standardized syllabus in the form of a basic [techniques] book and a CD to guide them through."
According to Srimathi Parameswary, the essential stage in learning Classical Indian dances is the introduction of steps, prepping the body through yoga. "Yoga teaches flexibility, then only [gurus] turn to teaching dance. This basic process would typically take two to three years before the graduating ceremony takes place." During the ceremony, graduands will wear tied leg bells, signalling the accomplishment of training and officially, he or she rises as a performance artist.
"The current generation would probably lose interest if we only follow the rites of traditional dance," she admits, "So we sprinkle a contemporary dose into our teachings." This is as long as the scope of dance is clear. "The public would also enjoy them," says Srimathi Parameswary.
At Vadhini Fine Arts, aside from teaching Indian dances, teachers are also the conducting classes for Malay and Chinese dances as well as contemporary dance forms! "Dance promotes proper blood flow and enhances memory [students learn and memorize so many steps during their training]," she notes. "Aside from coordination and teamwork, it also teaches the precious cultural and moral values, like respecting your elders."
Srimathi Parameswary admits that the toughest challenges in teaching dance lie in cultural awareness. "Not many parents are aware [of these dances], opting for more modern options like aerobics or Zumba. We teachers must think of ways to make dance more interesting that what students have on their phones! Plus, imagine if these dances are only kept for temples – non-Indians will not know about them."
"Teachers must be very knowledgeable, and are able to handle their students' curiosity through the barrage of questions [a common challenge across teachers at present]," she advises. "It is essential for teachers to continuously upgrade themselves. While some students grow up with cultural exposure, some would not! Teachers must be able to explain while uprooting respect for all sorts of cultures."
As a Malaysian artist, Srimathi Parameswary has brought a unique perspective to the art form and has become a renowned figure in the field. Through the Adiguru CENDANA programme, she is able to reach through to more people, strengthening the mode of preservation for classical arts. BASKL hopes the art of Bharatanatyam, as well as other kinds of traditional dances, is able to stand with time.
Parameswary T. Harinarayanan is a recipient of CENDANA's Adiguru grant, conducted in partnership with PUSAKA, for the art of Bharatanatyam.
Read more stories like this on BASKL via the links below: