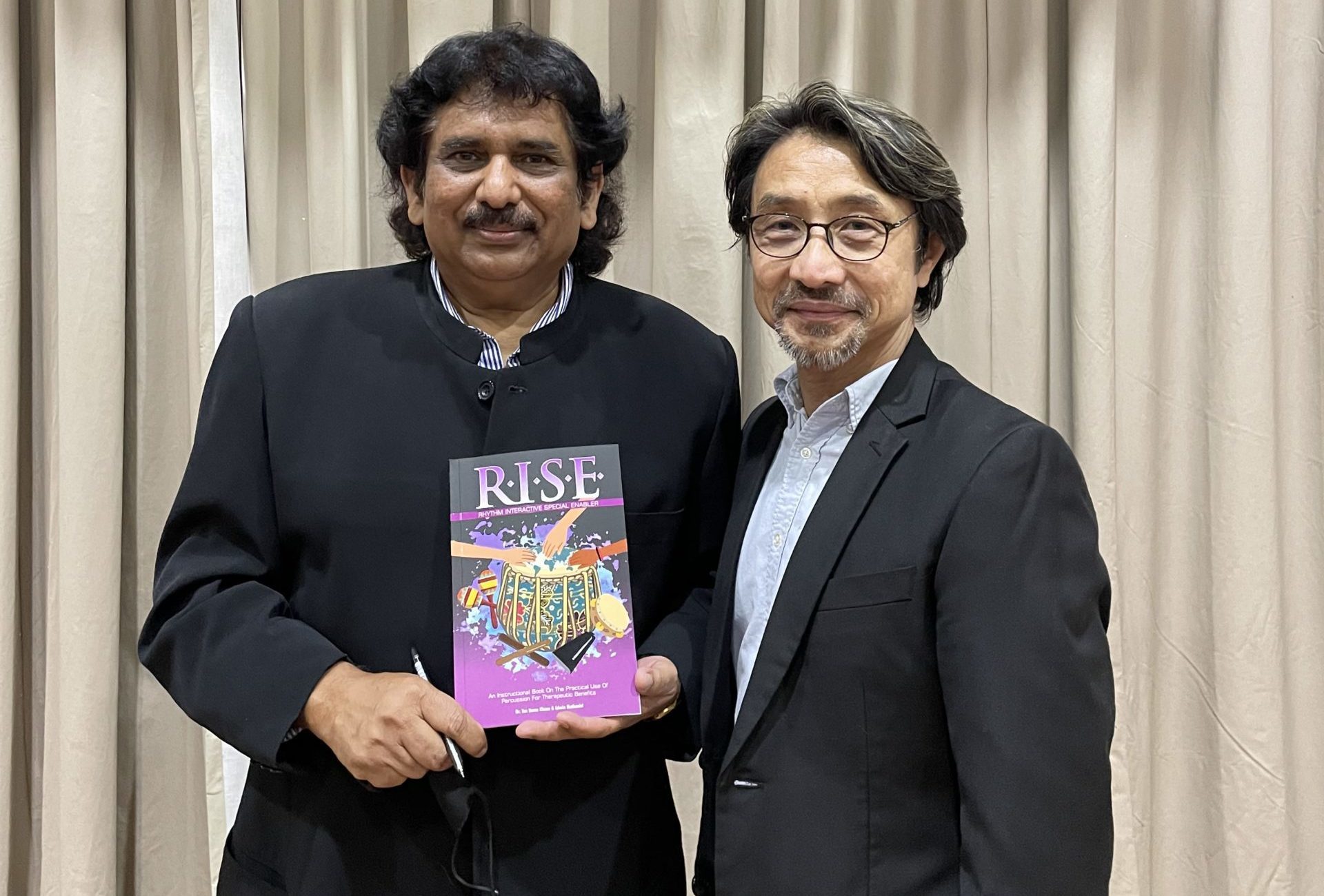 Edwin Nathaniel has launched a book with co-author Dr Tan Swee Chuan describing the practical uses of percussion as an aid for special needs children.
By ANN MARIE CHANDY
Not so long ago, a book launch was held at the Spastic Children's Association of Selangor & Federal Territory (SCAS&FT) in Petaling Jaya. In attendance were the book's authors, Edwin Nathaniel and Dr Tan Swee Chuan, President of SCAS&FT Dato Hong Yee Keong, guests, media and a very special lineup of percussionists, the Spastic Percussion Band.
The book being launched was RISE (short for Rhythm Interactive Special Enabler) – an instructional book on the practical use of percussion for therapeutic benefits.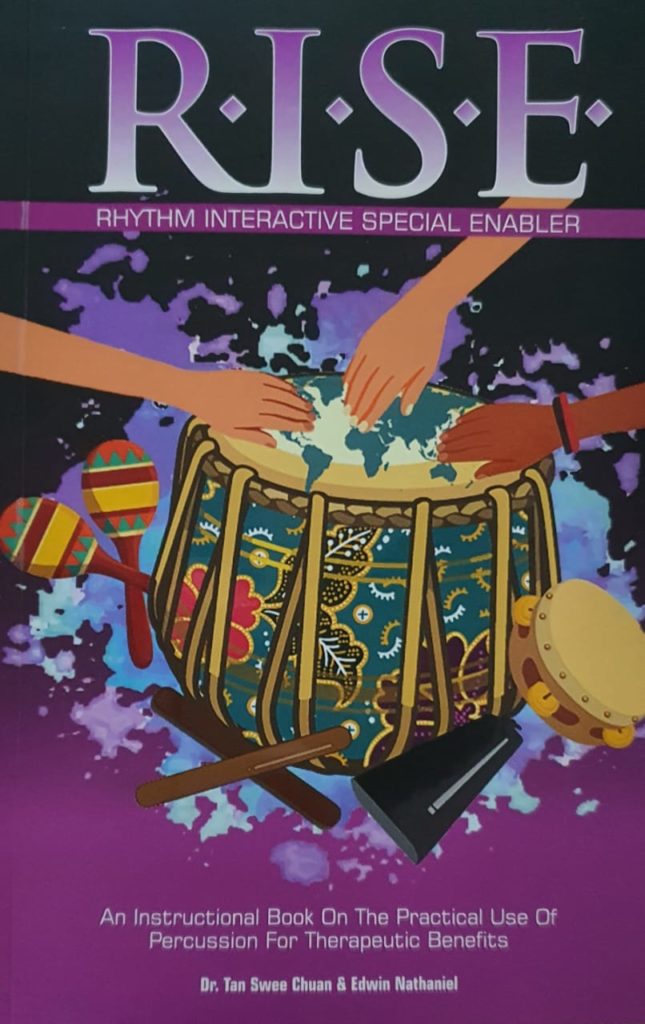 Most people in the music business in the Klang Valley would be familiar with Edwin, who is a drummer, teacher and vice president of the Musician for Musicians Malaysia association. Apart from his very active role in the local music scene, Edwin has also been instrumental when it comes to sharing his skills and touching the lives of special needs children, for the last two decades. He has worked with people who have various mental, physical and learning challenges, including those with cerebral palsy, autism spectrum disorder and Down syndrome.
"People shy away from the drums when it comes to special needs and elderly folks, but I have always had a different perspective. I think it's just a matter of getting used to the sound. When people are able to see the percussion instruments, touch them and feel them, the instruments take on a new meaning," he said during the book launch. "If someone is given an opportunity to explore music, they will love it. I truly believe that music is such a powerful tool and can change a person's life."
Edwin started playing drums at age nine, and was in various bands over the years. He spent many years working for Yamaha Music. Then in 2006, with the encouragement of his wife Jackie, Edwin began a school, Music Mart, to teach both able and disabled children music. "Through word of mouth, a lot of parents began sending their children to my school and I would teach them drums. There weren't many music schools that were inclusive and accepted special needs children. Of course I also had to face many challenges along the way, but I never gave up."
In 1998, Edwin founded the multi-ethnic fusion band Aseana Percussion Unit (APU) which earned a name for itself performing at various shows and festivals. Two years later, he mooted the idea of extending the use of percussion instruments and music to bring therapeutic benefits for children with special needs.
"Together with my bandmates and other friends, we designed the RISE programme, a teaching syllabus that utilises a range of percussion instruments and rhythms to engage individuals with learning challenges," Edwin shared.
Dato Hong and the caregivers as SCAS&FT will readily testify that Edwin has made a big difference with the programme, giving this marginalised group of children unprecedented opportunities for personal growth and development.
It was plain to see for all those present at the launch when the Spastic Percussion Band took centrestage, followed by a performance by Joshua Daniel and Salvador Ling (Austistic Talent Gala 2017 winners), and then finally everyone was invited to get into the thick of things, when Wan Zareef Nuqman, a student with ADHD, led a drum circle for everyone!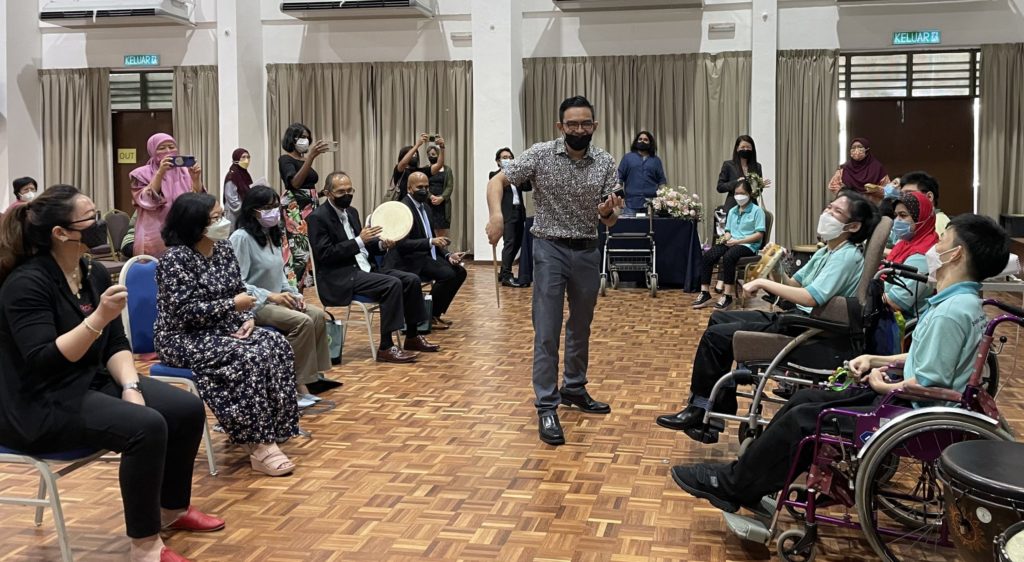 "Through the RISE programme, Zareef (pic above) has mastered the skills of playing various percussion instruments as well as developed leadership skills as he is now a capable facilitator at drum circles!" Edwin raved about his student.
Co-writer Dr Tan said he was so touched by Edwin's unwavering resolve to bring joy as well as a sense of dignity and belonging to these special children.
He said: "Edwin has great compassion and when he told me stories of his experiences with these children, I knew that we had to share them with a wider audience. Then having gone through the whole process of co-writing, I came to have a deeper appreciation of what Edwin has done through the RISE programme."
Dr Tan explained that the first part of the book shares human interest stories as the RISE programme has impacted so many lives. The second part then goes on to talk about how to create a relaxed and supportive environment for students. Chapters 1 through 8 focus on practical approaches to the applications of the RISE programme, giving detailed descriptions of how each part of the programme can be implemented.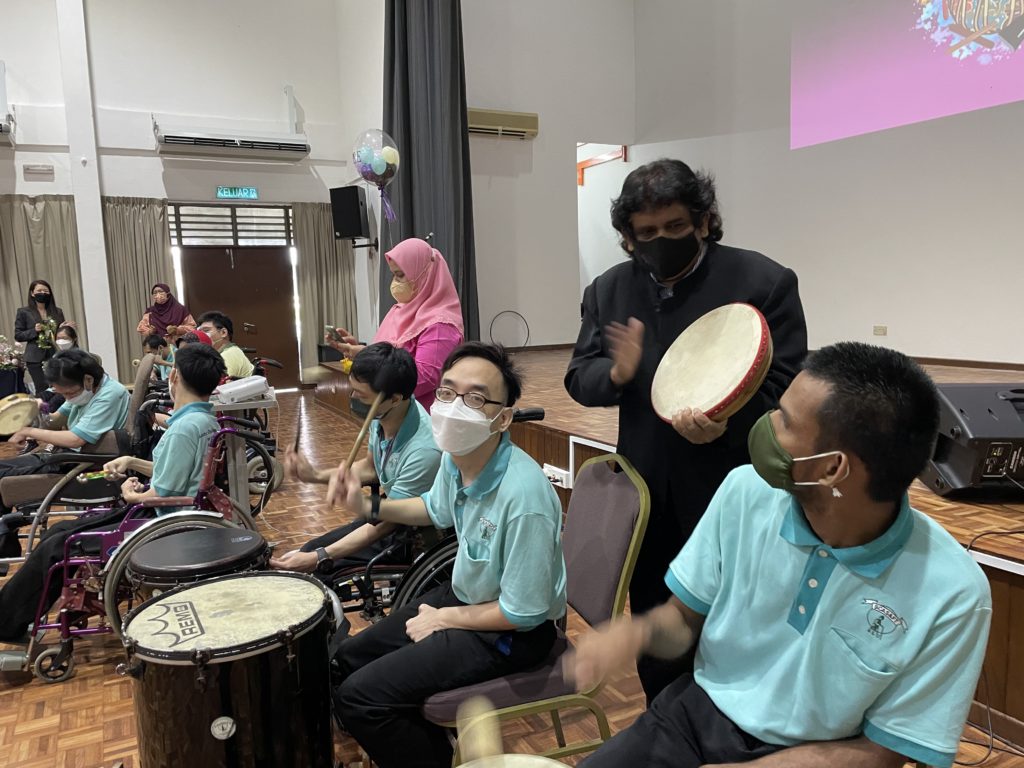 For now, Edwin is pleased that he is able to share RISE with the public and hopes that he can someday use the RISE programme to teach kids nationwide and to be able to share his knowledge and experience with parents and teachers who want to use music as a therapeutic tool all over the country, including Sabah and Sarawak.
"I also want to be able to provide a platform and opportunities for these special needs children to perform; and later be able to provide job opportunities for them when they grow up!" said Edwin, concluding that his biggest dream is to someday start a village for the elderly and people with any sort of disability to call home.
For inquiries about the book, call 012-4316249.