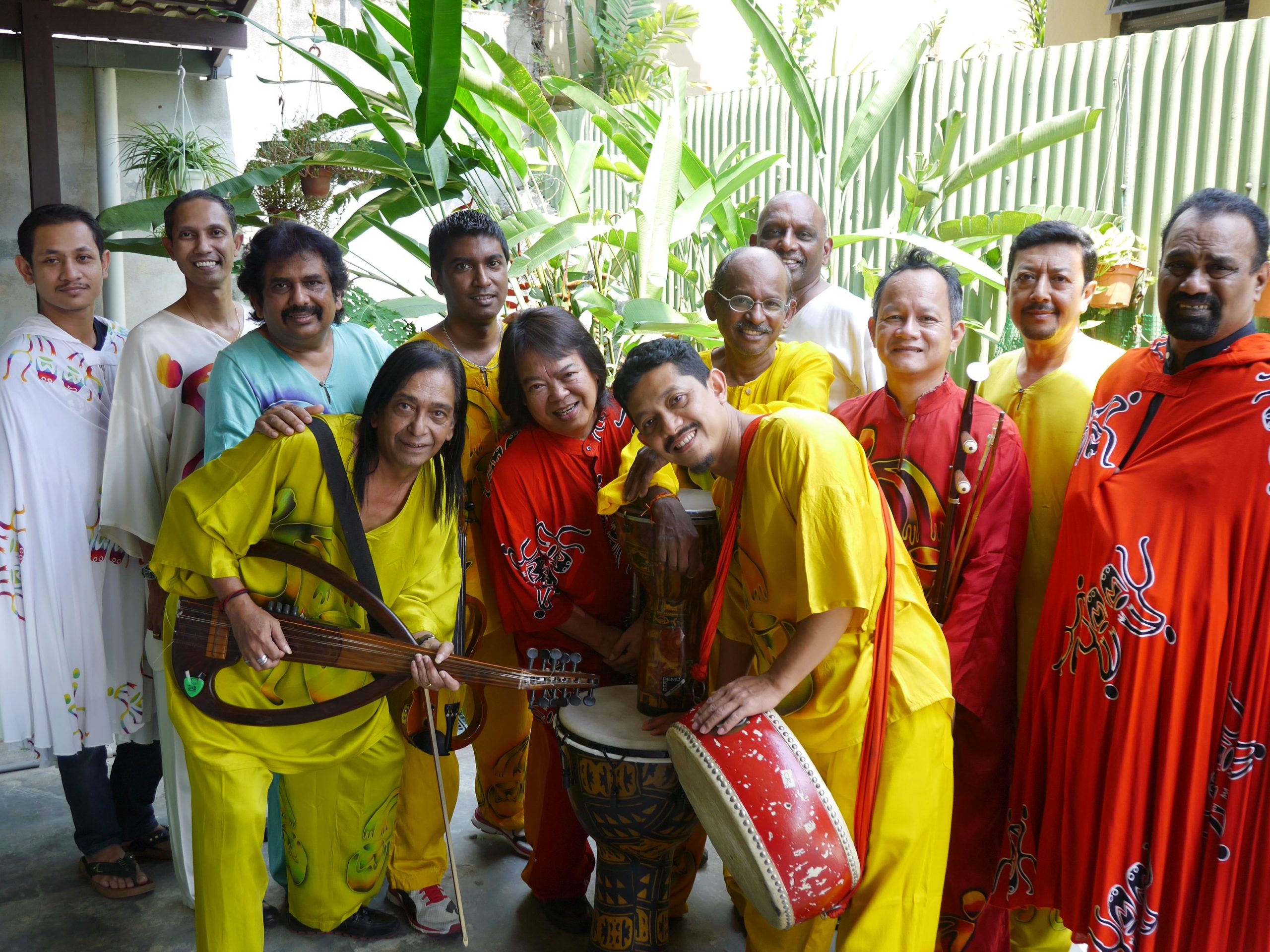 Despite the raging pandemic, Aseana Percussion Unit marches on.
By K. RAMAN
IT'S so tough to peel away from the scourge of the pandemic, what with the news over-run by dismal statistics of death and disease, but somewhere in there lie stories of people trying to make a difference in their own way – through music.
Musicians across the globe have been hammered by the pandemic, but local Aseana Percussion Unit, or APU, has taken the reflected energy and banged on its drums instead. Like everyone else, the troupe has had to trudge on.
The 12-piece world music band now boasts an album in the making, following its well-received debut in 2002, Colours Of Rhythm. The new effort is meant to contain nine songs in total, but so far, the band has only committed three to tape.
"Getting everyone into the recording space has been difficult, given the current situation, but this has definitely started well," shared bandleader Edwin Nathaniel recently.
The songs were recorded at Big A Productions, located right behind Nathaniel's own music school, Music Mart, in Petaling Jaya.
The album's title was inspired by the lead track from it, the curiously titled and newly minted SB 72. "Everyone who hears that title instantly thinks the SB stands for Special Branch, but it's actually my nickname, Suggestion Box," the 62-year-old laughed as he relayed how being an ideas man has invariably earned him the tag.
Apparently, it took 72 takes to get the perfect version of the song down, but like any recording session, getting the right take is all that matters.
Oh Malaysia, written by singer Mark David, was initially penned in English, but received a makeover into the national language to flaunt APU's Malaysian roots. The English version of this new tune could hopefully see the light of day sometime in the future, too.
The tune Asean Summit gets a reworking from Nathaniel's original version from 2015, which was written for the event hosted by Malaysia. "The original featured the late Farid Ali playing gambus. It had all the Asean flavours in it, so we decided to re-record it with a more up-to-date sound," he enthused.
These new recordings have come courtesy of funding provided by Cendana (Cultural Economy Development Agency), which was set up by the Malaysian government to build a vibrant, sustainable and ambitious cultural economy for the country. "It's so important for us musicians to have an organisation like Cendana looking out for our well-being. Otherwise, we'd be struggling far more than we are now. Recording budget is rarely small, what more when it involves a big troupe like ours," Nathaniel expressed gratefully. APU was granted RM12,800 and will put those funds to good use in getting its second album out as soon as possible.
And making up the large ensemble that is APU are Maya Hanum (vocals), Eddie Zachariah (keyboards, vocals), Jerry Ventura (vocals, saxophone, flute), Chien Kham Chieh (erhu, flute), Mohd Shafic Hussin (conga, djembe, didgeridoo, vocals), Ronnie Felix (guitar, gambus, vocals), Sevendrah (tabla), Nazaruddin Abdul Baki (bass, vocals), Mohd Kamarul Hussin (gendang, darbuka), Kirubakaran (thavil), Janaka Samuel (surdo) and Nathaniel (drums).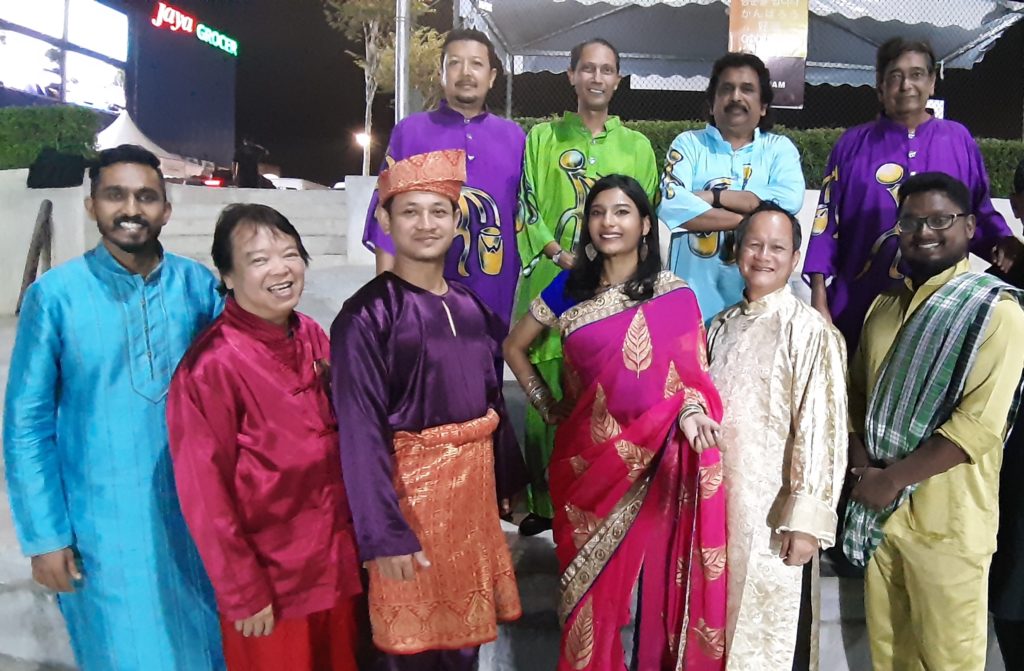 Despite the raging pandemic and shuddering halt to live shows, APU's band members have survived the economic downturn because many of them are music teachers. "Performing opportunities have gone down to zero since early last year, but we at least managed a live streaming Merdeka show last year through the Musicians For Musicians initiative," he elaborated.
It's on the live stage that APU truly comes alive, and much of that musicality has been shared with the underprivileged. The troupe has played charity shows for the likes of spastic and autistic children in Malaysia. "We did our Hand In Hand with The Stars project with PR4A for three years (2007, 2017 and 2018). We also played shows at The Actors' Studio in Bangsar for SCAS&FT (2002), and those shows are true highlights for us. As much as it's great playing to a packed audience at a festival, it's also very rewarding for us to encourage and bring happiness to the less fortunate," Nathaniel revealed of the band's efforts in working with support groups Parents' Resource For Autism (PR4A) and Spastic Children's Association Of Selangor & Federal Territory (SCAS&FT).
While highlights dot APU's illustrious career, a sequence of tragedies has also blighted it. Multi-instrumentalist Sanjiv Daevin's accidental and tragic death last year and Philip Robert's recent demise have knocked the wind out of the troupe's sails. "Sanjiv leaving us at such a young age was terrible. He was the one who wrote SB 72 with me and named the tune. He was truly an asset to us. His contributions were vital," he offered. Robert's passing was just as sudden, and Nathaniel will miss his comrade and founding member dearly.
Times may be turbulent, but APU isn't about to give up the ghost just yet, vowing to soldier on with its unique brand of contemporary world music. "There's not much we can plan for now, so we're just waiting for the situation to improve. Everything is at a standstill at the moment. I hope we can continue being musical ambassadors for Malaysia again," he said, relating the band's proud moments gracing the stages at the Rainforest Music Festival in Sarawak (2002 and 2007), Jarasum International Jazz Festival in South Korea (2005), Hong Kong International Jazz Festival (2011), Rhythm & Earth Festival in Thailand (2015) and the Beishan Music Festival in China (2016).
Whether it's the sounds of traditional or modern musical instruments, or the clangour of household items like pots, pans and even garbage can lids, expect to be inspired and invigorated by APU's primal rhythms at their shows.