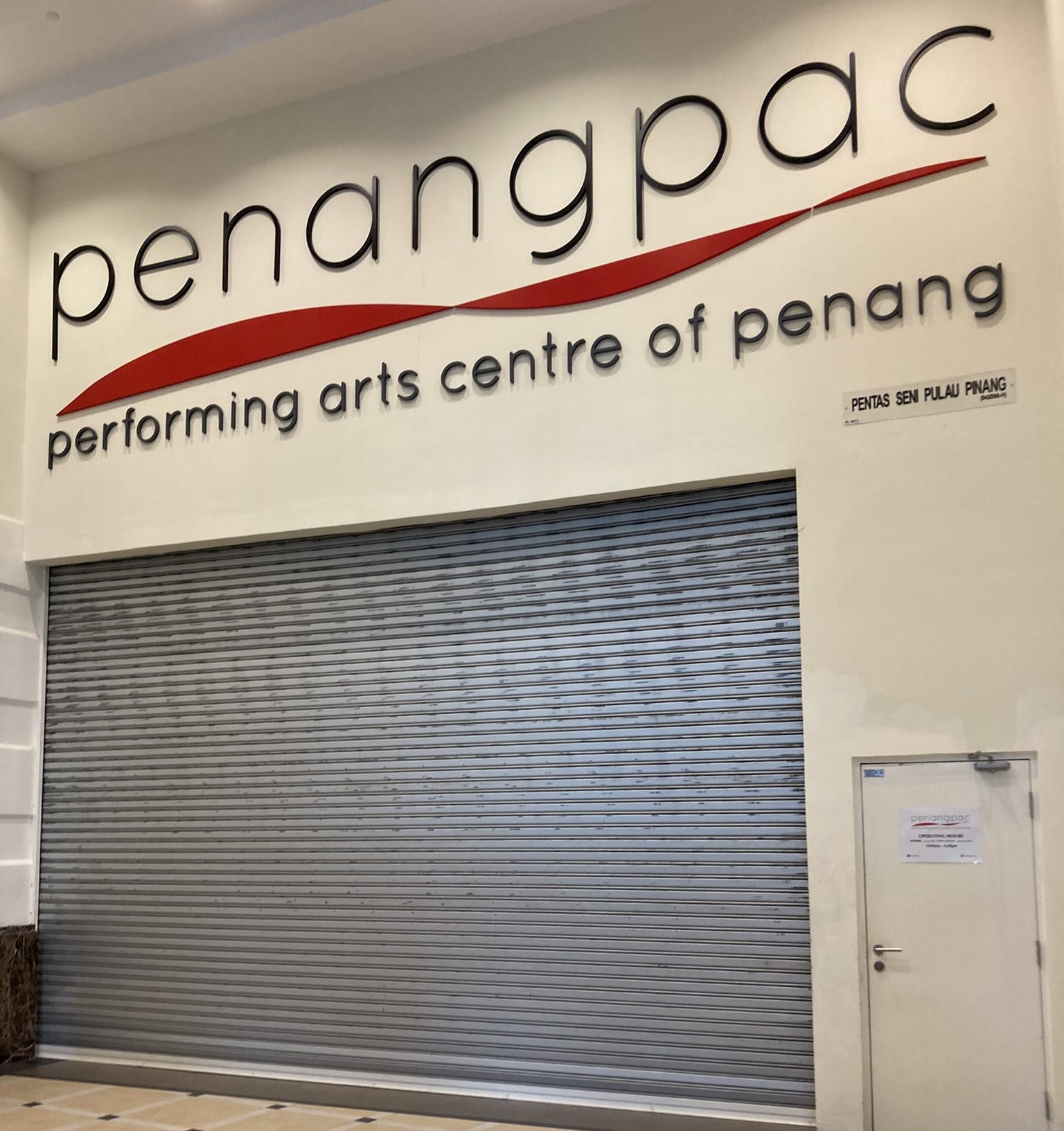 After a decade of hosting a myriad of events and activities, the Performing Arts Centre of Penang (penangpac) closed its doors in January 2022. Was penangpac just another victim of Covid-19? What does this mean for Penang's theatre scene?
By MIRIAM DEVAPRASANA for LENSA SENI 
Since 2011, the Performing Arts Centre of Penang (penangpac) had fostered shared spaces and built bridges between art practitioners, enthusiasts, and the public gathered for one thing – its love of the arts.
However, in the days leading up to its 10th anniversary last November, penangpac announced the premature end of the contract between The Actor's Studio (TAS) and E&O Berhad, which provided TAS with rent-free use of the venue.
To remain, penangpac would have had to raise more than RM1.5mil, excluding other expenditures – an unfeasible amount to reach annually, even in post-Covid environments. Despite receiving monetary aid and its fundraising campaigns, the NGO found no respite from the circumstances.
In January 2022, penangpac officially drew its final curtain, leaving only despondence as its standing ovation.
While some in the Penang arts community expressed shock and disappointment, others seemed indifferent. Some remain unaware of penangpac's closure.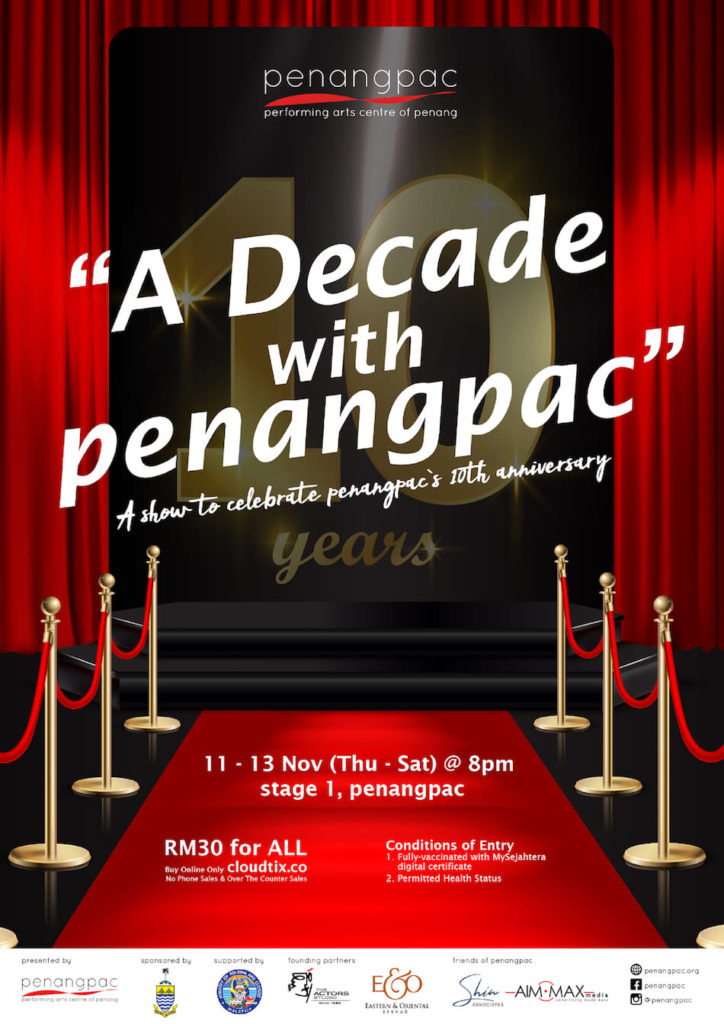 Understanding penangpac's value as a performing arts centre
For the last decade penangpac has offered state-of-the-art facilities which enabled a wide variety of events and shows to take place under one roof. As an organisation, it held workshops, internships, partnerships and productions to engage and nurture local talents.
It was interesting that penangpac chose Straits Quay as its "home" – a retail marina away from the city centre and located in a township which caters mostly to the upper-middle class and international community. Some argue that this was the reason for its high-ticket rates, which would of course seem exorbitant compared to the price of a cinema ticket.
However, not many realise that as a non-profit, penangpac's income relied on ticket sales, but more so on venue rentals in order to sustain.
Yet despite some contention concerning its location, accessibility and affordability, it cannot be denied that penangpac served many arts communities, one of which was the local theatre scene which surely benefitted.
While E&O Berhad could revive the theatre under new management, the closure of penangpac creates a negative impression of the local arts community and suggests its inability to sustain one of the few spaces dedicated to the advancement of the performing arts. It also makes us wonder what kind of future the local theatre scene has in Penang's arts ecosystem.
A brief history
Penang's history with theatre begins with forms of traditional theatre like Boria or Potehi (glove puppet theatre). Although for decades these were declining art forms, their revitalisation is now being strongly advocated, with new approaches to make them relevant to younger generations.
Modern, or contemporary, theatre started making waves in the 1960s, with the emergence of experimental works between the 80s and 90s. Some pioneering groups include the Penang Players Music and Drama Society (formed in 1950; revived in 1992), ZXC Theatre Troupe (a Chinese contemporary theatre, founded in 1991), and Bakawalee Penang (Malay contemporary theatre, founded in 2004).
In support of the local theatre scene, the State government established the annual "Pertandingan Teater Peringkat Negeri Pulau Pinang" which enabled troupes to showcase both traditional and contemporary works. Over the years, several platforms have developed including George Town Festival (GTF), Wayang DiSinkeh, the Initiate, Develop, Perform programme by Reka Art Space, and Short + Sweet by penangpac.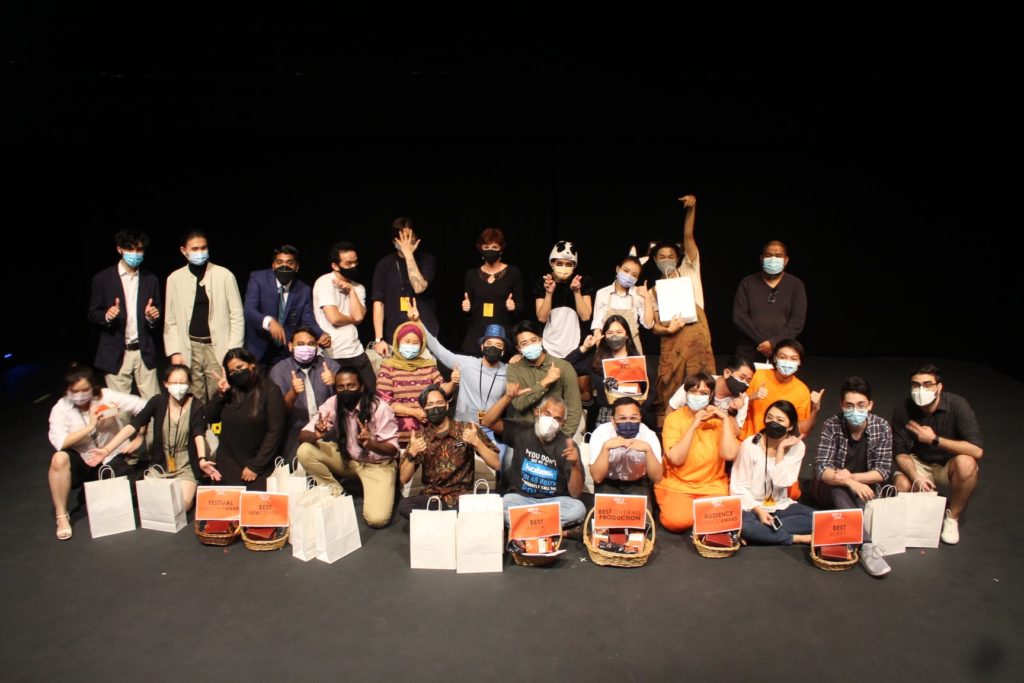 While GTF is now the only consistent platform for theatre in Penang, that does not mean the local theatre scene has ceased to exist. The pandemic encouraged practitioners to embrace online or hybrid-style digital theatre, making theatre more accessible to audiences worldwide. But nothing beats live theatre.
The issue at hand is not about the lack of people or talent.
What Penang sorely needs is a home for theatre – a space dedicated to the development of the local theatre scene where diversity in theatre forms and practitioners are its pillars.
A home for theatre
One might ask, why the necessity for one particular place dedicated to theatre?
Several venues in Penang can currently be utilised for theatre. Big-scale productions can be staged at Dewan Sri Pinang if one does not mind its formal setting and limited facilities. Dewan Budaya at Universiti Sains Malaysia (USM) is another option, although its location (30 minutes from central George Town) may be a disadvantage. Bangunan UAB and Hin Bus Depot also provide alternative spaces, more suited towards small-scale and experimental works.
It's important to remember that these options are primarily multipurpose venues for all kinds of live performances and events. They do not feature the kind of specialised infrastructure that theatre requires.
In response, prominent members of the Penang performing arts community have expressed the need for a dedicated theatre space.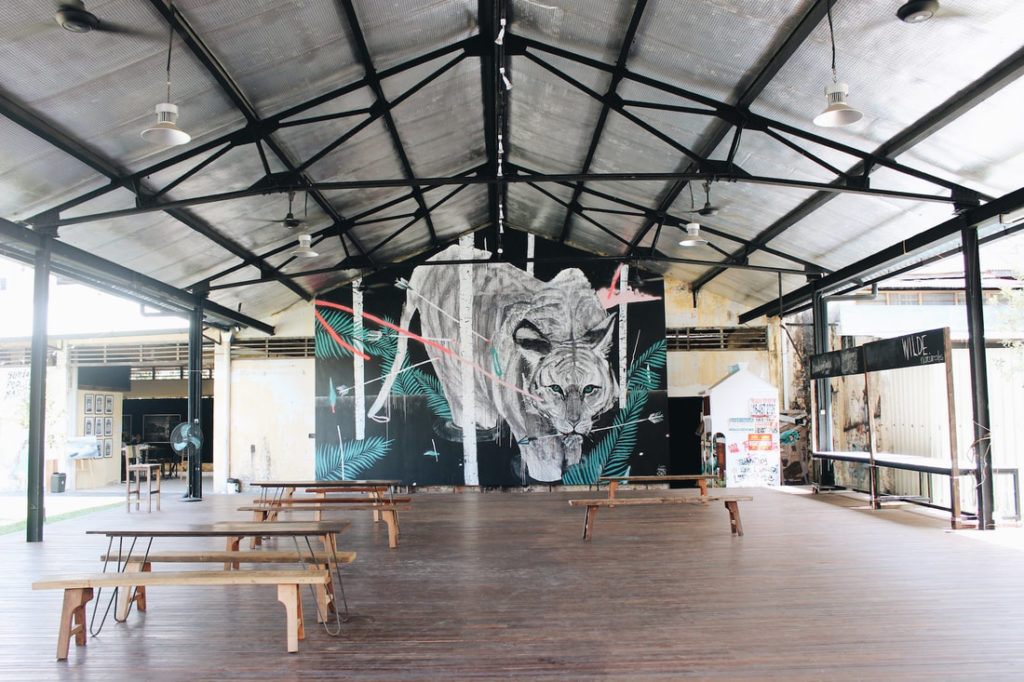 Joelle Saint-Arnoult, Chairperson of Penang Players, opines, "Penang needs a venue that offers two spaces i.e. a black box and a large concert hall, along with studios for workshops and rehearsals – a convivial place where budding talents, experienced performers, and professionals can give each other support".
Black box, or studio, theatres are a cheaper initial investment and provide all the necessary equipment, with the advantage of flexibility in layout and setup. Spaces like these can also be used for educational workshops, and classes in the daytime.
Dr Mumtaz Begum (Actor, Dancer, and Dean of the School of Arts, USM) agrees, but also emphasises the use of outdoor spaces.
"We do not need big venues per se; black boxes and outdoor spaces will do. Penangites prefer site-specific performances too, especially outdoors where family and friends can gather for picnics (before or after) and enjoy performances."
But what good is a venue if it's too far out of reach? This is where location comes into play.
Darynn Wee, graduate from the School of Arts, USM, and former production and office manager at Five Arts Centre, reflects on penangpac's location and how its distance and surrounding higher-end communities perhaps deterred more people from engaging with theatre.
She adds, "We need a venue located in town, somewhere close to the community. This enables theatre to reach a wider audience and increases its access to all."
As a solution, Wee asks stakeholders to consider what is already present in abundance.
"We have many abandoned heritage buildings [in the city]. Why not use them? Make plans to revamp and renovate to dynamically adapt them to what the theatre community needs today."
"In my personal opinion, the best the state government could do is to provide a building with no strings attached and to make it something permanent or, at least, long term."
Wee's approach is not only sustainable but feasible, with many heritage buildings in George Town having been readapted for different purposes.
While the closure of penangpac could be seen as a mark of regression, it represents an opportunity for stakeholders to take a good look at what Penang's theatre scene needs, and to put in place appropriate measures for its sustainable development.
I believe this begins with giving theatre a home to call its own. These suggestions of spaces for theatre are options that stakeholders should start lobbying for, especially if they want the local theatre scene to be taken seriously. The State government should also consider the heritage and cultural offerings of theatre, for the community, but more so for Penang's creative economy which they are eager to develop.
After all, how can Penang develop into an art hub if it doesn't start creating more dedicated spaces today?
Miriam Devaprasana is a participant in the CENDANA ARTS WRITING MASTERCLASS & MENTORSHIP PROGRAMME 2021
The views and opinions expressed in this article are strictly the author's own and do not reflect those of CENDANA. CENDANA reserves the right to be excluded from any liabilities, losses, damages, defaults, and/or intellectual property infringements caused by the views and opinions expressed by the author in this article at all times, during or after publication, whether on this website or any other platforms hosted by CENDANA or if said opinions/views are republished on third party platforms.