Dive into a selection of musical streams from a songstress' home to the world's largest opera house.
By YVONNE SOO YI YUN
A few days ago, I read a quotation on the note attached to my recent musical purchase, WVC Trio's brand-new album Purnama: "Music is the moonlight in the gloomy night of life". Despite the melancholic undertone of Jean Paul Friedrich Richter's quotation, I found peace and reassurance in those words.
Music can be a loyal companion, even more so during this new normal. Together, we can "travel" beyond the 10km-radius of our homes and engage with different stories and sensations, while touring across various sound-worlds.
To ease weary minds and light up gloomy night skies, here is a mixture of ongoing live-streams and recordings that will take you on a musical trip.
Taming the Restless Rouge by Janet Lee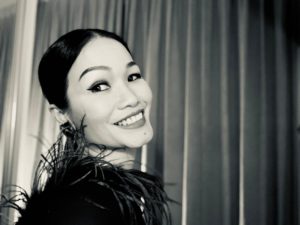 Widely known as Malaysia's Queen of Shanghai Jazz, Janet Lee channels a serenity that grounds the listener, even in the face of emotional unrest and a sense of helplessness during these challenging times. In her 60-minute live-from-home video, Lee serenades us with originals and covers from her two solo albums, Restless Heart (2015) and Cinnabar Rouge (2017). I was drawn to her candour in expressing hope, humour, joy and love through her lyrical singing and interactions with the audience. What Is This Feeling?, Restless Heart, and Tiru Macam Saya are some of my favourites.
Watch her live-stream video recording here for the perfect evening chillout.
Scottish Chamber Orchestra Postcards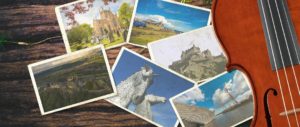 The Scottish Chamber Orchestra shares weekly "musical postcards" featuring the orchestra's musicians performing in the Highlands and islands of Scotland. Each postcard concert presents a short, delightful musical piece, from William McGibbon's elegant The Edinburgh Minuet for solo violin to an arrangement of beautiful Irish folk song, My Logan Love, for cello and viola.
Postcard concerts are streamed at 8pm (Malaysian time) every Friday until the end of July. Receive and watch your musical postcards here.
RondoFest 2021 Virtual Finale Concert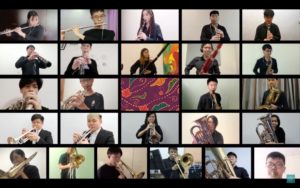 Local and international musicians in RondoFest 2021, a virtual music festival organised by The Rondo Production, share a wide range of classical music in an interactive concert. Presented by the festival artist faculty and participants, the concert features wind ensemble music by Sir Malcolm Arnold Pierre Max Dubois, followed by two compositions by Malaysian composers: Contained by Lawrence Chiu and Songs of Childhood by Yeo Chow Shern. You may recognise some of Malaysia's popular folk tunes in the final piece!
Watch and enjoy an evening of vibrant wind music here.
Malaysian Composers Series Vol. 1 by the Malaysian Philharmonic Orchestra
Experience contemporary classical music through the lens of Malaysian composers Vivian Chua, Johan Othman, Ng Chong Lim, Adeline Wong, and Ahmad Muriz Che Rose with the Malaysian Philharmonic Orchestra. The Malaysian Composers Series Vol. 1 features orchestral works by local composers, previously performed by the MPO. As part of a collaborative effort with the Malaysian Composers Collective (MCC), this digital collection showcases Malaysian composers' artistry on a prestigious stage.
Stay curious and inspired and listen to the series here.

Nightly Opera Stream with The Metropolitan Opera
Feeling bold enough for a two-hour musical adventure with opera? Join The Metropolitan Opera in its 70th week of sharing free nightly opera streams during the Covid-19 pandemic. Each day features a different encore presentation from the company's Live in HD series for free streaming, with each performance available for a period of 23 hours, from 7.30pm EDT (7.30am Malaysian time) until 6.30pm (6.30am, Malaysia) the next day, starring all of opera's greatest singers. English subtitles are available.
Nightly Opera Streams features a lineup of Italian master Giacomo Puccini's most popular operas, including Madama Butterfly (Friday, July 16), La Fanciulla del West (Saturday, July 17), La Rondine (Sunday, July 18) and Turandot (Monday, July 19).
Watch them here, and experience passion and powerful lyricism in opera with Puccini Week.