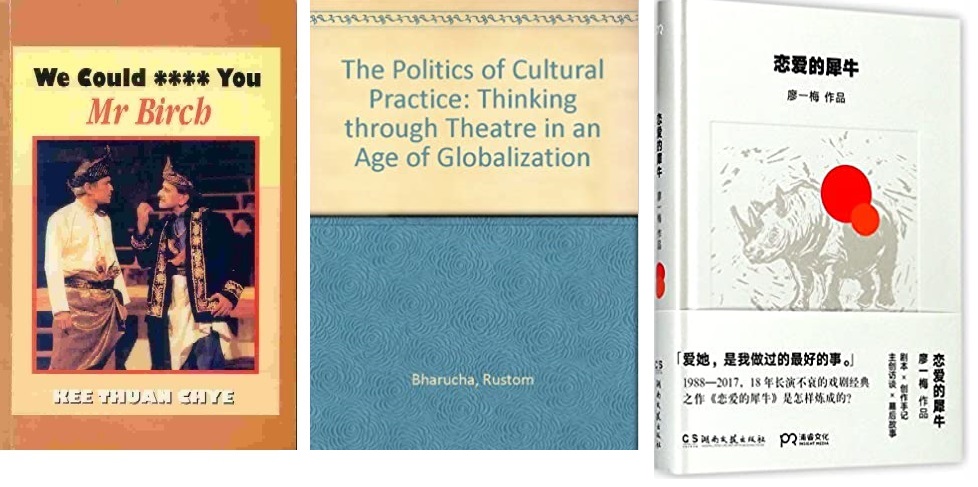 We asked a group of theatre folk what reading material they would recommend to someone interested in or just starting out in theatre.
By LENNARD GUI
Despite the pandemic that has shut theatre spaces across the world, arts practitioners have not given up hope that the end is in sight. In fact, New York's Broadway recently announced it was reopening in September with shows that were forced to close over a year ago. In Malaysia, the MCO has caused dozens of performances to be cancelled, affecting hundreds of stage workers and depriving thousands of theatre lovers of the joy of the performing arts. But thankfully, our scene is as resilient as it has always been.
So, we asked several actors, directors, producers, dancers and writers a series of questions about what theatre means to them, and what advice or suggestions they could offer to anyone still in love with the craft, and here are their answers. Our first question: What play (or book that's been adapted for stage) would you recommend to someone interested in or just starting out in theatre, and why?

For me, I fell in love with acting in high school in the 1980s. When I moved from Melaka to KL, I auditioned for an Instant Theatre Cafe production of A Midsummer's Night Dream because I had studied Shakespeare in school and thought this was the way to make my mark. Unfortunately, I had never read that play and my audition with Jit Murad and Jo Kukathas was a disaster. But months later, I tried again with a local production called Caught In The Middle and began my love affair (as well as a career) with Malaysian plays and Asian scripts. 

After that, for nearly 20 years of working with groups like Dramalab, Five Arts Centre and The Actors Studio, being directed by the likes of Krishen Jit and Joe Hasham, acting with stars like Zahim Albakri and Ida Nerina, as well as being the recipient of several BOH Cameronian Arts Awards, I never did or produced anything but Malaysian and Asian theatre because it was what I was most familiar with. So that's this writer's advice to you: do a play that you know you can deliver from your heart because that makes all the difference. 

But enough about me. Here's what Malaysia's stage sages have to offer from their own experiences.   

Sue Lankester (actor, director, producer): Nothing famous that's been done over and over again. Find something fresh and new. Don't be afraid to put your own stamp or feelings into it. Nothing like being bulldozed for performing and producing something that's well known and supposedly doing it wrong. It's never wrong. It's only different.

Marion D'Cruz (dancer, choreographer, director, producer): I would recommend any good Malaysian play – plays by Leow Puay Tin, Jit Murad, Huzir Sulaiman and others. Plays like Ang Tau Mui by Leow, Atomic Jaya by Huzir, Gold Rain And Hailstones by Jit. There are other good Malaysian plays too. I think the Malaysian context and Malaysian stories are good to be staged. A newcomer may find it easier to relate to the Malaysian setting. And I feel that telling Malaysian stories are very important for us to reflect, to think, to be entertained, to be educated, to consider alternative views, to change…

Ghafir Akbar (actor, director): If someone was interested in contemporary theatre and learning about modern drama, I would say read Oedipus Rex by Sophocles. It is the model for dramatic structure in the theatre. It provides an insight to the beginning of modern theatre as we know it today. I would also recommend Nam Ron's Matderihkolaperlih to hear a Malaysian voice that we rarely get to hear or see packed in a well-written monologue.


Mark Teh (actor, playwright, arts activist): It's not a script that I would recommend, but two books and a website about the practice of theatre and performance instead. Director and cultural critic Rustom Bharucha's The Politics Of Cultural Practice: Thinking Through Theatre In An Age Of Globalisation (2001) – the title is self-explanatory. The playful provocations in Tim Etchells' Certain Fragments: Contemporary Performance And Forced Entertainment (1999) remains relevant for thinking about what else live theatre can do besides producing the cliches and conventions of colonial drama and catharsis. And do check out www.myartseducationarchive.com to go through detailed case studies of Janet Pillai (and collaborators)'s intercultural, interdisciplinary and political work as a theatre director, which has been overlooked in Malaysian theatre histories because she worked her entire career with children and teenagers.

Dr Ann Lee (playwright, researcher): Any scripted play would do, so long as it is then compared to an actual performance of that same script. For example, Kee Thuan Chye's We Could **** You, Mr Birch. This takes a documented, important historical event in Malaysian history but re-examines it in a way that is simply structured, theatrical, and funny (without being preachy or didactic). There's a whole lot of judgment in that last line but I think learning about structure is important because structure is fundamental to how any work for the stage works. Structures can be very different, and you discover there is actually a lot of "allegiance to conventions" that makes up theatre. What is a good play? Well, it depends. It isn't cast in stone, unchanged from the Greeks. There can be consensus but this changes over time and can be a private, personal choice. The conventions are important to know, to then mess with them and create anew. But a play isn't a piece of fiction like a short story, novel or poem. It is also vital to see an actual production of a play script. Then you see how actors carry and bear the words, are shapeshifters, and what lighting and sound can do, and most of all, perhaps, you have a sense of audience reaction.
Jo Kukathas (actor, director, playwright, producer): This is a pretty impossible question. So I will suggest, a bit randomly, only because this is a play on my mind right now… If they are a young person in Malaysia, maybe Rhinoceros In Love by Liao Yimei. Because it's ostensibly about the intense feelings of young love but really it's about society, conformity, individuality, loneliness, the way society values your worth and the human need for self-expression. Also because 1) it is the most well-known and most performed contemporary play in China; 2) it has universal themes; 3) it was written by a woman; and 4) it is fairly experimental in its form, using song, poetry, satire, tragedy, metaphor, clowning, symbolism and dreams and defying simple categorisation. In this way, it could open young people up to the imaginative possibilities of theatre. Plus, it's provocative so it should create lively debate.

Lennard Gui is a former theatre actor who has performed in Malaysia and Berlin, and was the award-winning producer of Dramalab's Spilt Gravy On Rice (written by Jit Murad, directed by Zahim Albakri).