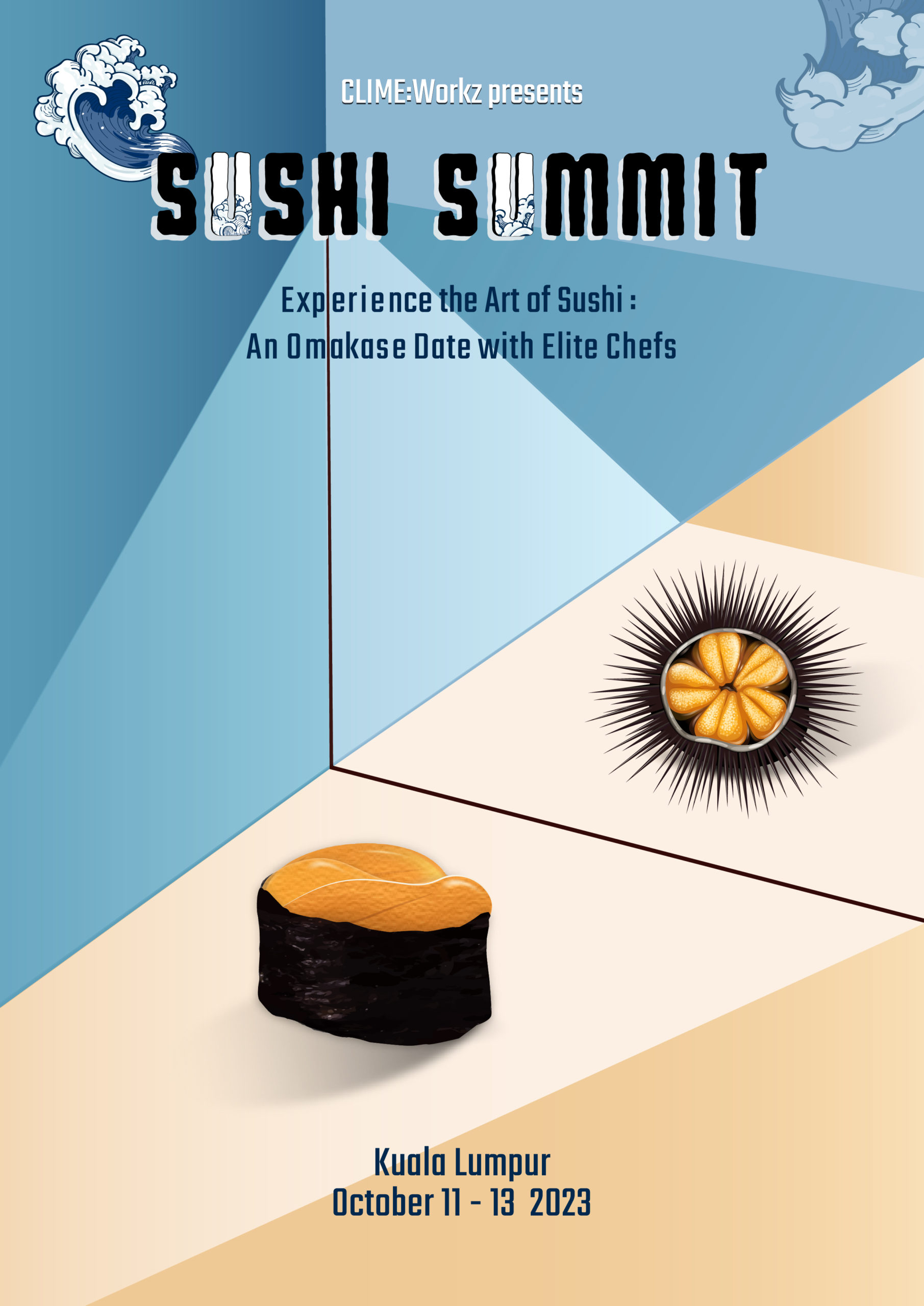 Titled Experience the Art of Sushi: An Omakase Date with Elite Chefs, this extraordinary gastronomy event brought by CLIME:Workz is scheduled from October 11 to 13, 2023 at A Place Where by APW.
Prepare to embark on a sensory adventure, guided by the culinary mastery of six distinguished chefs who will grace the prestigious Sushi Summit KL.
Ken G Ng, the founder of TheOccasions Eventeur and CLIME:Workz, who hails from Malaysia but is based in Thailand, expressed his enthusiasm for bringing this exceptional event to his home country.
"After nearly four years of residing in Bangkok, I have gained invaluable insights into the thriving businesses in this region, particularly in retail, branding, culinary, and lifestyle ventures. This experience has ignited countless ideas to enhance lifestyle experiences back in my beloved Malaysia," enthused Ng.
"This time, we are taking it a step further by inviting an exceptional lineup of six master chefs, including Michelin-starred culinary virtuosos, to showcase their extraordinary talents," Ng added.
According to Ng, Sushi Summit transcends the realm of a mere meal; it represents a grand celebration of culinary artistry, offering a platform to explore fresh possibilities and ignite new ideas. "Together, we aim to elevate the standard for event experiences in Asia, leaving an indelible mark on the culinary world."
Legendary sushi masters from Osaka, Tokyo, Bangkok and Kuala Lumpur will unite to present the zenith of Japanese culinary excellence over three extraordinary days. The distinguished culinary icons featured at Sushi Summit KL include: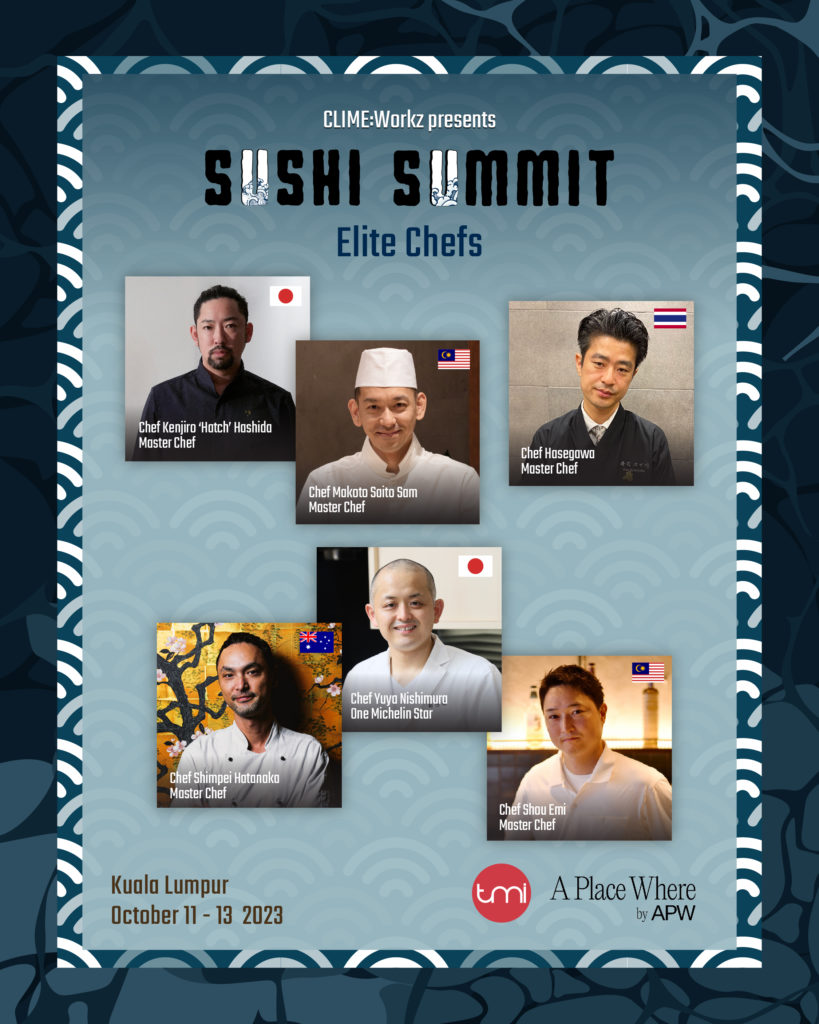 Chef Yuya Nishimura, One Michelin Star
Chef Makoto Saito Sam, Master Chef
Chef Kenjiro Hatch Hashida, Master Chef
Chef Hasegawa, Master Chef
Chef Shimpei Hatanaka, Master Chef
Chef Shou Emi, Master Chef
This culinary gathering promises an unforgettable exploration of the chefs' legacies as they elevate the sushi experience to unprecedented heights, inviting guests to savor the exquisite results of their unwavering dedication and mastery.
"As a proud Malaysian, I am genuinely thrilled to redefine our country's culinary landscape and showcase it to the world. Our rich and diverse food heritage deserves global recognition, and Sushi Summit provides the perfect stage for us to achieve just that," said Ng.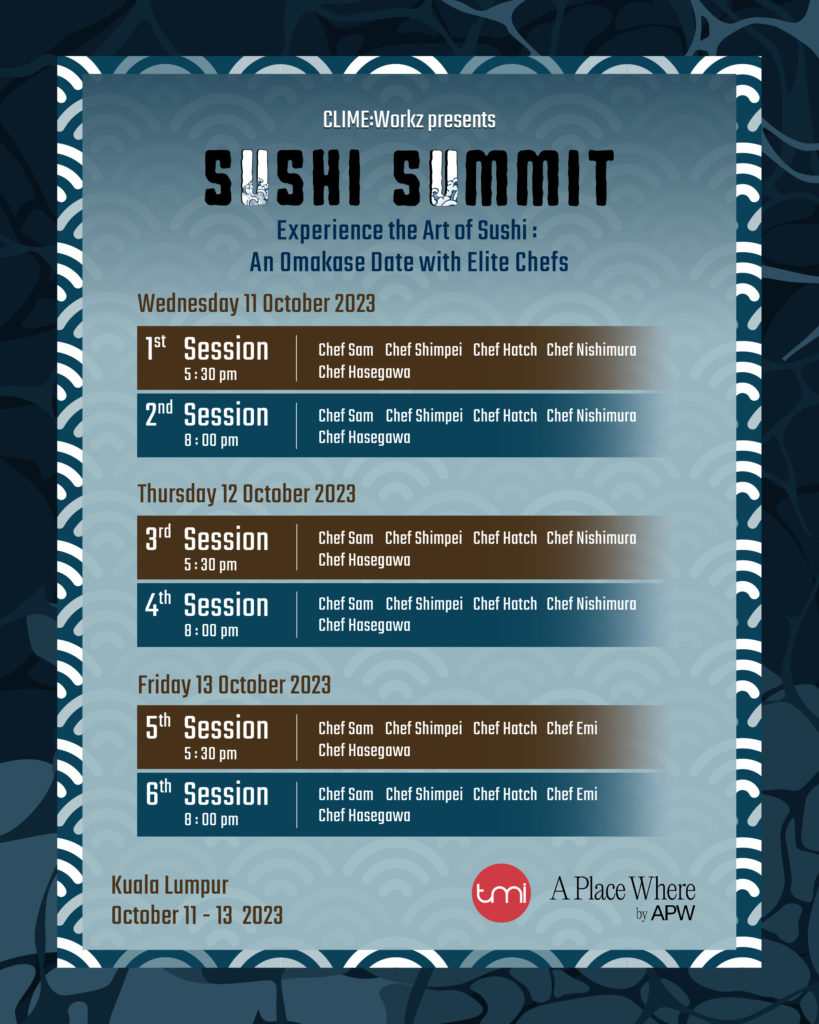 After Kuala Lumpur, we will bring this extraordinary culinary experience to Dubai in November, followed by Hong Kong and Macau, and Cambodia (in 2024)," concluded Ng.
Sushi Summit's Experience the Art of Sushi: An Omakase Date with Elite Chefs is from Oct 11 to 13 at A Place Where by APW, Kuala Lumpur. Click here for more information.
Read more stories like this on BASKL via the links below: