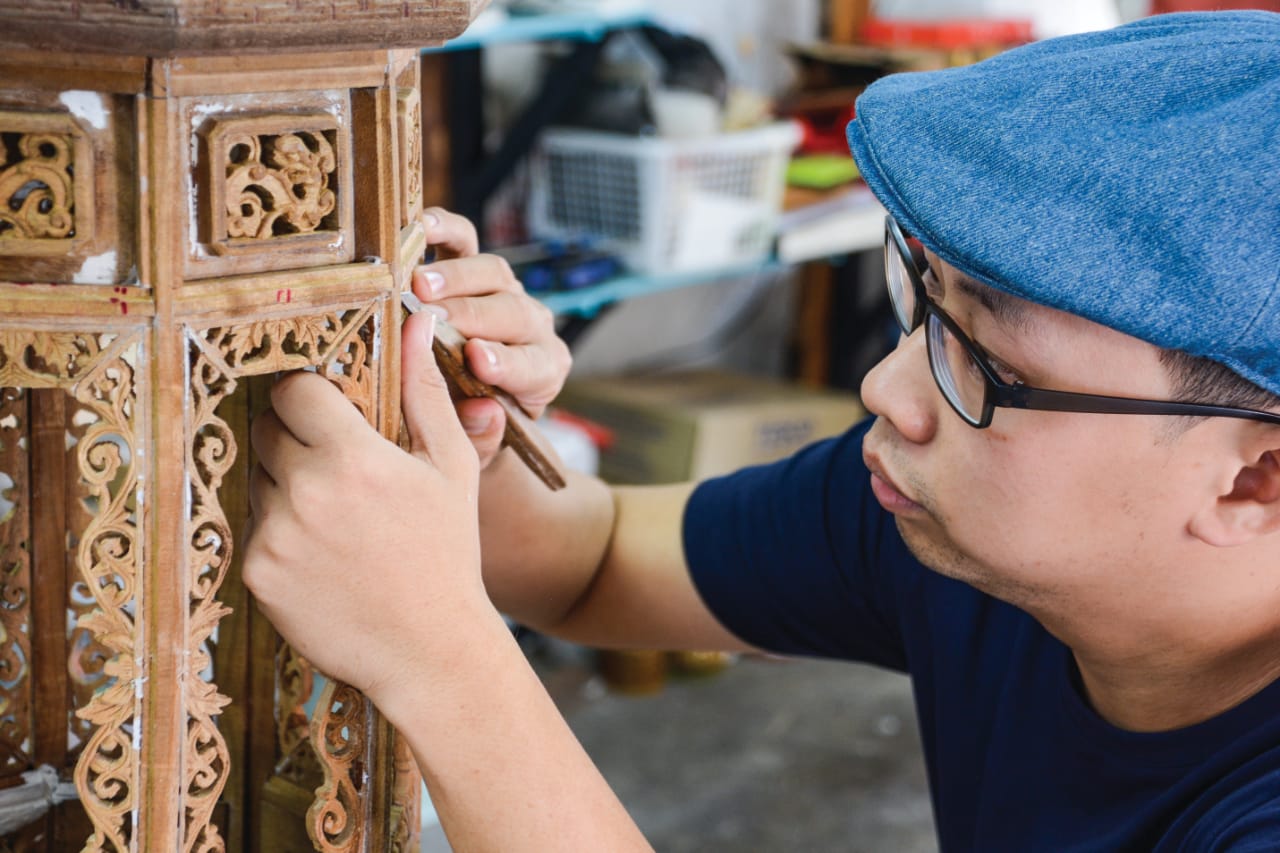 Keng Hwa Carving Studio founder Tong Wing Cheong waxes lyrical about the intricacies of making a bitchienka and the significance of safeguarding cultural heritage through traditional wood carving.
By SETO KIT YAN
Nestled within the captivating heritage enclave of George Town is a quiet studio where a cheery young craftsman sits at work on his latest wood carving project.
He is Tong Wing Cheong (董詠祥), founder of Keng Hwa Carving Studio (景華工坊), and an iconic heritage figure in Penang, where his exquisite craftsmanship adorns countless Peranakan premises around the UNESCO heritage site.
These days, Tong is predominantly occupied by his work on a particularly ornate form of ceremonial altarpiece that the Hokkien-speaking ethnic Chinese people in Penang refer to as "bitchienka" (蜜餞腳). It is essentially a candy stand, usually used to display a colourful array of dried or candied fruit skewered on bamboo sticks or lidi.
Also known as mijianjia (蜜餞架) in Mandarin, the bitchienka is usually the centrepiece of the altar during the special occasion of Pai Ti Kong (拜天公 in Hokkien), which is a grand celebration of the Jade Emperor God's Birthday observed on the ninth day of Chinese New Year.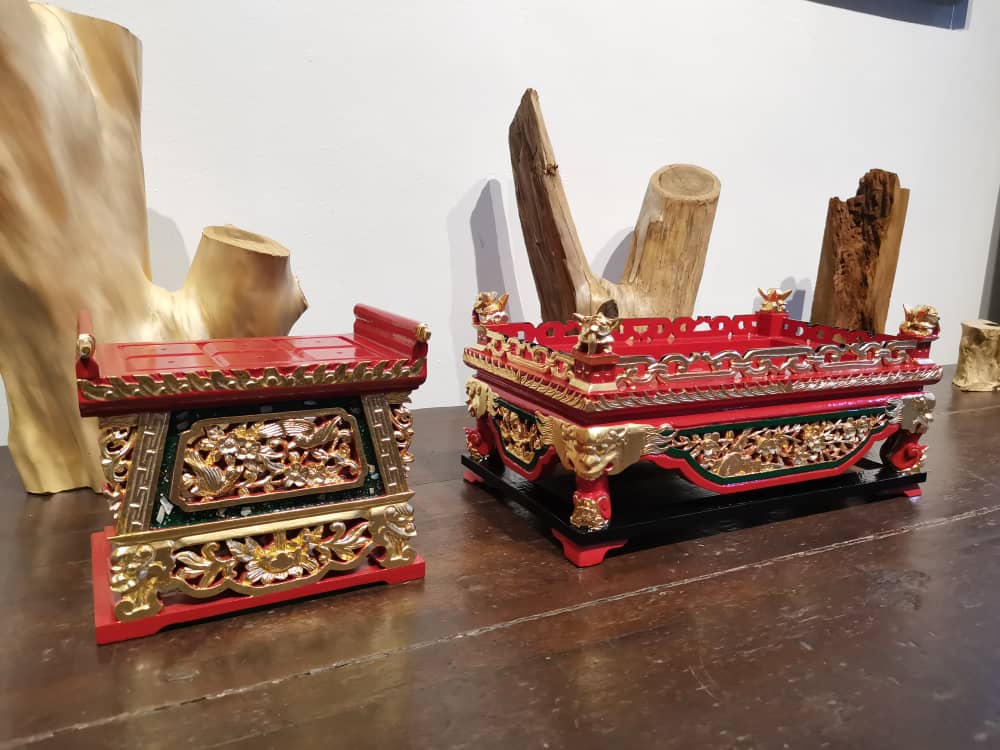 The bitchienka is customarily displayed together with another ceremonial offering box (薦盒 chanab in Hokkien), which is a pedestal for a bright pink pagoda-shaped candy (糖塔 tangta).
Intricately-carved and elegantly-gilded, Tong's exquisite bitchienka resembles a miniature altar with watchful guardian lions perched on all four corners. The front-facing panel features magpies (喜鹊 xique) perched on plum blossoms (梅花 meihua), heralding joyful news and good things to come.
Tong says that some of the most often requested designs are chiefly auspicious motifs such as phoenix (鳳凰 fenghuang), unicorn (麒麟 qilin), bat (蝙蝠 bianfu), peony (牡丹 mudan), and various other flowers and fruits with auspicious significance.
When it comes to popular classical Chinese motifs, he says it is important to understand the thematic symbolism behind the design schemes employed to express one's heartfelt wishes. In Chinese, the word for bat (蝠 fu in Mandarin) is homophonous with the term for blessings or good fortune (福 fu). Auspicious mythical creatures such as the phoenix (鳳凰) and unicorn (麒麟) are powerful symbols of protection, prosperity and all things good. Meanwhile, flowers and fruits signify success and abundance, marked by flourishing business and fruitful ventures.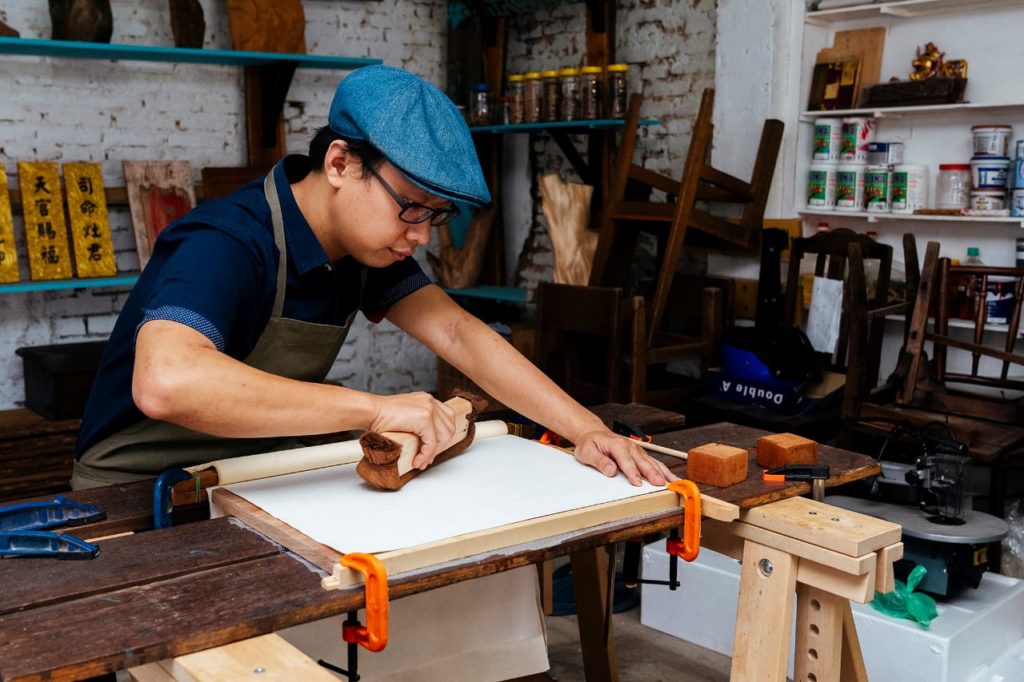 In keeping with his passion for preserving intangible cultural heritage of folk craft, Tong takes time to document his wood carving projects, snapping photographs and recording videos as he works on various projects.
He recently produced a special heritage video demonstrating the process of making one such bitchienka for a project by George Town World Heritage Incorporated themed George Town In The New Normal.
After Tong uploaded his bitchienka video on his social media pages, orders started pouring in from customers who were impressed by his exquisite craftsmanship.
Despite his enthusiasm for traditional woodcraft, Tong disclosed that it never crossed his mind that he would one day be an artisan, much less a master craftsman specializing in wood carving.
When Tong went to Taiwan to further his studies, he had taken up philosophy and eventually graduated with an MA from National University of Tainan (2012) majoring in cultural anthropology and specialising in folklore, folk culture and folk belief.
Then in 2013 he returned to Malaysia and worked on Intangible Cultural Heritage, a project by Penang Heritage Trust.
That was when he met his sifu, and found his calling in life, joining the ranks of myriad custodians of heritage in George Town, which has just marked its 13th year as a UNESCO World Heritage site. And, that is how the young man who hails from Klang came to be based in Penang.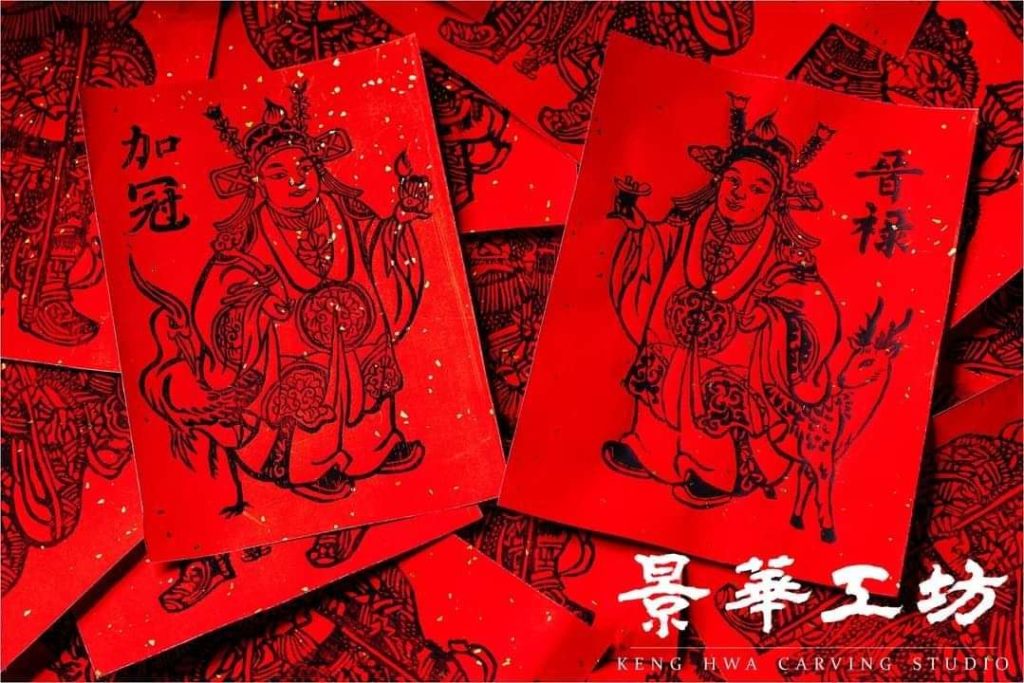 Meeting the master
"It was all because I met a very good sifu. He was extremely generous in sharing his knowledge and held nothing back, unlike many other heritage craftsmen," said Tong about his sifu, the master wood carver Yeap Siew Kay (葉壽溪).
A recipient of Penang Heritage Trust's Living Heritage Award, Yeap is a legendary figure in Penang who is well-known for having almost single-handedly completing the decorative shrine in the Yap Temple (葉氏祠堂), officially known as Choo Chay Keong Temple (慈濟宮), located at the corner of Armenian Street and Cannon Street.
"If the sifu I met then had specialised in something else – such as pottery – then I could very well be working with clay now, instead of wood; and that would have been fine, too. I would still essentially be working on preserving cultural heritage, but just employing a different medium of expression."
Tong has very vivid memories of his early carving projects and even recorded images of the process for documentation purposes. "The very first wood carving project that my sifu assigned to me was to carve the traditional Chinese characters for 福祿壽 (Fu Lu Shou in Mandarin) on a palm-sized block of wood measuring 15cmx15cm," shared Tong, as he reminisced on his maiden carving project.
Fu Lu Shou (also known as Fuk Luk Sau in Cantonese) is a collective term for the three universal aspirations of happiness, wealth and health; and is typically depicted in images as a trinity of deities that are iconic symbols of blessings, prosperity and longevity.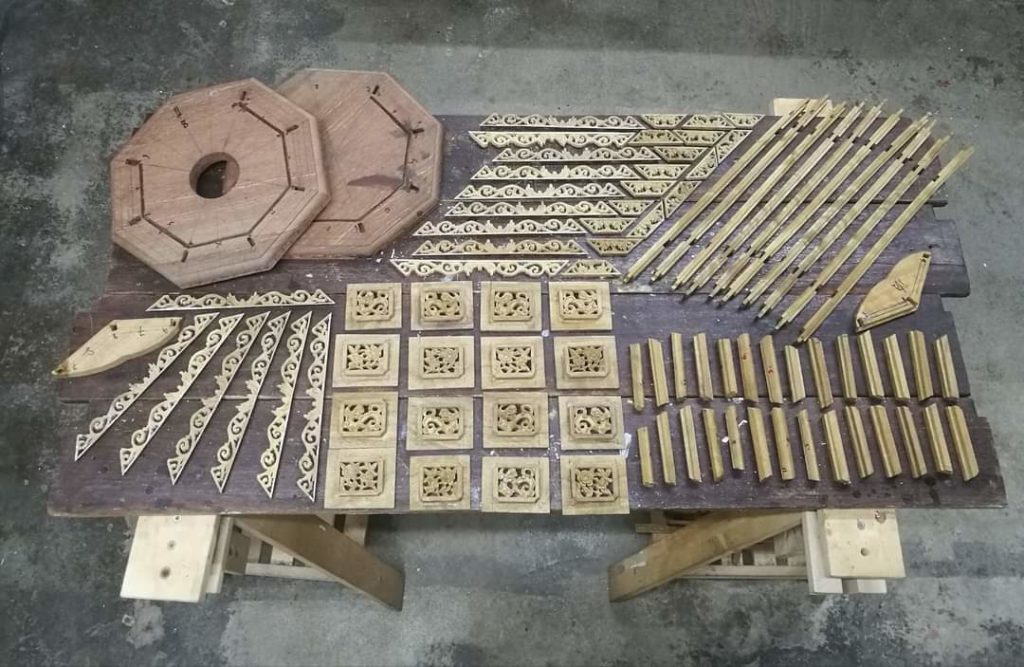 As Tong grew more proficient, his sifu gave him more challenging projects which required further dexterity and more sophisticated skills in order to achieve finer detail work. "So, we began with the initial 15cmx15cm, and went on to 3cmx3cm, then to 1cmx1cm," Tong reminisced, adding that Chinese character carving is an essential skill for work on signboards and ancestral tablets.
Tong's three-year apprenticeship with Yeap culminated in 2016 with a selection of his carvings being displayed in an exhibition titled '入木三分 Into The Woods' alongside those of his master and other apprentices.
Following that, it took him another two years of treating wood carving as a leisure pursuit before it became viable as a full-time venture.
In 2018, he finally left his day job and established Keng Hwa Carving Studio (景華工坊) in George Town, a UNESCO Heritage Site in Penang.
And, such was his passion in preserving traditional cultural practices that even the naming of his studio was in keeping with grassroots cultural conventions. Tong recounted how he adopted the locals' favoured traditional Chinese ritual protocol known as poe divination or poah poe (跋桮 in Hokkien) where those who seek divine guidance (問神) will employ the casting of moonblocks or poe (桮 in Hokkien) to help in the decision-making process.
Happily, the name which received divine approval was Keng Hwa Carving Studio (景華工坊), which suitably manifested his own admiration for the stately charm of Chinese cultural heritage.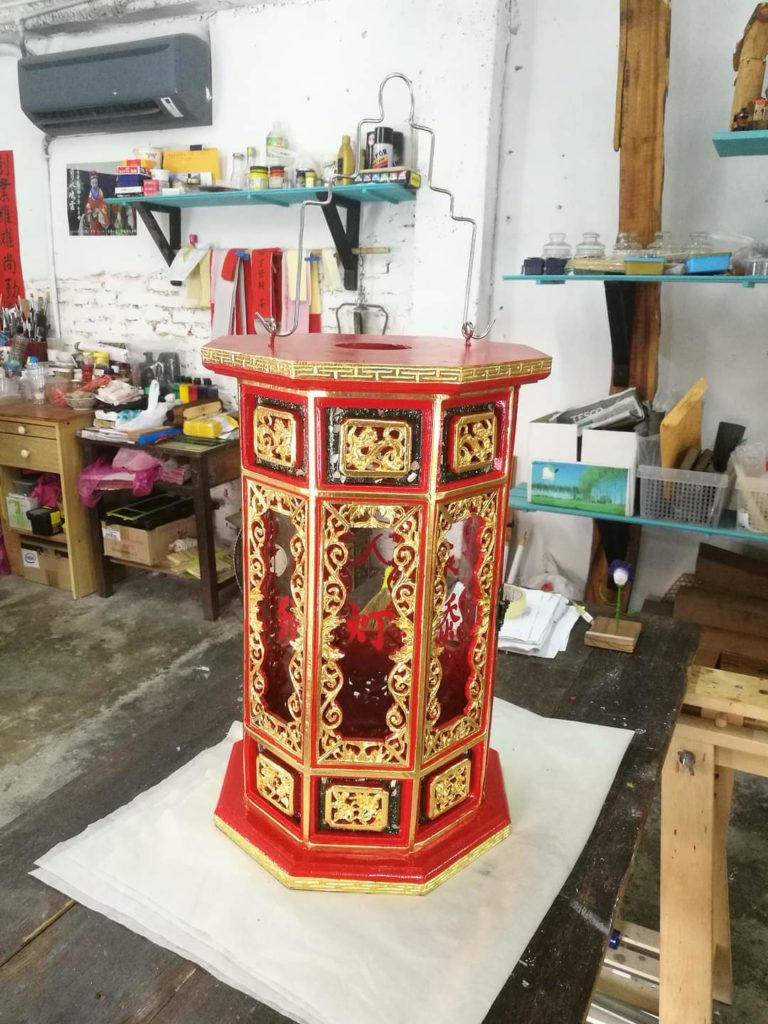 Artisan at work
Tong, who practically lives in his studio, says he prefers to work uninterrupted behind closed doors, so that he can accord each piece the attention and respect that it deserves.
For an artisan who predominantly works solo at his own pace, Tong's work has not been as significantly impacted by the restrictions of the COVID-19 pandemic compared to other practitioners of heritage trade in George Town.
Nevertheless, to minimize exposure to the constantly-mutating virus and to reduce interruptions to his craftwork, Tong does not accept walk-ins and endeavours to conduct all communications and transactions online.
With the gradual opening of the economy, Tong has also resumed conducting carving workshops but prefers to keep the groups smaller to be on the safe side. He is also open to conducting corporate workshops, provided that the organizer handles all the logistics and the groups are kept small and manageable.
Tong also works on shared projects with fellow cultural heritage practitioner Chuen Mun Wai (全文辉), who specializes in making lanterns.
Showing a picture of a traditional Peranakan-style entrance decor, Tong explains their typical collaboration.
"Chuen makes the pair of fabric lanterns that hang on either side of the doorway. I make the wooden signboard that is mounted over the door frame and the single wooden lantern that hangs in the middle. He and I are the only ones doing this. So, when clients approach us to do this sort of project, I recommend him and he recommends me."
Tong's carved lanterns typically comprise around 90 pieces of wooden carvings of varying shapes and sizes, put together using traditional woodworking joinery techniques, meaning no nails or metal pins are used to hold the pieces together.
Although he usually works by himself, Tong occasionally has some apprentices coming in after working hours to learn wood carving and help out with on-going projects. "I hope they will carry on. Most people who attend workshops to learn wood carving just treat it as a fun activity. It is not easy to get people interested in taking up traditional wood carving as a full-time endeavour," mused Tong, who is keen to impart his knowledge and train another generation of heritage craftsmen.
Keng Hwa Carving Studio also operates a store on Shopee selling Tong's colourful woodblock prints of auspicious festive decor as well as door gods (門神 men shen in Mandarin). (https://shopee.com.my/kenghwacarvingstudio)
For more information about Tong Wing Cheong's woodcraft, visit Keng Hwa Carving Studio on Facebook, Instagram or YouTube.