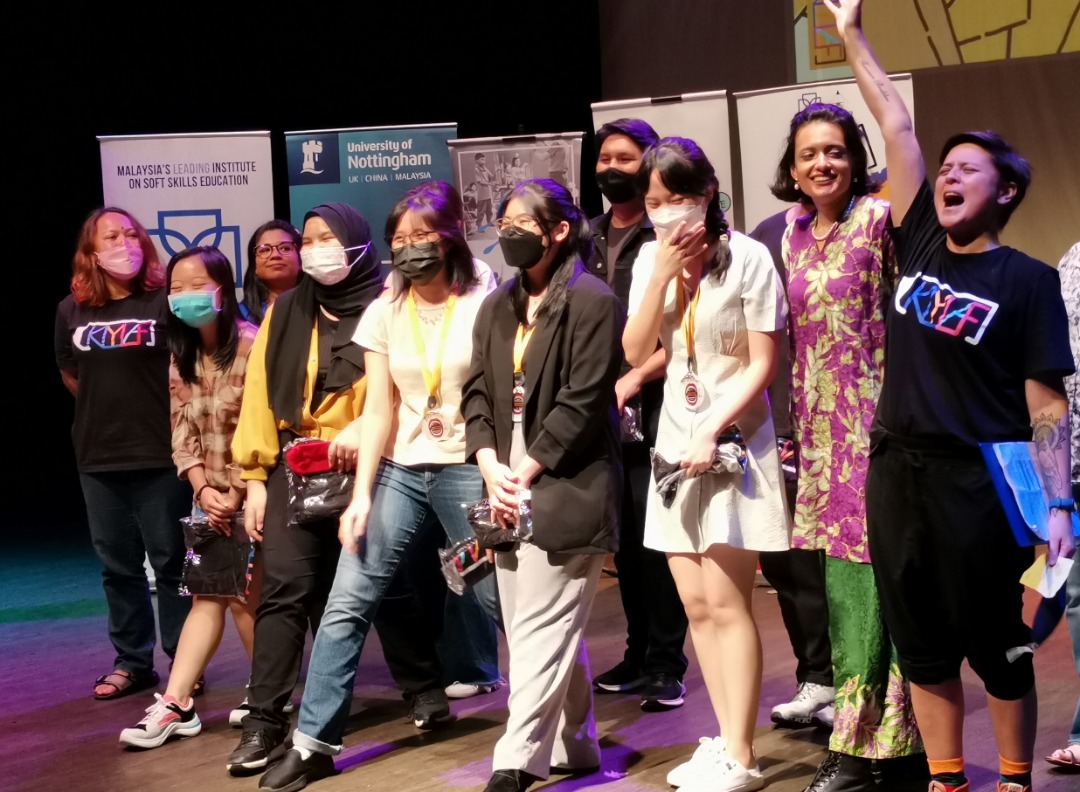 The recent Kuala Lumpur Youth Literary Arts Festival put the spotlight on some fantastic, fresh, local talent.
By ANN MARIE CHANDY
Not so long ago, in conjunction with the Kuala Lumpur Youth Literary Arts Festival (KLYLAF), I had the pleasure of witnessing a Poetry Slam featuring young local talents.
Taking place at the end of June, KLYLAF was a three-day hybrid festival offering numerous activities put together by educators Emellia Shariff, Elaine Foster and Dr Sheena Baharudin. The Poetry Slam took place on the final day at the KuAsh Theatre, PKK Tuanku Bainun TTDI Taman Tun, in Selangor. While there weren't many participants – many pulling out at the last minute because of Covid fears – those who turned up gave the audience a rousing show. Judges were a mixture of randomly chosen audience members and invited guests. The three winners for the evening were Abigail Lim, Ho Jia Wen and Ong Yu Qi, who bowled the audience over with inspired poems and performances.
"I thought they were awesome," said co-organiser Foster, a spoken word poet herself. "I was so impressed. The language, the craft, the ideas, the commitment and the maturity were all 10 times more sophisticated than when I first started doing youth slams and teaching poetry. One of the poets – the winner, Abigail – her poem made me cry and I've never cried because of a student's slam performance before. Perhaps I find it easier to cry these days! But that was the point, to build a poetry slam community from the bottom up so these young people would become the next big guns, the heroes, mentors, the idols, the inspiration for the next generation of poets and they have certainly achieved that!"
And if you think Foster is being biased, she's not. This writer had tears in her eyes too. The poems recited that day were heartfelt, clever, and delivered with much confidence – a welcome surprise.
For Foster, a community-based art instructor who founded My Poetry School in 2018, this is the seventh time she is running an official youth slam. "My previous slams have had up to 50 participants. It depends on the slam format of the day, like if there's a group category," she said.
"The first national school slam I did was in partnership with Sunway International School in 2013 (now SNAPS) and then with Blubricks in 2014 (the Blubricks Youth Poetry Slam). As I had been working as a freelance poet and drama educator and had been teaching and running slams in various schools in Malaysia, I thought it be a good idea to bring all these schools together to compete against each other," she said. "But by right, the first school slam I did was when I was working for Astro and running a project called Oh My English@School. I took a team of facilitators across Malaysia to run storytelling and poetry slam workshops in national schools where we would run a 'slam' as the final performance with the students."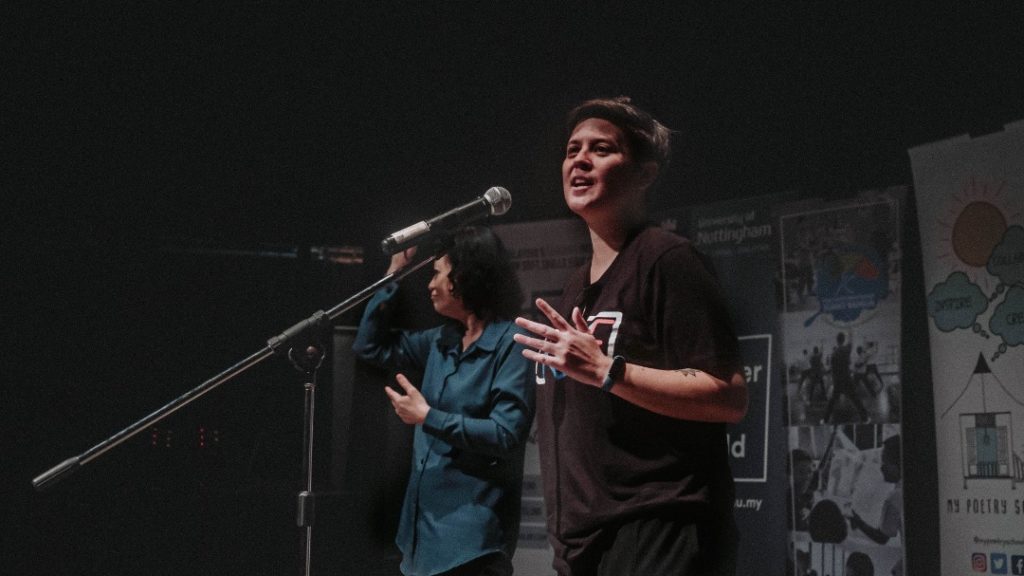 The 44-year-old educator grew up all up all over the world, in Scotland, Jakarta, and the United States. She has worked with various arts education organisations in Malaysia and Singapore, using poetry and drama to teach English and public speaking for the last 10 years.
How do these events empower the kids? Foster says in so many ways.
"Language is power, not least in a country like Malaysia. In a society where speaking up is often looked down upon, ridiculed, attacked, shut down, criminalised even, where speech is censored and sharing an unpopular opinion and showing your emotions, especially anger or frustration, is seen as something negative, having the opportunity to say your piece/peace, in an environment filled with your peers, that is supportive and inspiring, can be an incredibly empowering experience. It's validating."
What keeps her working with young people? "I have learned so much about myself, my writing, poetry, performing, teaching and the world from teaching poetry and facilitating performing arts workshops to children. The teaching absolutely informs my practice both as an artist and as an educator.
"Of course, there are many challenges and I have not always dealt with them well, but I consider my work as an arts-educator a continuing work in progress, I'm constantly designing and redesigning the work. It's a lifelong endeavour I think and it's what brings meaning and fulfillment to me. Teaching is an art form. Teaching poetry is a dream job. I love it!"
One of the crucial things that Foster says she has learned from teaching and from the Slam is the ability to listen better.
"We always talk about how being a great speaker is a great skill, but to be a great communicator you also need to be a good listener. Poetry and Slam teaches us that. Listening skills are just as important."
Fresh talent
The winner for the KLYLAF Poetry Slam 2022 was 24-year-old Abigail Lim, whose poetry was not just compelling, heart-tugging and original, but also hit a home run geographically; one poem revolved around Sabah and its culture, and another mentioned numerous spots in Kuala Lumpur.
"I think it depends," she said when asked about her inspiration for these poems. "I realise the subject of my writing comes in phases; for instance I used to write a whole lot of space poetry. However, with my Sabah poem, I did deliberately want to talk about the beauty of it from my point of view because I've always felt West Malaysians don't really know much about the state besides its mountains and islands.
"In the KL poem, us Klang Valley residents tend to always complain about the jams and the unnecessary buildings, but I wanted to remind people of the prettier things about our city as well – also being cooped up during MCO just generally made me miss going on car rides or train rides to nowhere," said Lim, who was born and bred in Petaling Jaya, but says her "kampung" is in Sabah!
Lim started writing poetry in 2014, and started performing in 2019. "My first open mic was at 'If Walls Could Talk' before they discontinued!" said the 2021 graduate from University of Nottingham Malaysia, currently working as an engineer in an aviation company specialising in aircraft landing gear maintenance, repair and overhaul!
She's participated in a few competitions – a notable one being the ASEAN Institute of Peace & Reconciliation's Publication of Peace Poems. "Also being an alum from Notts which tends to have poetry competitions frequently, I'll get news on all the calls for poem submissions through social media or emails. For example, its Malaysian Millennial Voices where I had one of my poems, How To Paint the Rainbow When You're Colourblind published in a book for the very first time."
This was, however, Lim's first time at a Slam and she said that she enjoyed herself tremendously. "Honestly, I was also really nervous the whole time. But Elaine, the host, said something that really helped – something along the lines of how going up to perform is always intimidating, and memorising the poems is hard … but if the poet were to stumble, the audience should continue snapping and cheering them on, and that felt so comforting. And the video interviews of the poets being looped while waiting for the event to begin, particularly Sheena (Baharudin) and Alana (Azlan) talking about their performance mishaps also kinda helped with the anxiety!"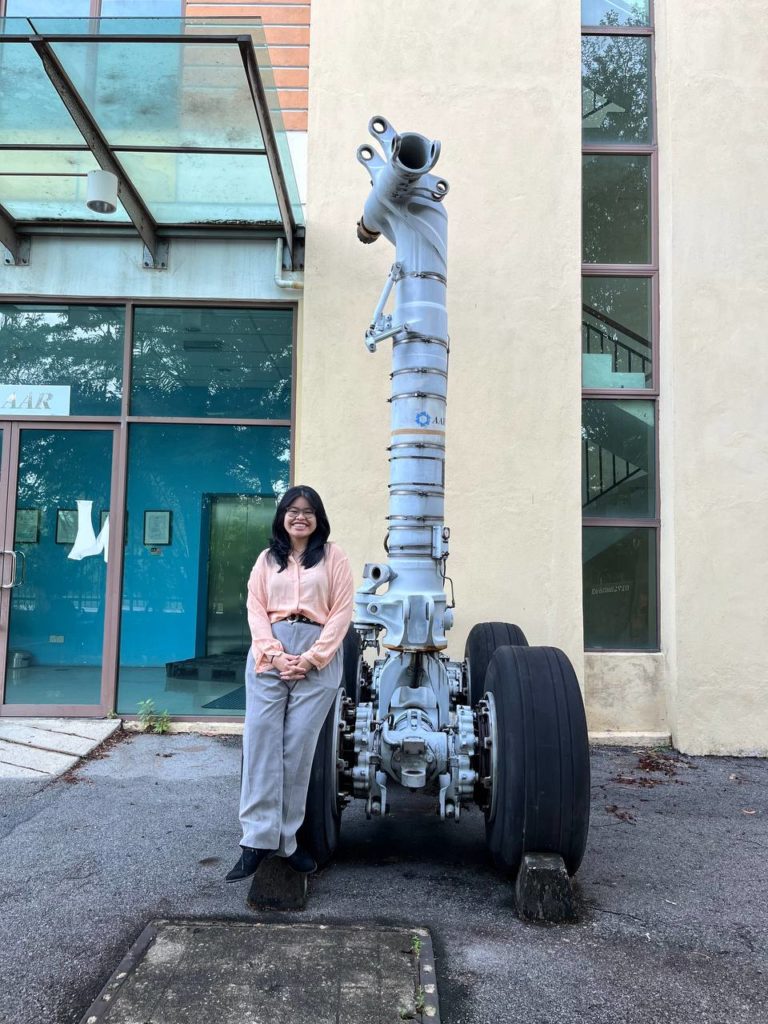 Life Limits
 On the A320 landing gear,
 its life limited parts have a safe life of 60,000 cycles.
 That's 60,000 take offs and landings,
 Its wheels hitting tarmac again and again
 maybe 15,000 sunrises and sunsets,
 a few hundred new places visited,
 or two airports that feel very much like home.
 maybe they get moved around different gears
 every 16,000 cycles or so,
 until the original gear they came with 
 doesn't recognize itself anymore
 if they're unlucky enough to come in 
 with cracks beyond repair,
 they'll get replaced anew, 
 without ever seeing the rest of the world
 like they were supposed to.
 Towards the end of this 60,000 cycle count,
 they get scrapped, mutilated,
 maybe kept in a storeroom somewhere
 In hopes Safran says they have a little bit more life in them
 to one day fly again.

This is a poem I wrote about my job, which kinda perfectly summarises my engineer/poet identity – Abigail Lim
For Ho Jia Wen, it was fun to get back on stage and perform again. "It was particularly nerve-wracking to be scored right on the spot by the judges. After the pandemic, I'd almost forgotten how to perform, and to be honest, I was so close to pulling out of the Slam. But overall, I was really glad I went, and it was wonderful to hear poetry again," said the 23-year-old PJ native currently working as a Management Trainee at the Star Media Group.
Ho studied in Britain from 2017 to 2020, at the University of Birmingham. During this time, she would participate in Unislam, a national poetry slam between different universities in the UK. "It was a team slam, where each university is represented by a team of five or less people. I got to perform both individual and group poems which was really fun. I learnt a lot about poetry there. For the Unislam 2020, our team took third place!"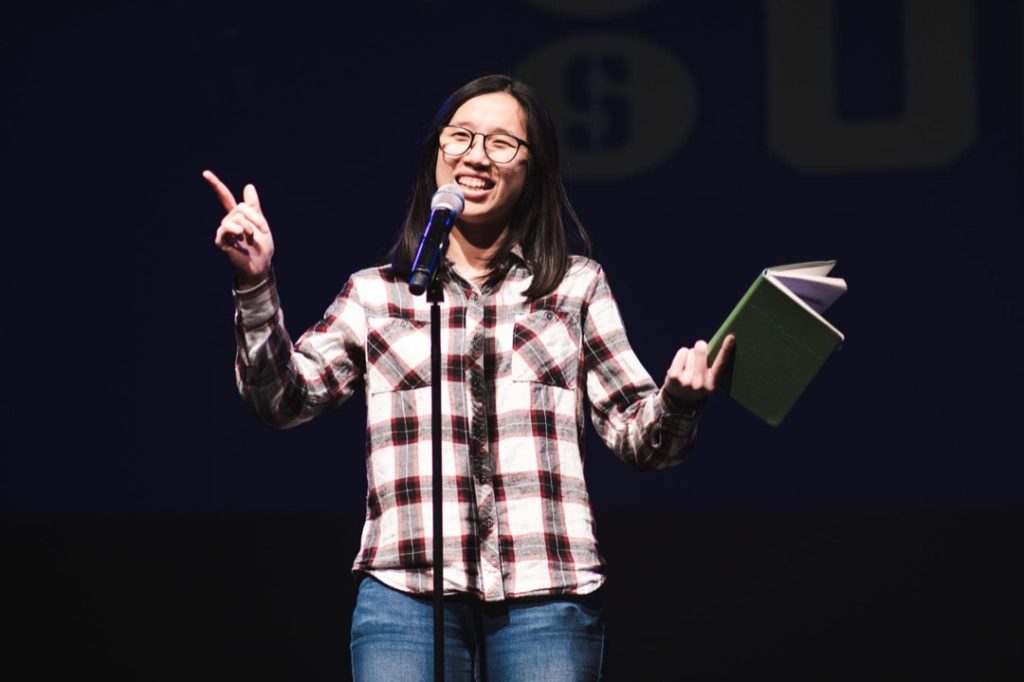 While she has always loved writing, she only started writing and performing poetry during her time at uni. "I was part of a creative writing society then, and was really inspired by the amazing poetry that I heard. So I decided to try writing poems myself."
When asked what inspires her, Ho says she is not sure. "Sometimes, it can be a strong emotion that I've been feeling. Other times, it can be just the little things I observe around me. Poetry is a strange thing, it comes and goes whenever it pleases. Or maybe, I just don't have enough discipline to consistently write."
One of her poems at the Poetry Slam was titled A Zoo In My Room, a seemingly happy poem with imagery of childhood, zoos and animal friends, but also may have had a more metaphorical meaning of isolation.
Was the poem about the pandemic? "Well, it is completely up to your interpretation," Ho said. "I did write that poem during the beginning of the pandemic. But really, the poem can be about whatever you feel it means, and perhaps it's better that I don't describe what my thought process was when I was writing that poem."