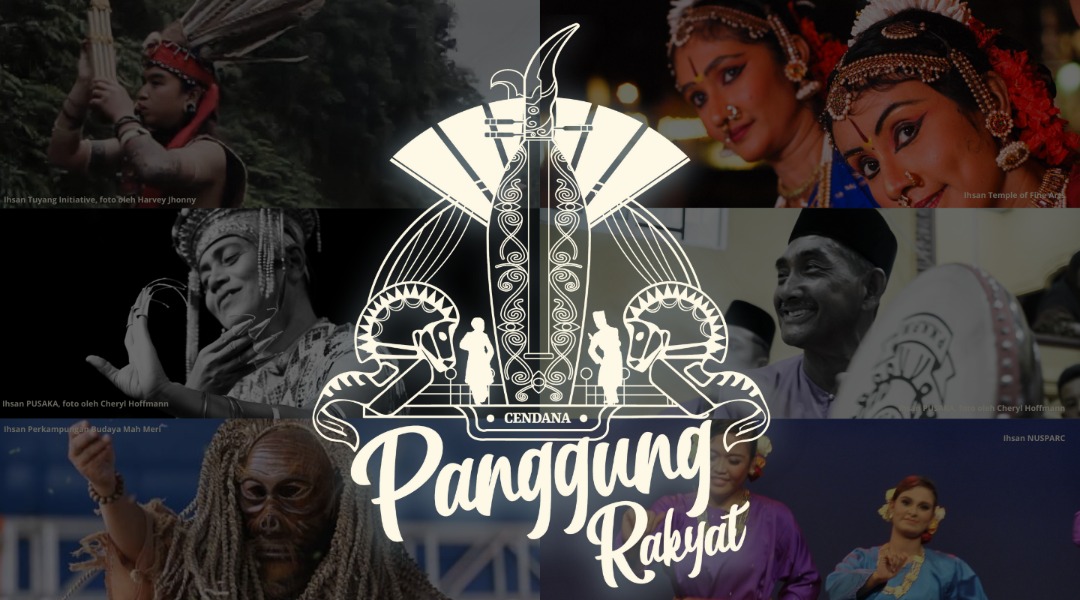 If you didn't get a chance to catch Panggung Rakyat online last year, fret not, the archive of videos is still available.
By NANTHINI MOORTHY for LENSA SENI
Questions about how art would emerge after the COVID-19 pandemic seem to have challenged many local artists for the longest time.
Panggung Rakyat, was one of the arts programmes, which led the way when it came to pivoting arts online last year. Set as an online web series in 2021, the movement was a collaborative effort by the Cultural Economy and Development Agency (CENDANA) and the Kuala Lumpur City Hall (DBKL).
Panggung Rakyat, which is meant to represent the people's theatre, showcased numerous live streams on CENDANA's Facebook page for public viewing. It premiered twice a month from October until December with memorable shows as it offered viewers a close-up of Malaysia's one of a kind culture and heritage, from Chinese puppet theatre to Manora and Kuchipudi Indian dance. The shows are all archived on the Bandar Aktiviti Seni Kuala Lumpur's (BASKL) platform here.
In December 2021, Sound of Borneo (Sabah) featured the cultural art of Sabah, its rich tradition and customs and was able to connect with a universal audience.
Another episode that aired in October presented a particularly interesting performance known as Zapin Johor, which was originally adapted and re-created from a place called Hadhramaut in Yemen. In this episode, viewers can expect to feast on luxurious dance numbers that speak of spirituality and movement.
Previously, Panggung Rakyat had been staged live in Jalan Raja, near Dataran Merdeka, in the heart of the city. But since the pandemic, the organisers embarked on a digital journey, offering a breath of fresh air and wider exposure for these local art forms.
Indeed, watching the richness of cultural and traditional arts digitally was a new experience for many but the fact that Panggung Rakyat was able to find a place in a crowded pop and modern art marketplace is highly commendable and makes for good conversation.
First time viewers will no doubt have benefited from the wealth of information about Malaysia's treasured art and culture traditions, and the archived Panggung Rakyat online episodes now continues to expose cultural products to new audiences.
In the wake of modernity and sudden habitual changes due to the pandemic, perhaps a great many of us are beginning to take a deeper look at matters that touch on identity and belonging. In that regard, a platform that is accessible digitally for folk art is indeed important.
Digital media users seem to agree. On CENDANA's Facebook page, comments on the live Panggung Rakyat shows garnered constructive feedback, ranging from support for the organisers to continue such shows online, and reminders to learn more about Malaysia's roots and heritage.
It is quite assuring to know that a collective cultural conscience is alive and has managed to permeate the current wave of modernity. All past shows are accessible here. Log on anytime and level up on your arts appreciation.
Nanthini Sathia Moorthy is a participant in the CENDANA ARTS WRITING MASTERCLASS & MENTORSHIP PROGRAMME 2021
The views and opinions expressed in this article are strictly the author's own and do not reflect those of CENDANA. CENDANA reserves the right to be excluded from any liabilities, losses, damages, defaults, and/or intellectual property infringements caused by the views and opinions expressed by the author in this article at all times, during or after publication, whether on this website or any other platforms hosted by CENDANA or if said opinions/views are republished on third party platforms.