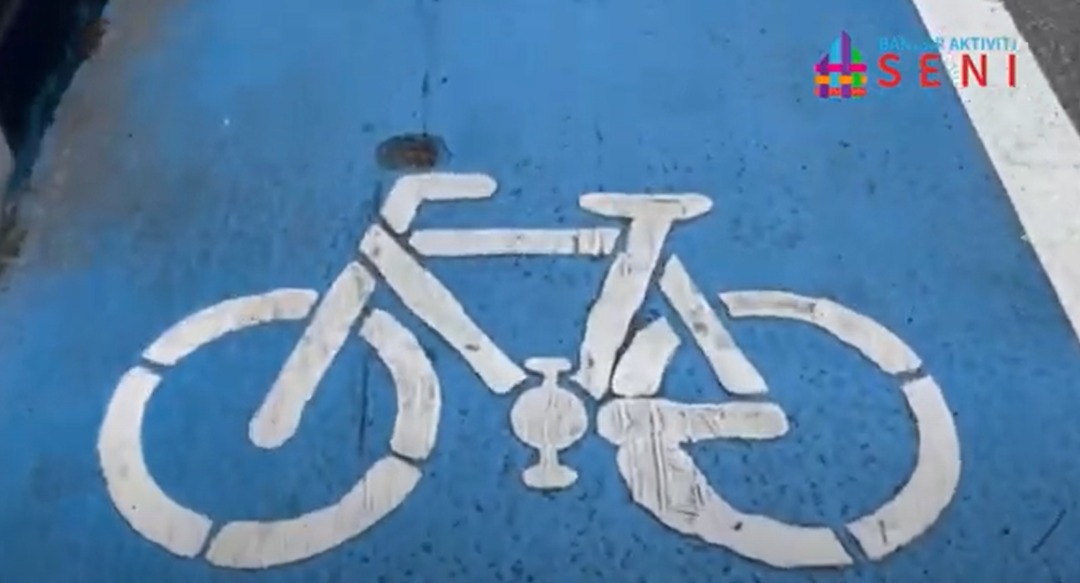 Bike, check. Helmet, check. Map of artsy things to visit in KL, check.
By SOFIA SHAMSUNAHAR and CHADEL SOON
We've crafted a cycle-friendly route in Kuala Lumpur that celebrates art in the city. As cyclists are required to follow the same traffic regulations as cars, we've created a path where cyclists can both cycle on the roads or dismount and push their bicycles on the pavement if they prefer.
So strap on your helmets and charge up your bike lights, we're pedalling through this art tour!
Location 1: Pasar Seni/Central Market Area
Central Market Kuala Lumpur began as a wet market built in 1888, but now has transformed to be a centre for Malaysian culture, art and craft.
For those having to drive to get to the Central Market area to start the cycling route, you can park your car in Central Market's paid parking lot. If you're keen on checking out Malaysian arts and crafts, buying some batik-filled souvenirs or need a toilet break you can swing by this air-conditioned market space.
Location 2: Petaling Street
Located in Chinatown, Petaling Street is a well-known street market filled with fake goods and street snacks, where you'll have to do a lot of haggling. With the atmosphere buzzing there, cyclists can push their bikes through the crowds and soak in the bustle. Be mindful of those around you when moving your bike through the market.
Location 3: REXKL
Next stop is REXKL, an artsy space in the city. The venue consists of event spaces, bars and food stores, and shops selling intriguing things like batik, books and bicycles. REXKL even transforms into a skate park on the weekends. Depending on the program, there's usually live music or art workshops happening.
Location 4: Kwai Chai Hong
A popular-instagram-snapping spot, Kwai Chai Hong is a place with a mission to take visitors down the memory lane of Chinatown's golden era. The place is filled with interactive murals, sculptures, charming eating and drinking spots.
Location 5 & 6: DBKL x Think City Rejuvenation Project
Kuala Lumpur City Hall (DBKL) and Think City have collaborated to transform dingy alleyways into functioning and welcoming spaces. Visitors can visit these transformed alleyways and experience playgrounds, areas to rest in, gardens, book sharing public libraries and murals which celebrate Malaysian culture.
Location 7: Lat Cartoon Series, KL Heritage Trail Route 2
Check out the series of sculptures featuring popular characters from beloved homegrown cartoonist Lat's (Datuk Mohamad Nor Khalid) comic books. The art pieces are located along KL's Heritage Trail Route, a route that visitors can take to learn about the city's heritage.
Cyclists can meet Lat's characters running to catch the bus on this cycling route.
Location 8: The Sampan Boy on Jalan Gereja by Ernest Zacharevic
Widely celebrated Lithuainian mural artist Ernest Zacharevic painted The Sampan Boy overlooking the parking lot on Jalan Gereja. The mural captures a kampung scene, with a boy in a sampan alongside a kampung house. The mural was commissioned by Allianz General Insurance Company for its "kampungku" initiative.
Location 9: Umbrellas by Alam Flora along Jalan Tun H S Lee
As part of its beautifying the city project, Alam Flora, which provides waste management services to Malaysia, this umbrella installation was created. An alleyway filled with cat-themed murals by @jlynnppg, street art that uses recycled items by Alam Flora and a roof made out of umbrellas all of which conspire to make the alley a hotspot for visitors. A really neat feature for cyclists is that the walls of the alley have hooks on which you can park your bicycle.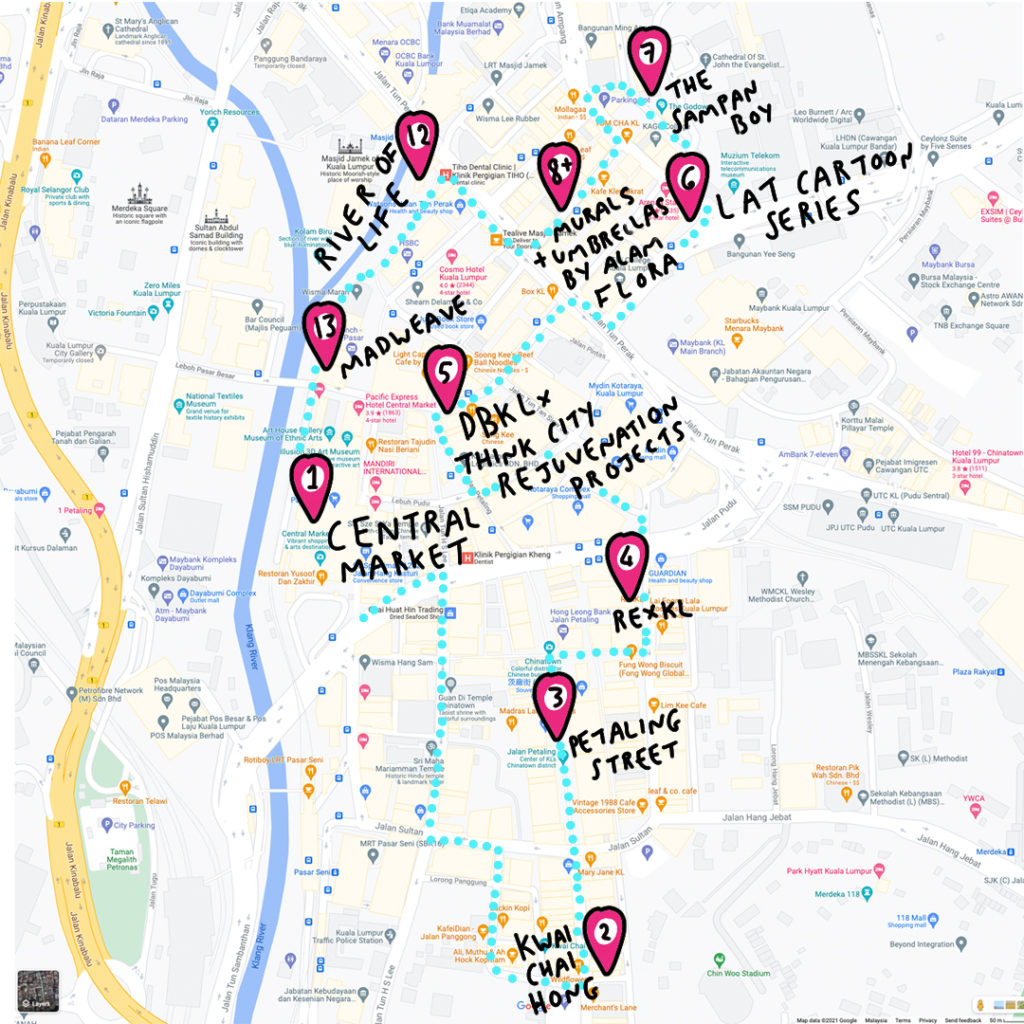 Location 10: Street Art by APIIT x APU
Students from the Asia Pacific Institute of Information Technology and Asia Pacific University have painted various murals around the city including this Kuala-Lumpur-loving mural.
Location 11: The Dancing Couple V2 by @arifrafhan, an alley off Jalan Lebuh Ampang
You'll find the Dancing Couple V2 near vendors selling nuts, fruits and Indian treats. Painted by Malaysian artist Arif Rafhan, the mural is located on a street with strong Indian influence. On social media, Arif says: "Since the fruit vendor in front of the mural will be seeing this mural every single day, I think it's fair to make the hero look a bit like him, yes?"
Location 12: The River of Life
The River of Life is an initiative launched in 2012 by the Malaysian government's Economic Transformation Programmes. The initiative aims to transform the areas around the Gombak River and Klang River into functioning, beautiful space, and also aims to clean the river water.
Masjid Jamek, one of the oldest mosques in KL, sits where the Klang River meets the Gombak River. This picturesque spot is a popular location for cyclists to meet and rest.
Location 13: Madweave, The Brain by @nurtureknots_studio and @rothkofella
The Brain is an interactive macrame installation by Charmaine Kamal and Hafizah Borhan. It's located on the River of Life's waterfront, and is inspired by the neurons of our brain and concept of connectivity. Those passing by can make their inner-child come alive by climbing through the woven tunnels of The Brains.
END POINT: With The Brain situated close to Central Market, cyclists can finish the route in Central Market's parking lot and head back to their cars.