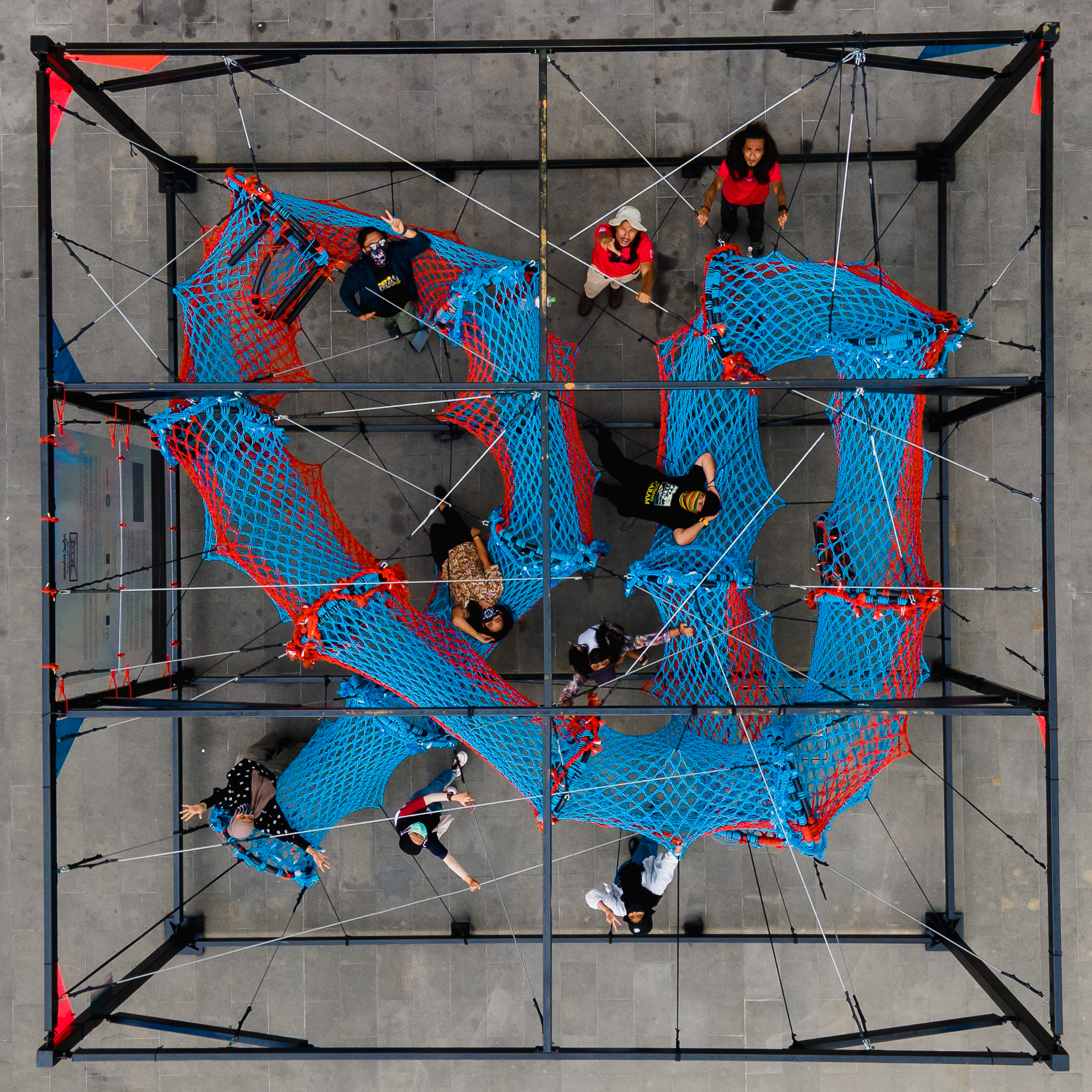 What's 'knot' to love about Charmaine Kamal and Hafizah Borhan's Brain Project?
By ANN MARIE CHANDY
A floating orange and blue macrame tunnel in the heart of the city is bound to pique one's curiosity … if only we were allowed to get out and about again! It seems ironic that at a time when art is flourishing in the city, we are on lockdown and have been forced to think twice before venturing out for over a year now.
Nonetheless, the interactive art installation that is "The Brain" project by artists Charmaine Kamal and Hafizah Borhan, stands proudly along Kuala Lumpur's River of Life waterfront, next to Avenue J Hotel and behind Pasar Seni KL. Together, Charmaine and Hafizah are Mad Weave KL, a brand dedicated to creating artworks for the public to enjoy and experience. Their first collaboration under Mad Weave KL is The Brain project.
"For years I had been wanting to explore macrame making in larger-than-life scales and in different forms, not just as tapestry on the wall," says Charmaine, a pioneer in macramé art making in Malaysia, and the founder of Nurtureknots, an online platform which showcases handcrafted artisanal macramé pieces for art collectors and enthusiasts. "That was the motivation and influence for me to initiate the design proposal ; something that resembles neurons in a brain with an Avatar forest ambience."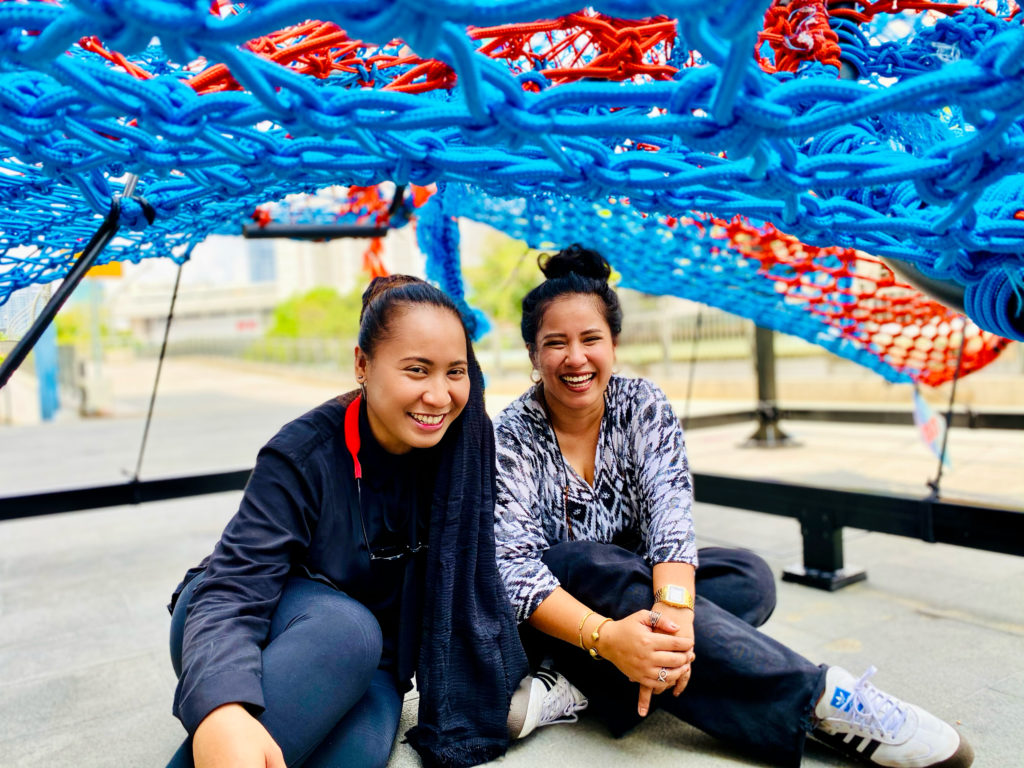 Here, Charmaine shares some of her thoughts about the project.
What is The Brain project?
The Brain project is a designated interactive art installation inspired by the neurons in our brain and the concept of connectivity surrounding us. More than 500 hours were spent building this 6m/20ft (W) x 6m/20ft (L) x 3m/10ft (H) artwork using a combination of steel, steel wires, highly durable braided nylon and rubber ropes, all of which were manufactured locally in Malaysia. The hanging tunnels that expanded to 23.5m (77ft) were 100% hand-knotted and weaved and assembled by a group of passionate and dedicated Malaysians using more than 6500m of ropes and assembled as a functional art – a floating tunnel that replicates the human brain.
How did you and Hafizah meet and decide to collaborate?
We have been friends since 2006. Hafizah (who is Creative Director of Rothkofella Studio) was in creative management, while I worked mostly on commission projects in the studio. I'd been passionate about fibre art and was always looking for an opportunity to create. Further to this, I'd travelled and stayed locally in different places in Malaysia, such as Janda Baik, Langkawi, Perak, hosting art workshops and promoting my art products, creating awareness and building creative communities.
AITC2020 was a golden opportunity that knocked on our door. It was an absolute dream to do what I love and this would be a great platform for me to contribute to my country and society. So I reached out to Hafizah and NorHafiz Yaacob, and said let's do this!
I started learning knots during my mountaineering and high rope climbing days. The way knots were used was as a functional mechanism, to hold a structure in place, and how it had been done since ancient times, fascinated me. That's when I met NorHafiz. He is our technical partner who designed the structure for The Brain project. I'd been eyeing his work building platforms for high rope sport structures outdoors. His work mostly uses steel and wood.
How many people were involved in the knotting process?
Five women and one man. Most of them were UITM Textile graduates. And others were my former art students.
Why a brain?
You know how nowadays we ingest a lot of information via screens, it's all 2D, vibrant but it's purely visual. I wanted the public to have a 3D experience via The Brain. I want audiences to be surrounded by it, to be able to touch it, feel the texture and be totally immersed in it. Hopefully it will evoke some sense of awakening and make them appreciate the moment, to be present and appreciate their surroundings.
Why orange and blue?
You can see that blue and orange are opposites in many respects. They are opposites on the colour wheel, and also in the emotions and feelings that they represent.
Blue calls to mind feelings of calmness or serenity. It is often described as peaceful, tranquil, secure, and orderly. Blue is often seen as a sign of stability and reliability. On the other hand, the strokes of orange are mostly to create contrast to the overall aesthetic. It's an energetic colour, very blatant. It provokes you to have feelings. Orange calls to mind feelings of excitement, enthusiasm and warmth.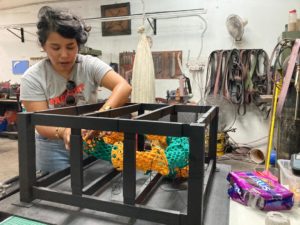 How do you think interactive art like this benefits society?
I am going to get a lot of flack for this, but this is the way I see it. Art only affects the people that see it and understand it, and to understand art you need to interact with it in some way. The problem is that people who understand art are the ones who are usually better off than the ones who need some change in society and the system. I don't see art as an agent of change, I see art as the companion of change, as a way for people to express these moments as they happen.
What were your hopes for the project and have you achieved them?
The Brain project was inspired by sparks of brain neurons. So by enjoying this installation, if it evokes something in you, if it sparks your curiosity, I consider the message delivered.
What effect has the pandemic had?
I have to admit, the series of MCO, CMCO, EMCO, MCO 2.0 and now 3.0+1 really slowed us down. The creating part was fun, the design process flowed. I have to admit the installation part is where most of the challenges are, to scout for the right location, we went through eight locations with eight different specific areas with different authorities and bodies. But it's all worth it.