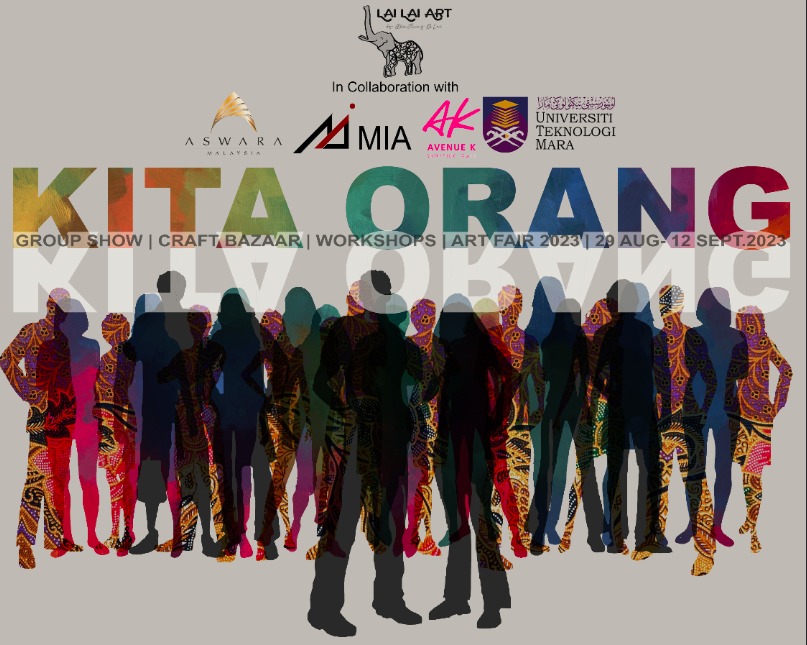 In an effort to bring together various communities in celebration of the arts as well as to create a platform for emerging artists and students to showcase their art, the Kita Orang Art Fair 2023 has been put together by Lai Lai Art Gallery & Studio, in collaboration with Avenue K, UiTM, Aswara and the Malaysian Institute of Art.
Hailing from Malaysia, Alice Chang of Lai Lai Art's lifelong intrigue with figurative and pictorial art led her to study under tutor John W. Skelcher in Italy. She further honed her skills through immersive painting classes, deepening her expertise alongside esteemed art historian Professor Yves Larches (of Walk The Art) in both Italy and New York City. Presently, Alice conducts research and crafts artwork in her private studios located in Malaysia and Italy. Her creations grace exhibitions and serve charitable causes, particularly those involving children, a role she ardently advocates. Proficient in pottery, embroidery, mosaic artistry, and fine art, Alice's well-travelled background informs her extensive portfolio. She has artfully captured countless photographs, documenting local charm and culture to inspire her creative endeavours.
From Aug 29 to Sept 12, there will be a series of showcases on display at The Rooftop on Level 4 @ Avenue K Shopping Mall, Kuala Lumpur. These will include:
● INK|DUST|REAL Group Art Show: Curated by PeRUPA strongman Abu Zaki Hadri group show that will feature original artworks and sculptures from artists in and around Malaysia, including Calvin Chua Cheng Koon, Low Khay Hooi, Mustafa Salleh, Anna Karina and Alice Chang reflecting industrial design and functional themes.
● Affordable Art Showcase: Over 300 accessible creative expressions at budget-friendly prices, catering to a wide audience's artistic appreciation.
● Installations skewed towards Sustainability/Conservation by three education institutions Aswara, UiTM and Malaysian Institute of Art.
● Craft Bazaar: Curated by Shahroom Ahmed, the bazaar will feature a variety of handiwork by local craftsmen and artisans will be on sale including beaded jewellery, pottery, leather goods, art, printed hats, scrunchies and bags, bath and beauty products.
● Workshops: Art workshops including batik painting by Lyna Khairi and Chinese painting by Cheng Peng Sia.
Lai Lai Art's Alice Chang said that when she was approached to organise an art exhibition at Avenue K, she only had a smaller event in mind. "I thought it would be a good idea to do something in the city centre, and since the space at Avenue K was available during this time of the year when we are celebrating our National Day and Malaysia Day, my team and I started working on something bigger. Soon we had a number of crafters on board and the education institutions were also keen to do their part."
The Kita Orang Art Fair 2023 was officially opened on Aug 30, at 6pm at The Rooftop on Level 4 @ Avenue K Shopping Mall, Kuala Lumpur.
Photos and additional contents by Lai Lai Art via Ann Marie Chandy
Read more stories like this on BASKL via the links below: