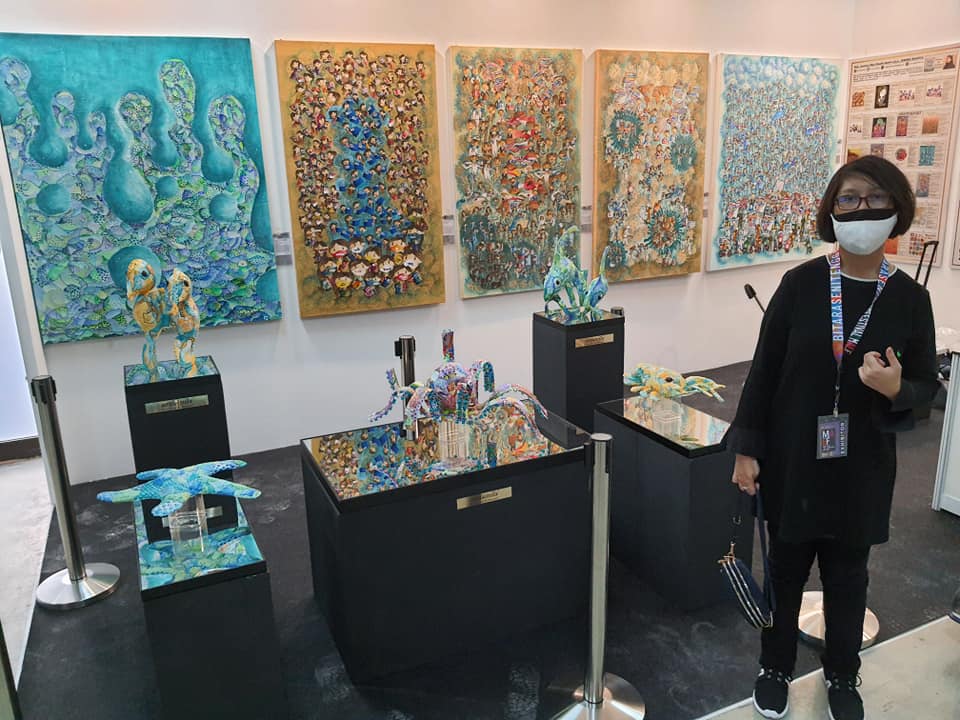 Explore visual art and poetry in Voyage of Moments.
By EMBUN for Lensa Seni
Art is often seen as a mirror of the world. Artists capture the time, event and space of their surroundings, and create art (in many forms, visual, written, performance or audio) to either reflect or comment about the world. The most exciting thing for an audience is perhaps having the freedom to interpret the art. No restrictions, no rules and the most important part is is no right or wrong answer.
However, ArtJamila's solo exhibition Voyage of Moments, which you may have caught late last year, did not offer only paintings for one to ponder on; there was also a poem dedicated to every painting. Mixing two mediums, visual and written art, to convey a message made one ponder if poetry does indeed help flesh our a painting? Or does it limit the audience's scope of interpretation and restrict their imagination? 
Artjamila, aka Wan Jamila Wan Shaiful Bakri, is a young but prolific artist who has steadily been honing her style and creating a niche for herself. The 18-year-old savant artist communicates through her paintings and has in recent years been expressing her thoughts on  pressing global issues like climate change, environmental pollution and the Covid-19 pandemic.
Her unique paintings have made their way to Switzerland in 2020 when she was dubbed as an Impact Artist by the Viatalenta Foundation and this is just one of her many achievements.
All of Wan Jamila's artworks come with dedicated poetry written by her sister Wan Jemima. The poet's own achievement is impressive as well because her poems gained international recognition when Keri Bowers, curator from The World Peace Project 2020, selected two of her poems. 
Audiences would have been impressed with the paintings in the Voyage of Moments exhibition during the Malaysian Art Ecosystem Festival in December 2021; there were five huge paintings, each one depicting a stage during the pandemic.
Jamila's exhibition left a big impression because of the mixed mediums. Having a poem at the side of each painting stood out as a unique collaborative effort between two artists, who happen to be siblings.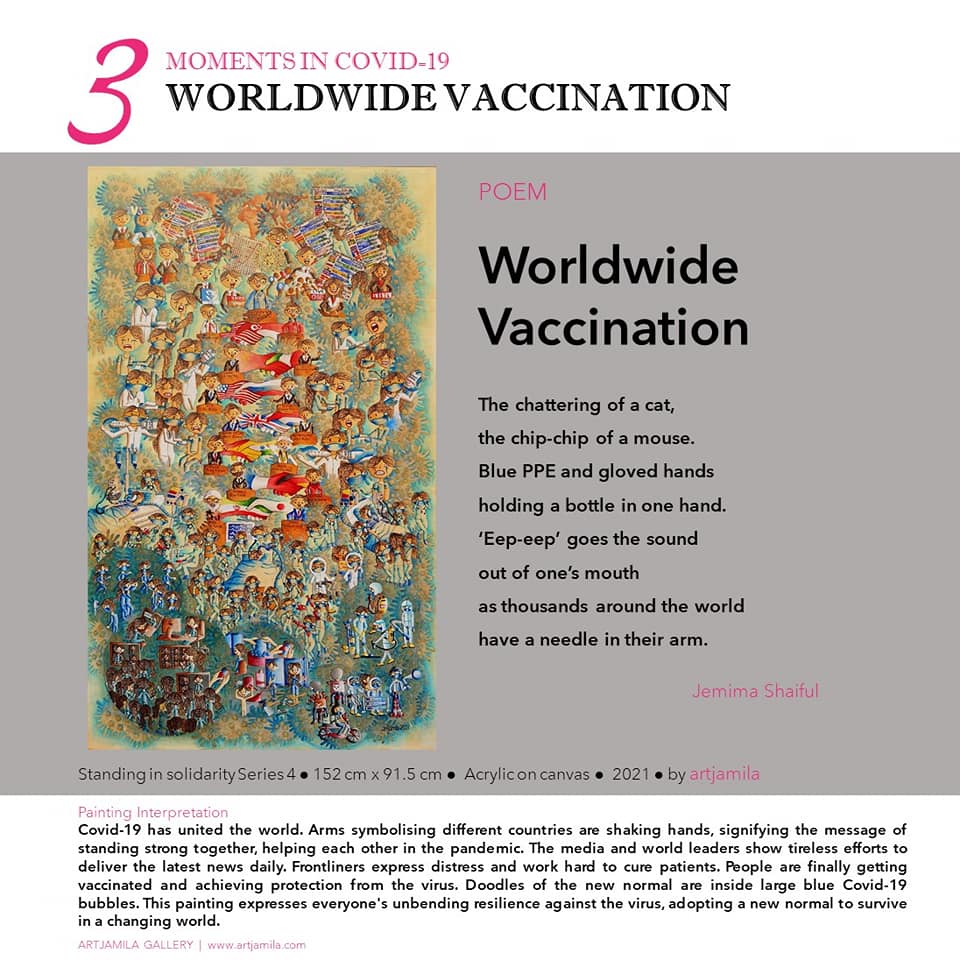 Experimenting with different mediums to relay a message is interesting as shown in the painting and poem above. It is fantastic to have a supplementary poem beside the painting because Wan Jemima's poem here is a show not tell piece, there are many auditory cues like "chip-chip of a mouse" and "Eep-eep goes the sound of one's mouth". These audio imagery helps one hear the sound of the people in Artjamila's World Vaccination painting, where one can almost hear the silence of the vaccination centres filled by PPE-wearing doctors pulling up their gloves and administering vaccinations.
Wan Jemima's poems fill a space in her sister's paintings, and offer a new perspective to those viewing.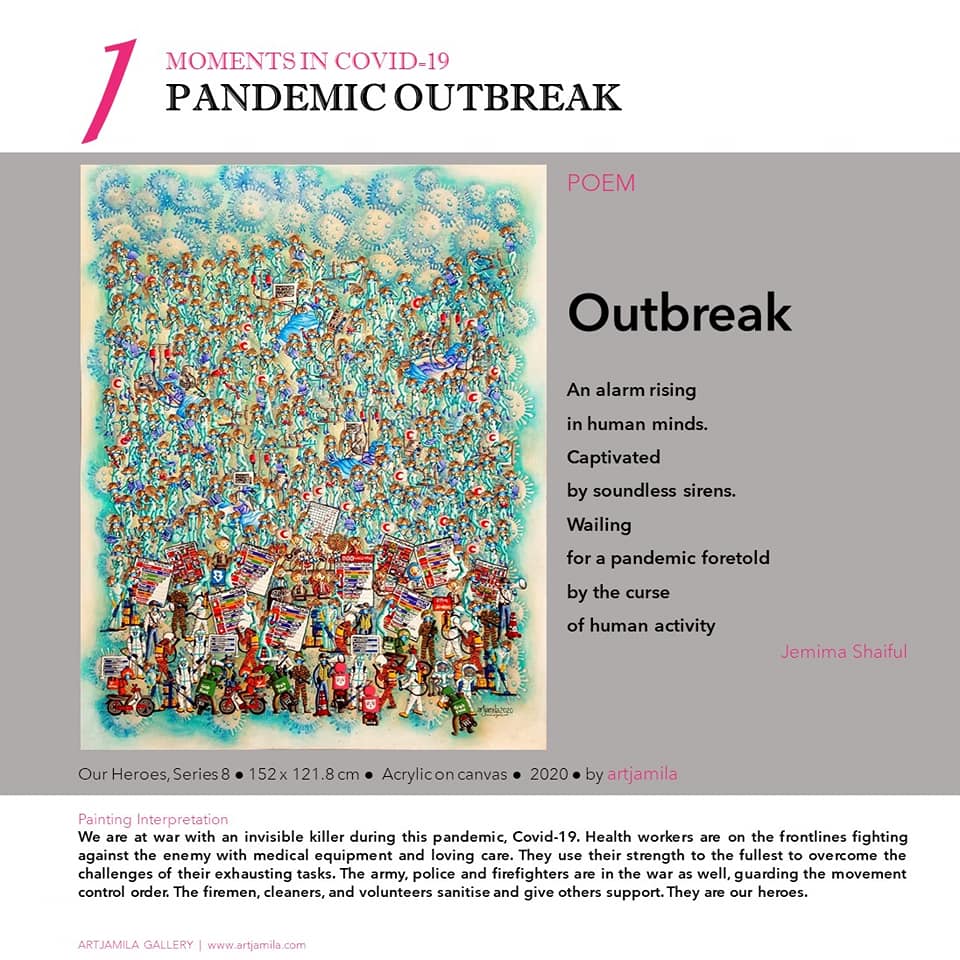 Embun is a participant in the CENDANA ARTS WRITING MASTERCLASS & MENTORSHIP PROGRAMME 2021
The views and opinions expressed in this article are strictly the author's own and do not reflect those of CENDANA. CENDANA reserves the right to be excluded from any liabilities, losses, damages, defaults, and/or intellectual property infringements caused by the views and opinions expressed by the author in this article at all times, during or after publication, whether on this website or any other platforms hosted by CENDANA or if said opinions/views are republished on third party platforms.