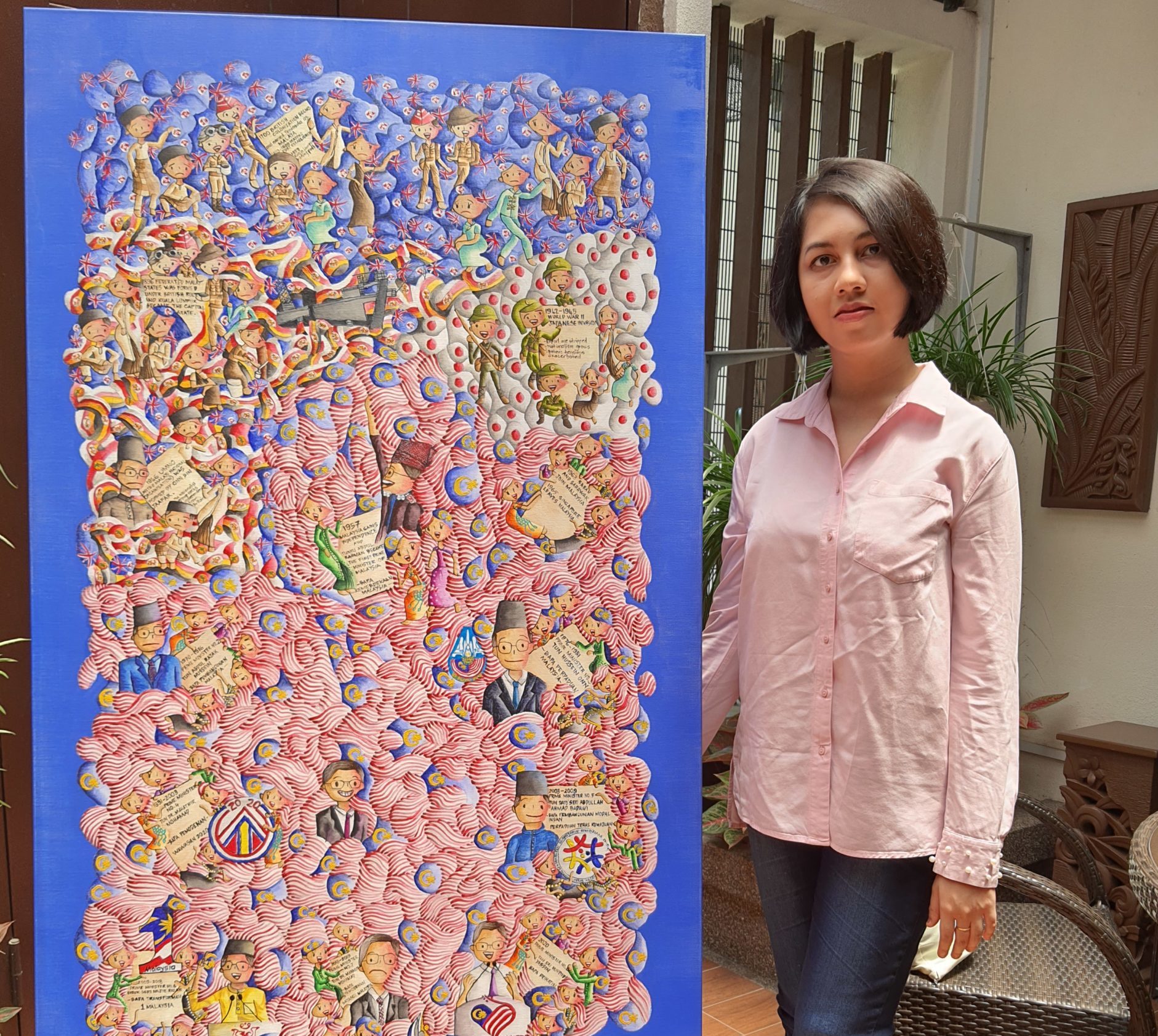 Her art once beautifully decorated the Putra Square in Putrajaya, and she has been recognised as a Young Impact Artist for Switzerland's ViaTalenta Foundation. Now young Artjamila's works are going places again.
By NABILA AZLAN
Wan Jamila Wan Shaiful Bahri, known professionally as Artjamila, is currently working on her art pieces set for Austria, France and Germany. Come 2022, these works will travel to
Complex du Louvre in Paris, the MAMAG Modern Art Museum in the castle Hubertendorf, as well as two other galleries in Vienna and Munich respectively.
Her many national and international accolades are very impressive. Among the many feathers in her cap, Jamila was awarded "The National Autism Champion" in 2019 and her Unity in Diversity painting adorned the Putrajaya Sculpture at Putra Square in 2019 for National Day. Jamila was also appointed by Switzerland's ViaTalenta Foundation foundation, which focuses on "Impact investments and sustainability", as their IMPACT ARTIST 2020-2022.
How did she become the prolific artist that she is today? Jamila's earliest drawings includes crying self-portraits and drawings of her classmates in school uniform. Diagnosed with autism at age four, Jamila began using art as her means of communication. "She was non-verbal at the time," says art manager and mum Noorhashimah Mohamed Noordin. "She drew human faces to express her emotions."
At 8 years old, Jamila became a keen visual diarist – documenting memories into drawings while capturing emotions of joy, peace, tiredness and sadness. "In some of her exercise books, she would draw what went on at school. The sketches were in sequence and there was a lot of storytelling," continues Noorhashimah.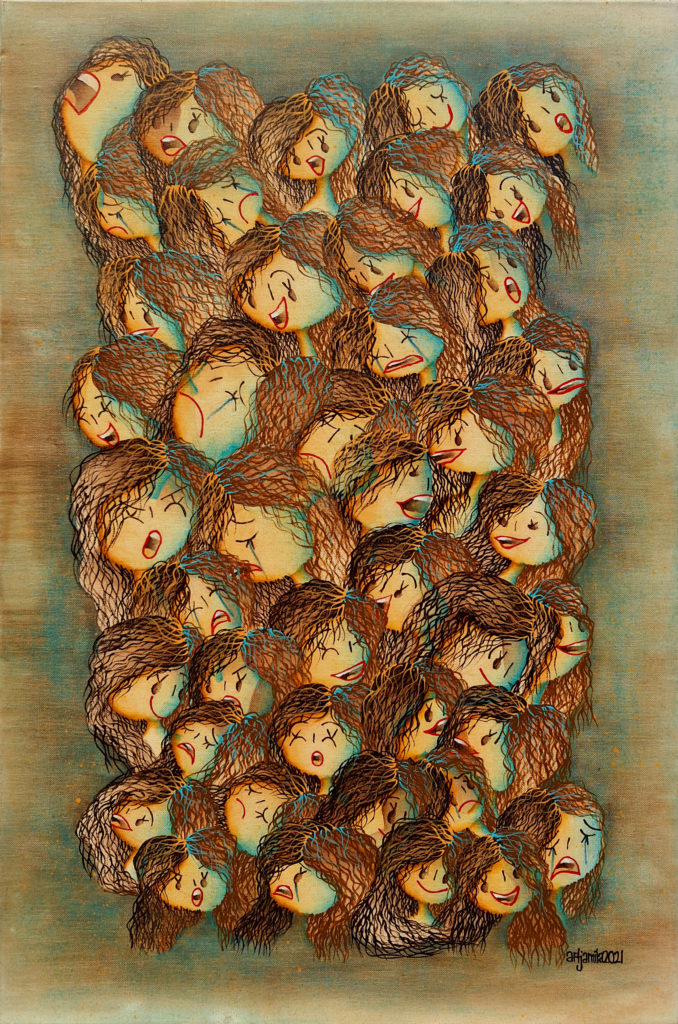 Interestingly, Jamila has never had formal art training all her life. "Her creations are purely from the soul. She developed a distinctive style without the guidance of an art teacher," Noorhashimah says.
She likens her daughter's style to that of British cityscape artist Stephen Wiltshire. Like Jamila, who started to talk at the age of 10, Wiltshire was previously non-verbal and he too never received formal art education. Mum feels that both artists are human cameras with the ability to translate scenes, landmarks and memories into visual works of art.
Sending Jamila to a regular secondary school, then uni, was the original plan. But after weighing the pros and cons, Noorhashimah decided to make a detour.
"In 2016, I was diagnosed with cancer. As time and health became my limitations, I had to expedite her career path," she reveals. "Realising that Jamila has an artistic advantage, I decided to start homeschooling her with subjects and the knowledge needed for her career. And also some survival skills."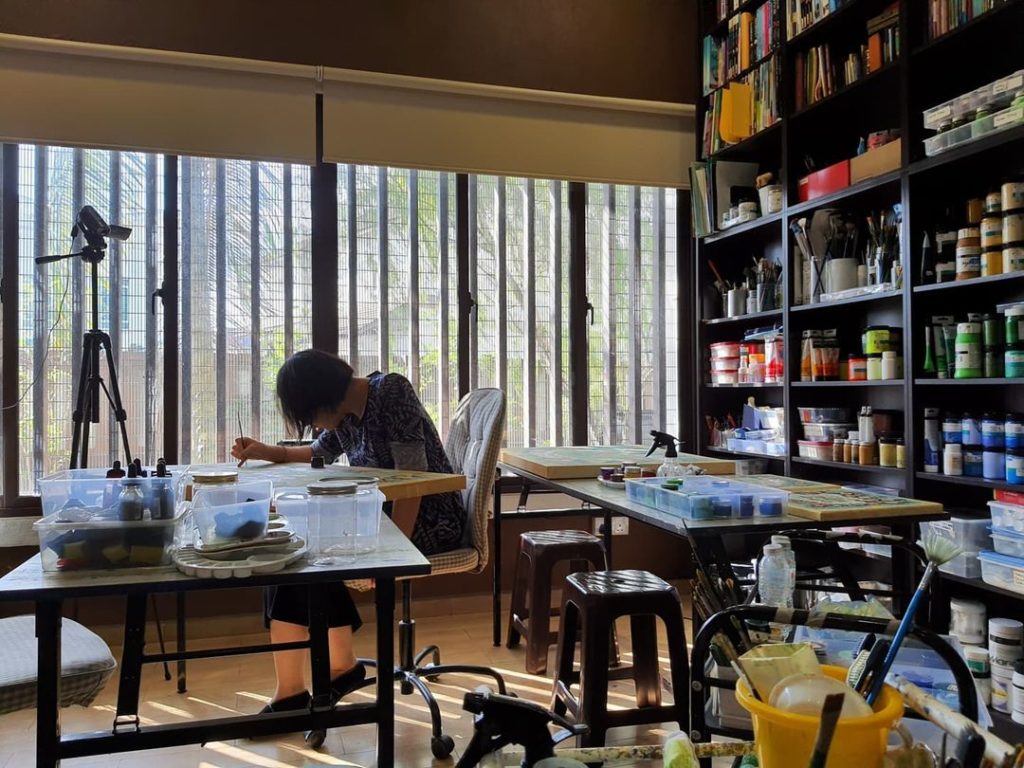 Going through the days in the life in her makeshift studio at home, Jamila finds herself especially productive in the morning right after breakfast. She enjoys sketching and painting while typically humming to Greek composer, Yanni's melodious hits. "I started with pen on paper. Now, I use acrylic on canvas," Jamilah says. Occasionally, she uses mixed media to create. Sharing her beginnings as a child doodler, Jamila's most recent works see a blend of childhood doodles and naïve art forms. Noorhashimah affirms that this current style is the one which the artist is most comfortable.
Her inspiration prompts throughout her artful journey could come from anywhere – visuals during holiday trips, noteworthy happenings and feelings – whatever gets etched into her memory palace. These days, however, the artist's work mostly incorporates the portrayal of historical events and current issues. "My drawings are mostly on the emotions we feel during certain events," Jamila says. "I want to tell stories form my experience and whatever I learn."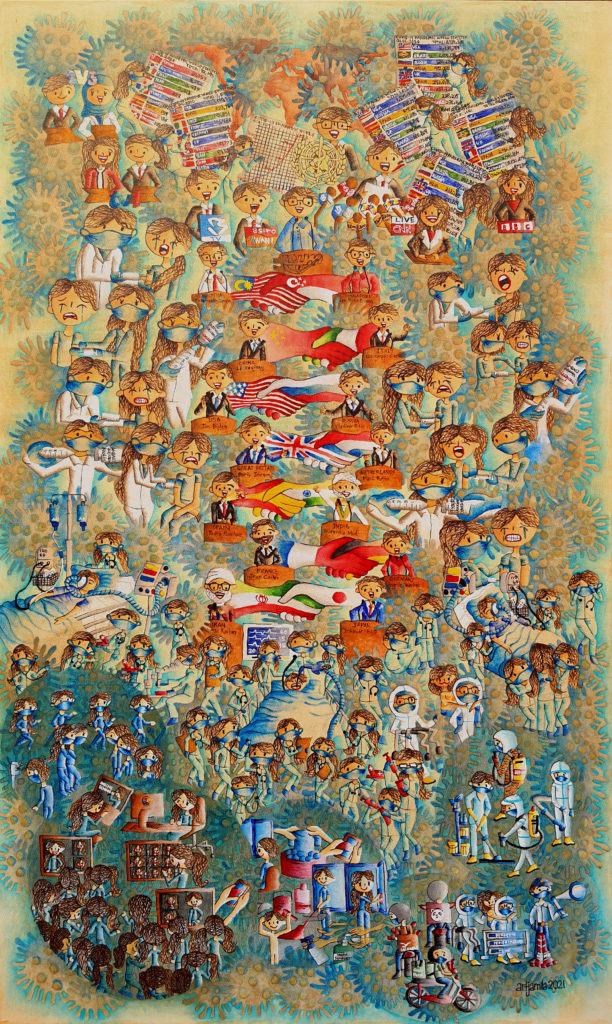 "Under the national lockdown, I get inspiration from watching a lot of movies and TV," she says. Jamila watches the news every day via multiple local and international channels.
On the topic, Noorhashimah admits, "The pandemic has affected Jamila a lot. It wasn't easy on her, as she likes to travel. I encouraged her to watch the news to make sure she understands why we need to be home during the pandemic."
Being the gifted individual that she is, Jamila continues to pour her heart onto canvas. Her art often reflects memories and emotions manifested through imaginative shapes and structures. As a result, works created under the weight of COVID-19 have come out quite remarkable, featuring real-life heroes such as our frontliners.
Her favourite painting projects to date are marine life and the different stages of the COVID-19 pandemic. When asked about what she would paint in the future, she hinted the topic of environmental sustainability. The latter is currently at its ideation stage and has not been put to canvas yet. "We have a bigger plan for the awareness," she says.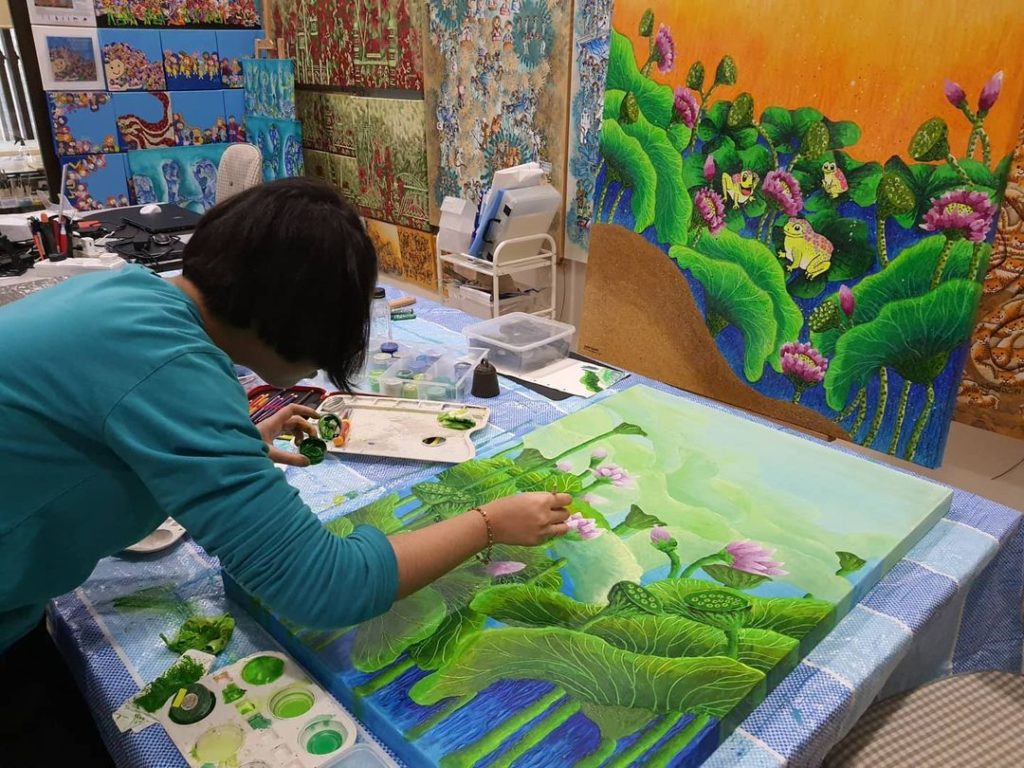 What would the world look like if you cannot make art? To the question, Jamila says, "It would be gloomy, dark and dead."
What's next for Jamila? Aside from having Jamila's art exhibited at the European galleries in 2022, the mother-daughter duo is looking to open a gallery dedicated to the teen artist's work. "I want to continue documenting history onto my canvas in my own unique way and I want to do it with great joy. I also want people to enjoy owning my paintings. In the future, I plan to have my own gallery," says Jamila. "And anybody can visit!"