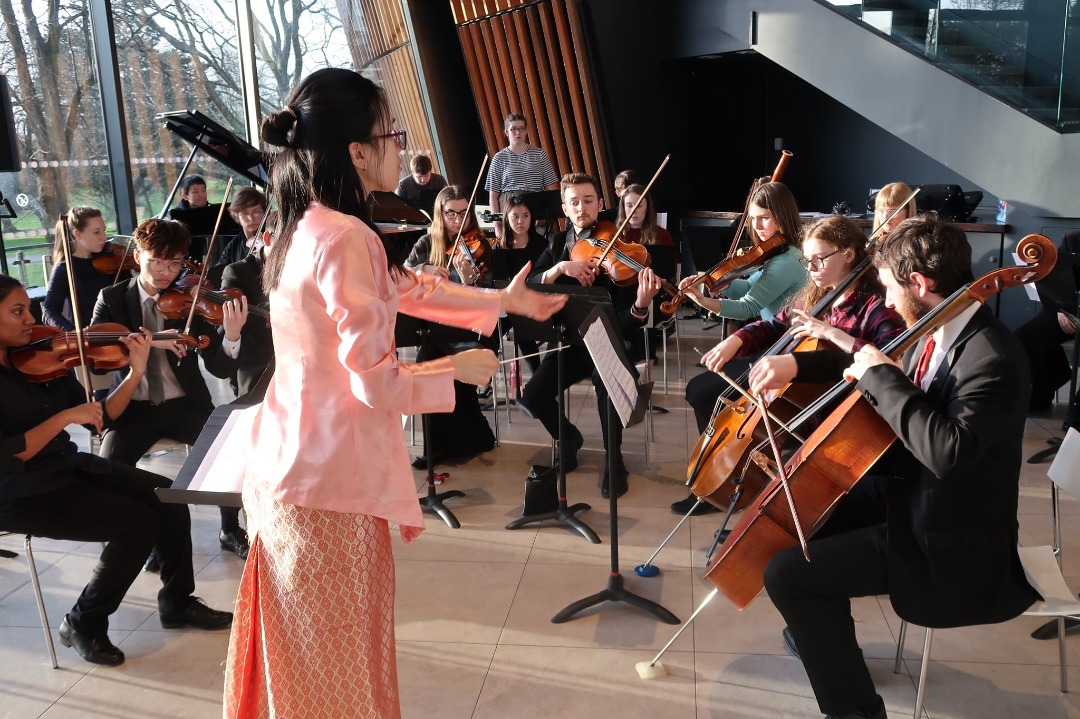 As part of a four-part series, 'Totoro Conducts', a young Malaysian conductor explores new possibilities with programming and collaboration through 'Journey Through the East' concert.
By YVONNE SOO YI YUN
The smell of coffee filled the air, as the audience sat around coffee and bar tables in the Carne Foyer in Cardiff, Wales. Dressed in baju kebaya, I shared a brief welcome speech with the audience before turning towards the orchestra. The audience's applause fell silent, like the evening skies beyond the college walls. The concert was about to start.
I looked at the orchestra with a small smile: 26 friends and fellow musicians whom I had worked with over three intensive rehearsals. I was filled with nothing but honour and joy to share the stage with them, and it was my wish that we create something memorable.
Together, on the upbeat of the music, all the performers took a breath at the speed that was conveyed through the uplift of my arm and my baton. We opened the concert with the music of Joe Hisaishi from Studio Ghibli films, which had stirred me with awe and wonder since my childhood. The evening continued with a selection of South-East Asian and East Asian piano, vocal and choral performances by different soloists and types of ensembles, involving over 50 college musicians.
I had finally realised my dream of bringing this concert to the UK, a dream that I had since 2017. Journey Through The East marked my first self-directed project in Cardiff, where I began to explore and realise new possibilities of reimagining future classical music concerts with other artists.
Making it happen
I am a Malaysian studying orchestral conducting at Royal Welsh College of Music and Drama (RWCMD). Having graduated with a BA in music from Oxford University, I completed my first year Master's studies in July 2020. Since then, I have been on a gap year in Malaysia, during which I launched the Free Music Project, amongst other projects.
Rewind to 2017 when I first conceived the idea of organising an intercultural concert, while I was exploring my musical voice and cultural identity as a conducting student in Oxford. I wanted to present contemporary music from Malaysia and its neighbouring countries, as well as a slice of music from my childhood, to a UK audience.
I also envisaged the concert as highly collaborative and atypical of traditional classical concerts – where conductors could share a podium, and different types of soloists and ensembles would be involved.
I pitched my concept of Journey Through the East to other musicians in college. I was uncertain of how they, alongside the audience, might receive such an effort as almost all of the music in the programme were contemporary works beyond the Western classical music canon.
Most classical music concert goers and performers whom I know would prefer music that they are familiar with. But almost all the orchestral musicians whom I had spoken to were keen to learn the music, while some knew the music and couldn't wait to perform it!
I was further encouraged to receive support early on from fellow musicians studying at RWCMD – choral conductor ZiWei Gao (from China), pianists Seira Chan (UK) and Soong Mun Kit (Malaysia), and soprano Constanze Xue (China). They were not only eager to perform but also contributed to shaping the project with their choice of repertoire. Upon receiving the crucial nod of approval for the concert, we dove into a series of private practices and rehearsals whilst managing our academic commitments, leading up to performance day.
New possibilities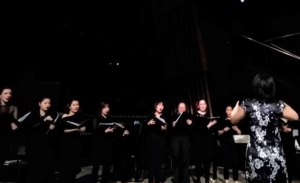 Journey Through the East was my last public performance before the first UK coronavirus lockdown. It holds a special place, amongst my other performances, for many reasons.
I was able to fulfil a personal dream for which I lacked the confidence and courage to pursue three years before. In 2017, I ordered over 20 digital copies of A Glimpse of Malaysia, a choral medley arranged by Malaysian composer Geneviene Wong, with the hope of conducting it in an intercultural concert in Oxford, but never could.
It was from a series of few celebrated successes and many nerve-wrecking experiences which I gradually built the musical maturity, capability and conviction to influence the musicians whom I engage with.
What turned out to be better was having conductor ZiWei Gao, my friend and colleague from China, to perform A Glimpse of Malaysia medley with her choir in the concert. I was kindly offered the opportunity to conduct it, given my personal attachment and cultural association with the piece. But I shared that it would be meaningful for me to experience her interpretation of the Malaysian medley that I so cherished, especially as a fellow conductor.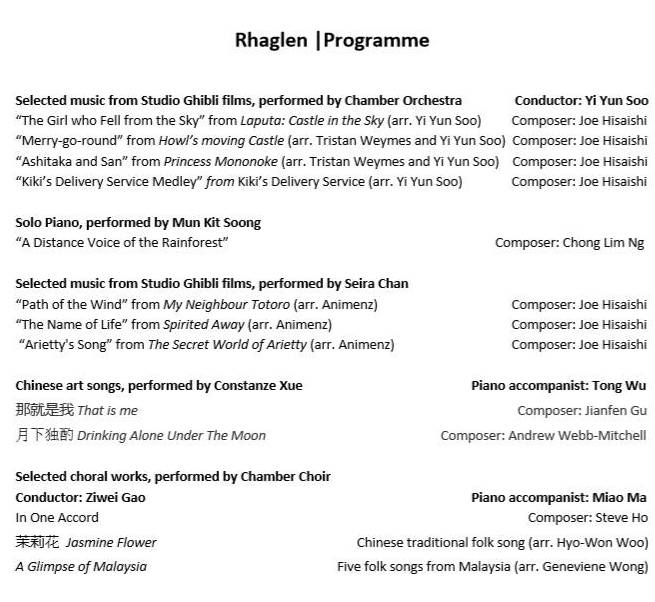 Through this concert, performers and audience, including myself, engaged with music and languages unfamiliar to many in the UK. One staff member shared that it was her first time hearing Mandarin, Cantonese, Kenyah, Kadazandusun, and Malay songs in a concert. Together, all of us — the performers, composers, and audience — brought the project to life, and I was proud of what we had shared.
I learnt that new possibilities emerge from the confluence of ideas and contribution from people from different walks of life, as each of us has a different story to tell. Here's to telling more of them.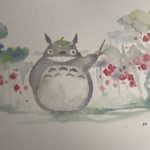 Up Next: Join our writer as she reflects the impact of the Covid-19 pandemic on her musical journey and career pathways, and unveils the meaning behind "Totoro Conducts". Find Yi Yun's previous column here.