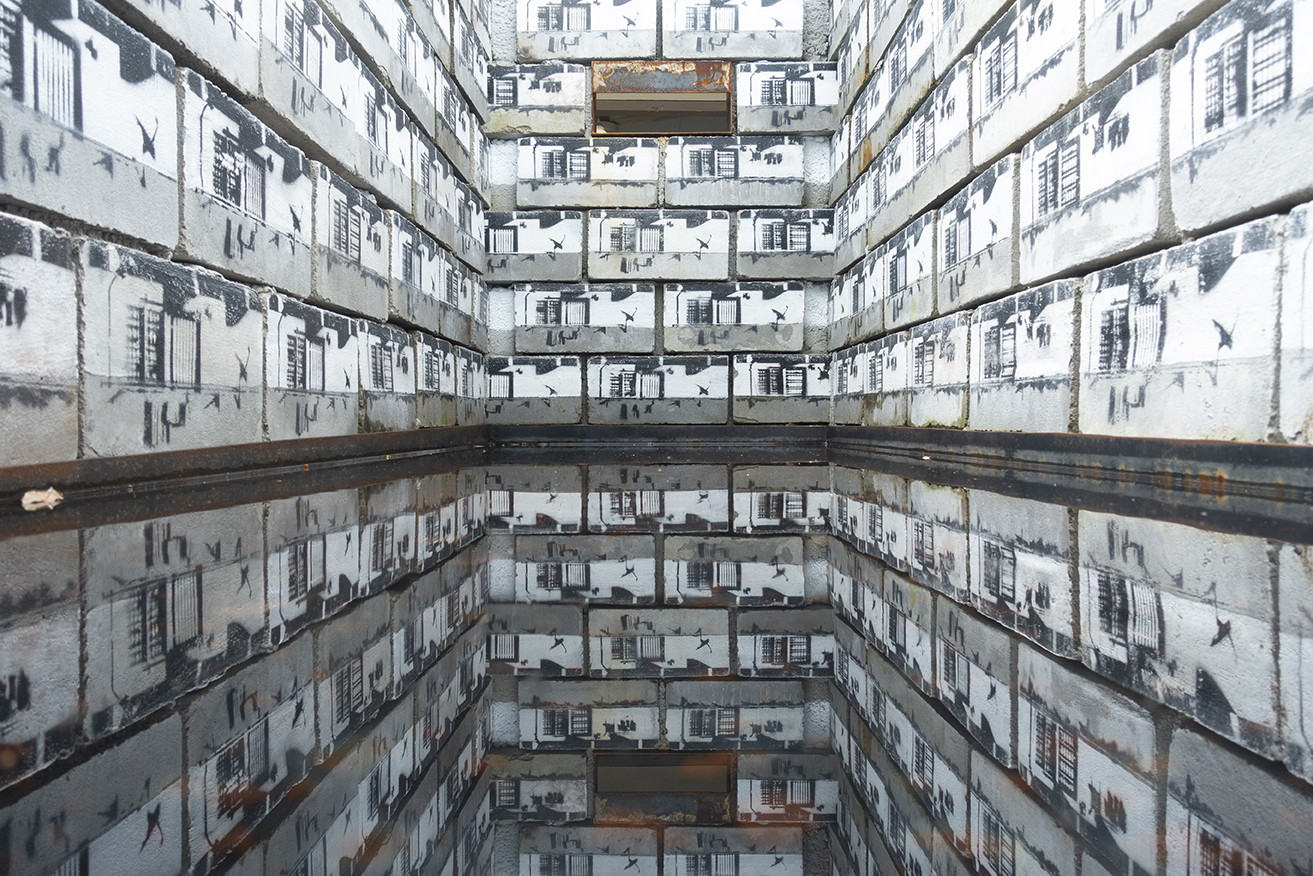 The coincidence of three exhibitions from artists of different backgrounds opened a discussion across the Klang Valley about the environmental, cultural and social issues surrounding Malaysia's insatiable appetite for new developments.
Story and photos by WILLIAM CHEW for Lensa Seni
Building and building and building, it's always a good time in the construction industry. Floodplain or forest land are not our concerns, what matters most is development. Everyone will be better off – or so they say.
Malaysians are no strangers to the ethical and environmental issues surrounding rampant development, especially in recent memory. The most visceral would be the period of flooding at the end of 2021, which claimed many lives and affected countless others. Less known, but equally concerning, was when Sabah lifted their ban on log exports three days into the new year. And a month later, environmental group Rimba Disclosure Project's investigation showed the online listing for the sales of vast tracts of forested land, some of which are within forest reserves in Pahang and Kelantan. 
Amidst these events were three exhibitions by artists of different backgrounds, concerned with environmental, cultural and social issues surrounding Malaysia's insatiable appetite for new developments.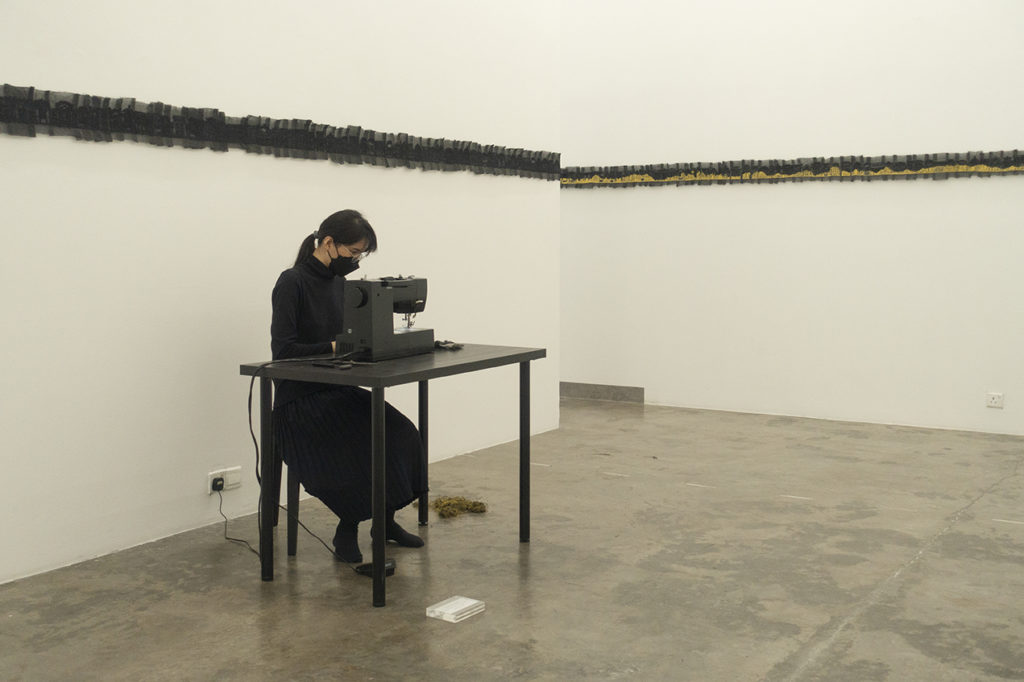 Yim Yen Sum's Threshold of Memoirs, curated by Alia Swastika, was held in A+ Works of Art, Sentul from Dec 12 – Dec 31, 2021. Yim, whose previous works drew from culture, city and memories, continued her exploration but this time setting fragments of heritage buildings against the natural world. The showpiece, Threshold of Memoirs Series, is a strip of embroidery on gauze that stretched around the walls of the gallery, even going behind the partition. An underlay of black thread was used to draw a series of traditional shop windows packed tightly in a row, a layer of gold thread was laid on top depicting palm trees and rolling landscapes. When asked about the empty patches along the strip, Yim explained that buyers could specify any length of the piece and she would cut it there and then, leaving a gap in the strip which relates directly to her performance, where she continued to sew more works throughout the exhibition.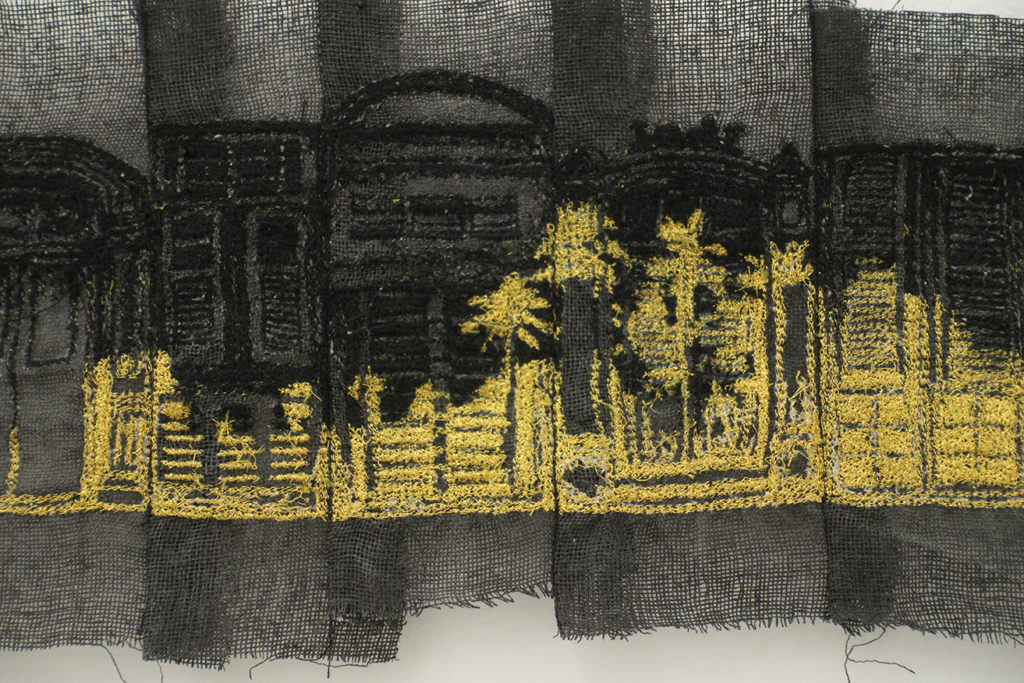 The meshing of traditional louvred windows and the natural landscape resulted in an imagery that offers glimpses of the cityscape and its streets. On top of that, the mechanical noise from the sewing machine and the echo from the gallery were like jackhammers at a construction site, further emphasising an analogy to development works: the transaction and privatisation of an area hoarded up from public access, the erasure of what came before to welcome the new and the better. Her work straddles different points in time, a nostalgia for when the land was untouched, when facades were livelier, but also the current state of urban sprawl, capturing the diminishing realm of nature and of the old city, both forgotten or seen as obstacles towards more profitable developments.
Another artist interested in issues between nature and artifice is Syed Fakaruddin, who transformed his studio space into a nursery selling plants made of steel and concrete. His show titled BRU-KON 01 Nurseri ran from Dec 19 – March 6 over at Studio Sarang Batu in Ara Damansara, Selangor. The idea came from driving by Jalan Sungai Buloh, with its swathe of construction sites along the road on one side, and dainty nurseries selling potted plants on the other. Observing the relegation of nature from sprawling forest into tiny pots, some even replicated by artificial means to make way for massive buildings, Fakaruddin combined both worlds into his own dystopian imagination of the future.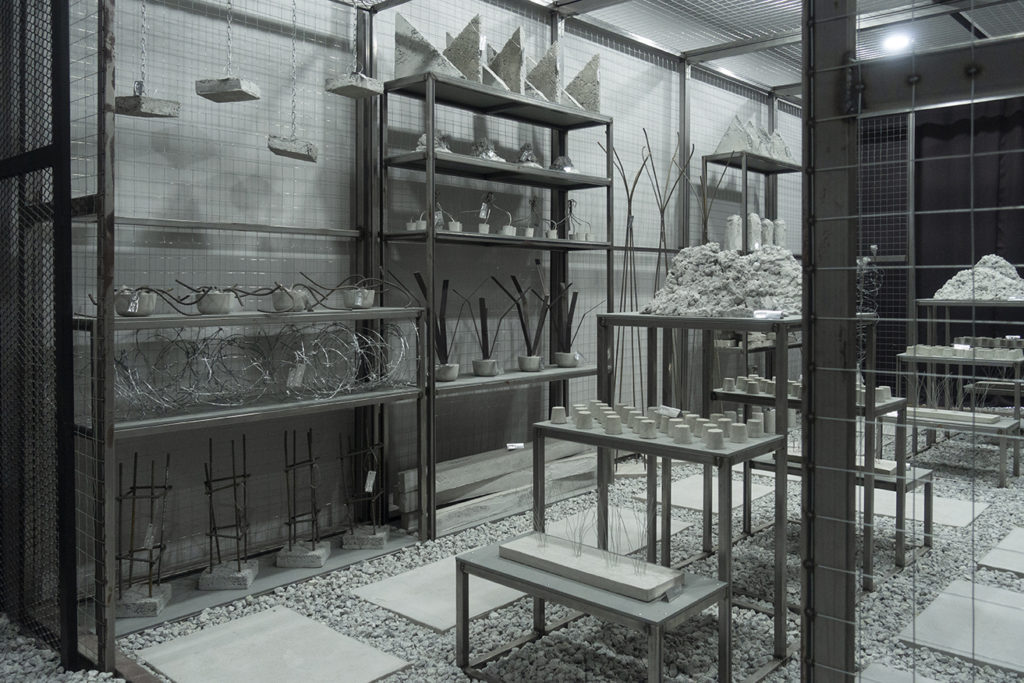 The installation involved a large cage structure with custom metal shelves inside to display the sculptures. These plant sculptures were interpretations of existing species such as the spider plant and the snake plant, although some others were abstracted beyond recognition. Browsing in his construction site-cum-nursery, the pavers and pebbles on the ground forced visitors to be aware of their footsteps, kicking up dust with every move. The airflow and temperature inside were also controlled to give a gradual discomfort until we began to sweat. Compared with Yim's ghostly and ambiguous embroidery of two worlds, Fakaruddin's work was a sharp and brutal manifestation of an environment that was unafraid to evoke bodily reflexes and discomforts to make a point.
If Yim and Fakaruddin's work covered cultural and environmental common grounds, then Khairul Hiffni and Shamin Sahrum venture into the social realm by addressing the lack of funding and support for affordable housing in their exhibition at Suburbia Projects titled Anatomi Kaki Persegi. Their works question the unit of measure behind all developments – the square foot. Sensibly, the foot itself is a unit of measure physically associated with the human body, but the square foot involves a mathematical function that abstracts our perception of space. This mathematical gaze over the land, seeing it in grid lines rather than for what it is, allows us to reframe all aspects of life – ecological, cultural, and ethical – in relation to its potential for development.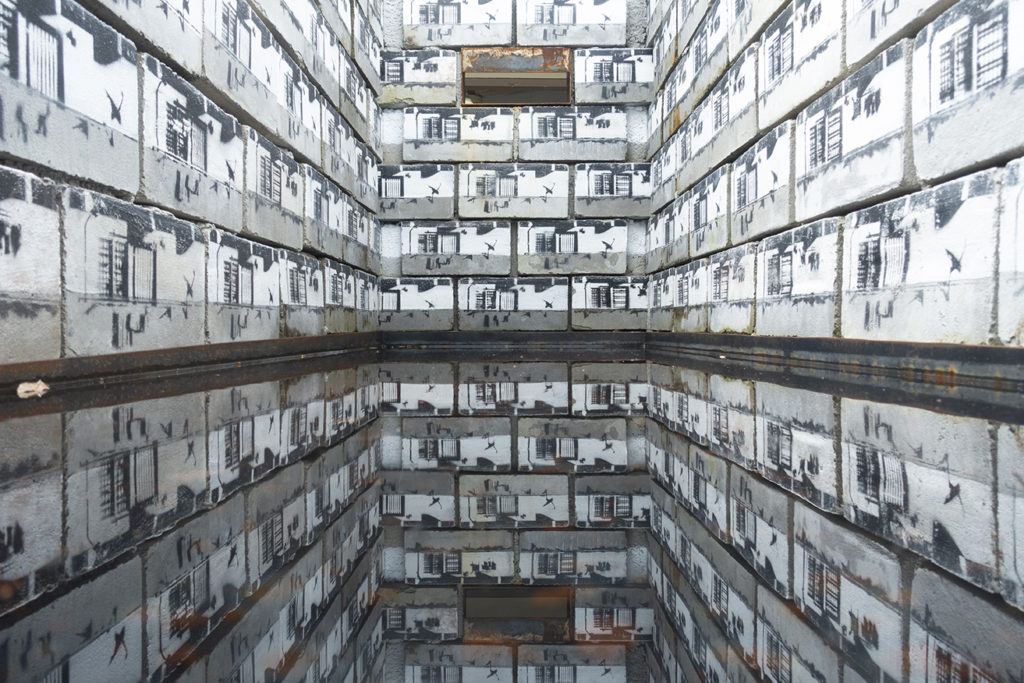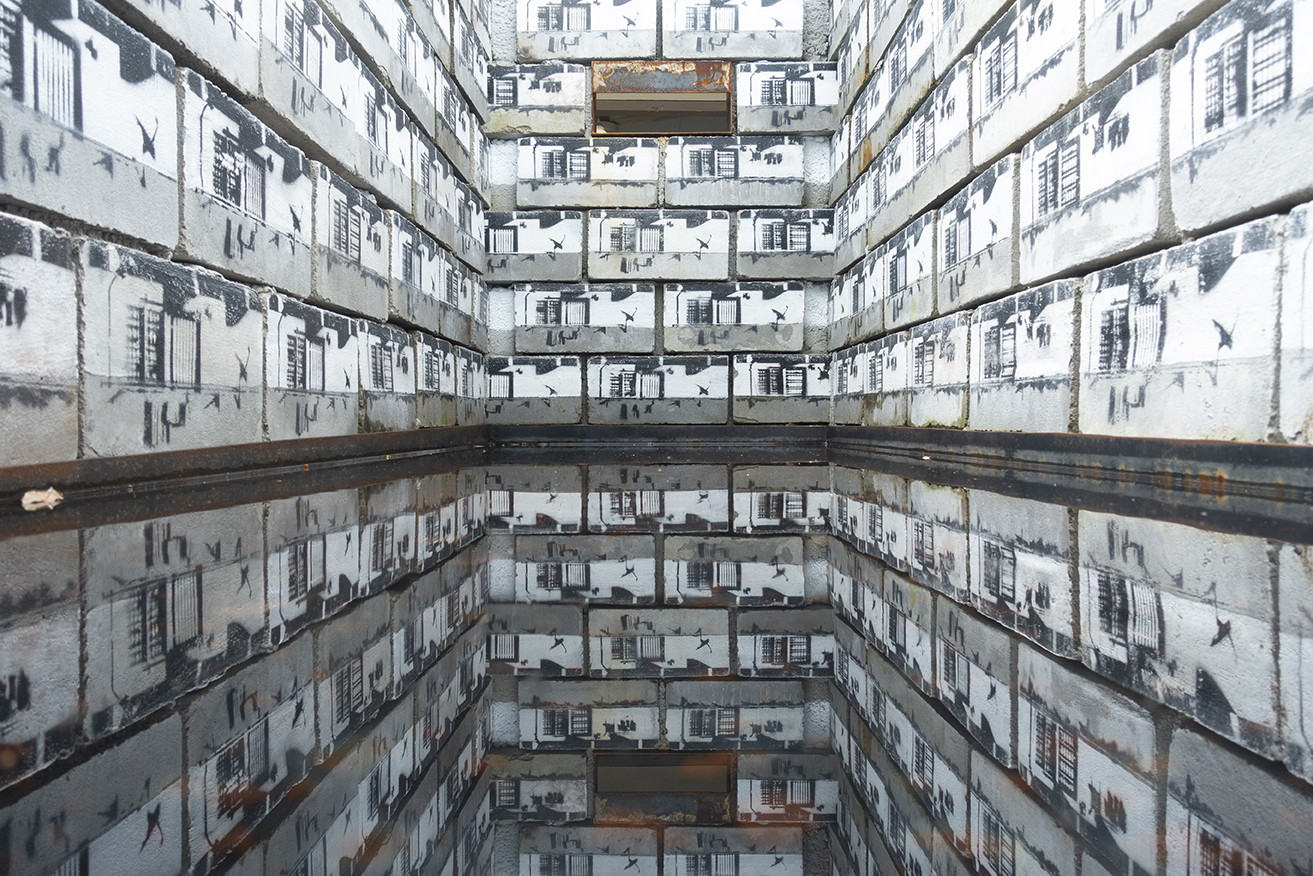 Their installation, also titled Anatomi Kaki Persegi, recreated the view of a social housing estate with spray-painted concrete blocks. From the outside, it was an unapologetic mass that occupied the front porch of Suburbia Projects. Looking inside through the openings, however, visitors were treated to kaleidoscopic views of the courtyard as the repetition of the blocks were reflected by the pool of water at the bottom. Some expressed a sense of nostalgia whilst others found it claustrophobic. The differences in perception, between external and internal views, and between personal memories, opened a space for discussion between visitors but also represented the larger debate on the issue of housing. 
In the artists' statement, drawings of their installation included dimensions and instructions on how to build it, allowing the spirit of the installation to live on after being dismantled, signifying that we have all the tools, and that there is still a possibility for a return of such shared projects.
Rumah Pertamaku, Rumah Terakhirku were the same spray-painted concrete blocks sold as "properties" with token keys during a live performance in which Shamin dressed up as a developer, and the transaction required signing a sale and purchase agreement. The layout for these units were based on a developer's proposal for an affordable housing scheme under the Better Malaysia Foundation and showed just how tight these spaces would be, questioning whether such parameters were even ethical to begin with, given how costly it would be to a low-income family.
Whilst the exhibitions shared similar sentiments towards new developments, their works also benefited from the contestation between one another. For Khairul and Shamin, whose works were heavily influenced by the now demolished Razak Mansions, common ground sat within the clear boundaries of the estate, the shared courtyard and corridors – artificial but full of life. These drew a different conclusion to Fakaruddin's dystopia, despite the similar material palette.
But if we are talking about urban nostalgia, then where would Anatomi Kaki Persegi sit in relation to Threshold of Memoirs? Surely the tabula rasa approach of Razak Mansions also required the demolition of vast tracts of urban land when it was built in the 1960s, replacing it with an alienating aesthetic only appreciated by a minority of architects. And now it is being replaced, yet again, by a mixed-use development with strict surveillance. Both the streets formed by the shophouses and courtyard of social housing are publicly accessible spaces, where people are free to hold gatherings and be themselves without pressures of consumerist agendas, and it is in these spaces, both exhibitions suggest, a more diverse set of collective memories arises.
William Chew is a participant in the CENDANA ARTS WRITING MASTERCLASS & MENTORSHIP PROGRAMME 2021
The views and opinions expressed in this article are strictly the author's own and do not reflect those of CENDANA. CENDANA reserves the right to be excluded from any liabilities, losses, damages, defaults, and/or intellectual property infringements caused by the views and opinions expressed by the author in this article at all times, during or after publication, whether on this website or any other platforms hosted by CENDANA or if said opinions/views are republished on third party platforms.